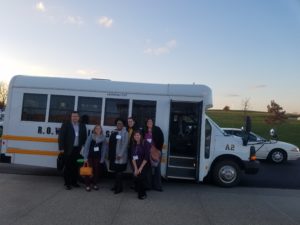 The ROWVA School District, located in rural Knox County, Illinois, encompasses 183 square miles and houses 648 students from five small towns. The district has a pre-K–6 elementary school and a 7–12 junior-senior high school. There are approximately sixty teachers and staff who work with three administrators to educate the students of ROWVA, which is known for its academic excellence, small class size, and unbelievable community support.
Why Future Ready?
At a regional Office of Education meeting, Amber Heffner, director of Illinois Computing Educators, discussed the attributes to being "Future Ready." She discussed the background and the support systems that were the foundation of Future Ready Schools® (FRS) project and asked if any schools would be interested in attending a workshop in Peoria, Illinois. After hearing Amber speak at the meeting, a teacher and I attended the workshop in Peoria and were hooked on being Future Ready. Here are some of the reasons why:
No sales pitch from the sponsors. (I do not have to pay a dime or allocate money to this process. All the innovation and knowledge is free.)
FRS is focused on educating students by using technology as an additional tool in the education process. (Technology alone cannot teach students.)
The FRS dashboard is a simple tool used to disseminate needed information that allows school districts to see their strengths and weaknesses. (Seven gears assess all areas of a school district and give time for reflection.)
The next step was to sign the superintendent's Future Ready District Pledge to be a part of the FRS process. After explaining FRS to the teachers and board members, all groups were excited to see that ROWVA was going to find ways to improve the education of its students.
Summit Experience
Through the relationships made at the Peoria workshop, we learned of an upcoming summit in the Kansas City Metro Area. The summit was weeks away, and the drive to Kansas City from ROWVA is about six hours long. Although riding in a white mini-bus for that long was not anyone's idea of a good time, a group of administrators and teachers decided it was worthwhile. The summit was held at Kansas State University in Olathe, Kansas. The location was beautiful, and the summit was worth every minute of the six-hour drive.
The people who attended and hosted the summit were personable and easy to talk to. Teachers, administrators, technology directors, and education professionals from all around the United States were a part of this FRS process. From those interactions, small, rural ROWVA is now connected with Tom Murray from the U.S. Department of Education, and Angela Vann, the guru of open educational resources. Without FRS, these connections would have never happened.
The conversations and projects helped ROWVA reflect on what it is to be a FRS leader.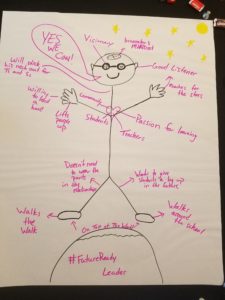 A ROWVA leaders is
a visionary;
innovative;
a good listener;
able to reach for the stars;
passionate about learning;
student and community centered;
willing to lend a hand; and
willing to fail to improve.
The FRS dashboard is a tool with vast supports that allow ROWVA an educational database to use to improve its educational practice. There are seven self-assessments (gears) that cover all areas of the school district. From those self-assessments, the dashboard aligns the district's strengths and weaknesses. From those strengths and weakness, the dashboard gives educational, researched methods on how to attack the educational issues in the district. The information to guide the process and make improvements is all contained in the database.
FRS is a process, not a program. ROWVA has embraced the process and has taken off with a full head of steam.
District leaders are talking about ROWVA's strengths and weaknesses. These conversations were few and far between before FRS. Now, ROWVA is fixing problems that have plagued the district by
improving wireless coverage in the high school;
implementing student-led professional development on technology that students use in everyday life;
working on community outreach to bring citizens ages 50–90 back into the school setting;
working on building enhancements (new front entrance, flooring, hallways, chemistry labs);
focusing on students and their needs; and
collaborating with other teachers throughout the district.
Follow ROWVA's FRS journey on Twitter @rowvacusd208.