NOTE: This is part three of a three-part blog series in which Matthew Friedman, EdD, shares his findings about the trends, strengths, and weaknesses of the Future Ready Schools® network across the four regions of the United States and looks at the exciting possibilities for personalized learning in schools in the post–COVID-19 world.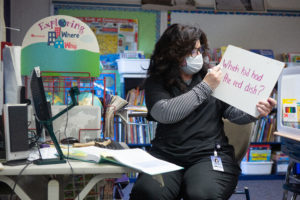 The education sector has been hit hard by the impacts of the COVID-19 pandemic. The traditional school model was turned on its head in 2020, and millions of students, parents, and teachers have experienced home learning for the first time. This crisis has revealed the strengths and weaknesses in our readiness for a shift to a true digital learning setting in most schools and districts. Some places transitioned easily to teaching and learning online because they slowly had been moving toward a personalized learning environment for years. Yet others struggled because of the lack of equipment, poor planning, limited training, and poor infrastructure. Regardless, teachers, students, and districts as a whole, have begun to rise to the occasion, growing and learning from this unique experience and propelling them toward a more personalized digital education environment for all learners.
Unquestionably COVID-19 has changed public school education moving forward. As the pandemic continues to spread and the pending financial recession looms over districts, most schools are focused on teaching and supporting students in the best possible ways in one of three modalities: (1) face-to-face, (2) hybrid, or (3)remote learning environments. Schools and districts must not let the valuable lessons we learned about teaching and learning this school year fall by the wayside.
Our response to the coronavirus has spotlighted how technology can transform the way teachers teach and students learn. While the push for change started long before the pandemic struck our country,  it has now provided us with a springboard to re-envision school long after the threat subsides. During this pandemic, schools and parents began connecting with each other in new ways. While it hasn't been perfect, various kinds of partnerships and collaboration sprouted up in districts around the globe to continue to push the envelope with unique learning experiences for students. An example of one of these unique partnerships happened between the Los Angeles Unified School District and the television station PBS SoCal. In partnership with the district, the station offered local educational broadcasts, with separate channels focused on different ages and levels of learners, offering a range of digital options for the learners. This unconventional approach to learning allowed students to personalize their experience in a new way. Another meaningful example that evolved during the pandemic happened overseas in the United Kingdom with the work of the British Broadcasting Company (BBC) and the creation of a program called the Bitesize Daily which brought a personalized learning experience to students of all ages across the United Kingdom. This effort was a fourteen-week learning series for school-aged students hosted by U.K. celebrities, actors, and athletes who donated their time to make learning an engaging, personalized experience for students across the country.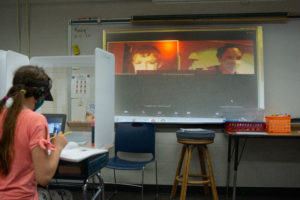 As school buildings closed, the pandemic galvanized parts of communities that traditionally are not actively involved in children's education.  Schools and districts formed new relationships with local nonprofits and businesses that actively have contributed to support children's learning in new personalized ways. In Cañon City, Colorado, the school district experienced adverse effects from the pandemic and could salvage only about half of the student internships they had planned for their high school juniors and seniors. To rectify this, the district started hosting online, hour-long conversations with industry partners and students that were previous only done in person. Additionally, they created opportunities for students to have internships that allowed them to work on three- to nine-week projects focused on a problem the partner had identified. Teacher coaches in the school district created learning expectations for students, while the business partner gave students interim feedback and responses to their proposed solutions. The model translated well to the pandemic imposed remote learning setting. For students in high school, education and employment will look radically different not only this school year but beyond. Innovations being tested now offer early lessons for how districts and industry can pivot moving forward.
For years, politicians have been investigating new transformative approaches to K–12 education that go far beyond just online lessons at home. The days of all students working simultaneously from the same page in the same book in a structured way is slowly becoming a thing of the past.
Many students now have access to a wide variety of technology that helps instruct, evaluate, adapt, and challenge them at their own unique level. Whether it is remediation or acceleration, every student should be able to move through their curriculum at a pace that is appropriate to their learning needs.
This structure of independent, personalized experiences for our students fits perfectly in our post–COVID-19 world. Along with knowledge, they need to develop crucial skills and attitudes that will allow them to succeed as citizens in our ever-changing twenty-first-century world. In a personalized learning environment, we can develop students' skills in collaboration, communication, independence, and the ability to find what they need to know instead of simply having it provided by an adult.
Students no longer have to wait for teachers to grade worksheets or essays to show their mastery of a concept. Rather, they can see their progress in real-time from anywhere as it is tracked accurately with the use of technology. This approach will continue to push learning beyond two covers of a book, four walls of a classroom, eight-period school days, and 180 days of instruction.
Now, students can make more informed decisions about their study habits and parents have more understanding about how their children learn and what support they need. When students all are engaged in individualized learning, teachers can provide highly meaningful instruction to small groups, which benefits everyone involved.
The most transformational part about this approach is students do not have to sit in crowded classrooms to use these tools. Students can learn from home and in the community. Their work can be based in an outside learning space or focused by collaborating in small groups with their peers and teachers in the classroom.
And the teacher's role takes on new dimensions. Instead of designing lessons through a prescribed curriculum and spending energy on managing student behavior, the teacher focuses on knowing the strengths and weaknesses of each student and working to move their twenty-first-century skills and learning forward.
In this time of change driven by the COVID-19 pandemic, the implementation of personalized learning strategies in schools and classrooms gives students meaningful access to instruction from anywhere in the world while significantly decreasing the size of learning groups. Students are more accurately grouped by ability for each individual skill rather than arbitrarily working with large groups of students or crowded classrooms.
As we move forward in 2021, districts and schools can use the lessons and skills we learned in 2020 to embrace a personalized learning approach and allow our students to go further, faster without having to worry about interrupting their learning. We can use this pandemic as a stimulus for growth and change throughout the education sector in the United States and, indeed, the whole world.
Download the full dissertation, Evaluating District Leaders' Perceptions of Preparedness to Transition from Traditional Personalized Learning Environments.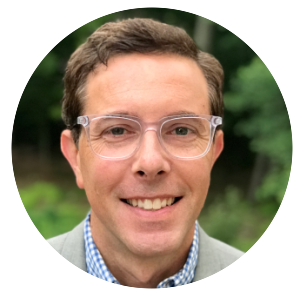 Matthew Friedman, EdD, currently is the assistant superintendent of curriculum and instruction of the South Orange Maplewood School District in New Jersey.  In addition, he is a university professor in the graduate school of education at two universities and a nationally recognized consultant.  Connect with Dr. Friedman on Twitter @mfriedmanPGH.
Photos for this blog are by Allison Shelley for American Education: Images of Teachers and Students in Action