Making the Commitment
Every year, school districts around the world entrust thousands of new educators to serve their communities as they hire and provide them with a special opportunity to begin long, meaningful educational careers. Most likely, these educators have endured rigorous processes that have determined that they are capable of making an unmistakable and everlasting impact on the lives of the world's most precious gifts….children.  Make no mistake about it, when one makes a commitment to becoming an educator, they are assuming a tremendous responsibility to create pathways of promise that have the power to influence learners for the rest of their lives.
A Calling
Teaching is not just something you do, it's a calling; it's a beautiful gift; it's an opportunity to unleash the talents within every human being you encounter; it's a time to cultivate powerful relationships that have the chance to stand the test of time; teaching creates a space to collaborate with colleagues and builds bridges to connect previous learning to new and innovative ideas. Since educators are responsible for shaping significant moments in time that can leave profound imprints in the hearts and minds of every learner they touch. Teaching is also hard work. It can be extremely emotional. It can be draining. But, it's so incredibly rewarding. That being said, how can school districts build on the strengths of new teachers while providing them with the appropriate support for continuous growth and development? There is one phrase that comes to mind:
Why Mentorship Matters
The Future Ready Framework is a robust structure for digital learning visioning, planning, and implementation focused on student-centered learning. The research-based framework emphasizes collaborative leadership, creating an innovative school culture, and keeps learners at the heart of decision making. There is a focus on seven key areas (called gears), plus leadership, each of which is addressed during the comprehensive planning process.
Developing a strong mentor program has one of the highest returns on investment. Leveraging the creation of powerful professional learning communities will foster the next generation of teacher leaders and help educators see the value of being in a constant state of learning and transformation. Future Ready Schools Personalized Professional Learning gear reinforces this notion by putting an emphasis on establishing strong, inclusive, equitable support systems that will empower educators to embark on long, meaningful careers. These spaces help educators pivot towards cultivating connections, adjust to new environments, create intentional, personalized learning experiences, and utilize valuable, relevant resources to help learners thrive.
According to the New York State Mentoring Standards, "Teacher induction is critical to the overall preparation and professional development of beginning teachers and builds on their continuum of experiences from pre-service programs to ongoing career development spanning time as described within the Teacher Career Development Continuum. Coupled with mentoring standards, induction accelerates the process of creating highly effective teachers whose goal is to enhance student learning and achievement." Establishing and implementing a strong mentor program enables novice teachers to be guided by mentors to help learners reach their maximum social-emotional, cognitive, and academic growth throughout their school years and beyond. This distinguished responsibility empowers more experienced educators to take everything they have learned and "pay it forward," to help new teachers acclimate to the culture and climate of an organization, shatter the walls of isolation during the inception of their careers, and shape the next generation of teacher leaders.
8 Tips for Developing a Strong Mentor Program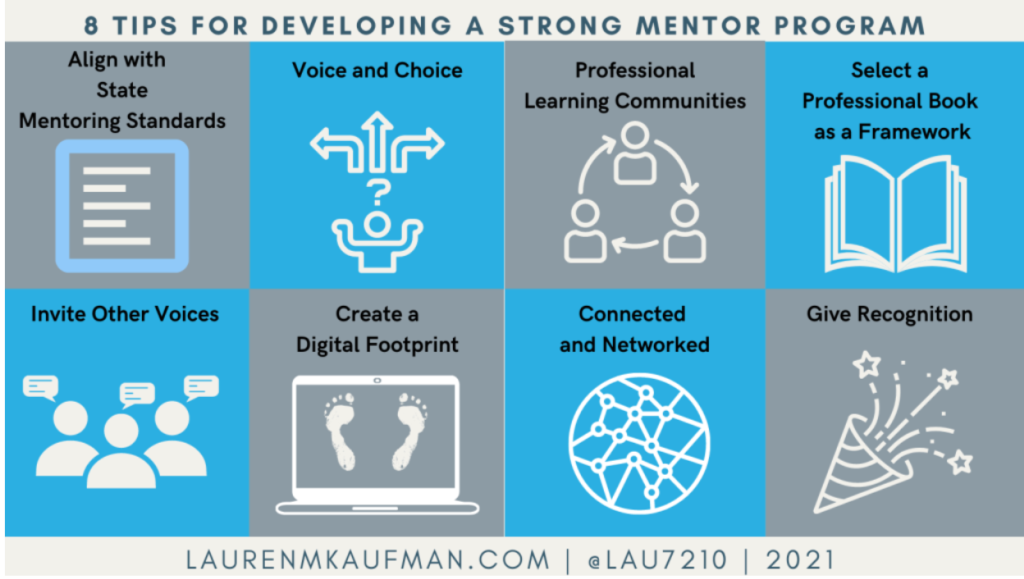 Future Ready Schools mission to provide a multitude of diverse professional learning opportunities that are intentionally tailored to meet the needs of all educators. There is a strong emphasis on the importance of seeking mentors who will support colleagues as thinking partners as they delve into new learning. These mentors will serve as guides and connectors to other great educators within their professional learning communities and networks; they possess a variety of expertise to support and enhance others' instructional practices. Furthermore, the Personalized Professional Learning gear is also grounded in the idea that everyone in an educational community is in a constant state of reflection and will work together to meet the needs of all learners. These intentional revisions to their practice will improve student achievement, engagement, and empower educators to embrace the learning curve throughout their educational careers.
Align with State Mentoring Standards: It is paramount to refer to the Mentoring Standards provided by the state/country you reside in. These standards offer a set of guidelines that are critical to teacher induction and to the design and implementation of relevant and meaningful learning experiences. This enables the Mentor Coordinator to establish systemic efforts that will shape and sustain the first experiences in the careers of new teachers.
Voice and Choice: It is vital to include educators in the decision making process to share what kinds of professional learning they want to experience. It is also critical to recognize that educators enter the teaching profession with many strengths and areas for growth. It is also the responsibility of the Mentor Coordinator to ensure that the professional learning choices are grounded in the vision and mission of your school district. As an example, providing educators with a Google Form with a list of choices as well as a space to add any additional thoughts/ideas for professional growth will empower them to take ownership over their learning.
 Professional Learning Communities: By establishing a learner-centered culture of trust, connection, communication, and collaboration, educators have an opportunity to see the value in intentionally creating spaces to collectively set reasonable, learner-driven, evidence informed goals and share ideas of instructional practice that will benefit ALL learners in their organizations they live in. Not only will this improve the skills, expertise, and knowledge through professional dialogue, it will foster a desire to improve educational aspirations, achievement, and cultivate the next generation of teacher leaders. These teacher leaders will become an integral part of a cycle that improves and encourages innovative teaching and learning practices.
Select a Professional Book as a Framework:  One of the most valuable components of a strong Mentor Program is to find timeless professional books by outstanding authors who can share their authentic experiences as educators at different levels of an organization. These are books that encompass innovative and relevant messages that will stand the test of time regardless of what transpires in education. These leaders in education bring a special and unique value to the learning experiences you commit to embark on. Take a deep dive into these books and be sure to connect the messages of the authors with your district's mission and vision. These are the books that will serve as frameworks to drive the learning process. The books I intentionally chose are The Innovator's Mindset, by George Couros, and Personal and Authentic by Thomas C. Murray. Both of these authors have shared incredible resources and have been continuously accessible and supportive to the new teachers, their mentors, and me in our efforts to keep learners at the heart of decision-making and implement lifelong practices that will prepare learners for any path they choose to create.
Invite Other Voices: It is crucial to highlight the educators within your organization to facilitate professional learning experiences. This provides new teachers with opportunities to connect with other educators across the school district but also elevates the teacher leaders and administrators that can share their knowledge and best teaching and learning practices with your educational community. Additionally, you will want to invite educators/speakers outside of your school district who can offer a fresh perspective on various topics in education. Those voices are also valued as they have seen the work of other school districts around the world and can share a lens that can push your thinking outside of your comfort zones!
Create a Digital Footprint: I have always stressed the importance of making your learning visible by sharing best teaching and learning practices with colleagues in your organization and beyond. By creating a Mentor Program hashtag and Twitter handle, this allows participants in the program to showcase the incredible work within their learning spaces to a larger community. This will in turn help other educators create and form ideas that will ultimately benefit all learners! Feel free to check out the#LBLeads and @LBMentorProgramhashtag I created for the Mentor Program I facilitate.
Connected and Networked: In The Innovator's Mindset, George Couros says, "Being in spaces where people actively share ideas makes us smarter." Social media provides a space to connect with other educators who can share our mindsets, but also push our thinking to create new and better ideas. It is in these spaces where we can get inspiration from other educators and organizations outside of education to try something we haven't thought of before. Creating a culture of learning and innovation happens when meaningful connections are made beyond the walls of the organizations we live in. It is within these spaces that new possibilities are discovered to benefit learners who have the potential to make change today and in the future!
Give Recognition: Everyone within an educational organization works tirelessly to meet the needs of their learners. New teachers are acclimating to the culture and climate of a district, are learning to understand their community, are building new relationships, learning new standards, and a new curriculum, while meeting the needs of all families and students. They deserve all the recognition in the world! Celebrate your teacher leaders. It is human nature to want to feel valued and recognized. At Mentor Meetings, highlight the work they have been doing by looking through the hashtag you created and put those tweets on a few slides! Have them explain their "why" behind their practices. For the educators who are not on social media, have them send pictures of their work and get their permission to share! The return on this investment of time will be monumental!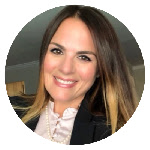 Lauren Kaufman is a middle school Literacy Specialist and Mentor Coordinator K-12 in Long Island, NY.  She shares her learning by speaking and writing about best teaching and learning practices, has contributed to chapters for educational books, and has a professional passion to empower teachers to lead so they can share their gifts with others and develop lifelong literacy practices in all learners. You can connect with Lauren on Twitter at @Lau7210.