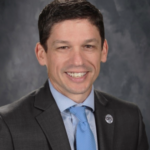 Brian Seymour is a lifelong, award-winning educator and the director of instructional technology for Pickerington School District in Central Ohio. Under Seymour's leadership, Pickerington is applying the Future Ready Schools® (FRS) Framework to guide their strategic planning for making Pickerington a world-class school district for the diverse population they serve. Their planning paid off when the pandemic hit. We recently spoke with Seymour to find out how the Pickerington team found solid footing and is continuing into the third year of the pandemic's effect on teaching and learning.
In addition to his district leadership role, Seymour serves as the principal of Pickerington Virtual Learning Academy. He started his education career as a classroom teacher, galvanizing his philosophy that instructional technology choices should follow—not lead—sound pedagogy.
"We've made so many fundamental changes over the years that the pandemic didn't alter our ability to provide a quality learning experience," Seymour said.
From his ambitious application of principles and standards of the FRS Framework, CoSN's CETL Program, and ISTE (International Society for Technology in Education) Standards for Educators, Seymour started to amalgamate his instructional technology philosophies. "Tradigital learning" was the result of Seymour's study and practice during his first year as the district's director of instructional technology. He said that at the time, "We didn't have a district tech plan—just custom requests from individual staff with no cohesive plan. You would ask 100 teachers for a definition of blended learning and you get 100 different answers. In a district with 700 teachers, you get 700 different answers and that's untenable."
With Seymour's guiding philosophy and a comprehensive team overseeing the details, Pickerington now has a robust districtwide instructional technology plan and many other resources to guide the entire learning community, regardless of what happens to the traditional school year's schedule. They maintain a public portal organized by ClassLink for single sign-on, managing about 40 different content and skill applications for each grade level in the district. This allows students and parents to find support and continue with learning from anywhere at any time on any day.
These resources and the years of careful planning meant that Pickerington could serve well students coming from even the most disadvantaged households. When schools shuttered in the spring of 2020, Seymour's team was kept at the forefront to ensure teachers weren't losing student connection and engagement. Yet, according to Seymour, one of the biggest inequalities that Pickerington is seeing as a result of the data and feedback isn't access; it's the difference from one classroom to the next.
What Seymour is referencing is that, with the combination of digital tools being used for online learning, the data shows disparities in how teaching and learning transpires for students at Pickerington. Seymour's concern isn't about specific tools being employed by classroom teachers; it's about the quality of instruction that happens in the design of the learning experience (LX) itself. The LX can and should feel reflective of the teachers' styles, but with students switching digital learning spaces for each course or project, there should be clarity, cohesion, and efficiency for the learner as much as for the student.
Dr. Ruben Puentedura's SAMR (substitution, augmentation, modification, and redefinition) model represents the different tiers of how the LX can evolve, as demonstrated in the image below.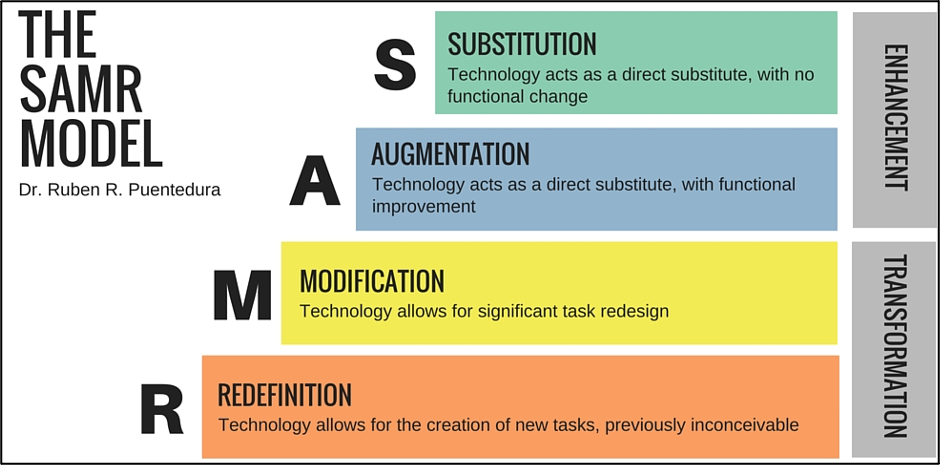 "We push the idea of SAMR, but we position it more as a swimming pool," said Seymour, referring to the diversity in readiness across any school's staff to dive in wherever they're most comfortable. "You want to get into all the areas because you have to be aware of the intended outcome," Seymour advised. Not every teacher will effectively transform their traditional instruction, nor does a school need them to. Therefore, it is necessary to have diversity in aspirational LX design that is complementary to serving each student's need for challenge, engagement, and interests, regardless of course content or awarded credit. This approach requires intention in education leadership that surfaces in their procurement and deployment strategies of instructional technology at Pickerington.
When necessary, Seymour clarifies concepts and defines buzzwords for local impact at Pickerington. He recently led his team through John Hattie's work in "Visible Learning," which informs their blending of the best in traditional learning with digitally-enhanced learning. Now Pickerington's team has rotation schedules, menus, and playlists so that teachers have variety in how they teach in the model of Tradigital Learning so it suits their style and their students' needs. With support from his entire teaching staff, the district continues to make gains in an LX that reflects the best practices in research.
"Our end-all-be-all goal is personalized learning," said Seymour. "We have 11,000 students in the district and know not two of them learn the exact same game. How do you make 11,000 kids successful? The idea of differentiation—for a teacher to do that by themselves—is almost impossible." Pickerington has eliminated traditional textbooks and moves continuously in the direction of a more adaptive curriculum with no slowing down.
Personalized learning has been a passion for Seymour over his career at Pickerington, which reflects his own history as a classroom teacher and his role as a parent of students in the district. He said, "In my last year in the classroom, my high school students could only do math at the 3̶-5 grade level. When I had the ability to assess that, I could make changes. My own daughter, for example, a fourth grader, is now reading at a sixth-grade level."
Also, Pickerington changed the language of "professional development" (PD) to "professional learning" (PL) because, "… nobody wakes up in the morning and wants to be developed," Seymour said. "It came down to us reconciling what we know about learning and applying it to how we promote learning with our adults by differentiating that like we have for our students." Now, professional learning is in tune for the entire staff at Pickerington, aligning with the FRS Framework.
One specific way the district supported growth for classroom teachers is by investing in instructional coaching. Whole-group training sessions were proving ineffective. What really worked for Pickerington is the combination of instructional coaches (ICs) and subject-matter experts being in the classroom and working hand-in-hand with teachers. Seymour said, "We now have about 25 instructional coaches in the district, out in the classrooms, working with the teachers and administrators to improve teaching and learning."
An example Seymour cited is their ed tech IC, Stephanie Howell, who is a middle school coach for the district. She worked with 150 Pickerington middle school teachers to get them from a point of very traditional instruction to embracing the idea of an amazing blended learning design called the "The Grid Method," which takes into account personalized learning, tools of ed tech, and how to design instruction to be universal to the models of online and in-person instruction.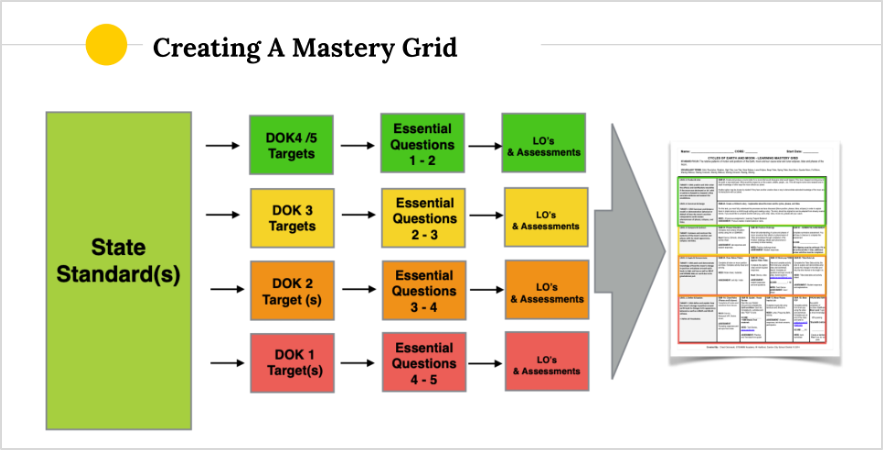 According to Seymour, "The nice thing about the Grid Method is that teachers needed some sort of structure for the hybrid learning we were in, but it translates well to the Pickerington Middle School approach," a gain for the district as they navigated the Centers for Disease Control and Prevention (CDC) and state guidelines for protecting the community during the onset of the pandemic.
Other details from Pickerington's instructional technology plan refer to the buy-in in all offices of the district. Seymour said the district treasurer values the promise of solid ed tech procurement practices. He said, "We have a multiyear model for devices and can plan for it. We have a year-by-year software evaluation process. We've been able to do some really cool things like VR/AR devices, interactive walls and such, looking at different ways we can implement different technology."
All these measures and the linked resources above show the FRS approach that has made Pickerington such an excellent model in Ohio, especially when it comes to managing disruption. Reflecting and looking forward, Seymour said in conclusion, "In the end, it really worked out well. We felt our kids got quality instruction even on those days that were virtual. The question now is how can we continue to keep some of those great tech-infused things now that we're back in school?"
Looking ahead of the current phase of the education field, where federal funding has filled the school coffers more than any prior initiative, Seymour is thinking about long-term investments over short-term expenditures, saying schools need to rethink their budgets when Elementary and Secondary School Emergency Relief funding expires.
Stay tuned for more profiles on Future Ready Leaders and how they negotiated the instructional needs to support sound teaching and learning.