The Indiana State Board of Education has recently approved new graduation pathway requirements for students. Indiana school districts may adopt pathways as early as next year, but will be mandated to develop pathways for the graduating class of 2023.  The Metropolitan School District (MSD) of Decatur Township has taken a proactive approach at developing pathways, and have strategically included the vision of every student graduating with a diploma, transcript, and competency-based e-portfolio. We truly believe that a diploma and transcript is no longer enough in today's economy. Higher education and employers want to see evidence of a student's skills and ability.  A diploma and transcript are simply "promises of skills and abilities".  We have recently partnered with Course Networking, LLC to develop a personalized, digital K-12 e-portfolio.
The CN ePortfolio is an innovative e-learning tool that will serve as a digital collection of each student's academic work and accomplishments accompanied by micro certification badges that provide validation of a student's knowledge, behaviors and skill sets. The concept of the ePortfolio is to provide students with evidence of their learning journey while expanding a meaningful academic social network and building a professional business image all within one learning management system.
Each student in the MSD of Decatur Township will have lifelong access and ownership of their ePortfolio with the ability to grant access and visibility for each entry within it. In a world that is increasingly influenced by technology, CN's ePortfolio is easily accessible to teachers and parents through each student's unique URL. With every student's credentials and characteristics all housed in one virtual location, the innovative technology is expected to not only streamline the interview process for graduating high school students, but the job search as a whole. With a simple click and share, any employer can review the candidate's relevant projects, issued certifications, achievement badges, and any recommendations the student has received from teachers, as well as colleagues from years past to present day.
High school students can also link their ePortfolio with personal social media channels, allowing them to showcase and share their academic achievements and issued badges on various platforms. Similar to social media, the ePortfolio has the ability to connect students from all over the world, serving as an academic social network allowing students to interact and collaborate with one another regarding the courses and projects they are working on it real time.
With the implementation of the Indiana Graduation Pathways, Indiana school districts will need to develop methods and strategies to effectively link their students to high-wage and high-demand occupations. The MSD of Decatur Township is not only promising employers and stakeholders that their students are graduating college and career ready, but are going to be showing evidence of it also.
Read the recent press release – MSD of Decatur Township Introduces Data-Driven Program to Support the Success of the Ninth Grade Students to learn more.
ABOUT NATE DAVIS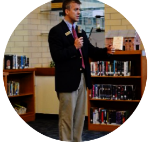 Nate Davis is the Assistant Superintendent of Schools at the Metropolitan School District of Decatur Township.  He is dedicated to personalized learning, as well as preparing appropriate learning pathways for every student. He believes in developing compassionate leadership in others, while possessing the relentless drive to close the achievement gap for Decatur Township students and helping each community member realize the potential they have for success.
ABOUT THE METROPOLITAN SCHOOL DISTRICT OF DECATUR TOWNSHIP
Student invested and community connected, the Metropolitan School District (MSD) of Decatur Township is a diverse, nationally recognized school district that uses an innovative and personalized, small-learning community approach. The entire district of nearly 7,000 students offers multiple learning pathways to its students, encouraging a deeper, more applicable learning environment. For more information, visit www.decaturproud.org.