I'll admit it. It's hard to think about work with the sun shining, the garden growing, and my mask wearing going from regular to occasional mode. Summer + vacation = recharging some seriously dead batteries. Why yes, I'll have another cold beverage, please. But as a lifetime educator, going back to school has always been an opportunity to reflect, review, revise, and reinvent. And returning from a pandemic-scarred year, this fall represents an overdue opportunity for reinvention.
Building on Success
As a Future Ready Librarians Advisor with my partner Shannon Miller, I'm proud of the work that went on last school year within the Future Ready Librarians community. Building on five years of success, we offered six virtual summits and created a wealth of resources including podcasts, webinars, and challenges. More importantly, our rich community of librarians came together to share ideas, support one another, and pivot their leadership in new and exciting ways. Despite the impacts of the pandemic on schools and learning, librarians rallied for both learners and fellow educators.
Looking forward, I know librarians across the U.S. are ready to welcome back students and colleagues into their libraries. As you plan for an exciting year, Future Ready Schools and Future Ready Librarians have some ready-to-use tools to help you reflect, review, and reinvent.
Future Ready Librarians Self-Reflection Tool
Designed as a simple survey to help librarians assess their practice and program against the Future Ready Librarians Framework, the Future Ready Librarians Self-Reflection Tool is perfect for reflecting on and reviewing your librarianship. Even if you have used this self-assessment before, it is designed to be used as an annual or semi-annual snapshot to guide your program planning and professional learning goals. As you think about the coming year, it's a logical first step as you chart your course for 2021-22.
Future Ready Schools SMART Goal Setting Guide
In a blog post for Future Ready Schools In February 2021, I highlighted the Future Ready SMART Goal Setting Guide and revisited how SMART goals can help guide and focus program planning for any educator. Building on the SMART goal, I explored how to define enabling conditions to ensure the success of your goals using the acronym CREATE — looking at how Collaborators, Resources, Expertise, Attitudes, and Time can make or break your SMART goal.
Future Ready Librarians Playbook
Recognizing that librarians and other educators come to Future Ready Librarians in a variety of ways, we have developed the Future Ready Librarians Playbookthat helps educators understand what FRL is and highlight tools and ideas that might have been overlooked. This dynamic resource will continue to grow over the next year and is a logical place to look for ideas and resources to support your librarianship.
Future Ready Librarian Virtual Summits
Finally, if you're looking to reconnect with your colleagues and exchange great ideas, we will be kicking off our season of the virtual summit on August 19 with our live, interactive online event. This dynamic online workshop feature librarians sharing ideas and insights that you can use in your own library and school. Recognizing who matters the most, the first two summits will focus on Reimagining Learning: Starting With Students in the Center. Registration is open now and it's FREE!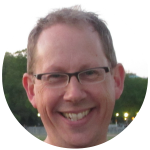 Mark Ray is a former chief digital officer, district administrator, and teacher of the year from Washington State. He is an advisor for Future Ready Librarians®.