Where does my love for Edgecombe County (NC) Public Schools (ECPS) begin? Like our leaders who approach their jobs with head and heart, it is rooted in the dedication and commitment to "Futures Reimagined" for our scholars. Under the leadership of Superintendent Dr. Valerie H. Bridges, ECPS is committed to preparing scholars with the necessary tools to design their own futures, navigate change, and make the world a better place. Meanwhile, through its EQUITY VISION, the district is committed to making ECPS a place where opportunities are no longer predicted by social, cultural, or economic factors. One of many ways we achieve this goal is through a magical partnership of technology and innovation. 
The ECPS Innovation Department collaborates with staff members, parents, local businesses, engineers, and volunteers across the district to design learning environments and experiences that enable students to become the architects of their own futures. Current projects in the district include, but are by no means limited to,
spearheading the development and promotion of the new strategic plan, "Futures Reimagined;"
supporting the implementation of our advanced teaching roles initiative, Opportunity Culture;
convening school leaders and external partners to iterate on our new school model, the North Phillips School of Innovation;
facilitating a school redesign cohort comprised of four ECPS schools;
leading the implementation of social-emotional learning and trauma-informed schools initiatives;
providing direct coaching and support to principals in the ECPS Innovation Zone;
collaborating with organizations wishing to partner with ECPS on innovative projects;
seeking funding for innovative projects and programs through grant writing and relationship building;
supporting ECPS's central services teams to solve problems creatively using the design thinking process.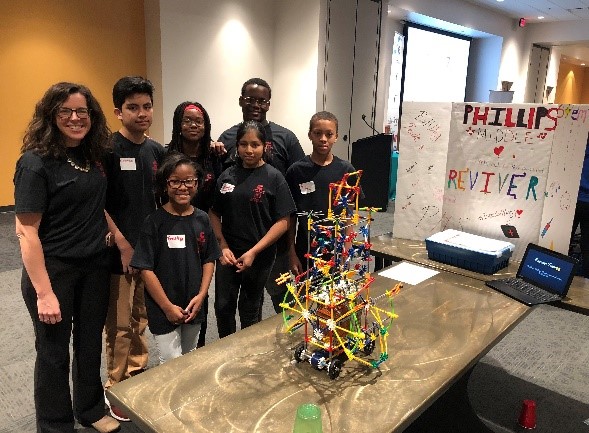 As one of the leading innovative districts in North Carolina, ECPS continues to transform the traditional into the innovative. Our media centers are long gone, now transformed into customized learning commons—a common place where engaging, relevant, and meaningful learning happens for all students, no matter their ability. Though uniquely different, all of our learning commons have a unified goal of engaging all students in science, technology, engineering, and math (STEM) activities while promoting literacy. We have revised the role of the media specialist to that of a digital literacy coach, which has been crucial to the rebranding and development of our spaces. As a result, we have seen gains as high as 150 percent in the circulation of books in our learning commons as well as increases in teacher collaboration as the learning commons spaces have become engaging, interactive, flexible spaces for students and staff.
In our middle schools, we have designed and piloted a STEM design challenge for students that partners local business industries with students and teachers. Throughout the challenge, students are mentored by staff in collaboration with local engineers in completing their design challenges. Each STEM challenge is based on a connecting theme from a series of books that students read along with a writing component that ties into our social-emotional work. This challenge, now in its third year, has grown to include multiple school districts.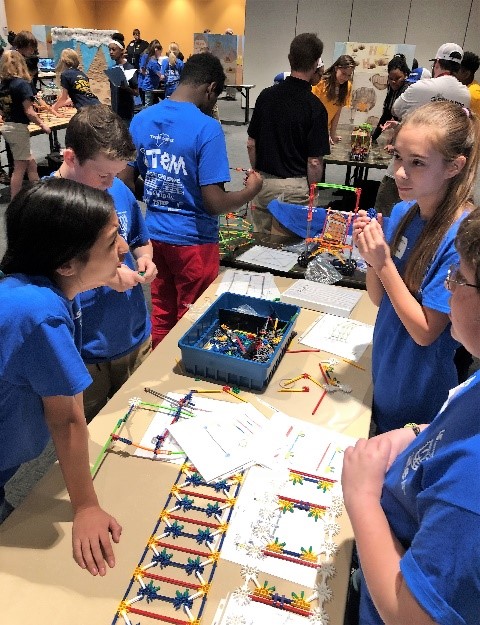 At two of our elementary schools, we have implemented two full-scale STEM labs to shift student learning to a more hands-on approach that encourages our students to fail forward and engage in productive struggle through positive communication with each other. Problem-solving and communication skills are not only needed for students throughout their academic career but also are skills vital as our scholars become future employees.
One of our latest technology successes is installing Wi-Fi on several of our buses within the school district. Many of our students spend an exorbitant amount of time on bus rides to and from school. As a rural area, we also are plagued with zones of limited or no connectivity. The mobile Wi-Fi addresses this gap and encourages academic learning anytime and anywhere.
Innovation is a regular occurrence at ECPS, and we currently are in the process of installing distance learning labs at all of our middle and high schools through grant funding. These labs will provide additional learning opportunities for our students and increase collaboration and professional development offerings for staff members by allowing our teachers to connect with each across the district to review standards, teaching practices, and data from our local assessments without proximity being an obstacle.
I am proud to be a part of a team of educators committed to putting children first, leading with courage, constantly pushing to improve while choosing optimism in order for ECPS to be stronger together. We are excited for the Futures Reimagined for our scholars!
Abbey Futrell is the assistant superintendent for curriculum and instruction for ECPS. Matthew Mayo, director of technology for ECPS, and Erin Swanson, director of innovation for ECPS, contributed to this blog. Photos provided by ECPS.
This blog is part of a series highlighting the voices of educators committed to supporting equity and fulfilling the promise of the Brown vs. Board of Education Supreme Court decision. To learn more about how you can support the legacy of this landmark case, join the Alliance for Excellent Education's (All4Ed's) #OurChallengeOurHope campaign.
To learn more about how schools and districts can close the digital equity gap, join All4Ed's #OurChallengeOurHope campaign and watch the Digital Learning Day broadcast "Innovate! Every Classroom, Every Day with Digital Learning" Thursday, February 27th at 12 p.m. ET.