Why?
Because when spending is tracked against the district's goals, the district ensures intentional spending is raising student achievement.  Let's focus on the FRS framework gear, Budget and Resources. Here district leaders need to:
Seek opportunities to leverage efficiency and cost savings on an ongoing basis and provide consistent funding for sustainability.
Align budgets with strategic and tactical plans while working to eliminate expenses that no longer support the district's vision.
And that means?
Frankly – the success of every single student relies on each and every dollar.
When considering factors that influence student success, many district leaders focus on teachers, counselors, and other school-based professionals who daily interact with students. However, now that vendor options are seemingly limitless but funding dollars are uncompromisingly finite, district spending has become a crucial component of student success.
Strategic alignment of resources to district goals is absolutely paramount in ensuring district dollars are spent advancing the best interests of students. To empower district leaders to proactively align initiative dollars to their overarching priorities, Allovue developed a priority-based budgeting (PBB) worksheet to support district efforts.
Download the FRS Priority Budgeting worksheet here and follow along as I walk you through how it works.
What initiative will drive student achievement?
So this is the fun part: brainstorm with your team (community members, too) and list creative initiatives that the district could implement to help students flourish. From tech integration to a deliberate allocation of staffing, the options are endless so think outside of the box and come up with innovative ideas that could help your students accomplish more, meet and exceed certain benchmarks, or develop new skills.
What outcome do you expect from this project?
Just as teachers skillfully backward plan lessons by first determining student outcome, budget owners and decision-makers must do the same. Does your team expect an increase in student attendance? Or maybe your team wants to improve college and career readiness? Determining an expected outcome is vital to the success of any initiative.
What is the plan for measuring success?
Let's say your team expects your 1:1 tech-initiative to increase 6-8th-grade math proficiency by 25%. How do you plan to effectively measure this growth? Do you have a reliable and valid assessment tool aligned with your district's standards? If so, how will you meaningfully support your principals and teachers in using this tool? Measuring an initiative's success takes a concerted effort and careful forethought so thoroughly plan out how you'll determine if your program was successful.
Now that you outlined the foundation for your new program, it's time to put your money where your mouth is. Determining your resource allocation is arguably the most valuable use of your team's time. Keep these questions in mind when considering how to allocate the resource trio of money, time, and people.
Money: When considering whether to implement a new initiative, first analyze what needs to be purchased. Will your new program incur one-time costs, recurring costs, or both? How do the costs of this project scale with increased activity or district presence? Lastly, what fund(s) will provide the dollars needed?
Time: Time is not simply the days on a calendar. Every hour spent on your initiative by every staff member has a cost. With human capital amounting ~85% of the budget, time is literally money. Comprehensively reviewing total personnel costs needed can help your initiative stay in the black.
Time must also be used as a metric to hold your team accountable. Do you want your elementary schools' flexible seating program to happen day 1 of the new year? Your students do as well! A strict implementation timeline will not only keep your team on track but will also save on unexpected expenses.
People: This is the most beloved resource that is often overlooked when considering a successful implementation. Who will be your champions and implement your initiative with fidelity? What does their time cost? Quantifying the appropriate hours needed and determining who is needed for this project will help your team budget responsibly.
Equity: Equity…I don't see that on the worksheet. Equity is not part of the resource trio specifically; however, it should be the cornerstone of the decisions your team makes regarding money, time, and people. Let's say your district is hiring two social workers to improve social-emotional learning conditions in your schools' classrooms. Instead of equally dividing the social workers' time across schools, have you considered first allocating these resources to schools with a higher student need?
Aligning district priorities to the district's budget may not be easy. The conversations needed to determine what will best serve your students cannot be completed in one meeting. Don't let this discourage you- the success of every single one of your students rests on your thoughtful planning.
ABOUT THE AUTHOR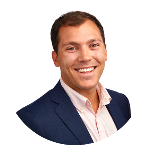 Dave Hopp is a Business Development Specialist at Allovue, helping districts identify their strategic opportunities for growth. Prior to working with Allovue, Dave was a former teacher-mentor and high school ESOL/Biology teacher for Baltimore City Public Schools.