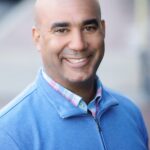 Henry Turner, a high school principal in historic Newton Public Schools in Massachusetts, has been an advocate for equitable education since his days as a student. Growing up in Massachusetts, Turner lived in a community participating in the nation's largest voluntary school desegregation program, METCO which created diversity . He, like thousands of other students in the greater Boston area, were exposed to the benefits of these intentional diversity efforts through their schools.
Throughout its history, Newton North has been known for proactively promoting and providing equity for all learners. For the past six years, Turner has been extending the experience he had as a student, now for the 2,200 kids at Newton North High School, a suburb west of Boston, saying, "Eliminating disparities and improving our teaching and that's what drove me to be a principal. I've been in my dream job for six years as principal of Newton North." The school and district have benefited from Turner's doctoral work in organizational leadership and change management, where his expertise has been in demand by other school districts trying to update their culture to dispel bias and racism through culturally-responsive teaching. These efforts have been proven to engage students through material and approaches that they can relate to, a challenge for many learners coming from impoverished households and backgrounds. It also aligns with the Future Ready Framework's emphasis on Curriculum, Instruction, and Assessment, where he couldn't let the status quo pass. It started with an incident.
Turner's focus emerged in 2016 when a small group of NNHS students waved a confederate flag in the community and word reached administrators. Turner says other students approached school leaders wanting to organize a protest against racism. These students had the full support of the administrative team. Reflecting on deliberate equity efforts by his predecessors back in the eighties, Turner said, "We became one of the first school districts focused on anti-racism." Applying this history to the more recent events, he continued saying, "Students had support from the school leaders in protesting that overt racism and created a human rights council that gives us feedback when they find racist activities."
As formal equity work in US schools has dramatically increased relative to Newton North's history, it shines a light on how Turner and the team at Newton were acting more on their heritage as a progressive school district in a city known for being less than inclusive of people of color than if this event occurred more recently.
A few years later, when the pandemic came, followed by civil unrest after the George Floyd murder, Turner led his team forward through another challenge affecting the entire learning community. He said, "Going into 2020 we were moving forward then COVID hit. We made a collective commitment to find every student and make sure they were connected." The diversity in the district spanned affluent homes to some of the most impoverished in the community. In hindsight, Turner said when they reopened schools, they came back with even more strength in their equity work than before. This work led Turner, a Future Ready Advisor for the Principal Strand, to be awarded as the 2020 K-12 Dive Principal of the Year.
The district hired a diversity, equity, and inclusion director (DEI), Kathy Lopes, to further formalize their anti-racist (AR) efforts in Newton. From their experience working together, Turner has been co-writing a leadership book with Lopes in order to help other administrators. Reflecting on the book, he said, "I felt really good about where we were and it was time to help others realize this is what great leadership is—not just saying you're committed to all students but you work to create an environment that is that committed." Turner believes AR leadership is in doing your own core work first as well as helping others try to grow in their commitment to AR and help to develop student skills and commitment to a better way of growing together. This is an example of a truly collaborative, relevant, and applied learning culture at NNHS.
Prioritizing a culturally-responsive pedagogy with his teammates has led Turner to his current project, writing a book to encapsulate the work and share it with the field. "When we started writing about it, we couldn't find any other books. Now there's all these educators around the country trying to solve this impossible problem. The idea of the book is about how to get other leaders on board with the AR work that we need."
Turner has also been a Future Ready Schools Leader since his days before NNHS in Bedford, MA where he helped lead the district as one of the first school districts to go 1:1 in Massachusetts. "We wanted to connect with other districts to best learn how to empower our students. In transition to Newton, that became more central in my leadership lens to best equip students."
His experience in this practical strategy of infusing learning with appropriate technology for several high schools he led taught Turner it was more than just purchasing equipment. "We needed a larger conversation to keep it from being only about the device. We did our own internal work and that's where we learned from Future Ready Schools how to establish a vision that encompasses our needs."
The Future Ready Schools Framework gave his team the context to do just that, he said. In the Fall of 2019, his team attended a Future Ready event in New Hampshire and that core group, which continued meeting after that event, centering the conversation around what they wanted from their students. "This was a pre-pandemic equity moment, thinking about what resources we wanted to provide for our students. We were prepared to not just see devices as tools, but also to think about how this could restructure teaching and learning."
At the same time, Newton had been talking about a later start for students. Research had been out for a while and a core movement within our parent community and some staff asking for a later start. Like other learning communities, Newton has suffered from significant mental health issues with their students in the past. As such, there was already a conversation about improving mental health before SEL was as popular as it is today. "We're a high-powered school. We are proud of our students' successes. We have a reputation of over-preparing our students for college and career." The team started talking about a schedule for a late-start and that became part of the formative conversation about what teaching and learning could look like in flexible learning blocks that are longer where students are actively engaged. The leadership team started with an advisory model as the foundation. Teachers started to see the potential of a new way and for the first time, SEL and Equity were the drivers of our schedule.
This current school year is the first with a later start. "To look back, the Future Ready framework reminds us that it's worth taking the risk to do this sort of work. We're in the throes of big change right now and it has its challenges, it's hard, but at the same time, I can stand before our parents and tell them with confidence this is the approach that will get us where we need to go."
So much change isn't without its stressors, of course. Turner talks candidly about the tensions that arise when a team is honest about their current state versus their idealistic aspirations. "Our teachers are saying, 'You're throwing a lot at us too quickly.' And what I see is a lot of innovation and leadership coming from our teachers."
One key example is in grading policy design. During the pandemic, teachers surfaced how inequitable traditional grading was for their students. Turner said, "We overhauled our grading system for the 2020-2021 school year because we knew we had racial disparities around grades already and the pandemic was impacting communities of color more. They dispelled pluses and minuses at NNHS (using only A, B, P, and NG scores instead)." He continued sharing how they arrived at the decision with a new theme of evaluating performance progress and process, citing Grading for Equity, by Joe Feldman as well as Tom Guskey's work referenced in Kim Marshall's "One Hundred Years of Research on Grading."
"We narrowed disparities by race…teachers started to accept late work, offer retakes. A group of teachers wanted to overhaul it and we formed a committee." Two teachers in that group said they wanted to get a grant for using improvement science to create a new grading practice and culture with AR as the North Star to address racial bias in traditional grading practices. "These are teachers. No administrator influenced them. They organically said this is what we wanted to do."
These efforts are leading change. As a result, NNHS had the most students accepted to Ivy League schools in recent institutional memory. "Our kids crushed it last year! 80% of Newton graduates got into their top three schools!"
Turner reminds the general public concerned about shifts in public education that, "by focusing on equity you're not hurting other kids; you're helping all kids!"