Why I'm Opting In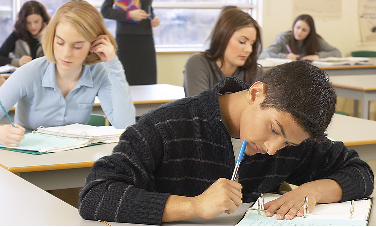 Next week, like millions of other students around the country, my daughter will take a new test, the Partnership for Assessment of Readiness for College and Careers (PARCC). As many news reports have documented, a number of parents (the exact number is unclear) have objected to the tests and have chosen to "opt out" of them, by not having their children take the tests. States vary in the extent to which this is permissible, but many districts have allowed parents to choose this course.
I will not be among them.
If this had been a test like those most states had used up until this year, I might have agreed with the opting-out parents that the test is basically a waste of time. Most tests have tended to measure low-level knowledge and skills, and the information they provided was not particularly useful. The test results usually came back after the school year was over, and they provided an overall number, which was completely opaque, or worse, a percentile score, which said nothing about what my daughter knew or was able to do.
The PARCC test is different. Notably, the test—particularly the portion she will take next week, which is the first of two parts—asks students to conduct extended performance tasks. They will read several documents, weigh their credibility, and write a short essay that uses evidence from the texts to support their conclusion. A math test, which my daughter does not have to take this year, involves extended, multi-step problems that ask students to draw on their knowledge to come up with a solution to a real-life situation and justify their answers.
Those are the kinds of competencies I want my daughter to be able to demonstrate. And if she spends a few hours doing that kind of work, that's not a waste of time. Most importantly, if her teachers spend the year preparing her to take that kind of test, they will be providing her with opportunities for deeper learning—a far cry from the deadly test prep teachers engaged in when the tests measured only low-level skills.
Moreover, the information the test provides will be valuable. It will show not just an overall score, but also how well my daughter has mastered critical competencies, like how well she can analyze written texts and how well she conveys ideas in writing. While her grades and homework assignments provide some of that information, the test results will deepen my understanding of what she knows and can do. And importantly, the test will show how her school as a whole does on those competencies. That's important for the school's leaders and district administrators as they allocate resources and professional development.
If I opted out of the test, I wouldn't have that information, and the school's results would be skewed. And what would that accomplish?
Rather than opt out of the tests, parents would do better to try to push for changes in policy to reduce the all-powerful influence that tests currently have on school practice. As long as test scores are the only measure of a school's performance, schools have incentives to devote an inordinate amount of time to test prep and other measures to raise scores that have nothing to do with learning. But if schools were judged on multiple measures, through the use of a dashboard that provides an array of data, schools would be less likely to place all of their energy on the tests.
Parents should also take a look at PARCC and the tests developed by the Smarter Balanced Assessment Consortium to see exactly what they measure and how different they are from previous tests. Better yet, they should take the practice tests the consortia provide. They'll see that these tests are not the "tests" they've grown to dislike. Like me, they might decide to opt in.
Robert Rothman is a senior fellow at the Alliance for Excellent Education.
Categories:
Uncategorized