"Why Do the White Teachers Always Quit?"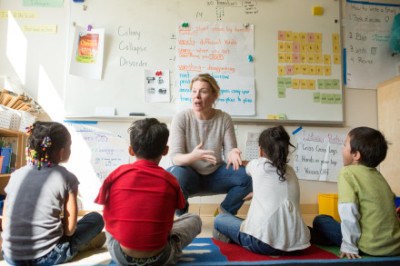 That morning started like any other that semester. I parked in the visitor lot at the high school in San Antonio, Texas, and showed the receptionist my ID badge with the word "SUBSTITUTE" printed in bold purple letters across the bottom. She smiled and waved me to a desk in the back of the office where she handed me a sticky note with a room number on it. I made my way through the school, searching for the number, as students gathered outside their advisory classes eating their breakfasts. I found my room—an eleventh-grade chemistry class—unlocked the door and reviewed the teacher's lesson plans for the day. Written across the board in large letters were the classroom expectations: BE RESPECTFUL, BE RESPONSIBLE, BE READY. In retrospect, these guidelines were perhaps a reminder for me, just as much as for the students. 
After a few minutes, the students filed into the room. Most glanced at me as they walked to their desks and continued chatting unphased. A few said, "hello" or "good morning." One student sat down at the lab table right next to me and asked, "So Miss is gone? You're the new teacher?" I began to answer that I was only there for the day, but before I could he said, "Why do the white teachers always quit?" I stood silently, unsure of what to say. Students around him began listing the names of several teachers who had left in the middle of the year, all of them white. Ninety-eight percent of students at the school were children of color, mostly Latino, and 86 percent qualified for free or reduced-priced lunch. It had not escaped them that the majority of teachers who had quit did not look like them. 
High rates of teacher turnover in historically underserved communities are not specific to this school in San Antonio. Data collected by the National Center for Education Statistics reveals that in low-poverty schools (those where fewer than 25 percent of students qualify for free or reduced-price lunch) annual teacher turnover is approximately 12 percent. But at high-poverty schools (those where more than 75 percent of students qualify for free or reduced-price lunch) annual teacher turnover is approximately 22 percent, nearly double the rate of their more affluent counterparts. Analysis by the National School Boards Association indicates that in high-minority, high-poverty urban districts as many as 50 percent of new teachers leave the profession within five years. Meanwhile, a study published by the American Sociological Association reveals that turnover among white teachers is approximately three times more likely in a school with predominantly students of color than in a school with a predominantly white student population; when the student population is primarily African American, white teachers are more than five times as likely to leave. 
While there is evidence to support the observation of the student in the chemistry class—that white teachers leave historically underserved schools at higher rates than their colleagues of color—it does not answer his actual question: why does this occur? Research published by the Society for the Study of School Psychology indicates that some white teachers perceive students of color as more disruptive and lower-performing academically than white students, even when the assumption is empirically false. The study attributes this bias to white teachers' struggle to communicate effectively with students of color due to a lack of shared cultural experiences and styles. Could implicit bias and lack of cultural competence contribute to white teacher attrition from historically underserved schools? 
Substitute teaching was not my first time as a white teacher in a school with historically underserved student populations. The two previous school years I taught third grade in the same district as a Teach for America (TFA) corps member. Although my third graders never explicitly articulated the differences they observed between us, they certainly were aware of them. From the beginning of the year, they assumed I was new to San Antonio (I was), that I did not live in their neighborhood (I did not), and that I could not speak Spanish (I cannot). When my two years in TFA ended, I left the classroom. I was one of the white teachers who quit. My struggle to be culturally competent made it difficult for me to stay, while my privilege as a white teacher made it easy for me to leave. 
Research indicates that additional preparation and mentorship can mitigate the problem of teacher attrition from historically underserved schools. A report and webinar from the Alliance for Excellent Education advocate for extended induction programs that prepare new teachers to be quality educators for underserved communities. 
When that eleventh-grade chemistry student asked me why all the white teachers quit, it was his peers and not me who provided answers. "They aren't from here," the classmates replied. "This isn't where they really want to teach. … They can't handle us. … We are bad."  To these students, what really matters are not my reasons for leaving, but the messages they internalize when they realize that the white teachers "always quit."  
Caitlin Caswell is a policy and advocacy intern at the Alliance for Excellent Education. 
Photo by Allison Shelley/The Verbatim Agency for American Education: Images of Teachers and Students in Action