White House Holds Second Annual Summit on Next-Generation High Schools; Alliance Plays Key Role

September 13, 2016 09:34 pm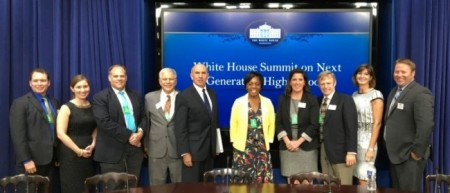 On September 12, U.S. Secretary of Education John King; Cecilia Muñoz, assistant to the president and director of the White House Domestic Policy Council; and other senior Obama administration officials joined state and school district leaders, educators, philanthropists, students, parents, and others during the second annual "White House Summit on Next Generation High Schools" to share efforts to transform the high school experience and better personalize learning for all students. The Alliance for Excellent Education staff (shown in picture above) played a key role by leading a breakout session on personalized learning and technology and preparing toolkits for school leaders on how to use the Every Student Succeeds Act to transform their high schools, particularly for traditionally underserved students.
In his remarks, King celebrated the nation's all-time-high high school graduation rate of 82 percent and the fact that 1 million more African American and Latino students are attending college today than when President Obama took office, as well as greater access to high-speed internet and early learning opportunities. King discussed the Every Student Succeeds Act (ESSA), which he said "gives states the opportunity to broaden the definition of educational excellence" and replace the "prescriptive, ineffective, one-size-fits-all" approaches of the No Child Left Behind Act.
King spoke passionately about the need for educational equity and the additional work necessary to ensure that students of color, students from low-income families, and other traditionally underserved students have access to advanced course work in high school, including calculus, physics, and Algebra II. He said 1.6 million U.S. students go to a school with a sworn law enforcement officer but no school counselor, and he noted that some areas of the country are more segregated by race and class today than they were ten or twenty years ago.
"I'm excited about this summit and the opportunity to both rethink what students' experience is like in the classroom, but also to challenge ourselves to ensure that schools are truly the engines of equity and opportunity that we intend," King said. "Innovative high schools have the opportunity not only to strengthen the long-term success of our economy, but to strengthen the long-term success of our democracy by being places that equip students with the skills they need, but also the opportunities to build the relationships that are the foundation of a strong civic culture."
Alliance for Excellent Education President Bob Wise also spoke at the event and challenged attendees to take advantage of the "seminal moment" that the summit offered for high school transformation. "There are a few hundred next-generation high schools nationwide," Wise said. "Our challenge is to grow that number into the thousands—to turn niche into normal, transformational into the new traditional."
In conjunction with the summit, the U.S. Department of Education (ED) released a series of policy documents in support of next-generation high schools. Using Evidence to Create Next-Generation High Schools, identifies six evidence-based strategies to improve student outcomes, including (1) rigorous curriculum; (2) small learning communities or small schools of choice; (3) career academies; (4) dual enrollment; (5) early college high schools; and (6) college and career counseling. Additionally, ED released an issue brief on early-warning systems—the first of thirteen specific high school improvement strategies designed to improve the likelihood of high school graduation for traditionally underserved students. Additional briefs will be released this fall. Finally, ED released a series of posts from a blog series on personalized learning from its Office of Educational Technology to define and highlight key dimensions of exemplary personalized learning systems.
The White House also released a fact sheet summarizing actions by six states (New Hampshire, Ohio, Pennsylvania, Rhode Island, Virginia, and Wisconsin) and more than twenty school districts to create next-generation high schools, as well as a progress report following up on the commitments made at last year's summit on next-generation high schools.
To access archived video and other resources from the summit, visit
http://www.ed.gov/next-generation-high-schools/.
Categories:
Uncategorized