Where is the Golden Gate Bridge for education?

February 19, 2013 08:27 pm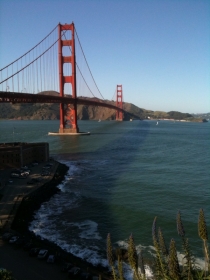 With a free Sunday in San Francisco, I headed out on a sunny afternoon to walk across the massive Golden Gate bridge. Thousands like me were crossing this iron and concrete structure spanning high above the Pacific ocean below. Taking pictures, stopping to absorb the Bay Area panorama, marveling at the height and engineering audacity – our safe, but windy, crossing paid homage to those who played some part in building this transportation marvel.
In a former career, I served on the congressional committee responsible for authorizing and approving the nation's infrastructure. I learned to appreciate the vision and commitment involved in moving roads, dams, and bridges from concept to concrete. With this in mind, I paused midway across the Bridge to read the names of the officials, engineers, and contractors who constructed it from 1933 to 1937. Unrecorded on the metal plaque are the thousands of construction workers who turned a bold design into soaring steel towers and an engineering marvel.
Having experienced the difficulties with launching any major public works project, I wondered at the many obstacles that had to be overcome before the first car was able to drive across the Pacific. Naysayers scoffing at the mere idea. More self-interested opponents fighting to maintain their lucrative ferry services. Fiscal conservatives decrying incurring such debt— and with the nation still emerging from the Great Depression. Skeptical engineers and designers. Mind-numbing bureaucratic battles between government agencies. Quarreling political officials failing to recognize that changing times required new strategies. Then there were also the real challenges of building across a wide span of ocean in a notoriously windy section that is also prone to earthquakes. Longstanding engineering and construction practices would not be sufficient for this vision to be realized.
Great challenges and obstacles. Yet now thousands of people everyday routinely cross this magnificent span. The innovative suspension design enabling the roadway to flex in winds and earth tremors overcame many engineering barriers. Determination by builders, elected officials, and the public created the approval necessary for construction to begin.
Standing at one end of the bridge, I watched my fellow pedestrians stream across the walkway. A sea of faces. Every race, ethnicity, and income level. Every region of the country and world. Countless languages and accents danced on the gusty winds high above the Pacific. Posing, photographing, and high-fiving, we all celebrated our individual passage… we had all been able to cross this tumultuous sea in a manner unimaginable a few generations earlier. Where once only a few of us could have jammed on a ferry, now all of us would make the crossing.
So in the 21st century, where is the Golden Gate for education ? Does each state and the nation have the vision and commitment to provide the education bridge for each citizen to attain their dream— or will an obsolete ferry system continue to carry only small numbers?
Many of the same barriers that hindered the Golden Gate's construction exist today in education: so do many of the same ingredients for success. Hard driving political, business, and education leaders moving forward everyday with the vision of what education can be. Rapidly emerging practice and technology that permits spanning previously vast educational chasms and pulling all students to the other side. And the growing public recognition that only by providing the educational systems for all students to cross will the nation's social and economic infrastructure truly thrive.
Big thinking. Public commitment. Hard work. There is an education Golden Gate to be built.
Bob Wise is a former governor of West Virginia and the president of the Alliance for Excellent Education.
Categories:
Uncategorized