How Student-Teacher Relationships Impact Student Engagement and Learning

November 20, 2018 09:20 am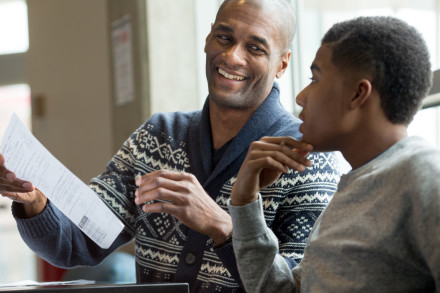 As a professor of human development in the Department of Human Development and Quantitative Methodology at the University of Maryland, College Park, Dr. Kathryn Wentzel researches the nature of teacher-student relationships and how these relationships predict young adolescents' goal pursuit, prosocial behavior, and academic performance.
On this episode of All4Ed's podcast, Critical Window, Wentzel walks through the process of building positive student-teacher relationships and how it affects student engagement and learning.
In the below excerpts from the episode, Wentzel explains that teachers can…
Capitalize on Collaboration
"The more [teachers] are tuned in to the peer relationships in their classrooms, the better able they are to create a classroom climate where [students] can interact with their peers but also engage in good instructional activities. So the challenge is to enable students to interact with each other but also in structured contexts where they're able to learn."
Act as a Safe Haven for Adolescents
"During middle school and high school, teachers have the ability to create safe environments for students, physically safe environments as well as emotionally safe. And this is very important for adolescents because, as supportive and friendly as peers can be, they can also be mean spirited. They can also create a lot of stress. And so, teachers need to continue to be there as a safe haven for adolescents."
Model Good Relationships
When a trusting relationship exists between students and their teachers, "students are willing to engage in things that the teachers would like them to."
"A positive relationship also allows teachers to model good relationships with others, and so these social and emotional skills are very valuable for kids to learn and to demonstrate with each other." This results in positive social behavior in the classroom, including "being helpful, cooperating, sharing, being nice to each other, and engaging in positive social exchanges with others."
Create an Engaging Classroom
"If a student feels that a teacher cares about them, is going to be supportive of them as an individual, they're more likely to listen to the teacher, to engage in what the teacher wants them to. It [will] create a very calm, but at least an engaging classroom climate which allows everyone to learn more and better. It just creates a better climate for everybody to engage in the process of learning. And so there are academic benefits as well. Kids are more engaged and motivated to learn academically."
To learn more about how to build positive relationships between teachers and students, listen to the full episode of Critical Window below.
Critical Window is a podcast from the Alliance for Excellent Education that explores the rapid changes happening in the body and the brain during adolescence and what these changes mean for educators, policymakers, and parents. 
Subscribe to Critical Window on Apple Music, Stitcher or wherever you find podcasts.
Featured Image by Allison Shelley/The Verbatim Agency for American Education: Images of Teachers and Students in Action.