What Is the United States Doing Wrong When It Comes to Developing Effective School Principals?

November 02, 2017 09:32 am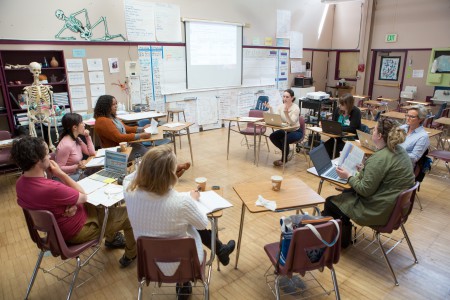 A growing body of research shows that school leadership impacts student learning outcomes almost as significantly as teacher effectiveness. But how can school districts develop highly effective principals?
Recognizing the importance of nurturing school leaders, some of the world's top-performing school systems no longer treat principal development separately from teacher development. Instead, these top-performing countries and provinces have embedded their programs for preparing future school principals within comprehensive leadership development continuums that span educators' careers, according to a new report from the National Center on Education and the Economy (NCEE).
These high-achieving nations and provinces—Ontario, Singapore, Hong Kong, and Shanghai—nurture future school leaders from the moment they step into a classroom, but they expect educators to become superior teachers long before they ever become principals, according to Preparing to Lead: Lessons in Principal Development from High-Performing Education Systems.
"Whereas, in the United States, school districts typically do little or nothing to groom teachers for leadership roles in schools, and wait for teachers to volunteer for school leadership openings, the top performers put a lot of effort into shaping the pool from which future leaders are selected," NCEE President Marc Tucker writes in a blog post about the report. "They do this by giving promising teachers a deliberately selected series of opportunities to lead teams of teachers."
Since 2000, Ontario, Singapore, Hong Kong, and Shanghai have implemented significant education reforms to improve the academic achievement of their students, including investing heavily in school leadership development programs, the report explains. They now all rank among the top-performing nations and economies on the Programme for International Student Assessment (PISA), a triennial test administered by the Organisation for Economic Co-operation and Development to students in its member and partner countries and economies. PISA is considered the world's most comprehensive and rigorous comparison of international student achievement.
Although each nation or province featured in the NCEE report has designed its principal-preparation program to suit its specific needs, the four programs share many commonalities. Instructional leadership in all four systems is "distributed and highly collaborative; [and principal] development programs are designed to reflect these divisions of responsibility," the report says. That means the principal is not the sole instructional leader in a school. Instead, high-performing school systems nurture their teacher leaders too and provide them with targeted development in curriculum leadership even if they do not pursue a principalship. Teacher leaders serve as heads of departments and subjects, school curriculum leaders, and research group leaders, the report explains. Consequently, "[a]spiring principals in these systems have therefore typically received targeted training and/or in-school experience in instructional leadership before they undertake formal leadership development," the report says.
Once an educator decides to become a principal, the training focuses on developing leaders who can support this collaborative approach to instructional management. In each school system, the formal principal-preparation program reflects the specific vision each nation or province has for its schools, trains educators to lead their schools as "professional learning organizations," and treats leadership development as a continuous part of a principal's job, the report explains. Aspiring principals in Ontario, Singapore, and Hong Kong begin by completing mandatory preservice preparation programs, the report says. During this preservice training, each aspiring principal receives an in-school placement where he or she works alongside a mentor principal to identify and resolve a real-world challenge impeding teaching and learning at that school, the report explains. Similarly, new principals in Shanghai complete 300 hours of leadership-focused professional development during their first six months on the job. They also participate in "lesson and research groups" at the school, district, and provincial levels that allow the new principals to collaborate with teachers and other principals on curriculum and instruction improvements.
"The best [leadership development] programs combine a detailed understanding of principals' roles and responsibilities with a deep grounding in the system's particular philosophy and objectives for how schools get better," report author Ben Jensen says in a statement. "Such high-impact teaching and learning uniquely positions these leaders for success and simply is not possible in generalist leadership or MBA programs, even at the highest levels."
By integrating leadership development throughout educators' careers, these top-performing school systems create an environment of continuous learning for their teachers and principals, the report explains. Rather than treating leadership development as a one-time "content event," these school systems embed leadership development into educators' daily work, ensuring that training remains contextual and relevant to the real teaching and learning challenges educators face.
Kristen Loschert is editorial director at the Alliance for Excellent Education.
Photo by Allison Shelley/The Verbatim Agency for American Education: Images of Teachers and Students in Action