West Virginia Becomes First State to Implement "Project 24" as Part of a State-Wide Education Initiative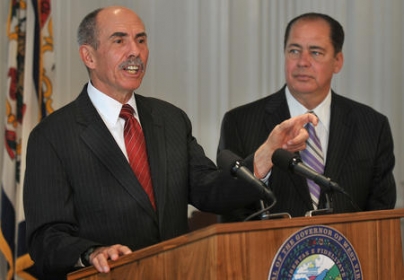 On April 17, West Virginia Governor Earl Ray Tomblin joined with Bob Wise, president of the Alliance for Excellent Education and former governor of West Virginia, to announce that West Virginia would be the first state to implement "Project 24" as part of a statewide education initiative.
Led by the Alliance for Excellent Education, Project 24 is a ground-breaking new initiative to help school districts plan for and effectively use technology and digital learning to ensure that students graduate from high school ready for college and a career. As part of the statewide effort, particular focus will be on helping all West Virginia school districts to undergo district-wide planning through Project 24.
"With today's technological advances, we have the ability to personalize learning and better meet the needs of each individual student," Tomblin said. "I believe Project 24 will help us integrate technology and digital learning into our classrooms by providing innovative ways for our children to learn, in turn helping prepare them for a successful future."
At the state level, West Virginia will complete a review of classroom technology and digital learning infrastructure in the state. It will also encourage all school districts in West Virginia to complete the Project 24 self assessment, providing valuable feedback from the districts that will help the state frame its vision for student learning, recognize aspects of the education system that need to be addressed, and specify how technology can help align these efforts to college- and career-ready standards. The review will be followed by a plan of action and details on how to implement the plan to personalize learning for all of West Virginia's students. West Virginia's commitment to Project 24 comes on the heels of the West Virginia Legislature passing significant education reforms to increase student achievement and improve the state's education system.
"Governor Tomblin and the legislature have just enacted strong education legislation," said Wise. "Developing a comprehensive plan for how technology can support teachers and students is an important first step in reaching the important goals that West Virginia has adopted. While hundreds of school districts across the nation are involved with Project 24, Governor Tomblin leads the nation in making this a statewide effort."
Learn more about Project 24 at here.
[image via Charleston Daily Mail]
Categories:
Uncategorized