While You Were Out: Looking Back At The 2010 Lame Duck Session And Looking Ahead To Possible ESEA Reauthorization In 2011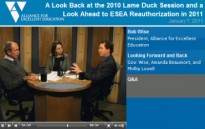 January 7, 2011
2:00 pm – 3:00 pm EDT
Washington, DC
While some of us were well on our way to Grandma's house for the holidays, members of Congress were still trying to come to an agreement on final appropriations bills that would determine 2011 spending levels for the U.S. Department of Education and other federal agencies. At the end of the day, Congress agreed upon a continuing resolution that would keep the federal government funded through March 4, 2011.
But what happens next? How will Republican control of the House of Representatives affect funding decisions? And what about No Child Left Behind (NCLB)? Saturday, January 8 marked nine years since NCLB was first signed into law. Although the respective education committees in the House and Senate have held hearings on the subject, reauthorization of the law, which was due in 2007, has yet to occur.
One person who thinks there could be a 2011 reauthorization of the Elementary and Secondary Education Act (ESEA), currently known as NCLB, is U.S. Secretary of Education Arne Duncan. In a January 3 op-ed in the Washington Post, Secretary Duncan noted that work on ESEA reauthorization has been underway for much of the past year and added that "few areas are more suited for bipartisan action than education reform." But what form is that reauthorization, if it happens, likely to take? In a mid-December 2010 interview, Representative John Kline (R-MN), incoming chairman of the House Education and Labor Committee, said he wants to pass a series of stand-alone bills instead of a big reauthorization.
During the webinar, Bob Wise, president of the Alliance for Excellent Education and former governor of West Virginia, and members of the Alliance's federal advocacy team reviewed the 2010 lame duck session in greater detail and previewed possible congressional action on reauthorization of the Elementary and Secondary Education Act (ESEA) in 2011.
Categories:
Uncategorized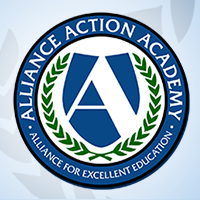 Welcome to the Alliance for Excellent Education's Action Academy, an online learning community of education advocates. We invite you to create an account, expand your knowledge on the most pressing issues in education, and communicate with others who share your interests in education reform.
Register Now
or register for Action Academy below: