Utilizing Student Supports And Alternative Settings For Dropout Prevention: Georgia's Performance Learning Centers
April 22, 2009
9:00 am – 11:30 am EDT
Hyatt Regency Hotel 400 New Jersey Avenue, NW Washington, DC
Presenters
Gary Chapman, Deputy Vice President of Field Operations, Communities in Schools
Reginald Beaty, Executive Vice President and COO, Communities in Schools of Georgia
Donita Cullen, Academic Coordinator, Douglas County Performance Learning Center (Douglasville, GA)
Kami Hunt, 2008 Graduate, Douglas County Performance Learning Center
Phillip Lovell, Vice President for Education Policy, First Focus
A diverse range of educators, administrators, policymakers, and other key stakeholders gathered on April 22, 2009, at Utilizing Student Supports and Alternative Settings for Dropout Prevention: Georgia's Performance Learning Centers, a forum hosted by the Alliance for Excellent Education, to discuss the implementation and results of Communities in Schools' Performance Learning Centers (PLCs) in Georgia. The event focused on the challenges of re-engaging students who are at risk of dropping out, how community organizations and school districts can partner to provide the necessary supports to ensure student success, and the implications of these experiences for national and federal efforts aimed at reducing America's dropout rate.
Ms. Elizabeth Schneider, vice president of state advocacy and outreach and interim vice president of policy for the Alliance for Excellent Education, opened the forum by discussing the dropout crisis that America is facing and the importance of a high school diploma for a successful future. She cited the importance of recuperative program models—such as Communities in Schools' Performance Learning Centers—to meet the needs of those students most at risk of dropping out. Ms. Schneider made note of the role of policymakers in scaling up these local efforts to ensure that all students have access to the options and supports that meet their particular needs, guide them to a high school diploma, and prepare them for post-secondary success.
Col. Reginald Beaty, executive vice president and chief operating officer of Communities in Schools (CIS) of Georgia, gave a brief overview of CIS. Col. Beaty explained, "You can't get a student turned on to learning until you can get them turned on to living," stating that the goal of CIS is to connect community resources with schools and districts to address students' needs and help them to successfully learn, stay in school, and prepare for life. The mission of CIS is based on the premise that every child needs and deserves a one-on-one relationship with a caring adult, a safe place to learn and grow, a healthy start and future, a marketable skill to use upon graduation, and a chance to give back to peers and the community.
Col. Beaty also gave an overview of the Performance Learning Center (PLC) model, which is a signature initiative of CIS. The PLC model is designed to serve students who are not succeeding in the traditional high school setting and have displayed chronic absenteeism, a lack of interest in school and learning, poor academic achievement with above average ability, or non-academic challenges to success. The PLC strategy is to re-engage students who have dropped out or are about to drop out through strong relationships, relevant instruction, rigor, and results. The implementation of this strategy rests upon six pillars: a professional learning environment, a self-managed performance track, a positive school climate, a high-touch/high-tech curriculum, post-graduation preparation, and community engagement.
Ms. Donita Cullen, academic coordinator of the Douglas County, Georgia PLC, highlighted the implementation of PLCs. PLCs are small learning environments with low student-to-teacher ratios and are usually located separate from a district's traditional high schools. Often, they are housed on community college campuses or in separate buildings within the district. Teachers at PLCs are referred to as "learning facilitators" and work to guide students through their learning plans at an individualized pace. PLCs make strong use of technology via online curriculum that is paired with project- and service-based learning opportunities and meets state standards. Ms. Cullen went on to describe how each of the PLC framework pillars is implemented within the center. She concluded with an overview of the positive results in attendance and student achievement that the Douglas County, Georgia PLC has experienced, noting that students in the program have an average daily attendance rate of 95 percent. She also reported that students passed the standardized exams required for graduation and NCLB accountability at a rate of 100 percent in math in the spring of 2008 and in English in the spring of 2009.
Ms. Kami Hunt, a graduate of the Douglas County Performance Learning Center, shared with the audience how the PLC changed her life. Ms. Hunt described her experiences at her traditional high school and the factors that influenced her desire to drop out of high school. Ms. Hunt credits the teachers and structure of the PLC with getting her re-engaged in her learning and back on track. She has been accepted to West Central Technical College with plans to attend the police academy after earning her associate's degree.
Mr. Gary Chapman, deputy vice president of field operations at CIS, discussed the success of PLCs and their connection to the broader CIS efforts. Since the inception of the model in 2003, 3,227 students have graduated from PLCs. All of these graduates were students who had dropped out or indicated they intended to drop out prior to enrolling in the program. Mr. Chapman went on to discuss the results of an independent evaluation of the Georgia PLCs conducted by ICF International that demonstrated the positive impact PLCs have on the graduation and dropout rates of the school district in which they are located. He concluded by reiterating the importance of actively engaging students in school and their community and cited several pieces of legislation that could support the continuation and expansion of these efforts, including the Keeping PACE Act, the GRADUATES Act, and the Graduation Promise Act.
Mr. Phillip Lovell, vice president for education, housing, and youth policy at First Focus, discussed the policy implications of PLCs and relevant legislation that has been or will soon be introduced in Congress. Non-academic factors, such as student mobility and health, play a critical role in enabling or preventing academic success. Mr. Lovell noted that it is unfair and dangerous to expect schools to shoulder all of the challenges of addressing external factors and graduating students prepared for work and college. Mr. Lovell praised the PLC model and CIS for their ability to bring together academic rigor and non-academic supports to mitigate external barriers to learning. While student relationships cannot be legislated by the federal government, federal policy can create levers to facilitate relationship-building between schools and communities. He also noted several pieces of legislation that could provide these levers including the ones mentioned above as well as the Full Service Community Schools Act, and the WE CARE Act.
After a brief question and answer session, Governor Bob Wise, president of the Alliance for Excellent Education, concluded the event by noting that policymakers must take examples—like PLCs—that are working on the ground to improve student outcomes and graduation rates and turn them into policy that can impact the six million students who are at risk.
MATERIALS from the event:
"Communities in Schools' Performance Learning Centers: Utilizing Student Supports and Alternative Settings for Dropout Prevention" 
CIS of Georgia Profile (Feb 2008) 
CIS PLC Student Progression Map 
Key Pieces of High School Legislation

Secondary School Innovation Fund Summary 
AUDIO* and 
VIDEO (Flash popup) from the entire event
Utilizing Student Supports and Alternative Settings for Dropout Prevention: Georgia's Performance Learning Centers
Audio* and 
Video (Flash popup)

* To download audio MP3 files, right-click over "Audio" link in Internet Explorer and select "Save Target As…". Other browsers (Firefox, Safari, etc…) have similar functionality. To listen only, simply left-click on "Audio" link. 
Categories:
Uncategorized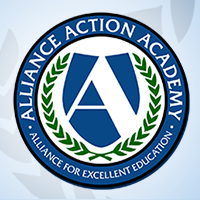 Welcome to the Alliance for Excellent Education's Action Academy, an online learning community of education advocates. We invite you to create an account, expand your knowledge on the most pressing issues in education, and communicate with others who share your interests in education reform.
Register Now
or register for Action Academy below: