Turnaround Schools: The Role Of School Leaders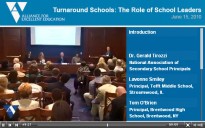 July 15, 2010
2:00 pm – 4:00 pm EDT
U.S. Capitol Visitor Center (SVC 209/208) 1st Street, NE Washington, DC
Participants
Jamie Fasteau, Senior Education Policy Advisor, U.S. House of Representatives Committee on Education and Labor (Majority Staff)
Lindsay Hunsicker, Senior Education Policy Advisor, U.S. Senate Committee on Health, Education, Labor, and Pensions (Minority Staff) 
Thomas O'Brien, Principal, Brentwood High School (Brentwood, New York)
Lavonne Smiley, Principal, Tefft Middle School (Streamwood, Illinois)
Gerald Tirozzi, Executive Director, National Association of Secondary School Principals (NASSP)
Bob Wise, President, Alliance for Excellent Education
On July 15, 2010 the Alliance for Excellent Education and the National Association of Secondary School Principals cohosted a discussion about the role of school leaders in turning around low-performing schools. The MetLife Foundation-NASSP Breakthrough Schools project identifies, showcases, and recognizes middle and high schools that are high achieving or dramatically improving student achievement while serving large numbers of those students most at risk of dropping out. Brentwood High School and Tefft Middle School have been recognized by the Breakthrough Schools project as schools that have exemplified the core areas of collaborative leadership, personalization, and access to a rigorous and differentiated curriculum for all students.
The National Association of Secondary School Principals is the preeminent organization of and national voice for middle and high school principals, assistant principals, and aspiring school leaders.
The Alliance for Excellent Education is a Washington, DC-based national policy and advocacy organization that works to improve national and federal policy so that all students can achieve at high academic levels and graduate from high school ready for success in college, work, and citizenship in the twenty-first century.
EVENT MATERIALS
Agenda 
PDF
Speaker Biographies 
PDF
NASSP and Alliance PowerPoint Presentation 
PDF
School Principal Recruitment and Training Act, a document from NASSP 
PDF
ADDITIONAL RESOURCES
EPIC Research Paper 
PDF
Graduation Promise Act Summary 
PDF
LEARN Act Summary 
PDF
Success in the Middle Act Summary 
PDF
Categories:
Uncategorized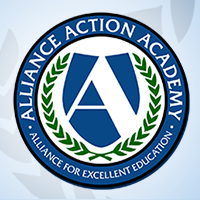 Welcome to the Alliance for Excellent Education's Action Academy, an online learning community of education advocates. We invite you to create an account, expand your knowledge on the most pressing issues in education, and communicate with others who share your interests in education reform.
Register Now
or register for Action Academy below: