Transforming The High School Experience: Lessons From The New York Small Schools Initiative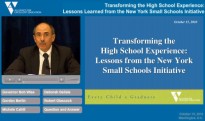 October 15, 2010
6:00 pm – 7:30 pm EDT
Washington, DC
Presenters
Gordon Berlin, President, MDRC
Michele Cahill, Vice President, National Programs, and Program Director, Urban Education,
Carnegie Corporation of New York
Deborah Delisle, Superintendent of Public Instruction, Ohio Department of Education
Robert Glascock, Executive Director, Maryland Breakthrough Center, Maryland State Department of Education
Bob Wise, President, Alliance for Excellent Education
States and districts face enormous challenges in designing and executing effective strategies to turn around the lowest-performing high schools. Beginning in 2002, New York City closed more than twenty failing high schools and opened more than two hundred new secondary schools while implementing a centralized high school admission process through which approximately 80,000 students a year indicate their school preference from a wide range of programs.
MDRC, a nonprofit, nonpartisan education and social policy research firm in New York City, found that "small high schools of choice" in New York City increase students' likelihood of earning credits, progressing through school, and graduating in four years with Regents diplomas—demonstrating evidence of college readiness. These schools serve low-income students of color, two thirds of whom are far behind grade level as entering ninth graders. The results underscore the historic nature of the small schools work undertaken in New York City and its implications for reforming failing high schools in other communities. This study provides the first reliable evidence that transformation at scale within a large, urban, public school system is possible.
What are the lessons learned from the New York City "small high schools of choice" initiative that can help districts and states create viable strategies to turn around the lowest-performing high schools? On October 15, the Alliance for Excellent Education and MDRC cohosted a webinar to discuss the findings of the MDRC report, Transforming the High School Experience: How New York City's New Small Schools Are Boosting Student Achievement and Graduation Rates, and facilitated a conversation among education leaders about comprehensive approaches to turning around the nation's lowest-performing high schools. The webinar also included a question and answer period to address questions submitted by viewers across the nation.
EVENT-DAY MATERIALS
Agenda 
PDF

Speaker Biographies 
PDF
PPT presentation by Gordon Berlin, MDRC 
PDF
Categories:
Uncategorized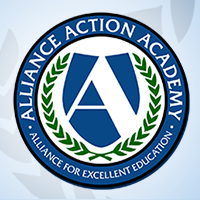 Welcome to the Alliance for Excellent Education's Action Academy, an online learning community of education advocates. We invite you to create an account, expand your knowledge on the most pressing issues in education, and communicate with others who share your interests in education reform.
Register Now
or register for Action Academy below: