Transforming The High School Experience: Lessons From The New York Small Schools Initiative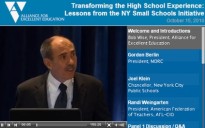 October 15, 2010
12:30 pm – 3:30 pm EDT
Washington Court Hotel, Atrium Ballroom 525 New Jersey Avenue, NW Washington, DC
Presenters
Gordon Berlin, President, MDRC
Michele Cahill, Vice President, National Programs, and Program Director, Urban Education,
Carnegie Corporation of New York
Deborah Delisle, Superintendent of Public Instruction, Ohio Department of Education
Jamie Fasteau, Senior Education Policy Advisor, U.S. House of Representatives Committee on Education and Labor (Majority Staff)
Robert Glascock, Executive Director, Maryland Breakthrough Center, Maryland State Department of Education
Gerry House, President and Chief Executive Officer, Institute for Student Achievement
Joel Klein, Chancellor, New York City Schools
Randi Weingarten, President, American Federation of Teachers
Bob Wise, President, Alliance for Excellent Education
On October 15, the Alliance for Excellent Education and MDRC hosted an event to discuss the findings and policy implications of a recent MDRC report, Transforming the High School Experience: How New York City's New Small Schools Are Boosting Student Achievement and Graduation Rates. This study provides the first reliable evidence that transformation at scale within a large, urban public school system is possible. The event highlighted the outcomes of New York City's "small schools of choice" initiative and addressed policy implications for turning around low-performing high schools. To read a summary of the event, click here.
EVENT-DAY MATERIALS
Agenda 
PDF

Speaker Biographies 
PDF
PPT presentation by Gordon Berlin, MDRC 
PDF
COMPLETE VIDEO (flash popup)
VIDEO HIGHLIGHTS (flash popup)
AUDIO* for Welcome, Intro, and Panel 1
AUDIO* for Panel 2 and Closing Remarks
Categories:
Uncategorized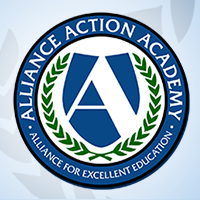 Welcome to the Alliance for Excellent Education's Action Academy, an online learning community of education advocates. We invite you to create an account, expand your knowledge on the most pressing issues in education, and communicate with others who share your interests in education reform.
Register Now
or register for Action Academy below: