The Senior Project: Developing Deeper Learning at Scale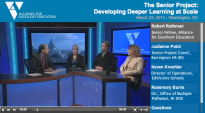 March 23, 2012
2:00 pm – 3:00 pm EDT
Washington, DC
Panelists
Rosemary Burns, Director, Office of Multiple Pathways, Rhode Island
Department of Education
Keven Kroehler, Director of Operations, EdVisions Schools
Judianne Point, Senior Project Coordinator, Barrington High School (RI)
Robert Rothman, Senior Fellow, Alliance for Excellent Education
Colleges and businesses expect young people to apply their knowledge to real-world situations. Now, a number of innovative high schools are preparing students for these expectations by requiring them to complete a senior project. These extended projects not only keep students engaged during their senior year, but they also help them develop their abilities to use their knowledge to think critically and solve problems, communicate effectively, and learn how to learn. These extended projects also help students understand workplaces and how academic competencies are applied in work settings.
The Alliance for Excellent Education held a webinar on March 23 to explore the concept of senior projects. The webinar highlighted a school (Barrington High School in Rhode Island) and a school network (EdVisions Schools) that have implemented the project requirement for several years. The webinar also looked at the state of Rhode Island, which recently implemented a statewide policy that includes senior projects as a component of a new graduation policy. Robert Rothman, a senior fellow at the Alliance, moderated the discussion and panelists addressed questions submitted by webinar viewers from across the country.
This webinar is made possible with support from the William and Flora Hewlett Foundation.
Categories:
Uncategorized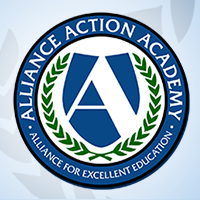 Welcome to the Alliance for Excellent Education's Action Academy, an online learning community of education advocates. We invite you to create an account, expand your knowledge on the most pressing issues in education, and communicate with others who share your interests in education reform.
Register Now
or register for Action Academy below: