June 20, 2008
9:30 am – 2:30 pm EDT
U.S. Senate 430 Dirksen Building Washington, DC & U.S. House of Representatives 2261 Rayburn Building Washington, DC
About one hundred educators, policymakers, and stakeholders gathered to attend a pair of forums on the practices of urban school leaders who are making dramatic gains in student achievement. Co-hosted by the Alliance for Excellent Education and New Leaders for New Schools (NLNS), the event featured principals from Chicago, Washington, DC, and Sacramento, who shared their experiences regarding the effectiveness of strategies promoted by New Leaders for New Schools in high-poverty schools. Panel members also provided suggestions directed toward shaping federal policy that would best support their efforts.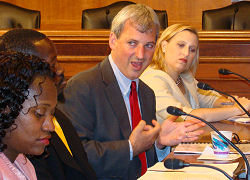 Jon Schnur, CEO of New Leaders for New Schools, discussed ways that the mission and framework of his organization serve to mold effective school leaders. NLNS believes that high academic achievement is possible for all children, regardless of background, when they are led by outstanding principals. As such, the organization recruits and selects talented individuals to enter six-week residency programs that will prepare them, with ongoing support from NLNS, to become high-performing school leaders. These programs emphasize two strategies proven to drive student achievement gains: goal- and data-driven improvement, and the promotion of a culture of high expectations for both students and staff.
Thus far, NLNS has trained over 550 principals in nine cities across the country. While Schnur recognized that NLNS has fallen behind on its goal of raising proficiency in three hundred schools to between 90 and 100 percent by 2014, he shared evidence, corroborated by an upcoming RAND study, that schools with NLNS-trained principals are outperforming neighboring schools, with students making two to three months of progress beyond a year's expected gains. Schnur believes this type of change can and must be brought to scale through systemic reform.
Robert Spencer, principal of last year's most improved elementary school in Sacramento, provided examples of practices responsible for the 200 percent gain in academic achievement across his 60 percent low-income, all-minority student body over the past two years. One such practice, the explicit teaching and modeling of successful academic and social behaviors by his entire staff—including the building manager—worked to correct and encourage students to remain focused on achievement. Spencer stressed, however, that such behavior modification also had to be reinforced in students through "clear rewards and consequences" for various actions.
But establishing this kind of culture presents great challenges, as Spencer made clear when recounting the need to have "candid conversations with staff about expectations" for their performance. He lamented having not only to "coach out" a teacher who expressed doubts about her students' capacity for achievement, but to also watch as another teacher, who had increased his students' basic skills performance by 80 percentage points, decided to leave education for the private sector.
These stories, said Spencer, highlight the need for principals to have autonomy in hiring and retention decisions, as well as the crucial role federal funds could play in providing incentives for high-performing teachers to stay in the classroom.
Michelle Pierre-Farid, principal of Southeast Elementary Academy in Washington, DC, shared her success in turning a once low-ranked school into one recognized as most improved in the district (2006–2007). Pierre-Farid focuses on developing school teachers, and as such, brought in programs such as the Center for Inspired Teaching. She also held staff retreats to develop a culture of respect. Pierre-Farid stressed that community support is another key aspect of the success story, describing how partners make the school more accountable and provide human and financial resources.
Jarvis Sanford is principal of Dodge Renaissance Academy in Chicago, which has about 450 students, 95 percent of whom are low-income. Dodge Renaissance was recognized for having the highest gains in Illinois in 2006. Within one year, the school increased its proficiency rate from 26 to 62 percent. Sanford stressed that leadership and teacher quality are the variables that make a difference.
Sanford also discussed lessons learned from his experience at Dodge. First, teacher and principal development programs must be supported. Second, adults must be held accountable by tracking the success of teachers and principals, connecting those findings back to teacher preparation programs, and then funding programs that achieve results. Third, it is necessary to place outstanding teachers and principals to schools needing them the most. This can be done by offering incentives for teachers to teach at hard-to-staff schools, and by providing career ladders for teachers. Last, the lowest-performing schools should be closed and changed into turnaround schools in order to capitalize on the dramatic changes in staff and create cultures of high expectations.
View the New Leaders for New Schools' Key Insights of the Urban Excellence Framework: Defining an Urban Principalship to Drive Dramatic Achievement Gains report.
Audio* and 
Video (Windows Media) of Entire Senate Event
I. Welcome and Introduction
Bethany Little, Vice President for Federal Policy and Advocacy, Alliance for Excellent Education 
Video
II. Panel Discussion
Jon Schnur, CEO and Co-Founder, New Leaders for New Schools 
Video
Robert Spencer, Principal, Capitol Heights Academy (Sacramento, CA) 
Video
Michelle Pierre-Farid, Principal, Southeast Elementary Academy (Washington, DC) 
Video
Jarvis Sanford, Principal, Dodge Renaissance Academy (Chicago, IL) 
Video
III. Senate Question & Answer Session
Video
IV. Closing
Bethany Little, Vice President for Federal Policy and Advocacy, Alliance for Excellent Education 
Video
Categories:
Uncategorized