The Nation's Report Card: Trends in Academic Progress 2012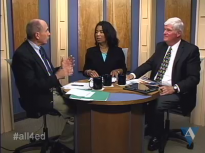 Registration Required
August 7, 2013
2:00 pm – 3:00 pm EDT
Washington, DC
Panelists
Jack Buckley, Commissioner, National Center for Education Statistics, U.S. Department of Education
David P. Driscoll, Chair, National Assessment Governing Board; Former Commissioner, Massachusetts Department of Education
Bob Wise, President, Alliance for Excellent Education
This webinar focused on the results from the National Assessment of Educational Progress (NAEP) long-term trend assessments in reading and mathematics that compare students' performance in 2012 in reading and mathematics over the past forty years. The NAEP results provide a unique perspective on the progress of U.S. education for students ages nine, thirteen, and seventeen. The trend assessments show significant gains for nine- and thirteen-year-olds and students of color since testing began in the early 1970s, but they show no significant changes for the nation's seventeen-year-olds.
What were the other key findings from the NAEP long-term trends assessments? What must be done to give serious attention to the nation's high school students to ensure students are ready for college and a career? How can the nation accelerate the rate of improvement and close achievement gaps? Tune in to this webinar to find out.
Jack Buckley will provide an overview from the National Center for Education Statistics report, The Nation's Report Card: Trends in Academic Progress 2012, on long-term reading and mathematics achievement for the three age groups.David Driscoll will discuss their implications and utility for improving education and student achievement. Bob Wise will moderate the discussion. Panelists will also address questions submitted by webinar viewers from across the country.
Please direct questions concerning the webinar to alliance@all4ed.org.
NOTE: If you are unable to watch the webinar live, an archived version will be available at https://all4ed.org/webinars within one business day after the event airs.
>>> HELLO, I'M BOB WISE,
PRESIDENT OF A NONPROFIT POLICY
AND ADVOCACY ORGANIZATION BASED
HERE IN WASHINGTON, D.C.
WELCOME AND THANK YOU FOR
JOINING US FOR TODAY'S WEBINAR
ON THE 2012 NATIONAL ASSESSMENT
OF EDUCATIONAL PROGRESS
LONG-TERM TREND ASSESSMENTS IN
READING AND MATHEMATICS.
LET ME DO SOME LOGISTICS.
IF YOU'RE ON TWITTER, WE
ENCOURAGE YOU TO TWEET.
START RIGHT NOW USING THE HASH
TAG ALLFORED YOU WILL SEE IN THE
LEFT CORNER OF THE VIDEO WINDOW.
ALSO KNOWN AS THE NATION'S
REPORT CARD, THE NATIONAL
ASSESSMENT OF EDUCATIONAL
PROGRESS OR N.A.P.E., IS WHAT
AMERICAN STUDENTS KNOW AND CAN
DO IN CORE SUBJECTS.
IN TODAY'S WEBINAR, WE WILL TAKE
AN IN-DEPTH LOOK AT A RECENTLY
RELEASED N.A.P.E. REPORT ON
TRENDS AND ACADEMIC PROGRESS
THAT COMPARES STUDENT
PERFORMANCE IN 2012 IN READING
AND MATHEMATICS WITH STUDENTS'
PERFORMANCE IN THE 1970s.
N.A.P.E. MEASURES THE PROGRESS
OF EDUCATION IN THE UNITED
STATES AGAINST A SET OF
BENCHMARKS THAT HAVE REMAINED
ESSENTIALLY UNCHANGED FOR 40
YEARS.
IT IS A CONGRESSIONALLY
AUTHORIZED PROJECT AT THE
NATIONAL CENTER FOR EDUCATIONAL
STATISTICS, NCES.
WITHIN THE INSTITUTE OF
EDUCATION SCIENCES AT THE U.S.
DEPARTMENT OF EDUCATION.
THE NATIONAL ASSESSMENT
GOVERNING BOARD OR NAGBE, SETS
POLICY FOR N.A.P.E. AND IS
RESPONSIBLE FOR DEVELOPING A
FRAMEWORK AND TEST
SPECIFICATIONS.
THE GOVERNING BOARD IS A
BIPARTISAN GROUP WHOSE MEMBERS
INCLUDE GOVERNORS, STATE
LEGISLATORS, LOCAL AND STATE
SCHOOL OFFICIALS, EDUCATORS,
BUSINESS REPRESENTATIVES AND
MEMBERS OF THE GENERAL PUBLIC.
TO DISCUSS THE RESULTS, AND
THESE ARE SIGNIFICANT RESULTS,
WE ARE JOINED TODAY BY PEGGY
CARR, ASSOCIATE COMMISSIONER OF
THE NATIONAL CENTER FOR
EDUCATION STATISTICS.
ALSO JOINING US FOR TODAY'S
WEBINAR IS DAVID DRISCOLL, CHAIR
OF THE NATIONAL ASSESSMENT
GOVERNING BOARD AND FORMER
COMMISSIONER OF THE
MASSACHUSETTS DEPARTMENT OF
EDUCATION.
LIKE MOST OF OUR WEB CASTS, THIS
IS AN INTERACTIVE AFFAIR, AND WE
RELISH YOUR PARTICIPATION.
IF YOU WOULD LIKE TO ASK
QUESTIONS ABOUT WEBINAR GUESTS,
PLEASE DO SO USING THE FORM
BELOW THIS VIDEO WINDOW.
WE ALREADY HAVE RECEIVED A
NUMBER OF QUESTIONS.
AND WE ENCOURAGE YOU TO SUBMIT
YOURS.
WE WILL TURN TO YOUR QUESTIONS
FROM TIME TO TIME THROUGHOUT
THIS WEBINAR.
SO LET ME GIVE A LITTLE
BACKGROUND.
SINCE THE 1970s, THE NATIONAL
ASSESSMENT FOR EDUCATIONAL
PROGRESS, ONCE AGAIN, N.A.P.E.,
HAS MONITORED THE LONG-TERM
TRENDS IN ACADEMIC PERFORMANCE
OF 9-YEAR-OLDS, 13-YEAR-OLD AND
17-YEAR-OLD STUDENTS EVERY FOUR
YEARS.
EVERY FOUR YEARS IN READING AND
MATHEMATICS.
THIS ASSESSMENT DIFFERS FROM THE
MAIN N.A.P.E. ASSESSMENTS, WHICH
TRACK STUDENT PERFORMANCE IN
GRADES 4, 8 AND 12, EVERY TWO
YEARS.
SO THE LONG-TERM TRENDS IS
AGE-BASED AND EVERY FOUR YEARS.
THE MAIN N.A.P.E., AND THAT'S
THE ONE WE PROBABLY HEAR ABOUT
THE MOST, IS EVERY TWO YEARS AND
BASED ON GRADE LEVEL, 4, 8 AND
12.
IN GENERAL, THE LONG-TERM EXAM
MEASURES BASIC SKILLS.
WHILE THE MAIN N.A.P.E., THE ONE
EVERY TWO YEARS, ALSO TESTS
PROBLEM-SOLVING SKILLS AND
REASONING.
IN ADDITION, THE LONG-TERM TREND
ASSESSMENTS ARE NOT DESIGNED TO
PROVIDE RESULTS FOR INDIVIDUAL
STATES OR LARGE URBAN DISTRICTS.
MAIN N.A.P.E., GIVEN EVERY TWO
YEARS, DOES DO THAT.
THE LONG-TERM TREND ASSESSMENTS
HAVE REMAINED ESSENTIALLY THE
SAME, DECADE AFTER DECADE,
MAKING IT POSSIBLE TO CHART
EDUCATIONAL PROGRESS SINCE 1971
IN READING AND SINCE 1973 IN
MATHEMATICS.
THE N.A.P.E. ASSESSMENTS ARE
REALLY THE ONLY MEANS TO COMPARE
STUDENT PERFORMANCE CONSISTENTLY
ACROSS THE NATION.
AT THIS POINT IN TIME, STATES
CONTINUE TO USE THEIR OWN
ASSESSMENTS AND MAKE THEIR OWN
DETERMINATIONS OF PROFICIENCY.
THAT'S UNDER NO CHILD LEFT
BEHIND.
N.A.P.E. REPORTS THE RESULTS FOR
STUDENTS BY GENDER AND RACE
ETHNICITY, PROVIDING A RICH
SOURCE OF INFORMATION ON
STUDENTS' PROGRESS NATIONWIDE
THAT CAN BE USED TO IMPROVE
EDUCATION IN THE UNITED STATES.
SO LET'S BEGIN WITH AN OVERVIEW
OF THE NATION'S REPORT CARD, THE
2012 TRENDS IN ACADEMIC PROGRESS
ON WHAT I CALL THE LONG-TERM
TRENDS OF N.A.P.E.
SO LET ME TURN TO PEGGY CARR AND
PEGGY, THANK YOU FOR JOINING US
TODAY.
WITH THE ALLIANCE'S PRIMARY
FOCUS ON HIGH SCHOOL
IMPROVEMENT, BUT INTERESTED IN
THE OVERALL N.A.P.E. TREND LINE,
WOULD YOU WALK US THROUGH THE
MAJOR FINDINGS WITH PARTICULAR
ATTENTION TO THE RESULTS FOR
17-YEAR-OLDS?
>> THANK YOU, BOB.
YOUR INTRODUCTION WAS VERY
HELPFUL.
IT PROVIDES SORT OF THE BACKDROP
FOR MY GOAL IN OUR DISCUSSION
TODAY TO SORT OF GIVE YOU THE
HIGHLIGHTS OF THIS LONG-TERM
TREND ASSESSMENT.
WHEN WE TALK ABOUT THAT 40-YEAR
HISTORY OF N.A.P.E., INDEED,
WE'RE TALKING ABOUT THE
LONG-TERM TREND, WHICH IS TO BE
CLEARLY DIFFERENTIATED FROM THE
MAIN N.A.P.E., OFTEN REFERRED TO
AS THE NATION'S REPORT CARD.
IN OUR FIRST SLIDE, WE SEE A
CLEAR SUMMARY OF WHAT YOU NICELY
LAID OUT AT THE BEGINNING.
THAT LONG-TERM TREND OVER 40
YEARS OF ASSESSMENT IN READING
AND MATH IS INCLUSIVE OF PUBLIC
AND PRIVATE SCHOOLS AND STUDENTS
IN THESE SCHOOLS.
AND WE ARE FOCUSING ON AGE AS
OPPOSED TO GRADE BASE.
SO OUR DISCUSSION TODAY,
ALTHOUGH WE'RE TALKING TO BE
TALKING ABOUT PRIMARILY
17-YEAR-OLDS, THERE ARE 13 AND
9-YEAR-OLDS IN THIS DATA.
THESE PATTERNS ARE ALSO VERY
INTERESTING.
N.A.P.E., AGAIN, OFTEN REFERRED
TO AS THE NATION'S REPORT CARD,
ALSO INCLUDES PUBLIC AND
PRIVATE.
AND WE HAVE GRADE COHORTS, 4, 8
AND 12.
AND THEY DON'T COMPLETELY
OVERLAP WITH THE AGE-BASED
COHORTS, BUT THEY PROVIDE AN
INTERESTING PORTRAYAL OF HOW
STUDENTS ARE DOING IN SOME OF
THESE OVERLAPPING SAMPLES.
AND, OF COURSE, WE HAVE OUR
STATE DATA IN MAIN N.A.P.E., NOT
TRUE WITH LONG-TERM TRENDS.
AND THEN WE HAVE OUR LATEST
PROJECT, OUR TERM OF EN DEARMENT
FOR TRIAL URBAN DISTRICT
ASSESSMENTS.
ALSO INTERESTING FINDINGS THERE.
WE'RE NOT GOING TO BE ABLE TO
LOOK AT THOSE DATA IN OUR
LONG-TERM TREND ASSESSMENT
TODAY, BUT IT'S AN INTERESTING
PARALLEL.
NONETHELESS, THE LONG-TERM TREND
IS VERY, VERY USEFUL.
AND YOU SPOKE A LITTLE BIT ABOUT
THE FRAMEWORKS AND HOW THEY'RE
DIFFERENT.
AND IN THIS NEXT SLIDE HERE,
YOU'LL SEE THAT MAIN N.A.P.E.
FOCUSES ON BASIC SKILLS, VERY
MUCH LIKE WHAT WE'LL SEE IN THE
LONG-TERM TREND FRAMEWORK.
MORE COMPLEX PROBLEM SOLVING.
WE'LL HAVE A LITTLE BIT OF
TRIGONOMETRY.
OR ON THE HIGHER END OF THIS
ASSESSMENT.
YOU WON'T SEE THAT IN LONG-TERM
TREND.
BUT VERY USEFUL, NONETHELESS.
ON THE READING SIDE OF THE
EQUATION, YOU'LL SEE THE MAIN
N.A.P.E. FOCUSING ON MORE
COMPLEX, MAKING REQUIREMENTS,
MAKING INFERENCES ACROSS
MULTIPLE FORMS OF IT TEXTS.
AND FAR LESS OF THAT IN THE
LONG-TERM TREND ASSESSMENT.
IN FACT, THE BLOCKS ARE MUCH
SMALLER OR SHORTER, I SHOULD
SAY, ONLY ABOUT 15 MINUTES IN
COMPARISON TO 25 MINUTE BLOCKS
YOU SEE IN MAIN N.A.P.E.
ONE OF THE BIGGEST DIFFERENCES
BETWEEN THE TWO IN MAIN
N.A.P.E., ACHIEVEMENT LEVEL SET
BY THE NATIONAL ASSESSMENT
GOVERNING BOARD.
AND YOU KNOW THEM.
BASIC PROFICIENT AND ADVANCED
AND, OF COURSE, A DEFAULT.
BELOW BASIC.
AND THEY TELL US WHAT STUDENTS
SHOULD KNOW AND BE ABLE TO DO IN
ADDITION TO THOSE SKILLS WE
REPORT FOR MAIN N.A.P.E.
WE DON'T HAVE THE PERFORMANCE
LEVELS AS DEFINED BY THE
NATIONAL ASSESSMENT GOVERNING
BOARD FOR LONG-TERM TREND, BUT
WE HAVE SOMETHING VERY
INTERESTING TO HELP US
UNDERSTAND WHAT THE SCALE SCORE
MEANS.
WE CALL THEM PERFORMANCE LEVELS.
THEY START AT 150 AND GO UP TO
350, AND THEY GIVE US A SENSE OF
WHAT THE POINTS ON THE SCALE
MEAN BY LOOKING AT THE SCORES OR
THE ITEMS THAT MAP AROUND THOSE
PARTICULAR SCORES.
SO PERHAPS A LITTLE BIT MORE
ABOUT THAT LATER.
ON THE NEXT SLIDE, THIS IS FROM
THE BIG PICTURE FOR YOU, BOB, ON
THE FINDINGS FOR READING AND
MATH AND THOSE THREE WE TALKED
ABOUT.
SO FOR READING, WE CAN FOCUS ON
THE FIRST ROW HERE FOR AGE 9.
13 POINTS SINCE THE BEGINNING OF
THIS ASSESSMENT WE HAVE BEEN
ASSESSING READING FOR
9-YEAR-OLDS, UP 13 POINTS.
FOR 13-YEAR-OLDS, UP 8 POINTS.
FOCUS FOR TODAY, YOU SEE THAT
IT'S FLAT.
MOVING OVER TO 2008, ON THIS
SAME ROW, THAT'S THE LAST TIME
WE ASSESSED THIS ASSESSMENT IN
COMPARISON TO 2012.
YOU'LL SEE THAT IT'S FLAT FOR
9-YEAR-OLDS, FOR 13-YEAR-OLDS
IT'S UP SIGNIFICANTLY.
THREE POINTS.
BUT, AGAIN, YOU SEE FLAT SINCE
2008 FOR 17-YEAR-OLDS.
A SIMILAR PICTURE YOU'LL SEE IN
THAT SECOND ROW FOR MATHEMATICS,
UP 25 POINTS FOR 9-YEAR-OLDS.
A LOT OF PROGRESS FOR THESE
STUDENTS, THESE SCORES.
AND 19 POINTS FOR AGE 13.
17-YEAR-OLDS, FLAT SINCE THE
BEGINNING OF THIS ASSESSMENT
BACK IN THE EARLY 1970s.
WHAT ABOUT THE MORE RECENT
ASSESSMENT IN 2008?
FOR 9-YEAR-OLDS?
FLAT.
FOR 13-YEAR-OLDS, UP
SIGNIFICANTLY BY FOUR POINTS.
BUT, AGAIN, THERE'S AN
INTERESTING PATTERN HERE.
ALL FLAT FOR 17-YEAR-OLDS.
WE'RE GOING TO TALK A LITTLE BIT
MORE ABOUT THESE NUMBERS,
BECAUSE THERE IS A LOT OF NUANCE
I THINK WE NEED TO UNDERSTAND.
THIS NEXT SLIDE GIVES YOU YOUR
FIRST LOOK AT THAT NUANCE.
BECAUSE IT'S IMPORTANT TO NOT
ONLY UNDERSTAND WHAT THE AVERAGE
SCORE IS FOR ANY OF THESE
COHORTS, BUT WHAT DOES THE WHOLE
DISTRIBUTION LOOK LIKE?
AND WE CAN TELL BY EXAMINING THE
PERCENTILES FOR THE DISTRIBUTION
OF SCORES.
WE LOOK AT THE 10th, 25th, 50th,
75th AND 90th PERCENTILE TO GET
A SENSE OF WHAT THE WHOLE
DISTRIBUTION IS DOING.
AN INTERESTING PATTERN EMERGES
HERE WHEN YOU FOCUS ON THE 25th
AND 10th PERCENTILE FOR THE
17-YEAR-OLDS.
SINCE 1971, THEY HAVE MADE
PROGRESS.
SEVEN POINTS FOR THE TENTH
PERCENTILE.
SO THERE'S BEEN PROGRESS.
BUT NOTICE, THERE ARE NO
ASTERISKS NEXT TO THOSE VALUES
FOR THE 50th, 75th AND 90th
PERCENTILE SINCE 1971.
SO THAT INDICATES NO SIGNIFICANT
GROWTH FOR THE TOP OF THE
DIRECTION.
BUT WE ARE SEEING GROWTH AT THE
BOTTOM OF THE DISTRIBUTION SINCE
THE BEGINNING OF THIS
ASSESSMENT.
THAT'S THAT NUANCE THAT I
MENTIONED EARLIER.
SIMILARLY, FOR THE 10th
PERCENTILE, SINCE 2008 WHEN WE
FIRST MADE OUR COMPARISONS BACK
TO THE LAST TIME WE MADE THIS
ASSESSMENT, SIGNIFICANT
IMPROVEMENT AS INDICATED BY THE
ASTERISK IN COMPARISON TO THE
232 WE PICKED UP IN 2012.
THAT IS UP FIVE POINTS.
SO IS NOT THE FULL STORY WHEN
YOU JUST EXAMINE THE AVERAGE
SCORE.
THERE IS PROGRESS.
BUT AT THE BOTTOM OF THE
DISTRIBUTION.
AN IMPORTANT NUANCE, FOR SURE.
AND THE NEXT SLIDE WE TURN TO
MATHEMATICS.
THAT WAS READING.
WE HAVE A SLIGHTLY DIFFERENT
STORY.
I WANT YOU TO FOCUS ON THE 2008
COMPARISON TO 2012, AND KNOW
THAT THERE ARE ABSOLUTELY NO
ASTERISKS THERE, MEANING THERE
IS NO IMPROVEMENT FOR OUR
17-YEAR-OLDS IN MATHEMATICS.
BUT AGAIN, WE SEE THAT PATTERN
THAT I DESCRIBED EARLIER WITH
THE BOTTOM OF THE DISTRIBUTION
COMING UP.
SINCE 1978 FOR A 17-YEAR-OLD.
AT THE 10th, 25th.
AND THE 50th PERCENTILE.
INTERESTING PATTERN.
ONE OF THE REASONS WHY WE
BELIEVE THAT WE ARE SEEING THESE
PATTERNS IS THEY HAVE THIS
TREMENDOUS SHIFT IN THE
DEMOGRAPHICS OF THE STUDENTS.
IN THIS NEXT SLIDE, YOU'LL SEE,
THIS IS AN EXAMPLE.
AND SORT OF TRUE.
ASSESS THESE SUBJECTS AT THE
SAME TIME FOR READING AND MATH.
BUT THIS WOULD BE TRUE FOR BOTH
OF THESE SUBJECTS.
WE SEE A SIGNIFICANT DECLINE IN
THE PROPORTION OF THE SAMPLE
WE'RE PICKING UP THAT'S WHITE.
WHEN WE FIRST MADE THIS
ASSESSMENT, CONDUCTED THIS
ASSESSMENT, IT WAS ABOUT 80%
WHITE.
NOW WE'RE PICKING UP 56% WHITE.
THAT'S A BIG SHIFT.
SIMILARLY, OR CONVERSELY, YOU'LL
SEE FOR HISPANICS, THERE'S BEEN
A BIG SHIFT.
BUT IN THE OPPOSITE DIRECTION.
YEARS AGO, WHEN WE ASSESSED
THESE STUDENTS, WE WERE PICKING
UP 6% HISPANIC.
NOW IT'S 21% HISPANIC.
BLACKS HAVEN'T CHANGED THAT MUCH
IN TERMS OF THEIR PROPORTION,
REPRESENTATION IN OUR SAMPLE.
THERE HAS BEEN A CHANGE IN
ASIAN-AMERICANS, I SHOULD SAY.
BUT THE BIG SHIFT WE SEE, LESS
WHITES IN OUR SAMPLE, AND A LOT
MORE HISPANICS.
SO THERE'S BEEN A BIG
DEMOGRAPHIC SHIFT THAT I THINK
CAN HELP UNDERSTAND THESE
SCORES.
THIS NEXT SLIDE IS A FURTHER
DIVE INTO THIS DATA.
AND IT'S INTERESTING, BECAUSE WE
JUST SAW THESE INTERESTING
SLIDES THAT SHOW NO GROWTH FOR
17-YEAR-OLDS, FROM THE BEGINNING
OF TIME, OR SINCE 2008, EXCEPT
FOR THE BOTTOM OF THE
DISTRIBUTION.
THIS IS A DEEPER LOOK INTO THOSE
DATA.
BY SUBGROUPS.
WHITES, BLACKS, HISPANICS.
LOOK AT ALL THESE UP ARROWS FOR
17-YEAR-OLDS.
FOCUSING ON READING, UP FOUR
POINTS.
SINCE THE FIRST ASSESSMENT.
FOR BLACKS, UP 30 POINTS, FOR
HISPANICS UP 21 POINTS.
AND YOU SEE VERY SIMILAR
PATTERNS FOR 9-YEAR-OLDS AND
13-YEAR-OLDS SINCE THE BEGINNING
OF THIS ASSESSMENT.
FOR MATH, FOR MATHEMATICS, FOR
17-YEAR-OLDS, AGAIN, UP FOUR
POINTS.
UP 1 POINTS FOR BLACKS.
FOUR POINTS FOR WHITES.
17 POINTS FOR HISPANICS.
THIS IS AN INTERESTING PHENOMENA
BECAUSE IT MIRRORS WHAT WE
DISCUSSED.
A SHIFT IN THE POPULATION THAT
REFLECTS THE HIGHER SCORING,
WHITE STUDENTS BEING FAR LESS
THAN THE POPULATION, THE
HISPANICS MORE — THERE TEND TO
BE LOWER SCORING.
BUT YET WE SEE THE SCORES ARE
FLAT.
THAT'S BECAUSE WE HAVE A SHIFT
IN THEIR RELATIVE CONTRIBUTIONS
THROUGH THE OVERALL SCORE.
WE CALL IT SIMPSON'S PARADOX.
AND THAT'S WHY YOU SEE AN
INCREASE FOR ALL OF THESE
SUBGROUPS.
BUT YET THE OVERALL SCORE IS NOT
CHANGING.
SO WE HAVE TO BE VERY CAREFUL
WHEN WE LOOK AT JUST ONE SCORE.
BECAUSE THERE IS A LOT
UNDERNEATH.
WHEN THERE IS A SHIFT CHANGE IN
THE DEMOGRAPHICS AS WE SEE HERE.
THE SIMPSON'S PARADOX IS NOT AS
EVIDENT IN THE COMPARISON TO
2008, BUT THERE ARE SOME
INTERESTING FINDINGS HERE.
NOTE THERE IS ONE GROUP THAT AGE
13, SHOWING A SEVEN-POINT
INCREASE SINCE 2008.
THAT'S PRETTY IMPRESSIVE, ON ANY
N.A.P.E. SCALE.
I WANTED TO SHOW YOU SOME GAP
DATA.
HERE IN THIS NEXT SLIDE, WE HAVE
A COMPARISON OF WHITE, BLACK AND
WHITE, HISPANIC, GAPS FOR
17-YEAR-OLDS, SHIFTING BACK TO
THE 17-YEAR-OLDS.
THESE ASTERISKS, OF COURSE, ARE
AN INDICATION OF SIGNIFICANT
DIFFERENCES IN COMPARISON TO
2012, ANY OF THESE VALUES WHEN
YOU SEE AN ASTERISK THERE.
AND NOTE THAT FOR 2008, THAT GAP
OF 26 POINTS FOR HISPANICS AND
WHITES IS SIGNIFICANTLY LARGER
THAN WHAT WE ARE PICKING UP NOW,
21 POINTS.
SO THE GAP HAS NARROWED FOR
17-YEAR-OLDS.
AND ALSO NOTE THAT THE GAP IS
NARROWING BECAUSE HISPANICS ARE
SORT OF BRINGING UP THE
DISTRIBUTION, IN MANY WAYS I'VE
ALREADY DESCRIBED.
ALTHOUGH WHITE STUDENTS ARE
SHOWING A NUMERICAL INCREASE,
NOT SIGNIFICANTLY SO.
SO THE GAP THAT WE ARE SEEING,
THE NARROWING OF THE GAP, IS
PRIMARILY DUE TO THE PROGRESS
THAT THESE 17-YEAR-OLD HISPANIC
STUDENTS HAVE MADE HERE.
AND AGAIN, WE'RE FOCUSING ON
READING.
COMPARE THAT TO THE 30-POINT GAP
WE WERE ABLE TO DETECT IN 1975.
THAT ASTERISK THERE MEANS THAT
IT'S SIGNIFICANTLY LARGER THAN
THAT 21-POINT GAP WE'RE NOW
SEEING.
SHIFTING NOW TO A DEEPER LOOK
FOR THE BLACK, WHITE GAP.
YOU SEE THAT THERE'S BEEN NO
SIGNIFICANT PROGRESS IN
NARROWING THE GAP SINCE 2008.
AS AN INDICATION BY NO ASTERISK
NEXT TO THAT 29 POINTS IN
COMPARISON TO 26 POINTS.
BUT OVER THE LONG HAUL, WE HAVE
SEEN A NARROWING OF THE GAP.
A PRETTY BIG ONE, ACTUALLY.
1971, THE GAP FOR 17-YEAR-OLDS
BETWEEN WHITE AND BLACK STUDENTS
WAS 5 3 POINTS IN COMPARISON TO
WHAT WE ARE SEEING NOW OF 26
POINTS.
THAT WAS READING.
LET'S TAKE A LOOK AT MATH.
AT THE TOP HERE, NOTICE WE HAVE
SWITCHED.
WE ARE LOOKING AT BLACK AND
WHITE STUDENTS COMPARISON.
AND WE SEE THAT THERE HAS BEEN A
REDUCTION IN THE GAP OVER THE
LONG HAUL FROM 40 POINTS TO 26
POINTS.
BUT IT'S HOLDING STEADY SIPS
2008, WHEN WE LAST MADE THIS
ASSESSMENT.
A SIMILAR PATTERN IS SHOWN HERE
AT THE BOTTOM OF THIS CHART FOR
WHITE, HISPANIC GAPS.
21 VERSUS A 19-POINT GAP SINCE
2008.
THAT GAP IS NOT STATISTICSLY
SIGNIFICANT.
BUT OVER THE LONG HAUL, THE GAP
HAS BEEN REDUCED SIGNIFICANTLY
FROM 33 POINTS TO 19 POINTS FOR
HISPANIC AND WHITE STUDENTS.
LET'S TAKE A LOOK AT GENDER IN
THIS NEXT CHART.
AND WHAT'S INTERESTING HERE IS
THERE ARE NOT A LOT OF
ASTERISKS, WHICH MEANS NOT A LOT
OF DIFFERENCES BETWEEN GIRLS AND
BOYS AND MALES AND FEMALES OVER
THIS TREND LINE FOR MATHEMATICS.
THE GAP SINCE 1973 OF EIGHT
POINTS, HOWEVER, IS
SIGNIFICANTLY LARGER THAN WHAT
WE'RE PICKING UP NOW IN 2012, UP
FOUR POINTS.
BUT NOTICE, THERE ARE NONE,
ACTUALLY, GAP COMPARISONS THAT
ARE STATISTICALLY SIGNIFICANT
OVER THE LONG HAUL OF THIS TREND
LINE BETWEEN MALES AND FEMALES.
I HAVE SOMETHING VERY
INTERESTING, BOB, I WANTED TO
SHARE WITH YOU TODAY.
AND IT, AGAIN, TAKES US A LITTLE
DEEPER INTO THE DATA WHEN IT
COMES TO OUR ANALYSIS OF OUR
17-YEAR-OLDS.
AND IT'S ON THIS NEXT CHART.
AS I INDICATED AT THE BEGINNING
OF MY TALK, THE COHORTS OF
17-YEAR-OLDS VERSUS 12th GRADERS
OR 9-YEAR-OLDS VERSUS FOURTH
GRADERS OR 13-YEAR-OLDS VERSUS
EIGHTH GRADERS ARE NOT DIRECTLY
COMPARABLE.
THERE IS SOME OVERLAP.
SO FOR 17-YEAR-OLDS, YOU PICK UP
STUDENTS IN THE TENTH GRADE, YOU
PICK THEM UP IN 11th GRADE AND
ALSO IN THE 12th GRADE.
WHAT THIS CHART SHOWS HERE,
THERE HAS BEEN A SHIFT SINCE
1971, AND WHERE WE'RE FINDING
THESE STUDENTS.
AND 1971, TENTH GRADERS
REPRESENTED 14% OF THE SAMPLE.
NOW THEY REPRESENT 23% OF THE
SAMPLE.
NOW, WHAT DOES THAT MEAN?
THAT MEANS THAT OUR 17-YEAR-OLDS
IN THIS DATA THAT WE'RE LOOKING
AT TODAY HAVE NOT HAD AS MUCH
CHANCE TO BE IN SCHOOL.
THEY HAVE LESS SCHOOLING THAN
THE STUDENTS WE ASSESSED MANY,
MANY YEARS AGO.
CONVERSELY, LOOK AT THE 12th
GRADERS.
THEY'RE GOING FROM — THESE ARE
17-YEAR-OLDS IN THE 12th GRADE
GOING FROM 13% IN 1971 DOWN TO
4%.
SO 12th GRADERS ARE — WE'RE
GOING TO LOOK AT THEIR
PERFORMANCE IN JUST A MINUTE.
BUT FAR FEWER ARE 17-YEAR-OLDS
THAN WHAT WE HAVE SEEN IN THE
PAST.
WHAT MIGHT BE GOING ON?
WELL, IT'S NOT CLEAR.
WE CAN HYPOTHESIZE.
MANY PLAUSIBLE REASONS WHY THIS
MIGHT HAPPEN.
BUT ONE THAT HAS A LOT OF MERIT
BEHIND IT MAY BE WHAT WE CALL
REDSHIRTING.
WHEN PARENTS HOLD THEIR KIDS
BACK A LITTLE LONGER THAN THEY
USED TO BEFORE THEY PUT THEM
INTO KINDERGARTEN.
SO THAT'S WHY THEY MAY BE A
LITTLE OLDER THAN WHAT WE HAVE
SEEN IN THE PAST.
BUT WHAT'S INTERESTING IS WHAT
WE FIND IN THIS NEXT SLIDE.
WE FOCUS ON THOSE 10th GRADE
BELOW 17-YEAR-OLDS.
DESPITE THE FACT THEY'RE
YOUNGER, THEIR SCORES HAVE GONE
UP TREMENDOUSLY SINCE 1971.
HOOK AT THE POINTS THERE.
238 HAS AN ASTERISK IN
COMPARISON TO 266.
WHICH MEANS THESE 17-YEAR-OLDS
WHO HAVE NOT HAD AS MUCH
SCHOOLING, EXPOSURE TO
SCHOOLING, ARE STILL SCORING
BETTER ON THIS ASSESSMENT.
THAT'S AN INTERESTING NUANCE I
THINK WE CANNOT OVERLOOK.
NOW, I HAD PLANNED TO STOP BOB
AT THIS POINT.
THERE IS SO MUCH MORE
INFORMATION, A RESEARCH
DATABASE.
AND THIS SLIDE HERE TELLS YOUR
VIEWERS TO GO TO OUR WEBSITE AND
EXAMINE OUR N.A.P.E. DATA
EXPLORE.
WE HAVE A PARTICULAR ONE WE HAVE
DEVELOPED JUST FOR THE LONG-TERM
TREND AND THEY CAN REALLY
EXAMINE THESE DATA IN GREATER
DETAIL.
I HAVE SOME ADDITIONAL SLIDES,
WE HAVE JUST A FEW MORE MOMENTS.
WE SHOULD DO THAT.
HERE ARE THOSE 9-YEAR-OLDS.
AND RECALL THAT I'M ALWAYS
PUSHING TO LOOK AT MORE THAN THE
AVERAGE SCORE.
HERE ARE THE PERCENTILES, AND
HERE YOU'LL SEE THE DISTRIBUTION
SINCE 1971 HAS ASTERISKS ACROSS
THE ENTIRE 10th THROUGH 9th
PERCENTILE WHICH MEANS THE WHOLE
DISTRIBUTION HAS COME UP
TREMENDOUSLY.
BUT NOTICE WE HAVE ABSOLUTELY NO
ASTERISK FOR THE COMPARISON TO
2008.
SO OVER THE SHORT HAUL, NO
PROGRESS.
BUT OVER THE LONG HAUL, THESE
9-YEAR-OLDS ARE SHOWING QUITE A
BIT OF IMPRESSIVE PROGRESS IN
READING.
WHAT ABOUT THE 13-YEAR-OLDS?
WHAT YOU SEE IN THIS NEXT SLIDE
IS A SIMILAR PATTERN OVER THE
LONG HAUL, LOTS OF PROGRESS OVER
THE DISTRIBUTION SINCE 1971.
BUT SINCE 2008, THE TOP OF THE
DISTRIBUTION IS SHOWING THE
LARGER GAINS.
SINCE 2008, 90th PERCENTILE
HASN'T SHOWN SIGNIFICANT GAIN.
IT HAS GONE UP NUMERICALLY.
BUT THE 75% PERCENTILE HAS GONE
FROM 285 TO 288.
THE 50th PERCENTILE HAS GONE
FROM 262 TO 265.
SO WE'RE SEEING SOME MORE
MOVEMENT SINCE 2008 FOR THESE
13-YEAR-OLDS.
AND DON'T FORGET, IT LOOKED LIKE
THOSE HISPANICS WE WERE LOOKING
AT EARLIER MAY BE PUSHING THE
SCORE UP.
HERE'S ANOTHER SLIDE THAT I
WANTED TO SHOW YOU.
IT'S BASICALLY THAT GAP
COMPARISON THAT WE LOOKED AT
EARLIER.
BUT THIS IS AN INTERESTING WAY
TO LOOK AT THE SAME DATA.
AND TELLS AN INTERESTING STORY.
BLACK AND HISPANIC STUDENTS MAKE
LARGER GAINS THAN WHITE STUDENTS
AS INDICATED BY THIS CHART HERE.
WHITE STUDENTS HAVE MADE GAINS,
AS YOU CAN SEE BY THE COMPARISON
FROM 1971.
BY THE SIZE OF THE BAR.
BUT FOR BLACK AND HISPANICS,
THOSE BARS ARE MUCH LARGER, AND
YOU CAN SEE PICTORIALLY THE
ILLUSTRATION THAT THE GAPS ARE
POSING, AND PRIMARILY DUE TO
THESE MINORITY STUDENTS BRINGING
UP THE BOTTOM OF THE
DISTRIBUTION.
TURNING TO MATHEMATICS, LOOKING
AT THE SAME SORT OF CHARTS, I
CAN QUICKLY SAY THAT THE
DISTRIBUTIONS ARE COMING UP FROM
1978, ALL OF THEM, FROM THE 10th
TO THE 90th PERCENTILE, BUT NOT
IN THE SHORT HAUL FOR
9-YEAR-OLDS.
FOR 13-YEAR-OLDS, ANOTHER
INTERESTING PATTERN.
THE TOP OF THE DISTRIBUTION IS
COMING UP SINCE 2008.
YOU SEE THE 90th AND 75%
PERCENTILE SHOWING SIGNIFICANT
IMPROVEMENT.
AND SINCE — I'M SORRY, SINCE
1990, 78 — EXCUSE ME, YOU SEE
SIGNIFICANT IMPROVEMENT ACROSS
THE ENTIRE DISTRIBUTION FOR
13-YEAR-OLDS IN MATHEMATICS.
SO A LOT OF INTERESTING PATTERNS
HERE FOR YOUR VIEWERS TO DIVE
INTO A LITTLE LATER.
THE LAST SLIDE HERE BEFORE I
TURN THIS BACK OVER TO YOU, BOB,
IS THE SAME SORT OF GAP
COMPARISON THAT SHOWS FOR 9,
13-YEAR-OLDS AND 17-YEAR-OLDS
WHERE THE GAINS ARE FOR THE
VARIOUS RACIAL ETHNIC GROUPS.
AND, AGAIN, ALL STUDENTS ARE
SHOWING PROGRESS.
THAT'S WHAT THIS SAYS SINCE THE
BEGINNING OF THIS ASSESSMENT.
BUT THE MINORITY STUDENTS ARE
MAKING STRONGER GAINS OVER THE
LONG HAUL.
SO THAT'S IT IN A NUTSHELL.
A LOT TO SAY FOR DATA THAT IS SO
RICH.
I'M SURE YOUR VIEWERS WILL HAVE
LOTS OF QUESTIONS.
>> THEY'RE ALREADY COMING IN.
LET ME THANK YOU FOR AN
INCREDIBLY SUCCINCT AND
INFORMATIVE PRESENTATION.
I WANT TO ASSURE ALL OUR
VIEWERS, THIS SESSION — THIS
WEBINAR IS ARCHIVED, AS WELL AS
THIS POWERPOINT PRESENTATION.
SO YOU'RE GOING TO BE ABLE TO
TURN TO IT AND GO OVER IT AT
LENGTH, AS WELL AS I'M SURE IT'S
ON THE N.A.P.E. WEBSITE.
IF I COULD ASK YOU, BEFORE I
TURN TO DAVE, TO GO OVER ONE
ASPECT AGAIN, WHICH WE'RE
ALREADY GETTING SEVERAL
QUESTIONS ON.
AND CHRIS ASKED IT.
IF ALL SUBGROUPS HAVE INCREASED,
HOW CAN THE CUMULATIVE SCORE BE
FLAT?
AND I THINK THIS WAS YOUR
SIMPSON'S PARADOX.
>> OH, YEAH.
>> SO IF YOU COULD GO THROUGH
THAT FOR US AGAIN, I WOULD
APPRECIATE IT.
>> YEAH, WELL, IT'S CALLED
SIMPSON'S PARADOX, BECAUSE IT'S
SORT OF, YOU KNOW, INTUITIVELY
NOT WHAT YOU WOULD EXPECT TO
HAPPEN.
EVERYONE IS MAKING PROGRESS.
BLACK STUDENTS, WHITE STUDENTS,
HISPANIC STUDENTS.
BUT THE SHIFT HAS BEEN IN THEIR
RELATIVE PROPORTIONAL
CONTRIBUTIONS TO THE SAMPLE OVER
TIME.
SO WE HAVE LESS WHITE STUDENTS
WHO TEND TO SCORE HIGHER AND
MORE HISPANIC STUDENTS WHO TEND
TO SCORE LOWER.
AND THEY'RE MORE HISPANIC
STUDENTS IN THE 2012 POPULATION
THAN IN THE 2008.
AND THE VICE VERSA FOR THE WHITE
STUDENTS.
WHICH LEADS TO IN MANY CASES
THIS PARADOX WHERE THE TREND
ISN'T SHOWING OVERALL A
SIGNIFICANT IMPROVEMENT.
BUT EVERYBODY IS MAKING
PROGRESS.
THERE'S JUST LESS OR MORE OF THE
STUDENTS RELATIVE TO THEIR
CONTRIBUTIONS AND TO THE SCORE.
>> SO TO RESTATE A LITTLE BIT,
SO EVEN IF YOU HAVE MORE
HISPANIC STUDENTS IN THE OVERALL
POOL, THEY ARE GAINING, BUT
THEY'RE NOT GAINING AT THE
RATE — BUT THEY'RE STILL NOT TO
WHERE THE WHITE —
>> SO THEY DON'T SCORE AS HIGH.
AND ACTUALLY, THEIR RATE IS
HIGHER IN THESE PARTICULAR DATA.
>> YES.
SO THEY ARE IMPROVING THEIR
PERFORMANCE, BUT NOT AT THE
SAME —
>> LEVEL.
THAT'S IMPORTANT.
>> WHICH LEADS TO THAT
FLATTENING.
>> RIGHT.
DOESN'T ALWAYS HAPPEN THAT WAY.
SOMETIMES THERE IS A GAIN,
DESPITE THIS SHIFT IN THE
POPULATION.
BUT IT'S WHEN IT'S SO DRAMATIC,
THE WAY THAT IT IS HERE.
WHITES, YOU KNOW, GOING FROM 80%
TO 56%.
THERE ARE FAR LESS OF THEM.
SO THEIR CONTRIBUTION TO THE
OVERALL SCORE IS LESS, EVEN
THOUGH THEY SCORE HIGHER.
AND THE CONTRIBUTION —
RELATIVELY SPEAKING, TO 2008.
AND THE CONTRIBUTION OF THE
HISPANIC STUDENTS IS MORE.
BUT THEY TEND TO SCORE LOWER.
SO THEY CAN MAKE PROGRESS.
BUT THE PROGRESS ISN'T ENOUGH
TO, YOU KNOW, PUSH THAT SCORE
UP.
BECAUSE THESE WHITE STUDENTS ARE
STILL SCORING HIGHER.
>> IN THE DEMOGRAPHY OF OUR
COUNTRY, THAT TREND IS ONLY
GOING TO CONTINUE IN THE SENSE
THAT —
>> ABSOLUTELY.
>> THAT CHILDREN OF COLOR ARE —
WILL SOON BE THE MAJORITY OF
STUDENTS IN OUR SYSTEM.
THEY ALREADY ARE IN 12 STATES
AND 40%, AT LEAST, IN TEN MORE.
SO THAT NUMBER ONLY INCREASES.
>> ABSOLUTELY.
I THINK THE GOOD NEWS IS THAT
EVERYONE IS MAKING PROGRESS.
WHEN YOU SAY — EVERYONE IS
MAKING PROGRESS.
THE WHITE STUDENTS ARE MAKING
PROGRESS.
YOU WANT EVERYONE TO MAKE
PROGRESS, RIGHT?
AND YOU HAVE TO — YOU HAVE TO
SEE A PATTERN WITH THE BOTTOM OF
THE DISTRIBUTION MAKING MORE
PROGRESS IN ORDER FOR THE GAPS
TO EVER CLOSE.
IF THAT IS THE CASE, IF EVERYONE
IS MAKING PROGRESS.
AND THAT'S EXACTLY WHAT WORRY
SEEING HERE.
>> SO LET'S TURN TO DAVE
DRISCOLL.
YOU'VE GOT TWO MAJOR HATS.
ONE, SUPERINTENDENT OF ONE OF
OUR LARGEST FORMER
SUPERINTENDENT OF ONE OF OUR
LARGEST STATE SYSTEMS IN THE
COUNTRY, MASSACHUSETTS.
AND, THEN, OF COURSE, THE CHAIR
OF THE NAGBE BOARD THAT PREPARES
AND REVIEWS THESE ASSESSMENTS.
SO WHAT — FIRST, WHAT ARE SOME
BRIGHT SPOTS.
>> INTERESTING LOW ENOUGH,
CONGRESS IN ITS WISDOM, FORCED A
NERVE BETWEEN NAGBE & CES,
NATIONAL EDUCATION CENTER FOR
STATISTICS.
WHERE PEG WORKS.
IT'S SO IMPORTANT TO RECOGNIZE
THAT PARTNERSHIP.
YOU SEE THE BRIGHT SPOTS ARE
TURNED OUT BY THESE NUANCES.
IF YOU LOOK BROADLY, AT 9th AND
13th, YOUR ODDS UP.
THEN AS PEGGY DID SO WELL, IF
YOU BREAK IT DOWN AND LOOK —
AND I THINK PEG, FOR EXAMPLE,
THE LACK OF PROGRESS IN THE LAST
COUPLE OF YEARS, WE'LL LOOK AT
THAT OVER TIME.
THE DEMOGRAPHIC — DEMOGRAPHIC
SHIFTS HAVE BEEN MORE DRAMATIC.
MAYBE THAT HAD A PLAY IN IT.
BUT I THINK THE BRIGHT SPOTS,
BOB, BROADLY SPEAKING, OUR KIDS
ARE IMPROVING.
AND NOW, WE'VE TALKED ABOUT THIS
DEMOGRAPHIC CHANGE, AND SO WE
HAVE MORE POOR KIDS.
>> RIGHT.
>> AND SO IT'S MUCH HARDER TO
MOVE THE NEEDLE AND YET WE'RE
DOING IT.
I THINK THE BRIGHT SPOTS ARE, WE
ARE GAINING, OUR KIDS ARE
GAINING, DESPITE THE DEMOGRAPHIC
SHIFTS, SEEING IMPROVEMENT.
OUR CURRENT POPULATION, EVEN
WITHOUT BEING DOMINANT BY
WHITES, ARE OUTPERFORMING,
ALMOST ALL WHITE STUDENT
POPULATION BACK IN 1971.
SO I THINK THE BRIGHT SPOTS ARE
THAT MOST PEOPLE WOULD BE
SURPRISED BY THIS, THAT KIDS ARE
IMPROVING IN AMERICA.
AND WE'RE SEEING THINGS LIKE THE
GAP CLOSING BECAUSE BLACK AND
HISPANICS ARE DOING BETTER.
NOT MUCH, BUT THERE IS A SLIGHT
SHIFT AND PLEASANT SHIFT IN THE
GENDER FOR GIRLS IN MATHEMATICS.
SO I THINK THE BRIGHT SPOTS ARE
THAT OVER ALL, OUR KIDS ARE
IMPROVING.
>> SO LET'S TALK ABOUT PRESENT
DAY.
IN PRESENT DAIKON TEXT AND
INTERPRETING THESE FINDINGS.
WHAT DO THEY TELL US ABOUT HOW
WE'RE DOING IN RELATION NOT ONLY
TO CLOSING GAPS, BUT MEETING THE
INCREASED EXPECTATIONS FOR
STUDENTS' PREPAREDNESS FOR
OVERALL COLLEGE CAREER.
THEY HAVE GONE TO A COLLEGE AND
CAREER READY BENCHMARK.
>> RIGHT.
SO THEREIN LIES THE PROBLEM.
EVEN THOUGH WE HAVE THESE BRIGHT
SPOTS, THAT HAS TO BE PUT IN A
CONTEXT.
AND AS YOUR ALLIANCE HAS DONE,
WE FOCUS ON HIGH SCHOOL KIDS,
AND NOW FOR A LONG TIME WE SAW A
TERRIBLE DROPOUT RATE, ET
CETERA.
SO WE CAN'T PAUSE TO CELEBRATE
THIS NEWS, BECAUSE WE'VE GOT SO
FAR TO GO.
AND SO AS WE LOOK AT THE NUMBER
OF KIDS WHO ARE COLLEGE READY
AND IN REMEDIATION, FOR EXAMPLE,
IN AMERICA, IT'S JUST A TERRIBLE
PROBLEM.
AND EVEN THOUGH WE'VE HAD GAINS,
OTHER COUNTRIES HAVE HAD
TREMENDOUS GAINS.
HIGH SCHOOL GRADUATION RATES, WE
USED TO LEAD THE WORLD JUST 20
YEARS AGO.
AND NOW THERE'S — I DON'T KNOW
HOW MANY COUNTRIES HAVE GONE
RIGHT BY US.
SO I THINK WE SHOULD PAUSE AND
THANK NCS FOR BRINGING OUT MUCH
BETTER NEWS THAN WOULD EXPECT.
THAT'S GOOD.
WE OUGHT TO BUILD ON THAT.
BUT WE STILL HAVE WAY — WE
SHOULDN'T HAVE ANY GAPS AT ALL.
OR THEY SHOULD BE CLOSING THAT
MUCH FASTER, ET CETERA.
>> SO, FOLLOW UP.
SO THERE — IT SEEMS TO ME THERE
IS SOME GOOD NEWS.
AND THEN ALSO THE CHALLENGE IN
FRONT OF US.
ONE OF THE GOOD NEWS, WHILE
ACHIEVEMENT GAPS FOR BLACKS AND
HISPANIC STUDENTS ARE DOWN BY
30%, STUDENTS OF COLOR TODAY ARE
PERFORMING AT THE LEVEL OF WHITE
STUDENTS A GENERATION AGO.
AND SO WITH MINORITY STUDENTS
POSTING LOWER SCORES IN EVERY
GAUGE GROUP, WHAT ARE THE
IMPLICATIONS FOR EDUCATING THESE
STUDENTS OF COLOR, WHO WILL SEEN
BECOME THE NEW MAJORITY?
>> WELL, IT'S A OBVIOUSLY AN
ADDED CHALLENGE.
JUST THINK ABOUT NOT ONLY POOR
KIDS, KIDS WHO COME TO SCHOOL
WITHOUT HAVING BOOKS IN THEIR
HOME AND ALL THAT SORT OF THING.
BUT NOT SPEAKING OUR LANGUAGE.
ET CETERA.
SO THERE'S TREMENDOUS CHALLENGES
THAT RUSH SCHOOLS FACE, NO
QUESTION ABOUT IT.
AND THAT'S WHY I THINK WE SHOULD
PAUSE TO CELEBRATE IF THAT'S THE
WORD, THE FACT THAT THINGS ARE
GETTING BETTER.
EVEN WITH THESE DIFFICULT
CHALLENGES.
BUT TO SUGGEST THAT THEREFORE
WE'RE FINE IS NOT THE REALITY.
THE REALITY IS WE HAVE TO EVEN
DO THAT MUCH BETTER.
>> SO PEGGY, AND THIS MAY GO
BACK TO SIMPSON'S PARADOX.
BUT I'VE GOT TO KEEP COMING BACK
TO YOU.
DID YOU HELP US UNDERSTAND WHAT
THE PERFORMANCE LEVELS DO MEAN
FOR 17-YEAR-OLDS.
I REMEMBER THE FIRST TIME I SAW
THIS, I LOOK AT IT AS AN
ELECTROCARDIOGRAM IN THE SENSE
OF IF I SAW THAT IN THE
EMERGENCY ROOM, I WOULD BE
WORRIED BECAUSE ESSENTIALLY IT
IS A FLAT LINE RUNNING ACROSS 40
YEARS.
>> GIVING THAT IMPRESSION.
>> YEAH, AS ONE BEEN IN A E.R.
17-YEAR-OLDS POSTED A SCORE OF
287, NOT THAT SIGNIFICANTLY
DIFFERENT FROM 1971.
>> RIGHT.
SOMPLTHS WHAT CAN STUDENTS DO AT
THIS LEVEL ON THE READING
ASSESSMENT?
>> YOU KNOW, ONE OF THE
ADVANTAGES OF THE MAIN N.A.P.E.,
THEY HAVE THOSE ACHIEVEMENT
LEVELS SET BY THE BOARD.
AND THEY REALLY DO HELP SORT OF
COMMUNICATE WHAT THE SCORE
MEANS.
THE BASIC, PROFICIENT AND
ADVANCE.
YOU SEE A SCALE SCORE AND YOU
CAN PUT THAT RELATIVE TO THE CUT
POINTS FOR THE ACHIEVEMENT
LEVELS.
BUT WE DON'T REALLY HAVE THOSE
HERE FOR THE MAIN N.A.P.E.
ONE OF THE FIRST BANKS I SAID,
IN MY OPENING TALK.
WE HAVE SOMETHING CALLED
PERFORMS LEVEL.
THESE ARE NOT DEVELOPED, AND
THEY'RE VERY SOPHISTICATED,
THOUGHTFUL WAY THE BOARD
DEVELOPS THE BASIC PRO EFFECT
AND ADVANCED LEVELS.
BUT THESE ARE POINTS ON SCALE
THAT DESCRIBE WHAT STUDENTS ARE
ABLE TO DO BASED ON WHAT ITEMS
TEND TO MAP AROUND THOSE
PARTICULAR POINTS.
WE CALL THEM PERFORMS LEVELS.
AND THEY START OUT ABOUT 150,
AND THEY GO UP TO 350.
SO IT'S A POINT, AND IT GIVES
YOU A SENSE.
AND, AGAIN, THIS IS NOT THE MORE
COMPREHENSIVE WAY THE BOARD SETS
THE LEVELS, BUT GIVES A SENSE
WHAT STUDENTS ARE ABLE TO DO
THOSE AROUND POINTS.
SO A SCHOOL OF 278, IF YOU LOOK
AT 250, CLOSE TO THAT, ONE OF
THE LEVELS I'M DESCRIBING HERE,
STUDENTS ARE ABLE TO INTERRELATE
IDEAS AND MAKE GENERAL
LEGISLATIONS.
NOW, BASICALLY WHAT THAT MEANS,
THEY'RE ABLE TO LOCATE, TEXT,
THEY'RE ABLE TO GENERALIZE
ACROSS AND MAKE PARAPHRASES OR
TELL YOU WHAT THEY THINK THE
TEXT IS ACTUALLY SAYING.
IN A VERY GENERAL WAY.
SO IT'S NOT THE HIGHEST LEVEL OF
SOPHISTICATION AS MEASURED BY
THIS ASSESSMENT, BUT SORT OF AN
INTERMEDIATE SKILL, READING
SKILL, FOR EXAMPLE.
SO I WOULD ADVISE ANYONE WHO
WANTS TO REALLY UNDERSTAND WHAT
THESE SCALE SCORES MEAN, GO TO
THE REPORT.
WE HAVE A REALLY LONG
DESCRIPTION FOR EACH ONE OF
THESE LEVELS FOR READING OR
MATH.
IT REALLY DOESN'T MATTER.
AND IT GIVES YOU A SENSE OF THE
TYPE OF ITEMS THAT MAP AROUND
THESE CUT POINTS.
AND SO THAT YOU CAN BETTER
ABSORB WHAT THEY NEED.
>> AND THAT REPORT CAN BE
FOUND —
>> YES, ON THE NATION'S REPORT
CARD.GOV.
>> FOLLOW-UP QUESTION TO BOTH OF
YOU.
HOW DID THIS AVERAGE PERFORMANCE
LEVEL DIFFER FROM NEW
EXPECTATIONS EMBEDDED IN THE NEW
COLLEGING CAREER STANDARDS, OR
IS IT COMMON CORE STANDARDS FOR
ENGLISH LANGUAGE ARTS?
>> I THINK AS PEGGY JUST
DESCRIBED, THE DIFFERENCE
BETWEEN LONG-TERM TREND AND MAIN
N.A.P.E.
THE WORLD HAS CHANGED
TREMENDOUSLY, BUT THE ADVANTAGE
OF HAVING THE LONG-TERM TREND IS
SIMILAR TO WHAT YOU JUST SAID.
THAT OUR — THE STUPDS ARE
PERFORMING — THE BLACK AND
HISPANIC ARE PERFORMING AS KIDS
IN 1971.
SO HAVING LONG-TERM TREND IS
HELPFUL, EVEN THOUGH WHAT WE'RE
EXPECTING IN ASSESSMENTS, BOTH
WITH N.A.P.E. AND CERTAINLY AT
THE STATE LEVEL.
AND NOW WITH KRON — EVEN THE
STATE TEST IS MUCH MORE.
AND THE COMMON CORE EVEN RAISES
THE ANTE.
SO WE HAVE IN A HOT OF OUR STATE
TESTS OPEN-ENDED QUESTIONS, A
REQUIREMENT THAT PEOPLE DO
REASONING AND MATHEMATICAL
REASONING AND THOSE KIND OF
THINGS.
BUT THE COMMON CORE GOES
FURTHER.
IN THAT YOUNG PEOPLE ARE
EXPECTED TO PROVIDE EVIDENCE FOR
THEIR CONCLUSIONS AFTER READING,
SO THEY'RE BROAD —
>> JUSTIFIED, YEAH.
>> THROUGH EVIDENCE AND THAT
KIND OF THING.
EVEN ONE STEP HIGHER.
SO WE ARE MOVING THE NETTLE TO
THE [ EXPLETIVE ] EXTENT OF WHAT
WE EXPECT KIDS TO KNOW AND BE
ABLE TO DO, RIGHTFULLY SO.
AS YOUR ORGANIZATION POINTS OUT,
WITH A TECHNOLOGICAL CHANGES,
AND SKILLS NEEDED IN THE WORK
FORCE, KIDS ARE GOING TO HAVE TO
HAVE MUCH BETTER SKILLS.
BUSINESS IS TELLING US, PROBLEM
SOLVING.
SO THAT IS GOING TO CAUSE A
CHANGE.
BUT THAT CHANGE WILL BE AT THE
STATE LEVEL.
OUR N.A.P.E. WILL REFLECT SOME
OF THAT.
MAIN N.A.P.E.
>> RIGHT.
MAIN NAPE.
>> LONG-TERM TREND WON'T.
AND THAT WON'T MAKE IT A BAD
THING BECAUSE WE'RE THE ONLY
ONES THAT CAN GO BACK TO 1971
AND DO THE CONCLUSIONS YOU DREW.
NOBODY ELSE CAN DO THAT.
SO IT HAS ITS PLACE.
>> SA FROM THE STAND POINT OF
NAGBY, THE GOVERNING BOARD, YOU
HAVE A CHALLENGE — THAT
N.A.P.E., MAIN, BY GRADE LEVEL,
NEEDS TO BE UPGRADED OR REVIEWED
CONSTANTLY IN REVIEW OF COLLEGE
AND CAREER HEIR INSIDE.
IT WILL CONTINUE TO REFLECT 1971
SKILLS IN DEMAND.
>> YEAH, IN A WAY I LIKE TO SAY
WE'RE CALLED A LOT OF THINGS.
WE'RE CALLED THE NATION'S REPORT
CARD, TRUTH-TELLER, GOLD
STANDARD.
WE'RE ALSO CALLED THE
INDEPENDENT VERIFIER.
SO I THINK WE NEED TO STICK TO
OUR KNITTING.
I THINK THE COMMON CORE OF
STANDARDS ARE TERRIFIC.
BUT THAT'S OTTO OWE THAT'S THAT
INITIATIVE.
WE'RE — WE'RE TRYING TO
ESTABLISH SOMETHING THAT'S
CONSISTENT.
OUR FRAME WORKS, EVEN THOUGH
THEY CHANGE — FOR EXAMPLE, 12th
GRADE FRAME WORKS WERE
ESTABLISHED TO LOOK AT COLLEGE
PREPAREDNESS.
AND RECENT STUDY THIS WEEKEND,
THE BOARD TOOK A VOTE ON IT.
CHOSE THAT N.A.P.E. PROFICIENCY
IN IT READING AND SLIGHTLY BELOW
PROFICIENCY IN MATHEMATICS IS A
VERY PLAUSIBLE LEVEL FOREVER
COLLEGE PREPAREDNESS.
AND WE WERE ABLE TO TRACK KIDS
IN FLORIDA THAT TOOK NAPE AND
WENT TO COLLEGE AND GOT A B
MINUS OR BETTER.
WE'RE ALWAYS GOING TO PROVIDE
THAT INDEPENDENT, VALID,
RELIABLE MEASURE THAT PEOPLE CAN
MAP UP AGAINST.
I THINK IT WOULD BE A WONDERFUL
THING IF COMMON CORE AND OR
OTHER STANDARD SETTING AND
ASSESSMENT EXCEEDED N.A.P.E. IT
WILL GET REFLECTED BACK IT
N.A.E.
AS SOON AS THE OTHERS GET
CONNECTEDED, WHATEVER THEY USE,
AND ALL REQUIRED TO SET HAVE I
HIGH STANDARDS AS WE SAW IN NEW
YORK.
IT'S GOING TO HAVE AN TICKET ON
STUDENTS.
AS SOON AS THEY DO THAT, PEOPLE
ARE GOING TO LOOK AT N.A.P.E.
WE CONTINUE TO BE THE
INDEPENDENT VERIFY FIRE.
BUT WE DON'T WANT TO BE DRAGGED
INTO THAT WORLD BOMB.
IF LUCK TO THEM IF SOMEBODY
SUGGESTS THAT TECHNOLOGY — ALL
THAT.
WE'LL PAY ATTENTION TO THIS, BUT
WE HAVE TO BE WHO WE ARE.
>> IF I CAN MAKE AN EDITORIAL
COMMENT, I THINK YOUR ROLE HAS
BEEN CRITICAL.
ALWAYS HAS BEEN CRITICAL,
PARTICULARLY SINCE NLB HAS BEEN
CREATED.
STATES ALL WORK THEIR WAY
THROUGH WHAT IMPLEMENTING COMMON
CORE OR COLLEGE AND CAREER READY
STANDARDS AND ASSESSMENT TO GO
WITH THEM AND BEING ABLE TO
DETERMINE.
WE'RE GOING TO GO FOR A WHILE IN
THIS COUNTRY, MY GUESS IS, WHILE
WE'RE NARROWING WHAT WE DEFINE
AS CAREER READY ARE.
HOW WE SUCHLT THAT MUCH OF A
CONSENSUS.
>> IT'S FORTUNATE FOR US —
>> DON'T GO AWAY.
BECAUSE I THINK THE NEED FOR YOU
IS — PARTICULARLY IN THESE
FORMATIVE YEARS OF
IMPLEMENTATION.
SO DAVE, LEADING INTO THAT, CAN
CAN YOU TALK MORE ABOUT WHAT
NAGBY'S ROLE IN DEVELOPING AND
DESIGNING N.A.P.E. IS.
WHAT THE BOARD IS CONSIDERING IN
THE FUTURE?
>> YES, AND, OF COURSE, AS PEGGY
STRUGGLES WITH MORE THAN ANY OF
US, SEQUESTRATION IS KIND OF —
>> RIGHT.
>> TEMPERED OUR PLANS.
BUT WE'RE CONSTANTLY LOOKING AT
WAYS, A., TO IMPROVE WHAT WE'RE
DOING.
SO, YOU KNOW, WE'RE PROVIDING
COMPUTER-BASED TESTING, FOR
EXAMPLE.
A LOT OF PEOPLE AREN'T AWARE OF
THAT.
SO WE'RE CONSTANTLY IMPROVING.
WE'RE ALSO LOOKING AT NEW AREAS.
WE'RE STARTING AT TECHNOLOGY,
ENGINEERING LITERACY TESTS.
UNTIL WE'VE GOT THE FRAMEWORK
DOWN, WILL BEGIN THE TESTING AND
SO FORTH.
SO WE'LL MOVE IN THOSE AREAS.
WE ASSESS THE ARTS.
MOST PEOPLE DON'T KNOW THAT.
HISTORY, CIVICS, GEOGRAPHY.
WE HAVE A LOT OF BACKGROUND
QUESTIONS WE ASK.
WE'RE NOW GOING TO CALL THEM
CONTEXTUAL QUESTIONS.
THAT'S REALLY WHAT THEY ARE.
TO ASK STUDENTS AND OTHERS
WHAT'S GOING ON IN SCHOOLS.
WE DO TRANSCRIPT STUDIES, WHICH
OUR ORGANIZATION HAS TAKEN A
LOOK AT.
SO WE DO A LOT.
WE'RE GOING TO STICK PRETTY MUCH
TO OUR KNITTING.
WE HAVE HAD TO MAKE SOME
CUTBACKS AND SOME DELAYS.
AND WE'RE HOPEFUL WE DON'T HAVE
TO MAKE MAJOR CUTBACKS IN THE
FUTURE.
BECAUSE OUR DATA IS SO
IMPORTANT.
OUR RECENT MOVE INTO TUTOR,
DOING URBAN DISTRICTS, IS DOING
VERY WELL.
IT'S INTERESTING, BOB.
YOU GO BACK FAR ENOUGH AS I DO,
TO WHEN PEOPLE WORRIED ABOUT
N.A.P.E.
AND STATE N.A.P.E. WAS A BIG
CHALLENGE.
A LOT OF STATES DIDN'T WANT TO
PARTICIPATE.
>> YEAH.
>> NOW WE HAVE — IN FACT, IT
WAS REPORTED RECENTLY THAT NO
ONE IN CONGRESS IS GETTING
PUSHBACK FROM STATES SAYING THEY
DON'T WANT TO PARTICIPATE.
SO WE'RE GETTING MORE AND MORE
PEOPLE WANTING TO COME IN TO
TUTOR.
SO I THINK — YOU KNOW, I THINK
THIS IS THE ISSUE OF WE CAN'T BE
AFRAID OF THE TRUTH.
AND — BUT WE HAVE TO TELL THE
TRUTH.
AND FOR A LONG TIME, N.A.P.E.
HAS TOLD THE TRUTH.
AND AS YOU KNOW, WITH NO CHILD
LEFT BEHIND, LOOK HOW MANY
STATES HAD X NUMBER OF KIDS
PROFICIENT, AND REALLY, WHEN YOU
LOOKED AT N.A.P.E., IT WAS
NOWHERE NEAR THAT.
>> I JUST WANT TO SAY, I THINK
ONE OF THE MOST IMPORTANT
ASPECTS OF N.A.P.E.
AND WHAT I APPRECIATE ABOUT
GOVERNORS, SCHOOLS AND OTHERS,
THEY SAID THAT'S FINE.
BECAUSE N.A.P.E. DOES SHOW THAT
GAP, WHAT N.A.P.E. WAS AND THE
AVERAGE GAP AS I RECALL WAS
AROUND 30-SOME POINTS, BOTH IN
ENGLISH AND/OR READING AND MATH.
BUT IT WAS GOVERNORS AND SCHOOL
OFFICERS AND OTHERS WHO SAID WE
RECOGNIZE THAT.
WE'RE NOT RUNNING FROM THIS GAP.
WE RECOGNIZE IT.
AND, INDEED, THAT'S WHAT WE'RE
SEEING PLAYED OUT EVEN TODAY IN
NEW YORK CITY, AS IT RELEASES
ITS SCORES OF A MORE RIGOROUS
ASSESSMENT.
THOSE SCORES ARE NOT WHAT THEY
WERE BEFORE.
BUT AT WHAT THEY'RE SHOWING IS
WHERE IS THE TRUE GAPS ARE
NOBODY IS TEACHING LESS WELL.
NONE OF THAT NOWHERE NEAR AS
REFINED AS THEY ARE TODAY.
I WOULD MUCH RATHER HAVE THE
DOCTOR GIVING ME THE CHOLESTEROL
TEST TODAY, WHICH TELLS — NOT
QUITE AS GOOD A PICTURE AS IT
WAS 20 YEARS AGO.
BUT IT'S MUCH MORE ACCURATE.
AND I CAN WORK WITH THAT.
>> BETTER MEASURE.
>> BETTER MEASURE.
>> LET ME SAY ONE FINAL THING.
THE BOARD IS REALLY LOOKING AT
WAYS TO TRY AND MAKE A
DIFFERENCE.
WE HAVE TO BE CAREFUL.
BY STATUTE, WE'RE NOT SUPPOSED
TO GET INVOLVED IN CURRICULUM OR
PRODUCTS OR ANYTHING LIKE THAT.
NOR SHOULD WE.
BUT WE DO WANT TO TRY AND BRING
MORE OF A SPOTLIGHT ON WHAT'S
GOING ON.
SO THE BOARD HAS ENTERED INTO A
PARENT INITIATIVE.
WE'RE TRYING TO GET THE PARENTS
TO UNDERSTAND WHAT N.A.P.E. IS
ABOUT.
WE ACTUALLY HAVE PARENTS USING
OUR EXPLORER — DATA EXPLORER,
WHICH IS EXCITING.
AND WE — WE'RE GOING TO HAVE A
PARENT CONFERENCE —
INTERNATIONAL PARENT
CONFERENCING IN JANUARY TO TRY
AND JUST HAVE PARENTS RECOGNIZE,
THIS IS WHERE — THIS IS TELLING
YOU WHERE KIDS OUGHT TO BE.
SO, WE, AGAIN, CAN TELL THE
TRUTH.
>> ANY TIME YOU WANT TO HAVE A
DIGITAL TOWN HALL MEETING ON IT,
LET US KNOW.
WE WOULD BE GLAD TO ACCOMMODATE
YOU.
>> LAST THING, WE HAVE A BIT OF
A FRUSTRATING — PROBABLY I DO.
IT TAKES A LONG TIME FOR US TO
DO SOME OF OUR WORK.
AND IT'S VERY IMPORTANT WORK.
SO BASED ON OUR TRANSCRIPT
STUDY, WE BECAME VERY CONCERNED
ABOUT WHAT WAS GOING ON IN
MATHEMATICS IN SCHOOLS, MIDDLE
SCHOOLS AND HIGH SCHOOLS.
ACTUALLY ENTERED — DID A STUDY,
TOOK THEM FIVE YEARS, A LONG
TIME TO COME UP WITH RESULTS,
JUST BECAUSE IT TAKES SO LONG.
AND IT WAS UNFORTUNATE, NO ONE
PAID ATTENTION.
BUT THEY ACTUALLY WENT OUT AND
INTERVIEWED KIDS, TEACHERS, ET
CETERA.
AND WE HAVE THIS VERY RICH DATA,
WHICH BASICALLY SAYS ALGEBRA 1
IS SO DIFFERENT ACROSS THE
COUNTRY.
>> VERY DIFFERENT.
>> AND TEXTBOOKS ARE NOT HELPFUL
IN MOST CASES.
SO VERY IMPORTANT DATA.
BUT IT SORT OF GETS LOST IN
EVERYTHING.
SO ONE OF THE THINGS WE'RE
TRYING TO DO IS — AS A BOARD IS
FIGURE OUT HOW TO — SUGGESTIONS
BY YOUR AUDIENCE OR YOU, HOW DO
YOU GET INTO THE
CONSCIENCENESS — WE HAVE VERY
GOOD DATA.
WE TELL THE TRUTH.
WE WANT THAT TRUTH TO GET OUT
THERE.
SO THAT'S ONE OF THE THINGS THE
BOARD IS FOCUSED ON.
>> SO SPEAKING, LET'S GET BACK
TO SOME OF THE DATA.
A LOT OF QUESTIONS COMING IN ON
IT.
MOSES ASKS, CAN THE LONGITUDINAL
TREND DATA TELL US ANYTHING
ABOUT THE ACHIEVEMENT OF
LOW-INCOME STUDENTS.
>> THAT'S A GOOD QUESTION.
WE ONLY RECENTLY STARTED TO PICK
UP FREE AND REDUCED PRICE LUNCH
IN THIS ASSESSMENT.
WE DIDN'T HAVE IT BEFORE.
40 YEARS AGO, WE DIDN'T —
WEREN'T PICKING UP THIS
PARTICULAR ONE.
BUT YES.
BUT ONLY IN RECENT YEARS.
AND LOW-INCOME STUDENTS ARE
DOING BETTER.
YOU WILL FIND THAT IN THIS DATA.
BUT YOU'RE NOT GOING TO HAVE
THAT LONG TREND LINE OF THE .
>> YOU DO THAT HAVE IN THE MAIN
N.A.P.E.
>> YOU CAN SEE IT DISTINCTIVELY,
WITH THE LOW-INCOME STUDENTS
BRINGING UP — YOU KNOW, AS YOU
WELL KNOW, BLACK AND HISPANIC
STUDENTS ARE DISPROPORTIONATELY
AMONG THE LOW-INCOME, AND SO
WHEN I SAY THE HISPANIC STUDENTS
ARE MAKING THE BIG PROGRESS AND
FROM THE BOTTOM OF THE
DISTRIBUTION THAT BLACK STUDENTS
ARE MAKING THIS PROGRESS, THEY
REALLY ARE THE LOW-INCOME.
THEY HAVE THE LARGER PROPORTION.
NUMERICALLY, THERE ARE MORE
WHITE STUDENTS THAT ARE IN THE
LOW-INCOME.
BUT PROPORTIONATELY, THAT'S
WHERE —
>> ISN'T ONE OF THE CHALLENGES
AS WELL THAT THE NUMBER OF FREE
AND REDUCED LUNCH STUDENTS HAS
GROWN?
>> YES.
>> AND ALSO CHILDREN ARE
CONSIDERED EITHER LOW-INCOME OR
EVEN BELOW THAT IN POVERTY HAS
GROWN, AS WELL IN THE PAST
DECADE OR SO.
>> OH, YES, ABSOLUTELY.
WE HAVE SEEN IT GO FROM THE 30s
TO SOMEWHERE IN THE AREA OF 45%
FOR THE OVERALL POPULATION OF
COURSES IS A LOT MORE DRAMATIC
FOR HISPANIC AND BLACK STUDENTS.
>> SO CHRIS — SAME CHRIS,
DETERMINED TO STICK ON THE
SIMPSON'S PARADOX.
>> O SIMPSON'S PARADOX AGAIN.
>> WELL, DIFFERENT VARIATION.
SO IF 9 AND 13-YEAR-OLDS HAVE
RISEN STRONGLY AND 17-YEAR-OLDS
ARE FLAT, ISN'T IT THE STORY
THAT 17-YEAR-OLDS HAVE FALLEN?
WHAT'S —
>> THEY HAVE NOT.
>> WELL, THEY HAVEN'T FALLEN,
BUT WHAT'S HAPPENING THAT 9 AND
13-YEAR-OLDS KEEP GOING UP,
IMPROVING, AND YET IT'S FLAT FOR
17-YEAR-OLDS?
IS SOMETHING HAPPENING IN THE
LATE MIDDLE SCHOOL, HIGH
SCHOOL — EARLY HIGH SCHOOL
EXPERIENCE?
>> WELL, YOU KNOW, WE HAVE SEEN
THIS PATTERN, HAVEN'T WE, DAVE,
FOR MANY ASSESSMENT PATTERNS
HERE RECENTLY THAT WE DON'T SEE
THE SAME PATTERNS FOR
17-YEAR-OLDS AS WE SEE FOR
EIGHTH GRADERS, THAT WE SEE FOR
FOURTH GRADERS.
I MEAN, WE HAVE SEEN MORE
PROGRESS FOR FOURTH GRADERS,
LESS PROGRESS.
AND THIS IS JUST IN GENERAL FOR
EIGHTH GRADERS AND LESS FOR
17-YEAR-OLDS.
BUT A LOT OF IT DOES HAVE TO DO
WITH WHO THOSE STUDENTS ARE.
IN THE 17-YEAR-OLD POOL, OR IN
THE 12th GRADE POOL.
DROPOUTS.
OKAY?
WE DIDN'T TALK ABOUT DROPOUTS
HERE TODAY.
BUT IMAGINE GOING FROM — I HAVE
SOME STATISTICS HERE, BOB.
IN 1990, DROPOUTS — 12%.
IN 2012, 7%.
I MEAN, THAT'S A BIG IMPROVEMENT
THE.
AMONGST THOSE 17-YEAR-OLDS.
SO A DIFFERENT POPULATION.
YOU DON'T QUITE SEE THAT.
YOU'RE NOT GOING TO HAVE 8th
GRADERS OR 13-YEAR-OLDS, BUT NOT
LIKE YOU SEE FOR 17-YEAR-OLDS.
SO THIS IS AN IMPORTANT
DIFFERENCE THAT YOU WON'T SEE IN
THE MAKING OF THE COMPARISON OF
THE YOUNGER GROUPS YOU'LL SEE
FOR THE OLDER STUDENTS.
>> SO YOU — THE GRADUATION RATE
IS ALSO IMPROVING.
>> YES.
RIGHT.
>> AND WHERE DROPOUTS —
TWO-THIRDS OF ALL DROPOUTS, AS I
RECALL, TEND TO OCCUR IN THE 9th
AND 10th GRADE.
>> RIGHT.
>> SO IF THE GRADUATION RATES
ARE IMPROVING AND THESE STUDENTS
THAT WOULD HAVE DROPPED OUT ARE
NOW STAYING IN, WHEN THEY'RE
17-YEAR-OLDS, TAKING THIS TEST,
THEY MAY NOT DO AS WELL ON IT.
BUT THE POINT IS —
>> THEY'RE THERE.
ONE IMPORTANT THING.
AND THE SCORE ISN'T DECLINING
FOR THE MOST PART.
NOW, I MEAN, THE AVERAGE SCORE
ISN'T DECLINING FOR THE MOST
PART.
SO THERE IT IS AGAIN, THAT
NUANCE OF TRYING TO REALLY
UNPACK THIS DATA FOR THE
17-YEAR-OLDS.
WHEN YOU TAKE ALL OF THESE
COMPLICATED CHANGES, SHIFT IN
POPULATION, IMPROVEMENTS IN THE
DROPOUT RATE, IMPROVEMENTS IN
THE GRADUATION RATES, I THINK
YOU BEGIN TO SEE A SLIGHTLY
DIFFERENT PICTURE THAN IF YOU
JUST ARE LOOKING AT THE AVERAGE
SCORE FOR THE 17-YEAR-OLDS.
AND SO YOU HAVE GOT TO BE A
LITTLE MORE THOUGHTFUL WHEN YOU
ARE COMPARING THAT COHORT TO THE
EIGHTH GRADE AND FOURTH GRADE
WHERE YOU DON'T SEE THOSE TYPES
OF CHANGES IN THE POPULATIONS
THAT YOU'RE MEASURING FROM TIME
ONE OR TIME TWO.
>> FOR — FROM WHITE PLAINS, WE
GET A QUESTION FROM JACOB.
TO EXAMINE HOW MUCH IMPROVEMENT
OUR SCHOOLS HAVE MADE OVER THE
PAST 20 YEARS, WOULD MAIN
N.A.P.E. OR LONG-TERM N.A.P.E.
BE THE BEST MEASURE?
>> A COMBINATION.
I WOULD SAY.
BUT AGAIN, THE PURPOSE OF
LONG-TERM IS TO JUST HAVE THAT
DATA POINT.
SO THAT WE HAVE IT.
AND THEN WITH ALL THE NUANCES,
YOU KNOW, WE HAVE TO TAKE INTO
ACCOUNT THE CHANGES.
BUT WE ACTUALLY HAVE DATA FROM
1971, AND THAT'S VERY IMPORTANT
TO LOOK AT.
BUT I THINK MAIN N.A.P.E.,
CLEARLY, NOW THAT WE HAVE STATES
WITH INDIVIDUAL SCORES AND ALL
THE REST OF IT, I MEAN, I THINK
IT IS MAIN N.A. PCHT E. THAT'S
GOING TO TELL MORE OF THE STORY
THAN LONG-TERM.
LONG-TERM HAS ITS ROLE.
IT'S PROBABLY, FRANKLY,
DIMINISHED FROM WHERE IT USED TO
BE.
BUT I WOULD HATE TO ABANDON IT.
BECAUSE I THINK IT TELLS US
SOMETHING.
THAT IT'S THE ONLY DATA POINT WE
HAVE THAT GOES BACK TO 1971, AND
IT'S IMPORTANT FROM THAT
PERSPECTIVE TO HAVE THAT.
BUT I THINK CLEARLY MAIN
N.A.P.E. IS MUCH MORE RICH IN
ITS DATA.
>> I WOULD AGREE.
>> TALK ABOUT.
JUST THE IDEA OF HAVING FREE AND
REDUCED.
BUT WE HAVE A WHOLE LOT –.
A LOT MORE.
>> CONTINUING TO HAVE A LOT
OF —
>> SO I THINK ONE HEALTHY WAY TO
LOOK AT THIS COMPARISON — WE
GET THIS QUESTION A LOT.
THESE ARE TWO SNAPSHOTS, TWO
SNAPSHOTS IN TIME.
WOULD YOU WANT ONLY ONE SNAPSHOT
OF YOUR CHOLESTEROL, BOB?
YOU KNOW, IF IT'S HIGH, YOU WANT
SOMEBODY TO TAKE ANOTHER LOOK.
PICTURE.
IMAGINE BEING ABLE TO TAKE TWO
SNAPSHOTS OF THE SAME
INFORMATION.
YOU'VE GOT MORE INFORMATION.
AND THE INTERESTING THING ABOUT
THE COMPARISON TO LONG-TERM AND
MAIN N.A.P.E. ARE TWO SNAPSHOTS
OF SLIGHTLY DIFFERENT ANGLE OF
THE SAME CONSTRUCT.
ONE MORE COMPLEX, ONE LESS
COMPLEX, ONE MORE BASIC.
BUT TO COLLECTIVELY, THEY GIVE
YOU A FULL PICTURE.
AND SO I THINK THAT THAT'S
ANOTHER WAY TO SORT OF LOOK AT
THIS DATA.
AND I DON'T DISAGREE WITH THE
CHAIRMAN HERE.
I THINK IN TODAY'S TIME, MAIN
N.A.P.E. MAY WIN OUT IN TERMS OF
PUTTING THE MORE CONTEMPORARY
LOOK AT THESE CONSTRUCTS.
CERTAINLY MORE CONSISTENT WITH
WHERE WE WANT OUR STUDENTS TO GO
AND BE — WHAT WE WANT THEM TO
BE ABLE TO DO INTO THE FUTURE.
BUT I THINK THERE'S VALUE IN
KNOWING THESE BASIC SKILLS AND
HOW STUDENTS ARE ABLE TO
DEMONSTRATE WHAT THEY KNOW AND
CAN CAN DO OVER TIME WITH THAT
PART OF THE SNAPSHOT.
>> SO SHIRLEY FROM FLORIDA ASKS
HOW MANY PARTICIPATE IN N.A.P.E.
>> NO —
>> NO TO THE LONG-TERM.
>> NO TO THE LONG-TERM.
BUT EVERY STATE BY LAW HAS TO
PARTICIPATE IN —
>> MAIN N.A.P.E.
>> FOR THE READING AND
MATHEMATICS AND THEY DO.
>> DAVE, WAS THAT — THAT
REQUIREMENT THAT ALL STATES
PARTICIPATE IN MAIN N.A.P.E.,
ONE OF THE REQUIREMENTS?
>> RIGHT.
SONCHT BEFORE THAT VOLUNTARY?
>> IT WAS AND IRONICALLY IN
MASSACHUSETTS, OUR LEGISLATURE,
THERE WAS SOME PRIDE IN NO CHILD
LEFT BEHIND, REQUIRED US TO
PARTICIPATE IN THE NATIONAL
ASSESSMENT OF EDUCATIONAL
PROGRESS.
>> SO —
>> NO STATE DATA.
>> NO STATE DATA FOR LONG-TERM
N.A.P.E.
>> NO TUTOR DATA.
>> AND NO URBAN.
>> RIGHT.
>> AND BUT FOR MAIN N.A.P.E.,
EVERY STATE PARTICIPATES, GRADE
48.
>> IT IS VOLUNTARY BUT YOU KNOW,
WE'VE HAD A LOT OF SUCCESS IN
IMPROVING OUR PARTICIPATION
RATES FOR OUR 12th GRADERS.
AND WE'VE GOTTEN SMART.
12th GRADERS ARE AN INTERESTING
BUNCH.
WHEN YOU GO TO THE SCHOOLS,
THEY'RE NOT ALWAYS THERE.
THEY'VE GOT SOMETHING TO DO.
YOU NEED TO FIGURE OUT A BETTER
WAY TO ALIGN YOUR DATA
COLLECTION ACTIVITIES WITH 12th
GRADERS.
SO WE'VE GOTTEN SMARTER.
AND IT USED TO BE — I SAID TO
SAY, DAVE, BEFORE NO CHILD LEFT
BEHIND, THE COMBINED
PARTICIPATION RATE FOR HIGH
SCHOOLS AND 12th GRADERS WERE
55%.
WE WEREN'T REALLY HAPPY WITH
THAT.
SO WE GOT SMART — SMARTER ABOUT
HOW TO COLLECT DATA THAT IS FROM
THESE STUDENTS.
BECAUSE THEY DON'T HAVE TO
PARTICIPATE.
IN THE ASSESSMENT.
AND NOW IT'S ABOUT 85%.
85% COMBINED PARTICIPATION RATE
OF SCHOOLS AND STUDENTS.
SO WE'RE VERY PROUD OF THAT.
EVEN THOUGH IT'S VOLUNTARY.
>> I JUST WANT TO GIVE THE KIDS
CREDIT, TOO.
WE HAVE GOTTEN SMARTER.
ONE THING SCHOOLS SAID, I WAS ON
THE 12th GRADE COMMISSION.
>> YEAH, THAT'S RIGHT.
>> WHEN NAGBE WAS THINKING LET'S
JUST DROP THE 12th GRADE.
>> THAT'S RIGHT.
>> ALL THESE KIDS WON'T TAKE IT,
SO FORTH AND SO ON.
OUR COMMISSION SAID A COUPLE
THINGS.
ONE, CONTINUE TO GIVE IT,
BECAUSE IT'S THE ONLY NATIONAL
SAMPLE, S.A.T. AND A.C.T. ARE
ONLY THOSE GOING ON TO COLLEGE.
SO IT'S IMPORTANT.
BUT NUMBER — AND TWO, MAKE IT
MEANINGFUL, DEVELOP THE
FRAMEWORK SO IT IS COLLEGE
PREPAREDNESS.
AND THREE, GET BOLD ABOUT IT,
AND TAKE SOME BOLD STEPS TO SEE
TO IT THAT KIDS PARTICIPATE.
WE EVEN TALKED ABOUT TRYING TO
GIVE THEM INSTANT FEEDBACK OR
EVEN —
>> SOME INCENTIVES.
REMEMBER WE TALKED ABOUT THAT.
>> McDONALD'S COUPONS.
BUT SO PEGGY IS RIGHT.
WE'VE GOTTEN SMARTER ABOUT IT.
HIGH SCHOOLS SAID AT LEAST TELL
US IN THE JUNIOR YEAR —
>> RIGHT.
>> SO WE DID A LOT OF
INTELLIGENT THINGS FROM OUR
PERSPECTIVE.
BUT GIVE THE KIDS CREDIT.
THESE ARE 17-YEAR-OLD,
18-YEAR-OLD KIDS.
THEY'VE GOT TO TAKE S.A.T.,
A.C.T., ACK ACCU PLACE, SENIOR
PROM.
>> AND THEN WE'RE COMING IN, IN
THE SPRING.
>> THEN YOU COME IN, AND BOY,
85% — WE CAN TELL FROM OUR
STUDIES, THEY TRY.
THEY — WE CAN TELL HOW MUCH
TIME THEY'RE SPENDING, NOT
PLAYING GAMES, ABC, WHICH THEY
USED TO.
>> RIGHT.
>> SO GIVE OUR KIDS CREDIT.
THE ONLY INCENTIVE, REALLY, THEY
KNOW THIS IS PART OF A NATIONAL
SAMPLE THAT'S GOING TO HELP
THEIR YOUNGER BROTHERS AND
SISTERS.
AND SO I WANT TO GIVE THE KIDS
CREDIT.
>> NO, GOOD.
THANK YOU.
AND YOU ANSWERED MY NEXT
QUESTION.
REALLY.
WHICH WAS SOME HAVE ASSERTEDED
THAT THE KIDS — THAT STUDENTS
TAKING IN THE 12th GRADE, THEY
DON'T CARE.
IT'S NOT A HIGH STAKES EXAM FOR
THEM.
SO ARE THESE RESULTS AS VALID AS
THE 4th AND 8th GRADERS.
>> SO — SO WE HAVE NOW PROVEN
THEY ARE, THROUGH OUR OWN
STATISTICS.
AND I THINK THAT WAS A SURPRISE
TO ALL OF US.
>> YEAH.
WHEN DAVE AND OTHERS ON THAT
IMPORTANT COMMISSION — I HAD
FORGOTTEN, DAVE, YOU WERE ON
THAT COMMISSION.
I GUESS WE HAVE BEEN AROUND EACH
OTHER FOR A LONG TIME.
WE HAVE PUT A LOT OF DATA IN
FRONT OF THEM.
AND ONE SET OF DATA I REMEMBER
VIVIDLY IS THAT WE LOOKED AT THE
OMIT RATES OF STUDENTS.
AND I MEAN — THEY CAN TAKE THE
TEST AND JUST DECIDE NOT TO
ANSWER QUESTIONS OR HOW FAR IN
THE ASSESSMENT DO THEY GET.
AND WE FOUND THAT IT REALLY
DIDN'T DIFFER FROM EARLY, MANY,
MANY YEARS AGO, DECADES AGO,
WHEN WE WERE ASSESSING 12th
GRADERS OR 17-YEAR-OLDS.
THE TREND OF OMIT RATES REALLY
HADN'T CHANGED.
SO IF THAT'S AN INDICATION OF
EFFORT OR AN INDICATION OF
ENGAGEMENT, IT'S NO DIFFERENT
THAN WHAT IT WAS YEARS AGO.
NOW, GRANTED, THERE IS A
DEVELOPMENTAL PATTERN.
FOURTH GRADERS ARE GOING TO DO
WHAT YOU ASK THEM TO DO.
EIGHTH GRADERS, WELL, YOU KNOW,
THEY'RE GETTING A LITTLE SMART
THAT THEY CAN SAY NO.
AND THEN, OF COURSE, YOU KNOW,
12th GRADERS, WELL, THEY'RE A
DIFFERENT BUNCH.
BUT WE HAVEN'T SEEN A DROP-OFF
IN ENGAGEMENT IN OUR 12th GRADE
ASSESSMENTS BY INDICATION OF
DATA INSIDE OF THE INFORMATION
WE COLLECT.
>> SO JOHN AND I WERE ASKED, DO
THE MAIN N.A.P.E. AND LONG-TERM
SHOW ROUGHLY THE SAME RATE OF
CHANGE FOR DIFFERENT GROUPS OF
STUDENTS?
>> WE HAVE A SPECIAL STUDY DONE,
BECAUSE, YOU KNOW, THESE ARE NOT
QUESTIONS WE HAVE HEARD OF ONE
TIME.
JIM CHROMY, A BIG GUY IN THE
FIELD, EXPERT GUY IN THE FIELD.
AND AL BEATENAN, THEY DID A
SPECIAL STUDY TO COMPARE MAIN
N.A.P.E. AND LONG-TERM TREND
JUST TO ANSWER THAT QUESTION.
AND THEY WERE ABLE TO HOLD MANY
OF THESE VARIABLES YOU AND I
TALKED ABOUT.
FOR EXAMPLE, THE AGE, YOU KNOW,
THE GRAYS — THESE AGES ARE IN
DIFFERENT GRADES.
SO HELD CONSTANT THE
DEMOGRAPHICS, THE DIFFERENCES
AND WHERE THESE STUDENTS WERE
FOUND IN TERMS OF GRADE.
AND WHAT THEY FOUND IS THAT
BASICALLY, MAIN N.A.P.E. AND
LONG-TERM TREND ARE ABOUT
SHOWING THE SAME SORT OF
PATTERNS, ALTHOUGH THE GAMES
WE'RE SEEING OVER THE LONG HAUL
HAVE BEEN STRONGER IN MAIN
N.A.P.E.
BUT THERE ARE SOME NUANCES.
I WANTEDED TO SHARE THOSE.
I THOUGHT MAYBE THIS WOULD COME
UP.
SO I WANT TO SHARE SOME
SPECIFICS WITH YOU.
FOR AGE 13 AND — THAT WOULD BE
FOURTH — I SHOULD SAY
9-YEAR-OLDS AND FOURTH GRADERS,
THE GAINS IN READING HAVE BEEN
STRONGER FOR LONG-TERM TREND.
BUT FOR EVERYWHERE ELSE, WE HAVE
SEEN STRONGER GAINS IN MAIN
N.A.P.E.
SO FOR EIGHTH GRADE OR
13-YEAR-OLDS, AND READING, OR
FOR 13-YEAR-OLDS AND 9-YEAR-OLDS
AND MATH, THE GAINS HAVE BEEN
BIGGER OR STRONGER THAN WE HAVE
SEEN IN LONG-TERM TRENDS.
SO THERE ARE SOME DIFFERENCES.
BUT THE PATTERNS MAP EACH OTHER
REMARKABLY WELL.
>> AND HOW DOES IT RELATE — HE
WILL SEE IN NEVADA ASKS, TO
CURRICULUM.
ARE THERE ANY STUDIES YOU'RE
AWARE OF COMPARING CHANGES IN
CURRICULUM SINCE 1971 THAT TRACK
THE LONG-TERM N.A.P.E.?
IS.
>> WELL, YOU KNOW, THE
COMMISSIONER GAVE YOU A HINT.
AND I HOPE YOUR READERS — YOUR
VIEWERS HEARD IT.
THAT CURRICULUM STUDY HE TALKED
ABOUT IS A HIDDEN TREASURE.
AND WHAT IT DOES IS IT IT GOES
BACK AND IT LOOKS AT —
>> OUR VIEWERS AREN'T BIG ON
NUANCE.
WE LIKE IT LAID OUT FOR US.
GIVE US A SITE, WE'RE THERE.
>> WELL, WHEN WE COLLECT THIS
TRANSCRIPT STUDY DATA, AND WE
HAVEN'T BEEN DOING IT SINCE THE
'70s, BUT WE HAVE BEEN DOING IT
QUITE A WHILE.
AND WE'RE ABLE TO PICK UP ON THE
COURSES THAT STUDENTS ARE TAKING
OVER TIME.
SIGNIFICANTLY SO THAT WE HAVE
SEEN SOME CHANGES.
THE STUDENTS ARE TAKING MORE
ADVANCED COURSES THAN THEY HAVE
IN THE PAST.
IT USED TO BE — YOU KNOW, WE
HAVE ALL BEEN AROUND LONG ENOUGH
TO KNOW, IT USED TO BE THAT
ALGEBRA ONE WAS THE GATE-KEEPER.
NOT ANYMORE.
STUDENTS ARE COMPLETING THEIR
12th GRADE YEAR OR HIGH SCHOOL
YEAR HAVING COMPLETED ADVANCED
PLACEMENT, MATH, OR EVEN
HISTORY.
MORE ADVANCED COURSES.
TRIG.
ANY OF THESE COURSES THAT WOULD
BE CONSIDERED AT THE TOP LEVEL
OF THESE CONTENT AREAS.
YOU SEE MORE OF THESE TYPES OF
COURSE-TAKING PATTERNS EVIDENT
IN THE DATA TODAY THAN YOU HAVE
IN THE PAST.
BUT THERE IS THIS CONCERN THAT
WE HAVE THAT THIS CURRICULUM
STUDY THAT DAVE SHARED WITH YOU
REVEALED.
JUST BECAUSE IT SAYS IT'S AN
ADVANCED COURSE DOESN'T MEAN
THAT IT IS.
BECAUSE YOU HAVE TO LOOK AT WHAT
IS ACTUALLY BEING TAUGHT, WHAT
STUDENTS ARE ACTUALLY BEING
ASKED TO DO RELATIVE TO THE
CONTENT THAT'S PUT IN FRONT OF
THEM.
SO I THINK WE STILL HAVE SOME
WORK TO DO.
AMERICA HAS PUSHED THE GOAL OF
MORE ADVANCED COURSE-TAKING,
PARTICULARLY IN MATH ASK
SCIENCE, AND I THINK WE HAVE
ACHIEVED THAT.
NOW WE'VE GOT TO LOOK INSIDE THE
BOX AND SEE WHAT THEY'RE
ACTUALLY BEING TAUGHT.
>> AND SO THIS STUDY IS FOUND
WHERE?
>> IT'S FOUND ON OUR WEBSITE.
NATION'S REPORT CARD.GOV.
>> AND THE NAME OF THE STUDY?
>> THE MATH CURRICULUM — MATH
CURRICULUM STUDY.
HE MAY HAVE TO GET THE ACTUAL
NAME TO YOU.
BUT THAT'S THE GENERIC — IF
THEY SAID THAT, THEY WOULD FIND
IT.
>> GET TO THE WEBSITE.
>> YEAH.
>> YOUR LICENSE TO HUNT.
>> RIGHT.
>> THIS IS — ROBERT FROM NEW
JERSEY ASKS, AND THIS IS VERY
RELEVANT, GIVEN THE FACT THAT
THE TRIANNUAL RESULTS, ONCE
EVERY THREE YEARS, WILL BE
DECEMBER THE 3rd, 2013, COMING
UP.
AND HE ASKS, GIVEN THE
SUBSTANTIAL IMPROVEMENT IN THE
PERFORMANCE OF BLACKS AND
HISPANICS SINCE THE 1970s, WHY
IS THE U.S. CONTINUING TO LOSE
GROUND ON INTERNATIONAL MEASURES
OF ACHIEVEMENT LIKE PISA?
DOES N.A.P.E. MEASURE DIFFERENT
ITEMS?
>> SO I THINK THE GOOD NEWS IS
THAT WE'RE SEEING BLACKS AND
HISPANICS GAIN FROM THE
LONG-TERM TREND.
WE KNOW THAT'S NOT REPLACING THE
WHITE STUDENTS THAT ARE LEAVING.
AND WHEN WE LOOK
INTERNATIONALLY, OTHER COUNTRIES
ARE GOING FASTER — GAINING MORE
THAN WE ARE.
WE PAID A LOT OF ATTENTION TO
PISA?
IN FACT, WE EMBEDDED N.A.P.E.
QUESTIONS IN THE LAST TIMES
TEST, AND TIMMS EMBEDDED
N.A.P.E. QUESTIONS IN THEIR
TESTS.
SO WE'RE GOING TO BE ABLE TO —
IN FACT, WE'RE RELEASING A
REPORT RELATIVELY SOON ON THAT
DIFFERENCE — ON THAT RESULTS OF
THAT.
AND, OF COURSE, IT'S THE FIRST
TIME, SO PEOPLE SHOULDN'T
OVER — GET TOO EXCITED.
BUT WE DO HAVE SOME EXAMPLES
THERE.
WE'VE HAD — YOU KNOW, WE'VE
HAD — WE HAVE PAID A LOT OF
ATTENTION TO PISA.
IT'S 15-YEAR-OLDS, NOT GRADE.
WE THINK THERE ARE WAYS THAT WE
ARE GOING TO BE ABLE TO CONNECT
BETTER WITH THEM.
BUT WE PAY A LOT OF ATTENTION TO
THE INTERNATIONAL RESULTS.
>> YEAH, I THINK — AM I
CORRECT, WITH PISA, AS I RECALL,
THEY ACTUALLY DON'T LOOK AT
RACE, ETHNICITY.
THEY LOOK AT INCOME LEVEL.
AND YOU CAN DETERMINE
PERFORMANCE BASED UPON INCOME
LEVEL.
BUT I DON'T BELIEVE RACE
ETHNICITY IS A FACTOR.
AND SO IT'S HARD —
>> DIFFICULT TO MEASURE ACROSS
THE COUNTRY.
>> YEAH, DIFFICULT TO MEASURE
ACROSS THE DIFFERENT EXAMS.
BUT IN TERMS OF THE — SO YOU
CAN CAN DO INCOME LEVEL.
BUT THE OTHER PART IS THE
PROBLEM-SOLVING ASPECTS OF PISA
AND N.A.P.E.
AND THE —
>> DESIGNED FOR DIFFERENT
PURPOSES, I THINK, IS THE BEST
WAY TO SORT OF THINK ABOUT IT.
PISA IS LITERACY ASSESSMENT.
CHOOSE TO BE DIFFERENTIATED FROM
N.A.P.E., WHICH IS ABOUT STUDENT
ACHIEVEMENT.
I THINK PEOPLE FORGET ABOUT
THAT.
THEY'RE NOT THE EXACT SAME
CONSTRUCT, AND THEIR PURPOSES
AND WHAT THEY WERE DESIGNED TO
MEASURE VARY SIGNIFICANTLY.
AND YOU NEED TO CONSIDER THAT
WHEN YOU'RE MAKING THE
COMPARISON.
SO PISA IS MORE ABOUT MASTERY OF
PROCESSES, APPLYING REAL WORLD
KNOWLEDGE TO A CONTEXT.
AND IT'S NOT JUST WHAT THEY HAVE
LEARNED IN SCHOOL, BUT ALSO WHAT
THEY HAVE LEARNED OUTSIDE OF
SCHOOL THAT PISA IS TRYING TO
TAP INTO.
NOT SO WITH WITH THE N.A.P.E.
ASSESSMENT.
NOW I KNOW THAT THERE ARE OTHER
VARIABLES OUTSIDE THE SCHOOL
CONTEXT THAT WE'RE PROBABLY
PICKING UP.
BUT THAT'S NOT WHAT WE ARE
PURPORTING TO MEASURE WHEN WE
REPORT OUR SCORES.
SO I THINK THIS IS AN IMPORTANT
DISTINCTION.
THE PEOPLE NEED TO KEEP IN MIND.
NOT THAT SOME COMPARISON ISN'T
INFORMATIVE.
BUT THEY NEED TO KEEP IN MIND
THAT THE MAJOR DIFFERENCES IN
THESE TWO ASSESSMENTS.
>> SO THE DIRECT ANSWER TO
ROBERT IS THERE ARE A NUMBER OF
DIFFERENCES.
BUT I THINK — ANDRE — THE
QUESTION PRESENTED AT OUR
MEETING.
>> RIGHT OF THE.
>> ABOUT A YEAR AGO.
SO WE'RE IN CONSTANT DISCUSSION.
ONE OF THE STRENGTHS OF NAGBE
STAFF AND CES STAFF, WE'RE
CONSTANTLY COLLABORATING,
WHETHER THE CONSORTIUMA, TIMMS,
AS I MENTIONED, WE'RE TRYING TO
LEARN FROM ONE ANOTHER.
BUT WE HAVE TO BE CAREFUL, NOT
TO, FOR EXAMPLE, JUST —
IMPLEMENT A PISA TEST AND SAY
IT'S THE SAME.
WE HAVE TO BE VERY CAREFUL.
BUT I THINK THERE IS A LOT TO BE
LEARNED.
A LOT TO BE SHARED.
AND I THINK THAT'S WHAT WE'RE
TRYING TO DO.
>> AND I BELIEVE, DAVE, FOR THE
FIRST TIME IN PISA, ADMINISTERED
IN THE U.S. THAT ACTUALLY THREE
STATES HAVE VOLUNTEERED,
INCLUDING YOUR STATE OF
MASSACHUSETTS, HAVE STEPPED UP
AND SAID WE WILL ADMINISTER
WITHIN THE STATE, AS WELL AS THE
PISA BEING ADMINISTERED
NATIONALLY.
>> RIGHT.
>> SO WE'RE GOING TO LOOK WITH
INTEREST TO SEE HOW THOSE STATES
FARE AND HOW IT RELATES TO THEIR
CURRENT ASSESSMENT SYSTEM.
>> DECEMBER.
THAT'S WHEN THOSE RESULTS —
>> DECEMBER THE 3rd.
I KNOW VERY WELL.
PISA DAY.
AND ON A SERIOUS NOTE, LET ME
INDICATE A NUMBER OF
ORGANIZATIONS, THE ALLIANCE FOR
EDUCATION IS WORKING TO — WITH
A NUMBER OF ORGANIZATIONS SO WE
HAVE A SERIES OF EVENTS LEADING
UP TO PISA DAY THAT WILL BE
DIGITALLY AIRED.
SO TO BE INFORMED, OF COURSE,
COVERING WHAT THE RANKINGS ARE.
BUT THE RANKINGS TO ME AREN'T AS
IMPORTANT ANYMORE AS WHAT ARE
THE LESSONS BEHIND THEM.
JUST LIKE YOU'RE LOOKING AT WHAT
N.A.P.E. — NAGBE HAS BEEN
LOOKING AND NCES, WHAT ARE THE
LESSONS BEHIND THE FINDINGS.
AND SO WHAT IS IT THE FORMING
NATIONS ARE DOING WITH
ASSESSMENTS THAT TRULY INCREASE
STUDENT LEARNING OUTCOMES VERSUS
SIMPLY WHETHER OR NOT THE UNITED
STATES IS 17th OR 15th IN
LITERACY RANKINGS.
>> YEAH.
>> SO I JUST ENCOURAGE OUR
PARTICIPANTS, AND I KNOW WE'LL
BE TALKING WITH YOU ALL A LOT
MORE TO — HOW DO WE MAKE PISA A
TRUE LEARNING EXPERIENCE AND
BENEFIT FROM IT.
THIS COMES AT AN IMPORTANT TIME,
AS WELL AS THIS DISCUSSION.
BECAUSE EVERY POLICYMAKER IS
SHORTLY — IT ACTUALLY NOW, I
THINK, AT THE STATE LEVEL, IS
HAVING TO DECIDE WHAT TYPE OF
ASSESSMENTS THEY'RE GOING TO
ADOPT AND IMPLEMENT, AND IN SOME
CASES PAY MORE FOR.
AND IF I COULD GET YOU ALL BACK
OR — TO TALK ABOUT THAT ASPECT,
BECAUSE YOU — YOU SHOULDN'T BE
DOING THIS ONE ON THE CHEAP.
I'M GETTING OFF A LITTLE BIT.
LET ME GET BACK TO N.A.P.E.
I DO JUST HAVE TO SAY, THOUGH,
I'VE GOT A $10,000 — 12 — IT'S
NOW $10,000 CAR.
THAT'S ROUGHLY WHAT A NUMBER OF
STATES SPEND PER YEAR ON
EDUCATING A STUDENT.
AND I THINK NOTHING OF TAKING IT
IN FOR A $200 CHECK-UP SO IT CAN
KEEP RUNNING AND IF NOT — AND
HOPEFULLY IMPROVE.
AND YET WE'VE GOT FOLKS THAT
WANT TO BALK AT A 25 OR $40
ASSESSMENT ON SUCH A MAJOR
INVESTMENT AS EDUCATION.
WE'LL COME BACK ON THAT.
SO JENNIFER FROM RHODE ISLAND
ASKS, ARE THERE ANY ANALYSES
THAT COMPARE STATES OR
GEOGRAPHIC AREAS SUCH AS URBAN
VERSUS RURAL.
OBVIOUSLY IN MAIN N.A.P.E., YOU
HAVE TUTORED THE URBAN ANALYSIS.
BUT ANY OTHER TYPE OF
COMPARISON?
>> WELL, YOU KNOW, BACK WHEN WE
FIRST STARTED ASSESSING
LONG-TERM TRENDS, WE DIDN'T HAVE
THAT VARIABLE.
IN OUR DATA.
IT WASN'T OUR CONTEXTUAL
VARIABLES, AS WE'RE NOW CALLING
THEM.
BUT SINCE 2004, WE HAVE BEEN
PICKING UP, SO THE LOCALE,
SUBURBAN, RURAL AND URBAN.
AND I DO URBAN/RURAL SO I DO
HAVE DATA I CAN SHARE WITH YOU.
IN READING, SUBURBAN — SUBURBAN
AND RURAL SCHOOLS SCORE HIGHER
THAN STUDENTS IN TOWN AND
CITIES.
FOR MATH, STUDENTS IN SUBURBAN
SCHOOLS SCORE HIGHER THAN
STUDENTS IN CITY, TOWN AND RURAL
SCHOOLS.
SO THERE IS JUST — AGAIN, A
LITTLE FLAVOR OF WHAT YOU MIGHT
FIND IF YOU GO ON THAT WEBSITE.
NATIONSREPORTCARD.GOV.
MY GUESS IS YOU'LL FIND EVEN
DEEPER FINDINGS THAT YOU CAN
COMPARE WITH THESE LOCATIONS.
>> SO COUPLE QUICK QUESTIONS IN
THE TIME WE HAVE.
WHEN NEW HAMPSHIRE QUESTION.
WHEN DESCRIBING TESTING RESULTS
FROM N.A.P.E., HOW DO YOU
RESPOND WHEN EDUCATORS SAY
RESULTS ARE NOT VERY POLITIC BE
TO THEIR CITY OR DOWNTOWN
BECAUSE N.A.P.E. DOESN'T TEST
EVERY CITY OR TOWN?
>> IT'S SO INTERESTING HOW —
AND A LOT OF THE QUESTIONS TODAY
ARE REALLY — 2013 QUESTIONS
BEING ASKED AS IF WE WERE
DEFENDING 1971.
SO I THINK WE JUST HAVE TO
UNDERSTAND, THE WORLD HAS
CHANGED.
>> RIGHT.
>> WHAT WE'RE TRYING TO SUGGEST
HERE WITH LONG-TERM TREND, WE
NEED IT, BECAUSE IT TELLS US
SOME THINGS.
BUT IT'S LIMITED COMPARED TO
WHAT WE HAVE TODAY.
SO WHEN WE START TALKING ABOUT
RURAL OR WHATEVER, HERE YOU'RE
GOING TO WISCONSIN, YOU'VE GOT
EVERY DISTRICT, EVERY SCHOOL,
EVERY CLASSROOM, EVERY CHILD.
SO YOU CAN DO IT BY WHATEVER YOU
WANT.
LET ALONE RURAL, WHATEVER YOU
CAN DO IT BY COUNTY, WHATEVER.
SO THAT — ALL OF THAT IS
AVAILABLE ON — AT THE STATE
LEVEL.
AND AT THE DISTRICT LEVEL.
SO WHY DO YOU NEED N.A.P.E.?
WE ARE THE TRUTH-TELLER.
AND IN STATE AFTER STATE AFTER
STATE TODAY SAYS THAT X NUMBER
OF PERCENT OF KIDS ARE
PROFICIENT.
AND N.A.P.E. SAYS THEY'RE NOT.
SO WE ARE A SAMPLE.
WE ARE THE NATION'S REPORT CARD.
WE ARE THE TRUTH-TELLER.
AND SO THAT'S WHAT WE'RE THERE
FOR.
AND SO IF NAME YOUR FAVORITE
STATE, THEY SHOULD PAY
ATTENTION.
IF THEIR RESULTS DON'T MATCH —
>> OR DON'T ALIGN, RIGHT, RIGHT.
>> SO WE'RE A NATIONAL SAMPLE.
ALL WE DO IS TELL YOU WHAT THE
RESULTS ARE.
AND THE RESULTS ARE VALID AND
RELIABLE.
AND EVEN THOUGH THEY'RE SAMPLED,
THEY'RE ACCURATE.
AND TO THINK THAT OUR 12th GRADE
PROFICIENT, WHICH IS A
PERFORMANCE LEVEL, AND
ESTABLISHED BY OUR PROCESS, CAN
COME OUT ALMOST EXACTLY AT 500
ON THE S.A.T. AND A.C.T. AND ET
CETERA SHOWS THAT THE CARE WE
TAKE WITH PUTTING OUR TEST
TOGETHER, THE FRAMEWORKS, THE
WAY WE ESTABLISH THE ACHIEVEMENT
LEVELS, HAS STOOD THE TEST OF
TIME.
SO WE SEE — SO WHY ARE WE
IMPORTANT TO HAVE THIS NATIONAL
SAMPLE?
WELL, YOU WILL SEE, AND YOU WILL
SEE IT WHEN WE RELEASE OUR
LATEST RESULTS.
STAGE CHANGE.
SO MASSACHUSETTS, WE THOUGHT WE
DID SOMETHING WELL.
WELL, IT SHOWED.
AND NOW OTHER STATES ARE
STARTING TO SHOW PROGRESS.
AND SO THAT TELLS YOU SOMETHING.
SO OUR INTENT IS NOT TO GIVE THE
INDIVIDUAL RESULT.
THAT'S WHAT STATES DO.
USED TO BE A TIME WHEN WE WERE
THE ONLY SHOW IN TOWN.
SO EVERYBODY LOOKED TO US.
NOW THEY HAVE SO MUCH DATA IN
THEIR STATE, DOESN'T MAKE US
IRRELEVANT.
MAKES US THE TRUTH-TELLER.
SO YOU'VE GOT ALL THIS DATA, BUT
IF IT'S TELLING YOU AN INFLATED
STUDENT PERFORMANCE, YOU OUGHT
TO PAY ATTENTION.
THAT'S THE VALUE WE HAVE, THE
INDEPENDENT VERIFY FIRE.
>> AND INCIDENTALLY, IF YOU WANT
A QUICK READ OF HOW YOUR STATE
IS DOING ON ITS — REPORTS IT'S
DOING ON STATE TESTS VERSUS
N.A.P.E., WE DO — ALLIANCE
REPORT CARD EVERY YEAR THAT
MEASURES THE EIGHTH GRADE
N.A.P.E. PERFORMANCE, AND YOU
JUST GO TO — CLICK ON YOUR
STATE, AND YOU CAN SEE THAT GAP
BETWEEN WHAT YOUR STATE REPORT
IS, AND WHAT YOUR N.A.P.E.
RESULTS ARE.
WHICH I THINK BECOMES EVEN MORE
IMPORTANT IN TODAY'S DISCUSSION.
EDWARDO, FROM MARYLAND, ASKS,
WITH ALL THE STATE AND DISTRICT
TESTING, WHY DO WE NEED A TEST
LIKE N.A.P.E. THAT IS NOT
DIRECTLY LINKED TO WHAT WE'RE
TEACHING OUR STUDENTS.
>> I THINK THE CHAIRMAN HAS SAID
THE ANSWER TO THAT QUESTION.
>> BUT I WANT TO GO EVEN
FURTHER.
I THINK THIS HOPEFULLY WILL
DRIVE THIS POINT HOME.
WE SAY WE'RE THE GOLD STANDARD,
WE'RE THE INDEPENDENT VERIFIER.
PEOPLE SAY WHAT DO YOU NEED
N.A.P.E.
HERE UNDER NO CHILD LEFT BEHIND
SET LOW STANDARDS.
AND PEOPLE IN THIS COUNTRY
ALLOWED THAT TO HAPPEN.
AND THEY KNEW IT WAS HAPPENING
BECAUSE WE HAD N.A.P.E. SO WHAT
VALUE ARE WE?
WE TELL THE TRUTH.
AND SO 40-SOME ODD STATES DIDN'T
TELL THE TRUTH AND NOBODY
WORRIED.
NOW ALL OF A SUDDEN THANKFULLY
PEOPLE ARE WORRIED AND THEY'RE
GOING TO SET THE COMMON CORE,
AND WE'RE GOING TO SEE HIGHER
STANDARDS IN ALL STATES, WHETHER
IN THE CONSORTIUM OR NOT.
SO WHAT VALUE DO WE HAVE AS THIS
INDEPENDENT VERIFIER?
THAT WE TOLD THE TRUTH.
>> AND THIS REPORT THAT THE
CHAIRMAN IS REFERRING TO IS KEY.
AND BOB, I BET YOU KNOW IT BY
THE MAPPING REPORT.
BECAUSE MY GUESS IS THAT MY
BOSS, JACK, HAS BEEN HERE TO
TALK TO YOU ABOUT IT.
WHEN WE PUT THOSE FIRST RESULTS
OUT A FEW YEARS AGO, THE STATES
WERE JUST TAKEN BACK BY THIS
COMPARISON.
AND YOU MENTIONED AN AVERAGE OF
30 POINTS.
BUT AT THE MAX, THE BOTTOM, WE
HAD TENNESSEE.
AT THE TOP WE HAD MASSACHUSETTS.
60-POINT DIFFERENCE.
IN THE MAPPING.
THAT'S JUST UNHEARD OF, AND I
THINK THE WHOLE NATION WAS KIND
OF SHOCKED BY IT.
>> BY THE WAY, GIVE TENNESSEE
CREDIT FOR RAISING STANDARDS.
>> THAT — AFTER THEY SAW THESE
RESULTS, I'M SURE THERE WERE
OTHER FACTORS.
NOT JUST N.A.P.E., OF COURSE.
BUT LOOKING AT THEMSELVES, AT
THE BOTTOM OF THAT DISTRIBUTION,
I WOULD IMAGINE WAS PART OF
THEIR THINKING.
>> I THINK ONE OF THE MOST
SIGNIFICANT CHARTS I'VE SEEN,
AND N.A.P.E. — I BELIEVE WHAT
DROVE MANY STATES TO LOOK AT THE
COMMON CORE WAS WHEN YOU CHARTED
N.A.P.E. PERFORMANCE ON ONE AXIS
AND YOUR STATE'S PERFORMANCE ON
THE OTHER AND WHERE EVERYBODY
SHOULD BE IN THE TOP RIGHT HAND
CORNER, MASSACHUSETTS WAS
LEADING THE PACK THERE.
>> RIGHT.
>> INSTEAD IT WAS A SHOTGUN.
>> YEAH.
>> SO YOU HAD SOME OF THE
STATES, 90% PROFICIENCY AND A
35% N.A.P.E. PROFICIENCY.
>> RIGHT.
>> SO THAT I THINK REALLY —
OPENED MY EYES.
BUT I THINK IT OPENED A LOT OF
OTHER EYES TOO.
>> WHICH IS WHY I SAY WE WERE
THE TRUTH-TELLER BUT NOBODY IS
PAYING ATTENTION TO THE TRUTH.
>> BUT THEY ARE NOW.
>> THEY ARE NOW.
>> THAT'S WHY — THAT'S OUR
VALUE.
>> AND THAT'S THE IMPORTANCE OF
THE LONG-TERM TREND, N.A.P.E.
AND THANK YOU VERY MUCH FOR
BEING HERE.
>> IT'S EXCITING.
THANK YOU FOR THE INVITATION.
>> AND ALSO THE MAIN N.A.P.E.
AND WHICH COMES OUT — WHEN IS
THE NEXT MAIN N.A.P.E.?
>> WE'RE GOING TO PASS IT OVER
TO THE NAGBE BOARD TO MAKE A
DECISION AS TO WHEN THEY'RE
GOING TO RELEASE IT.
BUT WE MAKE OUR SIX-MONTH
REPORTING EVERY TIME.
SO IN SEPTEMBER, WE'LL PASS IT
ON TO THEM, THEY WILL DECIDE
PROBABLY SHORTLY AFTER THAT TIME
WHEN TO RELEASE IT.
>> WE LOOK FORWARD TO DISCUSSING
THAT.
I'M AFRAID WE'RE RUNNING OUT OF
TIME.
I DO WANT TO THANK OUR PANELISTS
VERY, VERY MUCH FOR AN
INCREDIBLE PRESENTATION.
THIS — IF YOU'VE MISSED ANY OF
OUR — TODAY'S WEBINAR, YOU CAN
WATCH ARCHIVED VIDEO AT
WWW.ALLFORRED.ORG/WEBINARS.
PEGGY CARR'S POWERPOINT WILL BE
UP FOR FULL REVIEW AND STUDY.
REMEMBER TOO, THE TREASURE TROVE
OF DATA AND INFORMATION AT
ANY —
>> NATION'SREPORTCARD.GOV.
>> VIDEO AND POWERPOINT SLIDES
SHOULD BE UP BY TOMORROW
MORNING.
WE TRY TO OPERATE ON A 24-HOUR
RULE.
THANK YOU VERY MUCH FOR JOINING
US AND HAVE A GREAT DAY.
Categories:
Uncategorized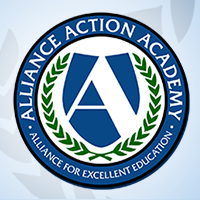 Welcome to the Alliance for Excellent Education's Action Academy, an online learning community of education advocates. We invite you to create an account, expand your knowledge on the most pressing issues in education, and communicate with others who share your interests in education reform.
Register Now
or register for Action Academy below: