The Graduation Effect: High School Graduation Rates and Their Effect on the American Economy

May 17, 2018
6:00 pm – 7:00 pm EDT
The Mike Sussman Studio
The Graduation Effect: High School Graduation Rates and Their Effect on the American Economy
Panelists
Lillian M. Lowery, Vice President for P–12 Policy and Practice, The Education Trust
Bob Wise, President, Alliance for Excellent Education
Gilbert Zavala, Vice President of Education and Talent Development, Austin Chamber of Commerce
On May 17, 2018, All4Ed held a webinar on the Graduation Effect. The national high school graduation rate is at an all-time high, but far too many high school students, especially students of color and students from low-income families, never make it to Graduation Day. Some students who do graduate receive a low-quality diploma that does not prepare them for future success. Lacking a high-quality high school diploma, students are frequently shut out of postsecondary education and training that is required for a good job in today's economy.
During this webinar, the Alliance for Excellent Education released new economic data demonstrating how increasing the high school graduation rate to 90 percent will lead to higher earnings for individuals, as well as new job creation and overall economic growth that benefit local communities, states, and the nation. Business, community, and education leaders will see the direct economic impact for their states and metropolitan areas, broken down by various demographic groups.
In addition, a panel of key leaders in education, equity, and business, discussed how to provide a high-quality education to all students and what meeting such a goal would mean for the country—how individual lives would be transformed, communities would be strengthened, and the nation's economy would be enriched.
Supplemental Materials:
---
Please direct questions concerning the webinar to alliance@all4ed.org. If you are unable to watch the webinar live, an archived version will be available at https://all4ed.org/webinars 1–2 business days after the event airs.
---
The Alliance for Excellent Education (All4Ed) is a Washington, DC–based national policy, practice, and advocacy organization dedicated to ensuring that all students, particularly those underperforming and those traditionally underserved, graduate from high school ready for success in college, work, and citizenship.
https://all4ed.org
---
If you are interested in renting the Alliance's facilities for your next meeting or webinar, please visit our facilities page to learn more.
Ray Saldana:              My name is Ray Saldana. I am 28 years old. I grew up on the south side of San Antonio and I went to South San Antonio High School. South San is a great place. It's a great high school. But I can't say that it is the best place to find the support that you need. There wasn't a strong sense of support and there certainly wasn't a high bar for expectations. I realized that when I spoke to adults or authority figures asking about my future, that the bar was significantly lower for me than it was for a student across town. I have parents who didn't graduate from high school, didn't pass middle school. So, they relied on these adults to set high expectations and provide support, but it wasn't easily found at my high school.
I struggled in high school because everything leading up to high school pointed to indicators that I wouldn't graduate. It was not being able to speak English during my first day of school. It was coming from a family in which my parents didn't make it past the eighth grade. And coming from an environment or a community where I knew more people that went to prison than I knew went to college or graduated from high school, the struggle and the turning point really comes when you get somebody in your life to tell you that they believe that you have potential and you trust and believe that they actually are telling you the truth.
And I ran into that with college advisers. In my case, it was Communities in Schools. The Graduation Effect, for me, was that doors that were before closed are now open. And I've taken every opportunity to walk through each and every one of them, whether it was going to college, coming back and running for office, getting the lead in my community – none of those things would have been possible had I not yet had a high school diploma.
Bob Wise:                    We appreciate Communities in Schools connecting us with San Antonio City Council member, Ray Saldana. He was an alumnus of this great program. You heard Ray talking about what his high school diploma means to him and how it has helped to make an impact in his community. It's something that we at the Alliance for Excellent Education call the Graduation Effect.
Hello, I'm Bob Wise, President of the Alliance for Excellent Education and former Governor of West Virginia. We're very happy to have you with us today. In today's webinar, we'll show you how to determine the Graduation Effect data for your community. What is the economic impact in your community by making sure that at least 90 percent of students of graduate from high school and then are able to go on to some sort of post-secondary experience. We'll also talk about what schools and school districts can do to close achievement gaps and ensure that every student graduates from high school with the knowledge and skills necessary to succeed in college and career.
Joining me in the studio is Dr. Lillian Lowery, Vice President for PK to Grade 12 Policy, Research and Practice at the Education Trust. Lillian has long and distinguished career in education that includes time as a State Superintendent of Schools for the Maryland State Board of Education and as a Secretary of Education for the State of Delaware. Prior to joining _____ _____, she was CEO of Future Ready Columbus where she led a commission of representatives from across the Columbus, Ohio region to focus on college and workforce readiness. Lillian, welcome. Thank you very much for joining us.
Lillian M. Lowery       Thank you, Governor.
Bob Wise:                    And joining us remotely from Austin, Texas is Gilbert Zavala, Vice President of Education and Talent Development at the Austin Chamber of Commerce. Gilbert has worked at the Austin Chamber for the better part of the last decade to ensure effective training programs exist to train or retrain residents for the continually evolving employment sectors of the greater Austin region. He also works to support a strong education system that prepares today's students for the challenges of the future. Previously Gilbert worked at College Ford an Austin-based nonprofit that helps underserved students find success in college and careers. Gilbert, welcome to you and thank you for joining us.
Gilbert Zavala:           Thank you, Governor.
Bob Wise:                    So, to our audience, if you would like to ask us a question, use the form below this video window. You can also participate in the discussion or ask us a question on Twitter using the gradeffect hashtag at the bottom of your screen. With these logistics out of the way, let's get right into our program. Starting with the Georgetown University Center on Education in the Workforce, which reported a couple of years ago that 99 percent of the 11.6 million jobs created since 2010 in the post-recession economy, 99 percent of the jobs created since 2010 went to workers with at least some college education. That is more than high school.
We also see the important of education in the regular monthly jobs report, which earlier this month revealed that the unemployment rate fell to 3.9 percent, the lowest since 2000. If you dig a little deeper, you'll see that the unemployment rate for high school graduates was 4.3 percent while the rate for college graduates was just 2.1 percent. And the unemployment rate for high school dropouts was nearly three times higher at 5.9 percent. So this leads me to turn to an early question from one of our viewers, Vanessa in New York. She wants to know if a high school diploma is in danger of becoming worthless. How can 12 years of education be discounted, she asked. I have some thoughts, but I want to give our panel a chance to respond first. First Lillian and then Gilbert. Your thoughts on this?
Lillian M. Lowery       Thank you, Governor. A high school diploma still has importance. But as we see today, we must take a hard look at what high school diploma really means for different groups of student and whether or not we are truly preparing all students for college and careers. Bibb Hubbard runs an organization called Learning Heroes out of New York actually. And she did a parent survey. And 90 percent of the parents felt that their children were on track to be performing at great level. Well, the perception there is a little skewed because when we look at _____ data, we know that only one-third of our students are actually proficient and on track to be college and career ready, and that number falls when we start looking at low income students and students of color.
As a matter of fact, the same kind of gap in perception really is true about our graduation rate. While 83 percent of our students, better than we've ever had historically, are graduating from high school, only about 78 percent of our black students, 79 of our Latino students, 78 percent of our low-income students. So, the diploma is still very much relevant. It is the key to open the doors to their future. But we've got to be really intentional about closing that graduation rate with the preparation gap for our students.
Bob Wise:                    So, Gilbert, you're involved working with this every day, particularly in the workforce. What are your thoughts?
Gilbert Zavala:           Well, the answer is definitely yes, the diploma definitely has value, particularly in that it prepares you for what's next. I'll quote Dr. Carnevale was how he put it earlier at the Lumina convening just late April in Denver made a remark about 14 is the new 12, meaning that if students can get college ready while they're in high school, if they can take dual credit and earn credits towards their college degree, whether that's a certificate in high-demand industry or whether that's towards an associate degree, that is the most important thing that they can do. And just to give you some context, here in Austin we've got 41,000 open jobs. Sixty percent of those jobs require education beyond high school.
That's an associate's or bachelor's and that's not counting the need for high-demand certificates. He pointed out the unemployment rates for those without a high school diploma are significantly higher. So, the challenge that we have is that our state has lowered our graduation standards. In Texas you can graduate with _____ level English and math and we've shifted from a four by four plan. So, that used to be our recommended graduation plan. Now we have a foundation and a minimum degree plan with lower requirements.
So we've worked with our partner districts to default students onto a distinguished graduation plan that is more aligned with the rigor of the recommended high school plan. And we focused on making sure that our graduates are meeting the state college ready standards. That means that they can enroll in credit-bearing classes directly after high school without need of remediation making it much more likely they'll actually be able to complete their degree credentials and compete for the good jobs that we have open here and elsewhere.
Bob Wise:                    So, I think some important points and my personal observation is that the high school diploma is the launching pad. It is not the finish line by any means. And what both of you have also talked about in some ways is what I'm seeing more and more is a seamlessness. We need the level of education that's expected of a high school diploma. But if the opportunity is also there to do early college dual enrollment so that increasingly the line is blurred between K12 and higher ed. And, so a student could move back and forth. Conversely the need of course to make sure that that student does not need remediation when they hit the college campus that it was – Lillian, I think as you pointed out that that high school diploma equals the standards that are in place saying college and career ready.
So, we've acknowledged the importance of a high school diploma. Yet during a time when future success is so closely linked to educational outcomes, we still have one in six students who do not earn their high school diploma, which effectively shuts them out of an additional education required to land a good-paying job. And worse, individuals who do drop out of high school are far more likely to spend their lives periodically unemployed on government assistance or cycling in and out of the prison system. Indeed in state prisons I believe the number is something like 75 percent of all state prison inmates are either dropouts or functionally illiterate. And so clearly education is critical. But in today's knowledge-based economy, high school dropouts are not the only ones affected when they do not graduate.
And so today we want to focus on how a student's decision to drop out affects the rest of us – our communities and conversely how a student graduating from high school benefits all of us. So, to help put a dollar figure on that student's decision, the Alliance for Excellent Education is today releasing new data demonstrating the economic impact of reaching a 90 percent high school graduate rate for the United States. The custom economic model that we use also provides data for all 50 states, the District of Columbia and roughly 140 metropolitan areas from Anchorage, Alaska to Winston-Salem, North Carolina and many places in between, east, west, north and south. All _____'s findings are based on the Class of 2015.
And I want to stress this. When you go and you look at this information on the web site or you see it reported, this is for just one class. And so the data reported that nearly 3.7 million high school graduates that year, a graduation rate of 83.2 percent, which is a national record. If the United States had reached a 90 percent graduation rate, that would have meant an additional 250,000 students walking across the commencement stage. These graduates would have collectively have earned – remember one class, 2015.
They collectively will have earned $3.1 billion annually in additional income. And that additional income isn't going under the mattress. It's being spent in local grocery stores, restaurants and other businesses, powering national, state and local economies. And our new graduates are also contributing more in the form of tax dollars. Roughly $664 million collectively by the midpoint of their careers. That tax revenue will towards improving our public schools, improve our roads and fund a variety of other public services.
And, so these increased earnings may not, in the scope of the total national economy, say, for one class with a large GDP $17 trillion is that much of a difference. This is for one class. And yes, it's a big difference to those students. And remember that many of these new graduates would have been tax consumers in some way and now they're taxpayers.
In total, the collective spending power of these new graduates will lead to greater opportunities for the nation including $5.7 billion in economic growth and more than 14,000 new jobs created. Gotta stop on that one for just a second. That 14,000 new jobs created, what that means is that these new high school graduates, they would have been dropouts, that these new high school graduates, they're not only having jobs, but their new earnings generate 14,000 additional jobs, an economic accelerator if you will. So, I can just tell you as a public official and both of you have also worked in places where you want to be able to announce economic growth, if I could announce every year in my state 300, 400 new jobs created simply because we not only increased the high school graduation rate, we sent more on the post-secondary. But the additional spending, that's a major employer every year coming to your state or city.
So, these new high school graduates also tend to live healthier lives than their high school dropout colleagues. And because they are more inclined to obtain and have their own health insurance throughout the course of their lives, these new graduates will save the nation over $16 billion in healthcare costs. And remember, I've got to keep stressing this, these numbers are for just one class of high school graduates. That's what I call a real economic stimulus package.
So, I want to be clear at this point that while our economic model is based on a 90 percent high school graduation rate, simply pushing students through the system to make sure they earn a diploma, as Dr. Lowery has already indicated, is not the answer. The high school diploma that students earn must represent the content knowledge, the critical thinking, the collaboration, the communication and the other deeper learning skills necessary for success in today's economy.
Later in this webinar, I'll tell you how to determine the Graduation Effect for your state or community. But first I want to turn to a question from one of our webinar viewers. Amber, in that wonderful state of West Virginia, asked – West Virginia always gets the first question, what is the best solution you see to increasing the graduation rate? What can we do to make improvements in our everyday programs at the high school level? So, Lillian, why don't I turn to you first and then Gilbert, come to you.
Lillian M. Lowery       One of the areas that we're focused on in the education trust is resource equity. This is a new line of work that former United States Secretary John King brought on board when he became the CEO. And what we're not just talking about is money but we're actually talking about what money can buy. So there are three areas where we think we can make a really significant difference. Number one is strong and diverse teachers, a strong and diverse workforce. We have research that demonstrates that a highly effective teacher can generate five to six years of growth in a student compared to a less effective teacher.
But we also know that our low income, our minority students, usually end up with the first-year teachers, the teachers who are teaching out of field, or those who are not performing well, who are underperforming and are less effective. So, if we want to make a difference we start there. We want all of our students regardless of race, color, creed, geography to have great teachers. But we certainly have to focus on our historically underserved student populations, and that includes our minority and low-income students.
To you point, deeper learning. Every student should have access to rigorous standards and assessments – evidence-based standards. And let me share some numbers with you. The civil rights data collection actually gives us data that say that schools serving more than 75 percent black and Latino students are less likely to offer a full range of math. One in 10 offer Algebra I, two in 10 offer Algebra II. That is not something I even thought about until I became a state commissioner of education because I just assumed from my environments that student has had that.
So, that was naïve for someone who had been in the field a long time. Even when there are AP courses in our high schools, our low-income students, our minority students, do not have access and there is great research on how students in the elementary school grades are performing superior and the same scores as their white peers. And they're not being recommended for gifted and talented on that track.
So, we talk about high school. We have to start focusing as early as kindergarten on how are we tracking our students and how are we giving them access to opportunity. And lastly, once we have chosen great standards and we have written great curricula, what do we actually ask students to do in class each day because assignment matters. And we did some research at the Education Trust. We looked at over 1,800 middle school math assignments and found that less than 10 percent of the assignments required high level cognitive thinking. And the majority required basic applications of skills and knowledge. We have some quick wins, some easy fixes if we with deliberation and intentionality address some of those areas.
Bob Wise:                    Gilbert, you are involved in aligning workforce needs with education needs and students. Thoughts for Amber's question about what are good ways to increase the high school graduation rate and making improvements in high schools?
Gilbert Zavala:           Well, thank you, Governor. I completely agree with Dr. Lowery. I think making sure that students are taking a well-rounded course of studies, particularly those who are lower income or underrepresented and monitoring progress. I think it's leadership that prioritizes this. The example I gave earlier about our superintendents defaulting to the distinguished graduation plan which is now a state's highest-level graduation center, most well-rounded curriculum, that's an important step because it sets the bard high and allows them to monitor progress to that and focus on closing achievement gaps.
And I think the other part of it is making sure that students know that the courses that they're taking in high school will prepare them for the next step. So, we share labor market data with our counselors and our school leaders that let them know what jobs are in demand and the education and payment level required for those jobs so that they know the high school diploma is only the first step in a lifetime of learning that they'll need to do to be able to compete in our economy and compete for good jobs.
Bob Wise:                    So, there's a moment coming up and Amber, thank you because you really teed this question up and asked an important question at a very important time because the federal law signed in 2015, the Every Student Succeeds Act or ESSA, E-S-S-A, the nation's 13,000 school districts, some are already doing it. Most soon will be working on school improvement plans. This is something that ESSA requires every state will now give to – or has given to their school districts a list of the lowest performing schools in their district.
And then the district leaders prepare a plan for how to address those low-performing schools and in turn if there's a low performing subgroup within that school, subgroup by race, ethnicity, by English language learner, by income level, by disability, then there has to be a plan presented there. So, this is a time for people to review, at the least, and I'm hoping more importantly to really think through about what they want from learning, what they want students to be able to do.
So, I just want to say for additional solutions I want to flag that _____ has a list of interventions that support high school graduation and college and career readiness. You can find that at allfred.org/high-school-solutions. That's the URL displayed at the bottom of your page. That page provides detailed instructions and actual recommendations for educators interested in implementing early college high school and dual enrollment programs, advanced placement, international baccalaureate programs, deeper learning, personalized learning approaches and career and technical education to list a few.
So, let me stop here for a moment because I just – Gilbert, I'll start with you first because you're working directly in the community, you're working with business, you're working with district and school leaders. Is there much talk of this ESSA planning moment and what it is that districts and schools, how they're going to plan to take advantage of this?
Gilbert Zavala:           I think the primary thing is the local flexibility to implement models that work and address the challenges in our community. You know I think that we have some receding accountability at the state level. The focus on ESSA in identifying achievement gaps and continuing to look at how are all our students performing, particularly those who are underrepresented or lower income students. That's key but for us its implementation at the local level, meaningful solutions, meaningful support for students that will get them to the next step.
You know, we're already at just over 90 percent graduation rate. I think, for class of 2017 we were at 91 percent. Our college readiness rates for the state have fallen and how we're working with our school districts to ensure that a larger share of our students graduate prepared to go to college without remediation. And I think that kind of local leadership is what's needed to make sure not only are we focused on improving graduation rates, but we're focused on improving support for students to get to the next step.
Bob Wise:                    If I could just comment, Lillian, before I turn to you, you raised an excellent point. I've spent some time working with groups in the Rio Grande Valley and other parts of Texas and this is not unique to Texas by any means. High school graduation rates are the best they've ever been and as you say over 90 percent in some cases. Post-secondary persistence though is below the national average. And particularly for Latino students and African-American students. And so that initiative is so important that you talk about Gilbert, about making sure that part of that secondary school education is about how to persist and succeed in post-secondary because that's so critical for any student now. Lillian, any thoughts?
Lillian M. Lowery       The part of ESSA that we are really embracing, and I alluded to it earlier, but it is the funding reporting. Because now the states have to, district by district, school by school, report per pupil expenditure along with the demographics of the school so we can determine where the funds are going and how the funds are being spent. And what we're proposing is that we do all three levels in the state reporting so that we look at what federal funds are coming in, what state and local funds are coming in, and then what's happening at the school level. Because our research shows us that even when the federal government by formula appropriates the money to the state, the state to the district, districts are making decisions where schools with low income students are getting approximately $1,000 less than higher income students.
And, so if we are going to do all the things that we're talking about, the deeper learning, the rigorous standards-based curricula, exposing them to the arts and having lived experience, apply learning experiences, we have to know where the money is, how the money is being spent and hold people accountable for it. What we can also see is that if School A is spending $2,000 more than School B but School B has higher student performance, what's happening at School B and how are they using their funds for maximum effect?
Bob Wise:                    And, so under ESSA there is also some flexibility in Title I to be addressing some of the problems in schools we're talking about. And I think part of the key here is making sure that district leaders and school leaders understand about the seven percent that they can be putting toward certain things or in Title IVA there's certain money that's available as well which they can use to address their own situation. There's a lot of flexibility to that. Is there much word out on that?
Lillian M. Lowery       I think so and in addition they can transfer the Title III and IV funds to Title I. Now they can't move the Title I funds to one of the things that I think to your point that districts and schools need to think about is how they braid funds. How do you use what you have because sometimes we're going to get more money, sometimes we're not? But let's step back and think about how do we use the flexibility around the funding that we do have for maximum impact?
Bob Wise:                    So, as I mentioned earlier, the diplomas that students earn should prepare them for college and a career. And I think everyone on this panel has certainly talked about this. At _____, we believe the diploma should satisfy a state's content standards for English Language Arts or ELA and mathematics by twelfth grade graduation, which generally means requiring students to complete at minimum four years of grade level English Language Arts, three years of math through Algebra II or Integrated Math III. There are nearly 100 different types of high school diplomas that are awarded across all 50 states and the District of Columbia. But less than half of these diplomas prepare students for success in college and a career.
This is research done and found in a report paper thin, a recent report from the Alliance for Excellent Education and written by our colleague, Dr. Monica Allman. And while the national high school graduation rate is at an all-time high, the rate at which students earn those College and Career Ready, CCR diplomas, is substantially lower, especially among students from low income families, students of color and other historically underserved students. You can download that report which includes a state-by-state breakdown at the URL at the bottom of the screen.
So, keeping our focus on historically underserved students, Karen in North Carolina wants to know what best practices are having a meaningful impact on changing the quality of education available to underserved youth. Lillian, the Education Trust has a long history of focusing on this kind of thing and focusing on inequities in public education as well as the actions necessary to close gaps in achievement and opportunity. What can you tell Karen and others who are looking for best practices for improving educational outcomes for underserved students?
Lillian M. Lowery       Thank you, Governor. The Education Trust is working profoundly in six states where we are working with coalitions who are advocates for students and educators in moving student achievement in the right direction. One of those states is Tennessee and I talk about Tennessee a lot. But Tennessee, to the point that you made earlier, Governor, has something in their strategic plan that is a plan called Early Postsecondary Opportunities where every eleventh and twelfth grader in the state has to either have an APIB or dual enrollment opportunity or a CTE, a Career Technical Education certificate. That is required and the state funds them for those dual enrollment opportunities and they have signed agreements with all their community colleges.
Therefore, your colleges and universities. This is an equity adjustment for our underserved students for one reason. Many of them may be first generation college, so having access and exposure to what rigor, what independence, what expectations would look like in the college before you go number one, whets their appetite to say I can do this, I'm going to go to college. But they don't walk in completely green about what will be expected of them when they go in. So, we love that.
The other is Louisiana. John White is looking at on track and most of us in the nation are dealing with a third-grade reading guarantee. But what they're doing in Louisiana is looking at eighth grade math. They're looking at what courses are being taken in middle school including some of those high school math courses, so their students are on track when they get into ninth grade to be college ready and workforce ready of course. And what courses are being taken in ninth grade? And that goes back to my point I made earlier. High school starts in kindergarten, prekindergarten. So, we have got to look at transitions throughout to make sure that we are counseling students and their families on best opportunities.
Bob Wise:                    Gilbert, in your work at the Austin Chamber of Commerce and at College Ford, you worked directly with historically underserved students. What types of programs or interventions have you seen work effectively to support students facing these most difficult challenges?
Gilbert Zavala:           I think the most important thing is meeting students where they are. So, Dr. Lowery mentioned junior and senior year level which is critical as well as work in the early grades. But there are so many time-sensitive deadlines that happen in the junior and senior year that affect whether a student is on track to graduate and on track to plan and prepare for college. So, leveraging technology for our partners has been one successful strategy to keep counselors from having to go through all sorts of different systems and databases to pull information on SAT, ACT or TSI assessment scores or where are they on their credits towards high school graduation or have they done a college application, or have they filed for financial aid? What we've done is we try to integrate data in an actionable platform to allow counselors to target direct support to students so it's just in time support to make sure that they're on track on critical graduation and college going milestones. I think that's a big deal.
The other is providing direct support to parents of prospective high school graduates. As they're getting ready to graduate, they're going through the college application process, they're exploring career opportunities, making sure that they have the information that they need to support their decisions on careers, on majors, and to make sure that they have funding to actually afford the education or training they need to complete their degree and compete for good jobs.
So, one other element is that we focused on pass the completion regionally for all of our graduating high school seniors. We partner with colleges, we partner with the schools to host events on campuses. We did 50 of these last year. We know that 80 percent of our seniors who are completing _____ are actually matriculating to college. We know that if we're targeting support to get them ready on SAT, ACT and CSI assessments to meet college-ready standards, we know that 73 percent are graduating and then going on to college. And then the completion rates for those who are college ready who have done _____ based on our partnership with the Ray Marshall Center at the University of Texas shows us the completion rates for our low incomes students. And I'm talking about these are high school grads who are going on to college three times higher if they matriculate college-ready and having done a _____. But in order to provide that help, you need to leverage the technology, monitor progress and know where students are so that you can target that support. And that's one thing we've seen affected.
The other is to continue to provide support to graduates as they're navigating the matriculation process over the summer. So, our partner school districts have extended counselor support over the summer to our high school graduates, even beyond just giving them guidance throughout the schoolyear. So we think that that's important and gets them ready for the next step once they cross the graduation line.
Bob Wise:                    Gilbert, in that context, have you worked on issue – it sounds like you are, working to avoid that student having to be remediated when they go to the community college or four-year institution? That to me is still one of the greatest problems we have. Someone graduates with a high school diploma, gets accepted in community college or four-year institution and then starts burning up their Pell grant or financial assistance on getting the basic coursework done and content acquired that they should have had in high school. Any thoughts on how you avoid that remediation besides obviously making sure that the high school education preparation in the beginning is sufficient.
Gilbert Zavala:           Well, I think part of it is providing assessment opportunities early on for students to determine whether or not they're on track to be college-ready. You know we used to have a state assessment that actually aligned to the state-adopted college-ready standards and we've moved away from that. So, our local partner districts are making sure that they're providing assessment opportunities for students and also doing interventions before they graduate. You know, before they graduate, they'll never have to enroll in remedial classes or developmental classes.
The other is our partner colleges have started to implement corequisite remediation for those who unfortunately don't get college ready in time. But I think that that's triage. If we can help student while they're in high school and get them ready, then that's much better for the student. It shortens their time to degree, it saves them money, it makes it more likely that they're gonna complete. So, providing that support at the high school level, to me, is critical.
Bob Wise:                    Lillian, you were Chief State School Officer in two states working with this. Any observations?
Lillian M. Lowery       I think one of the last things that happened in Maryland as I was leaving was trying to integrate the business community in the planning for preparation too because we started focusing on career with the different tracks, be it college or some kind of training program. And, so we looked at New York City's P-Tech high schools where they partner with business to come in, write the curricula for jobs that are available, mid-level skilled jobs, but literacy skills that would be needed to go on to a four-year college or university, and they give them lived experiences. I think to Gilbert's point; the conceptual theoretical engagement is really important because they have to have the fundamental basic understanding.
But they need to also be exposed to how they apply the learning, which Europe does so much better than we do because their business community engages with those students. Then they understand why I need to know algebra, why geometry is important, why I need to be able to write and explain processes. So, we are moving more and more to the career and technical education piece of this work as a performance methodology for all courses. How do we get students in situations where they can apply what they are learning?
And that's where we make the appeal to the business community. You need us to prepare people for you to have jobs so they can have quality of life, have good families raise them, but you need to help us too. So how do we partner with business to give these students the – to compel them to want to do exactly the best that they can so that they would be prepared to walk into the work world or walk into college ready to move forward.
Bob Wise:                    Well you've led us nicely into Michelle's question. Michelle in Michigan wants to know how huge gaps in graduation rates for kids of color, students of color, students experiencing foster care, homelessness and other challenges impact inequities and work participation and future earnings, thereby expanding the gaps in income and productivity in the future? So, I'm gonna actually start on this one,
The reality is we need every student now able to participate to a maximum extent in the economy. So, let me lay some numbers out. Today in the United States, one-half of all public-school students are students of color and/or low income or in poverty. It doesn't mean they're all historically underserved or at risk. But it's a very significant population of students of color, ethnicity and/or low income.
It was morally wrong in the past to exclude these students. It is now not only morally wrong but economically a disaster because these students, and Gilbert will talk about this I'm sure, too. These students will be and are in many cases – they're not only our workforce and Tony Carnevale writes about and researches this well. They're also our consumers. And in a nation where two-thirds of our consumption, two-thirds of our gross domestic product is based upon people's buying and selling from one another, it makes a big difference in Austin, in Charleston, West Virginia, in San Diego, California. It makes a big difference whether somebody is walking into the economy with a $10 an hour job or a $30 an hour job or a $50 an hour job. And so it's no longer simply about equity. The two are inextricably joined, the moral and the monetary imperatives. Our economic future depends upon Michelle, as you've just noted, all students being able to participate in the economy.
So, why don't I – Lillian, start with you because what are some of the real – so in terms of being in a community, this is why that high school 10 miles away that you may not have a child in, this is why that school means a lot to you, whether you're a business person, you're a community member, whatever it is. And so, observations about helping people to understand more why the outcomes for students that may not look like them, may not live in their neighborhoods, they may not be sending children to those schools is so important.
Lillian M. Lowery       And that is a conversation that I had often about win-wins, because we cannot let any part of a community think we're taking something away to give to others. But we are actually equitably looking at students' needs. And this look, this addressing what are gaps and lived experiences will build a quality of life with a community writ large. Because if you spend the money and invest in that high school and that student in your community now, that person is going to graduate from high school and be a productive member of society. That person is going to bring earning power to your community. That person is going to be less likely involved in any kind of criminal activity.
We have to talk about both the educational and the civic responsibility that we have to each other, especially in the climate in which we live now. We've got to break down some barriers and say why what happens to me is what happens to you. Because we're all in this together.
One thing I will add is that _____ now requires states to separately report on students who live in temporary housing so our homeless students, they're required to report their 338 assessments in their graduation rates. And McKinney-Vento's language changed as _____'s did to make sure that the supporting conditions were there like transportation, early childhood education. I believe if we could all just think we're in this together and if this child succeeds, our whole community succeeds, parents and community members will better understand that the investment is in every child because the demographics are, as you noted, 81 percent of our teachers are white, 51 percent of our student body minority. They're there. And if we don't address their needs and prepare them for their futures, we're not just hurting them. We're hurting society writ large.
Bob Wise:                    Gilbert, you work every day, once again, in the workforce. How do we make the case or are we making the case adequately why every student's success is important to the community?
Gilbert Zavala:           Well I think the important thing is it's a lack of information. Students and parents can't make college and career decisions, decisions on course-taking if they don't have the information that they need to do so. You know, and the connection with a career and college and what you do in high school is very, very close. I mean these are decisions that you have to make with the information you have at hand. So, what we try to do is share with our counselors and with our school district leaders the labor market data that shows, like I said, where the jobs are.
We've also worked with them closely to make sure that we are understanding what are the barriers that students themselves are facing as they're deciding on a career, as they're deciding on a major. And we've worked with University of Texas Ray Marshall Center to actually look at what are they saying about their higher education plans after high school? What careers are they interested in so that we know where we need to target that information, that data and how we can work with counselors to make sure that students are empowered to make decisions and are well-informed to make decisions about their careers.
So, as an example, many years back, we had only about three percent of students interested in computer science and programming or IT career track where the regional labor market demand was around 18 percent. And it's been around the consistently for the last couple of years. And so that's a big gap there. Three percent interested in a really high demand sector, that interest has grown but it's still not enough. I think we're up to eight percent interest. But students aren't gonna decide on those careers if they don't have the information they need.
Our school district partners are now also working on providing them opportunities like early college high school. We actually, to Dr. Lowery's point, are working with the district in partnership to support this career launch program modeled after P-Tech that brings in business partners like Dell on computer science and Seton on healthcare to give students an option within high school to start earning credits that will get them to an associate's degree and prepare them for work in those sectors and to continue their education if they choose to do so. But I think that's important, empowering students and parents with the information they need, as well as those who are advising them on the campuses.
Bob Wise:                    Thank you. So, those that may be interested in going to the GraduationEffect.org, that's the website for this economic impact information, the Grad Effect information that we've been talking about, if you go to GraduationEffect.org, you can see the model for your state and your locality and what the economic impact is. You can also find out what the economic impact is for African-American students, Latino students, Asian and Pacific Islander students, American-Indian and Alaskan Native students as well as white students. So, you can disaggregate the data as well as aggregate it.
Also remember that, to Gilbert's point, about what's the benefit to the individual student, that in that model assumptions are made about what income levels are at each level of education achievement. And it varies significantly from state to state, district to district. But you can say to that student truly that if you're in – just pick Michigan, the economic difference between high school graduation and two years, X amount of dollars and Y amount and so on as you move farther up. So, you can work it from both the community approach, the overall economic impact, but also the individual impact and you can also break out by race and ethnicity.
For example, in Michigan, the African-American graduation rate for the class of 2015 was 67.3 percent. And, so increasing that graduation rate to 90 percent would mean almost $40 million in additional earnings and a $70.5 million increase in economic growth and the creation of 200 new jobs. And that's by increasing for one group of African-American students to 90 percent in Michigan. You don't have to look far, as I stated earlier, a company excited to announce that it's creating new jobs. In fact, just earlier this month, the Michigan Machine Shop announced that it had 50 to 75 new manufacturing jobs to fill. When I was Governor of West Virginia, there were few public appearances that I enjoyed more than the opportunity to stand in front of a new company and announce that it's creating new jobs.
But often lost in the discussion about creating jobs is a role that education can play in boosting the economic potential of a community and making those communities attractive to employers as well as the role that business – and both Gilbert and Lillian, you've been talking about this, can play in helping to improve schools. So, let's turn to Marshall in Wisconsin who asks, what are some best practices and strategies being used by school districts and allied organizations to involve businesses and initiatives such as pathways and career exploration designed to improve students' success graduation rates? Gilbert and Lillian, you've both had a lot of experience in this area. Can you talk about some of the connections you've seen firsthand between business and education? Gilbert, since you started some of this discussion, why don't I turn to you first?
Gilbert Zavala:           Well, in terms of best practices, I mentioned a couple things. But I can't emphasize enough leveraging data on students, knowing where students are on their journey to graduation, knowing are they on track, have they started when they're juniors to explore college, have they taken the SAT, ACT? Have they thought about the majors or careers that they want to pursue? There are a lot of time-sensitive processes that happen within those two years that I think counselors and educators need to be monitoring. And that's kind of what we focused on is empowering counselors with actionable data on college-going milestones that allow them to see where a student is on their journey, not just at graduation but beyond, and to target support.
The other is to not ignore parents. You know, our system allows counselors to communicate directly to parents. And our partners do that directly, particularly around processes that they need to be engaged in. As an example, allowing them to come to workshops on campuses, get their financial aid forms done, making sure that the students have an opportunity to demonstrate college readiness while they're still in high school. These are the kind of interventions that set a high bar for the student. And it's not just about graduation. It's about what's after graduation. And I think that's key to making sure students have the best possible positioning to pursue the education and training they need to compete for the jobs of the future.
Bob Wise:                    Lillian?
Lillian M. Lowery       I will just build on Gilbert's point by giving an example. And that was my experience in Ohio. In Ohio there is an organization called the Columbus Partnership. When I left it was about 58, the 58 largest employers in central Ohio. And they worked very closely, of course, with the business roundtable. And from the business roundtable emanated something called the Bright Fellows Program. And these are grow-your-own leaders. And most of them had been in corporate America 10, 15 years and decided to come in to education to be leaders, and the business community paid for them through the Ohio State University to participate in an MBA, Master of Education program, and place them in schools because they have systems thinking of what we find as far as getting our students ready and helping shape the path forward is systems thinking is needed.
How do we do that in ways that we focus on systems and how we improve systems and conditions and not the kid. But really accept the child where he or she is. They also, each of these fellows, had as a mentor one of these CEOs and these are Fortune 500 CEOs who are mentoring them. Therefore, you have the opportunity to talk about as we talked about before, partnerships for students to have apprenticeships and other work experiences with captains of industry. They have a vested – for example one of the organizations with AP, he had welding jobs that paid six figures after one had been on those jobs for several years and he couldn't find people who could come and do those jobs. So, everybody had a vested interest in putting leaders in schools who could help people understand the different pathways to success in the business was walking hand-in-hand with the school districts to do that.
Bob Wise:                    So, both of you have made a very important point that I'm seeing a thread coming through a lot of the viewers that are contacting us during this webinar. Basically, it's that thread and I'll read a couple of remarks. What are your thoughts on colleges and for everyone, and someone else saying, it seems like you're only focused on college, overlooking skilled occupations such as plumbing, welding, auto technicians and others?
So, how do we explain this? Because to me, college and career-ready doesn't mean automatically a four-year institution. It may not always mean a two-year institution. It does mean some sort of post-secondary experience and that could be an apprentice program, a workforce training but it is something that high school needs to set you up so that you can have the skills and competencies and the mindset necessary to engage in it. But what about this issue of college for everyone?
Lillian M. Lowery       I had the opportunity with the business community, some people from the United States Chamber, actually to go to Switzerland and look at their program for leaving school if you will because you know they leave at age 14 and either go on an academic track or a career track. And what they do, and Gilbert has offered this several times, the Civil Rights Data Collection has this datapoint that we have 1.6 million students who have law enforcement officers in their schools but no counselors. That counseling piece is huge. And that's what we saw when we went to Europe, and they start in middle school. They call it sniffing.
So, they look at the different areas where they have aptitude and interest and they have to pick the top three and of course they get where there are openings. But they start early on actually talking to the child and asking that child, what do you like to do? And then finding if he or she has the aptitude to do it. And some of them want to take that academic track to go to a four-year college or university and some want to be a welder. Some want to be an electrician. Some have family businesses where they're gonna go into those businesses that don't require a four-year college education anyway so how do we help them do that?
So, what we want, I believe, is that every child leaves high school going to something. Is it the military? Is it a career that will be a service industry career, or will it be college? We just need to make sure they're going to something because when we have about 16 to 18 percent of our 16 to 24-year-olds with no high school diploma or no job, that doesn't just impact them. It impacts us all.
Bob Wise:                    Gilbert, thoughts on this? I know you're working in this so much.
Gilbert Zavala:           Yeah, Governor, for sure. I think part of the issue is that people think of college exactly as you said. It's a four-year thing. But our partnership focuses on two and four-year and to be honest with looking at where's the demand in terms of the certifications that don't require necessarily an associates degree as well? So, certification, associates degree, bachelor's degree, they're all of value. And if students are interested in a trade, that still requires them to go and get training beyond high school. They have to go through apprenticeships if they want to be an electrician or if they want to become a plumber or pursue a trade in construction. Those are all things that have value if the student is interested in. We just want them to make the best possible decision, be armed with the information that they need to make an effective decision. And that's why we share the labor market data.
Now, for us we skew the bachelors and associates degrees here in Austin. That doesn't mean there aren't other jobs. It's just that the majority require an associate or a bachelors or a certificate in high demand industries like health or IT. And that's what we're seeing in Austin.
Bob Wise:                    So, I think that these last set of questions have taken us in a very positive direction because what I believe the purpose of education, particularly graduating from high school, is that students have options. They have options in an increasingly complex society and particularly workplace. And we don't know what 65 percent of the jobs are gonna be in the next 10 to 15 years. We just know that you're gonna have to have the ability to continue to learn how to learn.
And so having meaningful career paths, and both Lillian and Gilbert have spoken about these, about the engaged students. It's by chance today the Alliance of Excellent Education has a delegation from California that is visiting members of Congress and the U.S. Department of Education to talk about the Linked Leaning Initiative in California. This is a very high-quality career path means by which students may be for instance in a themed high school around healthcare, around law enforcement or justice or other initiatives. And they're engaged by their interests.
And it is a high-quality program in that you have to work with the student, identify what is the support that the individual student needs. You obviously have to work-based training, you have to have partnerships, meaningful partnerships with business. You have to have high academic standards. Some may graduate and go directly into the workplace. Others may say, I now think that I can go on to a two or four-year institution. But it is providing that high school experience that truly results in a student being able to have options.
And I think that that's where we'll have to leave it for today, with the recognition that having those options has an incredible impact on a student but it also has great impact on that student's ability to affect a community's economy. The student benefits but that student in turn economically, and in many other ways, benefits the economy round them. And so once again I want to thank Gilbert Zavala with the Austin Chamber of Commerce, Dr. Lillian Lowery as well with _____ _____.
And Lillian, I just want to say that I recommend anyone go to your website for research and the best data in so many areas of equity. Particularly you've just released a new report on equity. But I just recommend that this is a time when we need to make sure that people, all of us, understand that that high school student, and whether or not they graduate and graduate with a meaningful diploma, not only affects that student but has a great impact on all of us. So, I encourage any program in school, out of school, in communities, those programs run by businesses – anything that touches students' lives and helps them to graduate, I encourage you to use this data as evidence for why the work you do to improve graduation rates is so important.
So just take a look at an infographic for instance from Illinois. This is just the top half of it. But we've created one of these for the nation as a whole, for every state, the District of Columbia, and 140 metropolitan areas around the country. So more than likely you should be able to drill down to the community where you're working. To see the Graduation Effect for your community, visit GraduationEffect.org.
I want to thank very much Lillian Lowery and Gilbert Zavala for their participation. And before we go, remember that today's webinar is being recorded. Archive video will be available tomorrow morning for you to watch and share at AllForEd.org/webinars. Thank you for watching. Have a great day.
[End of Audio]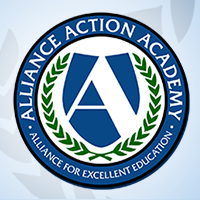 Welcome to the Alliance for Excellent Education's Action Academy, an online learning community of education advocates. We invite you to create an account, expand your knowledge on the most pressing issues in education, and communicate with others who share your interests in education reform.
Register Now
or register for Action Academy below: