The Comprehensive Assessment Consortia: Designs, Tradeoffs, and Challenges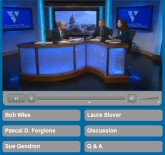 April 4, 2011
2:00 pm – 3:00 pm EDT
Washington, DC
Participants
Pascal D. Forgione, Jr., PhD, Executive Director, Center for K–12 Assessment & Performance Management at ETS(click here to download presentation PDF)
Sue Gendron, Policy Advisor, Smarter Balanced Assessment Consortium (click here to download presentation PDF)
Laura Slover, Senior Vice President, Partnership for the Assessment of Readiness for Colleges and Careers (PARCC) (click here to download the presentation PDF)
Bob Wise, President, Alliance for Excellent Education
The two state consortia—Partnership for the Assessment of Readiness for College and Careers (PARCC) and the Smarter Balanced Assessment Consortium (SBAC)—have proposed ambitious designs for new assessment systems that are expected to measure student achievement in new ways and provide a wealth of information on student learning. How are the designs structured to accomplish the goals the consortia set out to achieve? What tradeoffs did the designs entail? What challenges do the consortia face in carrying out their plans?
On Monday, April 4, the Alliance for Excellent Education and the Center for K–12 Assessment & Performance Management at ETS (K–12 Center) cohosted a webinar to consider the consortia's plans. Leaders of the two consortia presented their designs. A former state and district superintendent, Pascal D. Forgione, Jr., and Bob Wise, president of the Alliance, placed the consortia's work in a policy context. The webinar also provided an opportunity for panelists to address questions submitted by viewers across the country.
The Alliance for Excellent Education is a Washington, DC-based national policy and advocacy organization that works to improve national and federal policy so that all students can achieve at high academic levels and graduate from high school ready for success in college, work, and citizenship in the twenty-first century. For more information about the Alliance, visit www.all4ed.com.
Created by Educational Testing Service (ETS) to forward a larger social mission, the Center for K–12 Assessment & Performance Management at ETS has been given the directive to serve as a catalyst and resource for the improvement of measurement and data systems to enhance student achievement. For more information about the K–12 Center, visit http://www.k12center.org.
Categories:
Uncategorized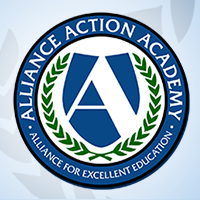 Welcome to the Alliance for Excellent Education's Action Academy, an online learning community of education advocates. We invite you to create an account, expand your knowledge on the most pressing issues in education, and communicate with others who share your interests in education reform.
Register Now
or register for Action Academy below: