The 2009 High School Transcript Study: Are the Nation's High School Graduates Being Prepared for College and Careers?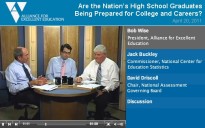 April 20, 2011
2:00 pm – 3:00 pm EDT
Washington, DC
Participants
Jack Buckley, Commissioner, National Center for Education Statistics
David Driscoll, Chair, National Assessment Governing Board; Former Commissioner of Education, Commonwealth of Massachusetts
Bob Wise, President, Alliance for Excellent Education
Released on April 13 by the National Assessment Governing Board (NAGB), America's High School Graduates, the 2009 National Assessment of Educational Progress (NAEP) High School Transcript Study, finds that the percentage of high school graduates completing a "rigorous" curriculum, which includes higher-level math and science courses, increased from 5 percent in 1990 to 13 percent in 2009. At the same time, the percentage of students who took lessthan a standard curriculum of at least four credits of English and three each in social studies, mathematics, and science, declined from 60 percent in 1990 to 25 percent in 2009.
But what do these findings mean and why are they important? What kind of classes are high school graduates taking and how many credits are they earning? What are their GPAs?
On April 20 the Alliance for Excellent Education hosted a webinar to unpack the findings from the High School Transcript Study and answer these and other questions. The webinar also focused on how the Common Core State Standards Initiative, digital learning, and other education reform initiatives can increase access to and success in rigorous courses while preparing all students for success in college and their careers. Featured speakers includedBob Wise, president of the Alliance for Excellent Education and former governor of West Virginia, Jack Buckley, commissioner of the National Center for Education Statistics, and David Driscoll, chair of NAGB and former commissioner of education in the Commonwealth of Massachusetts. The webinar also provided an opportunity for the speakers to address questions submitted by viewers across the country.
Categories:
Uncategorized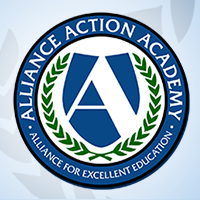 Welcome to the Alliance for Excellent Education's Action Academy, an online learning community of education advocates. We invite you to create an account, expand your knowledge on the most pressing issues in education, and communicate with others who share your interests in education reform.
Register Now
or register for Action Academy below: