September 12, 2008
10:00 am – 12:00 pm EDT
U.S. House of Representatives 2261 Rayburn Building Washington, DC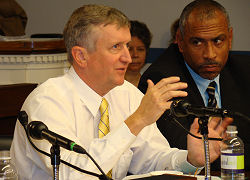 A standing-room-only crowd of about one hundred thirty educators, stakeholders, and policymakers gathered on September 12 to consider strategies to keep students in school so that they ultimately graduate prepared for postsecondary education and the modern workplace.
Alliance for Excellent Education President Bob Wise thanked the black, Hispanic, and Asian Pacific caucuses for their cosponsorship of the event, and welcomed the three panelists from the other co-sponsoring organization, the Forum for Education and Democracy. He then shared some key statistics on the dropout crisis, noting that each school day, seven thousand high school students "disappear" (drop out), and that they—and the rest of us—suffer a wide range of social and financial costs; dropouts make less money which results in reduced tax revenues, and are also more likely to require the services of the government-funded social programs which are paid for by taxpayers. Wise said that "the best economic stimulus package is a diploma."
Panelist Pedro Noguera declared that current dropout rates, especially those in urban schools, are a clear indicator that existing reforms are not working. He said that reforms generally are being implemented without a clear focus on how they will solve problems that schools face. Noguera added that dropout rates are a symptom of a larger problem, and that the trouble with many reforms is that they do not take student poverty and its effects into account.
As Noguera addressed the audience, Congressman Rubén Hinojosa (D-TX) surprised the audience by making an appearance to make a few comments and after which, joined the audience. Noting that he had spent the morning monitoring the status of Hurricane Ike, which was heading towards the Texas coast and possibly threatening his district, Hinojosa said he wanted to attend the event because he felt that the topic was of such importance.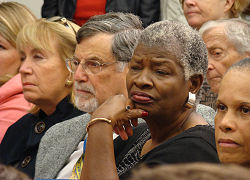 Hinojosa blamed systemic failure, rather than children and their parents, for the dropout crisis, and shared his observations on a visit made with other members of Congress several years ago to schools in China, noting that the key to their success was high parent involvement. He also discussed the importance of establishing and funding programs for improved education and access, citing how they had helped his community significantly decrease its unemployment rate.
Noguera then continued his presentation, saying it was time to "break the culture of failure" that persists in many schools, and decrying the idea held by some that urban parents and students just do not care. Providing background, he listed reasons why students drop out; among them were disengagement and lack of credits. Noguera's proposed solutions include improved teaching that relies less on lectures and test preparation, and more on interaction, while making curricula more relevant to students' lives. He also called for solutions such as building stronger ties between students and adults through mentoring and advising, and designing systems to better help educators intervene with at-risk students.
Panelist George Wood, who has been the principal of Federal Hocking High School, a predominantly low-income school in rural Ohio, for seventeen years, said that his job was to prepare his students to be good, active citizens. Federal Hocking's graduation rate is significantly higher than the state average, and the majority of the school's graduates matriculate at postsecondary institutions. Discussing how the school had improved over the years, he pointed out that although it was a small school, it had been like a "big school in drag" when he assumed the post as principal. Wood worked to reverse this by establishing an advisory program to foster student-teacher connections, put a freshman transition program in place, made classes for the earlier grades smaller, and established an engaging curriculum for all students. Wood defined "engaging" as different from "rigorous," saying that the latter meant stiff and unyielding, while the former more closely represented the type of "engagement" needed to spur achievement and prevent young people from dropping out. He also stressed the importance of professional development for teachers in making the school's efforts successful.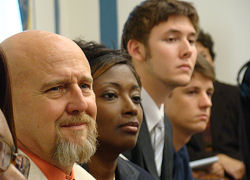 Panelist Linda Darling-Hammond, co-executive director of Stanford University's School Redesign Network (SRN), discussed High Schools for Equity, a report issued by SRN that highlights five predominantly minority, low-income, non-selective high schools in California that are successfully preparing and graduating students. All students attending these schools study a college-prep curriculum and participate in project-based learning and internships. These schools have a "culture of revision and redemption" in which students conduct projects, evaluate them with rubrics, and then revise them until they meet standards. Professional collaboration and learning is also emphasized, as is shared planning time for teachers. As such, the amount of time teachers spend on planning mirrors that in high-achieving countries, In addition, teachers from the schools hold intensive retreats focused on professional development.
Darling-Hammond stressed that a policy environment needs to exist where the kinds of schools examined in the report become the norm, and not the exception, pointing out that the United States cannot continue to operate with a school model designed for 1910 and expect to get outcomes relevant for today.
Report: Dropouts, Diplomas, and Dollars: U.S. High Schools and the Nation's Economy 
PDF
Brief: Early-Warning Data to Improve Graduation Rates: Closing Cracks in the Education System 
PDF
Audio* and 
Video (Windows Media) of the Entire Event
I. Welcome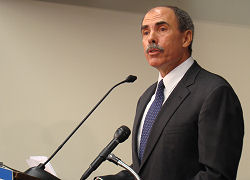 Bob Wise, President, Alliance for Excellent Education 
Video
II. Introductions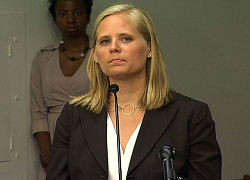 Jamie Fasteau, Director of Policy, Alliance for Excellent Education 
Video
III. Panel Discussion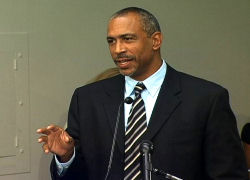 Pedro Antonio Noguera, Convener, Forum for Education and Democracy; Board Member, Alliance for Excellent Education 
Video
Presentation: Making School Matter: Providing Support to At-Risk Students and Reducing the Dropout Rate 
PDF
Article: Transforming High Schools 
PDF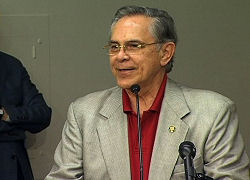 Congressman Rubén Hinojosa (D-TX) 
Video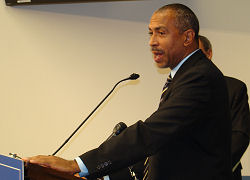 Pedro Antonio Noguera, Convener, Forum for Education and Democracy; Board Member, Alliance for Excellent Education 
Video
Presentation: Making School Matter: Providing Support to At-Risk Students and Reducing the Dropout Rate 
PDF
Article: Transforming High Schools 
PDF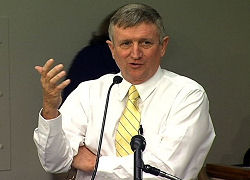 George H. Wood, Executive Director, Forum for Education and Democracy 
Video
Paper: Base Graduation From High School Not On Credits Earned But On Demonstrated Proficiency 
PDF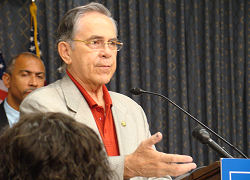 Congressman Rubén Hinojosa (D-TX) 
Video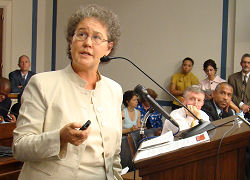 Linda Darling-Hammond, Convener, Forum for Education and Democracy; Board Member, Alliance for Excellent Education 
Video
Article: Creating Excellent and Equitable Schools
IV. Audience Question and Answer Period
V. Closing Remarks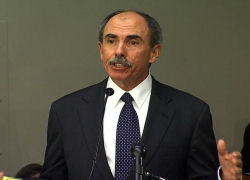 Bob Wise, President, Alliance for Excellent Education 
Video
Categories:
Uncategorized