Show Me the Money: Making the Leap to Digital Learning Without Going Broke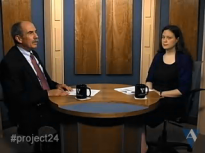 May 9, 2013
2:00 pm – 3:00 pm EDT
Washington, DC
Panelists
Peg Cagle, Teacher, Lawrence Gifted/Highly Gifted Magnet (Los Angeles, CA)
Erin Frew, Principal, New Tech West High School (Cleveland, OH)
Gail Pletnick, EdD, Superintendent, Dysart Unified School District 89 (AZ)
Bob Wise, President, Alliance for Excellent Education
The Alliance for Excellent Education held the sixth in its series of webinars for Project 24. This webinar gave insight into the number one question associated with digital learning: how in the world do I pay for this?
Every school district faces a challenging budget landscape, and school leaders are no strangers to making hard choices. At the heart of Project 24 is the belief that the transition to personalized, learner-centered environments that successfully prepare all students for college and a career through digital learning is possible for every school district in America. This webinar provided lessons from the field on how to maximize available resources to provide the best possible education to all students.
The Project 24 panel of experts shared their stories. Gail Pletnick provided insights onto how Dysart Unified School District sets its budget priorities to ensure that students have access to the tools they need. Erin Frewdiscussed how she uses technology effectively in a high-poverty school, and Peg Cagle shared experiences from the classroom and as a teacher leader.
The panel also discussed how to align budgets to strategic plans; how to move from unstable to more predictable funding streams; and how to measure return on investment. Bob Wise, president of the Alliance and former governor of West Virginia, moderated the discussion.
Please direct questions concerning the webinar to alliance@all4ed.org.
NOTE: If you are unable to watch the webinar live, an archived version will be available
at https://all4ed.org/webinars approximately one or two business days after the event airs.
The Alliance for Excellent Education is a Washington, DC–based national policy and advocacy organization that works to improve national and federal policy so that all students can achieve at high academic levels and graduate from high school ready for success in college, work, and citizenship in the twenty-first century. www.all4ed.org
Follow the Alliance on Twitter at www.twitter.com/all4ed; Facebook at www.facebook.com/all4ed; and the Alliance's "High School Soup" blog at www.all4ed.org/blog.
An initiative of the Alliance for Excellent Education, Project 24 is an urgent call to action on the need for systemic planning around the effective use of technology and digital learning to achieve the goal of career and college readiness for all students. It is a one-stop shop of comprehensive district-level planning tools, expert advice, creative ideas, and tangible suggestions from experienced education experts and nonprofit education membership organizations. www.all4ed.org/project24
Follow Project 24 on Twitter at https://all4ed.org/project24.
>>> HELLO.
I'M BOB WISE, PRESIDENT OF THE
ALLIANCE FOR EXCELLENT
EDUCATION.
WELCOME, AND THANK YOU FOR
JOINING US.
I'M DELIGHTED TO BE YOUR
MODERATOR TODAY FOR THIS, OUR
SIXTH IN A SERIES OF PROJECT 24
WEBINARS.
PROJECT 24 IS A GROUND-BREAKING
NEW INITIATIVE THAT THE ALLIANCE
ANNOUNCED ON DIGITAL LEARNING
DAY TO HELP SCHOOL DISTRICTS
PLAN FOR AND EFFECTIVELY USE
TECHNOLOGY AND DIGITAL LEARNING.
TODAY'S TOPIC IS PROBABLY THE
ONE WE GET THE MOST QUESTIONS
ABOUT.
HOW TO IMPLEMENT DIGITAL
LEARNING WITHOUT GOING BROKE.
FIRST, LET ME INTRODUCE OUR
PROJECT 24 TEAM OF EXPERTS WHO
ARE JOINING US TODAY.
HERE IN THE STUDIO, I'D LIKE TO
WELCOME ERIN FREW.
ERIN IS PRINCIPAL OF NEW TECH
WEST HIGH SCHOOL IN CLEVELAND,
OHIO.
AND I MIGHT ADD THAT THE
PRESIDENT OF THE UNITED STATES
IS VISITING ANOTHER NEW TECH
HIGH SCHOOL THIS AFTERNOON IN
AUSTIN, TEXAS.
SHE HAS LED SIGNIFICANT
IMPROVEMENTS AND STUDENT
ACHIEVEMENTS AT NEW TECH WEST
SINCE IT OPENED IN 2010 WITH AN
EMPHASIS ON PROJECT-BASED
INNOVATIVE LEARNING ENVIRONMENT
POWERED BY TECHNOLOGY.
ON THE TELEPHONE WITH US TODAY,
I'D ALSO LIKE TO WELCOME GAIL
PLETNICK.
GAIL IS THE SUPERINTENDENT OF
DYSART UNIFIED SCHOOL DISTRICT
LOCATED OUTSIDE PHOENIX,
ARIZONA.
SHE'S ALSO SERVED AT ASSISTANCE
PRINCIPAL, DIRECTOR OF
ACCOUNTABILITY, AND A PRINCIPAL
IN ARIZONA AND PENNSYLVANIA, AS
WELL AS TAUGHT AT PRESCHOOL AND
COLLEGE LEVELS.
SHE ALSO SERVED ON THE GOVERNING
BOARD OF OUR PARTNERS, THE
AMERICAN ASSOCIATION OF SCHOOL
ADMINISTRATORS.
I MIGHT ALSO NOTE THAT GAIL HAS
BEEN AN ACTIVE PARTICIPANT IN
PROJECT 24 AS WELL AS ERIN AND
ALSO APPEARED, I WAS ALSO
WATCHING THEM ON OUR LOOK FOR
EDUCATORS THIS WEEK.
ALSO ON THE EFFECTIVELY WE'RE
FORTUNATE TO HAVE JOINING US PEG
CAGLE.
PEG IS A MATH TEACHER AT
LAWRENCE MAGNET SCHOOL IN THE
LOS ANGELES UNIFIED SCHOOL
DISTRICT.
SHE'S RECENTLY COMPLETED ONE
YEAR WITH THE PRESTIGIOUS ALBERT
EINSTEIN DISTINGUISHED EDUCATOR
FELLOW ON CAPITOL HILL HERE IN
WASHINGTON, D.C. IF YOU HAVE
QUESTIONS FOR ME OR OUR TEAM OF
EXPERTS, YOU CAN SUBMIT THEM
USING THE FORM BELOW THIS VIDEO
WINDOW.
WE'LL TURN TO YOUR QUESTIONS
THROUGHOUT TODAY'S WEBINAR.
YOU CAN ALSO CONVERSE WITH US
VIA TWITTER AT
TWITTER.COM/ALLFORED PROJECT 24.
AND USE THE HASHTAG PROJECT 24.
AS I MENTIONED, THIS IS THE
SIXTH IN YOUR SERIES OF PROJECT
24 WEBINARS.
ALL YOUR PREVIOUS WEBINARS ARE
AVAILABLE AT WWW.ALLFORED.ORG.
AS A REMINDER, DIGITAL LEARNING
IS ANY INSTRUCTIONAL PRACTICE
THAT EFFECTIVELY USES TECHNOLOGY
TO STRENGTHEN THE STUDENT
LEARNING EXPERIENCE.
THAT INCLUDES A LOT FROM ONLINE
COURSES AND CONTENT TO ALLOWING
STUDENTS TO BE CREATORS OF
CONTENT, OF THOUGHTFUL
INTEGRATION OF DIGITAL DEVICES,
TO CHANGING THE TIME IN THE
CLASSROOM, TO USING DATA
SYSTEMS.
AS YOU PROBABLY KNOW, THE 24 IN
PROJECT 24 REPRESENTS A 24-MONTH
PERIOD THAT BEGAN ON DIGITAL
LEARNING DAY, LAST FEBRUARY THE
6th, DURING WHICH THE ALLIANCE
IS ENCOURAGING AND SUPPORTING
ALL DISTRICTS TO REVIEW HOW
THEY'RE PRESENTLY USING DIGITAL
LEARNING AND TO HELP THEM PLAN
HOW TO USE IT MORE EFFECTIVELY
TO ACHIEVE MUCH GREATER LEARNING
OUTCOMES FOR STUDENTS.
WORKING WITH EDUCATION LEADERS
FROM ACROSS THE NATION, SUCH AS
THE ONES ON THIS PANEL, THE
ALLIANCE HAS DEVELOPED A RICH
SET OF RESOURCES AND A TEAM OF
EXPERTS TO PROVIDE DISTRICT
LEADERS WITH COMPREHENSIVE
DISTRICT LEVEL PLANNING TOOLS
FOR INTEGRATING DIGITAL LEARNING
FOR THE DEGREE OF COLLEGE
READINESS FOR ALL STUDENTS.
EVERY PART OF THIS IS FREE, AT
NO COST TO THE DISTRICT.
THIS PROCESS CAN SEEM
OVERWHELMING, SO WE DEVELOPED A
FRAMEWORK TO MAKE SENSE OF IT
ALL.
WE REFER TO THIS AS THE SEVEN
GEARS.
THE SEVEN GEARS ARE CURRICULUM
AND INSTRUCTION, USE OF TIME,
TECHNOLOGY AND INFRASTRUCTURE,
DATA AND ASSESSMENT, ACADEMIC
SUPPORT, PROFESSIONAL LEARNING,
AND BUDGET AND RESOURCES.
ALL OUR RESOURCES ARE ORIENTED
TO THIS FRAMEWORK.
THIS WEBINAR IS JUST ONE OF MANY
WAYS WE'RE WORKING TO PROVIDE
DISTRICT LEADERS WITH THOSE
TOOLS TO SPEED THE TRANSITION TO
DIGITAL LEARNING.
EARLIER IN APRIL, WE KICKED OFF
OUR MASSIVE OPEN COURSE FOR
EDUCATORS WITH THE FRIDAY
INSTITUTE.
AND RIGHT NOW, OVER 2,500
ELECTROCUTES ARE ENROLLED AND
ACTIVELY PARTICIPATING IN THIS
MOOC ED.
THERE ARE ALSO REGULAR BLOG
POSTS AT WWW.ALLFORED.ORG/BLOG,
AND THE SELF ASSESSMENT, THE
PROJECT 24 SELF ASSESSMENT THAT
WILL GIVE YOU A SOLID
INFORMATIVE READ-OUT ON WHERE
YOU ARE ON ALL OF THESE SEVEN
GEARS SO YOU CAN PRIORITIZE AND
MOVE FORWARD.
SO WITH THAT BACKGROUND, I'D
LIKE, GAIL, TO START WITH YOU ON
THE TELEPHONE.
HOW DID YOU APPROACH BUDGETING
AND FINANCING FOR YOUR EFFORTS
IN DYSART.
>> WE DIDN'T START WITH THAT END
GOAL IN MIND, BUT WE DEDICATED
OURSELVES TO TRANSFORMING INTO A
LIFELONG LEARNING CULTURE THAT
WAS FOCUSED ON GRADUATING ALL OF
OUR STUDENTS CAREER AND COLLEGE
READY AND EQUIPPED FOR THE 21st
CENTURY.
DIGITAL LEARNING BECAME A
CRITICAL TOOL IN OUR DISTRICT.
AND OUR DISTRICT REPRESENTS A
NUMBER OF COMMUNITIES THAT ARE
VERY DIVERSE.
FOR EXAMPLE, WE HAVE OVER A
QUARTER OF OUR FAMILIES THAT
DON'T HAVE INTERNET ACCESS IN
THEIR HOMES AND WE'RE WORKING ON
A SOLUTION FOR THAT.
BUT I ALSO HAVE OTHER PORTIONS
OF THE DISTRICT WHERE WE HAVE
STUDENTS AS YOUNG AS OUR PRIMARY
GRADES COMING TO SCHOOL EQUIPPED
WITH iPOD TOUCHES AND
SMARTPHONES.
BUT WE BELIEVE EVERY CHILD NEEDS
TO HAVE THE OPPORTUNITY TO
EXCEED STANDARDS AND BE
FUTURE-READY.
AND AS A DISTRICT WE EXPERIENCED
SOME HUGE CUTS TO OUR FUNDING,
AS DID MOST OF THE SCHOOLS
ACROSS THE COUNTRY.
BUT ARIZONA HAS ALWAYS RANKED AT
THE VERY BOTTOM OF THE LIST OF
STATES FOR EDUCATIONAL FUNDING.
SO WHEN WE TOOK SOME DEEP CUTS,
OVER $54 MILLION TO DYSART,
THOSE CUTS PRESENTED SOME
CHALLENGES.
ONE OF THE FIRST THINGS TO BE
CUT WERE OUR CAPITAL FUNDS.
AND SO THAT MEANT THINGS LIKE
TECHNOLOGY, BUSES, TEXTBOOKS,
ALL OF THOSE THINGS, REALLY WERE
SHELVED IN TERMS OF ANY PLANS WE
HAD IN PLACE TO ADDRESS OUR
NEEDS.
SO WE BECAME VERY CAUTIOUS ABOUT
EVERY DOLLAR WE SPENT, AND
EVERYTHING HAD TO BE MEASURED
AGAINST THAT STRATEGIC PLAN.
AND NO MATTER HOW IMPORTANT AN
INDIVIDUAL MAY HAVE THOUGHT AN
EXPENDITURE WAS, IF IT DIDN'T
SUPPORT ONE OF THOSE GOALS, IT
JUST DIDN'T HAPPEN.
WE WERE ALSO FORCED TO BE
INNOVATIVE AND CREATIVE WHEN WE
WERE LOOKING FOR SOLUTIONS.
AND I SAY FORCED, BUT ACTUALLY
IT WAS ONE OF THOSE NEGATIVES
THAT BECAME A POSITIVE FOR THE
DISTRICT.
WE COULD NOT CUT BACK ON
CRITICAL STUDENTS PROGRAMS OR
SUPPORTS, AND THE DISTRICT DID
NOT WANT TO NEGATIVELY IMPACT
THE QUALITY OF THE EDUCATION WE
WERE OFFERING TO OUR STUDENTS,
NOR DID WE WANT TO LIMIT
STUDENTS' LEARNING
OPPORTUNITIES.
SO WE ENDED UP TURNING TO
TECHNOLOGY AS A SOLUTION THAT
HELPED US TO INCREASE OUR
EFFICIENCIES AND EFFECTIVENESS.
SO WE REORGANIZED AGAIN AND
AGAIN, AND WE REPURPOSED MONIES
TO BRING THE TECHNOLOGY THAT WE
NEEDED IN ORDER TO TRANSITION
AWAY FROM SOME OF THOSE OLD
TRADITIONAL MODELS THAT WERE
REALLY NOT PRODUCING THE RESULTS
THAT WE WANTED.
AND I CAN GIVE YOU AN EXAMPLE
FROM OUR HUMAN RESOURCES
DEPARTMENT.
WE HAD A LOT OF PAPER THAT WAS
SHUFFLED ALL OF THE TIME, AND IT
TOOK — IT WAS VERY
PEOPLE-INTENSIVE.
IT TOOK PEOPLE A LOT OF TIME AND
THERE WAS A LOT OF ERROR BECAUSE
OF ALL OF THE PAPER THAT HAD TO
BE COLLECTED TO PROCESS.
AND WE MOVED AWAY FROM THAT
PAPER KIND OF ENVIRONMENT TO A
PAPERLESS ENVIRONMENT.
IT DID MEAN THAT WE SAVED ON
SOME OF OUR STAFFING, BUT WHAT
WE ALSO FOUND AS A BENEFIT IS BY
MOVING TO A REGIONAL ADVISER
MODEL, IT REQUIRED MESS
STAFFING, BUT THERE WAS A BETTER
RESULT IN TERMS OF THE KIND OF
RELATIONSHIPS THAT WERE BUILT.
SO INSTEAD OF HAVING 20 PEOPLE
THAT WERE SHUFFLING AROUND
PAPERS, OUR SCHOOLS AND OUR
DEPARTMENTS WERE ASSIGNED ONE
PERSON THAT THEY BUILT A GREAT
RELATIONSHIP WITH, AND BECAUSE
THEY DIDN'T HAVE TO WORRY ABOUT
THOSE FILES, THEY COULD ACTUALLY
GO TO THE BUILDINGS OR GO TO THE
DEPARTMENTS AND MEET WITH PEOPLE
ONE-ON-ONE AND BE ABLE TO MANAGE
ALL THE THINGS THAT THEY NEEDED
TO, AND GIVE THAT PERSONAL
ATTENTION.
SO THERE'S AN EXAMPLE OF HOW OUR
REORGANIZING AND REPURPOSING
ACTUALLY HAD MANY BENEFITS IN
TERMS OF THE OUTCOME.
WE SAW THAT HAPPENING AS WELL
WHEN WE USED OUR TECHNOLOGY TO
SUPPORT LEARNING IN OUR
CLASSROOMS.
AGAIN, PEOPLE OFTEN THINK OF
TECHNOLOGY AS NOT HAVING AN
OPPORTUNITY FOR PEOPLE TO BUILD
THOSE RELATIONSHIPS.
WE'VE BEEN FINDING JUST THE
OPPOSITE, THAT WE ARE ABLE TO DO
SO MUCH MORE IN SUPPORTING
STUDENTS THROUGH THEIR LEARNING
COMMUNITIES, BECAUSE THAT
LEARNING COMMUNITY NOW EXPANDS
ACROSS THE ENTIRE DISTRICT BY
USING SOME OF THE TOOLS THAT
STUDENTS HAVE AVAILABLE,
INCLUDING BLOGS AND JUST A
NUMBER OF THINGS THAT WE HAVE IN
PLACE NOW THAT WE WOULDN'T HAVE
HAD WE NOT LOOKED TO DIGITAL
LEARNING AND TECHNOLOGY AS A
SOLUTION TO INCREASE OUR
EFFECTIVENESS AND ACTUALLY
REDUCE OUR BUDGET IN AREAS THAT
THEN WE WERE ABLE TO FREE UP AND
CONTINUE TO EXPAND IN DIGITAL
LEARNING.
>> SO WHAT I HEAR FROM YOU, I
BELIEVE, IS THAT, WHILE YOU
DIDN'T START OUT WITH THE GOAL
TO IMPLEMENT TECHNOLOGY, YOU
LOOKED AT WHAT YOU NEEDED, WHAT
YOU WERE TRYING TO ACCOMPLISH,
AND THEN WHAT IT WOULD TAKE TO
DO THAT, AND THEN LOOKED AT
WHAT'S THE TECHNOLOGY THAT'S
APPROPRIATE FOR WHAT YOU'RE
TRYING TO DO.
AND IT ALSO SEEMED TO ME THAT IN
YOUR BUDGETING APPROACH, THAT IT
WAS A SYSTEMS-WIDE APPROACH
RATHER THAN THIS AMOUNT FOR
TECHNOLOGY VERSUS THIS AMOUNT
FOR SOMETHING ELSE.
IS THAT A FAIR SUMMATION?
>> ABSOLUTELY.
AND WE KEPT EXAMINING OUR
OPTIONS AND OUR OPPORTUNITIES.
SO IT REQUIRED US TO KEEP ASKING
THE QUESTION WHY.
OFTEN WE'RE TOLD IF WE ASK WHY
FIVE TIMES, WE'LL COME UP WITH A
BEST SOLUTION.
AND TRULY, WE DID A LOT OF
QUESTIONING ABOUT EVERY PROCESS,
EVERY PRODUCT, EVERY SYSTEM THAT
WE HAD IN PLACE.
AND THROUGH OUR INVESTIGATION,
WE REALLY DID ANSWER IMPORTANT
QUESTIONS ABOUT WHETHER OR NOT
WHAT WE WERE DOING WAS THE MOST
EFFECTIVE WAY TO GET THE JOB
DONE.
AND THE OTHER THING WE FOUND WAS
WE WANTED TO INNOVATE BUT WE
COULD NOT AFFORD TO SPECULATE.
AND WHAT I MEAN IS WE DIDN'T
JUST GO OUT THERE AND RANDOMLY
TRY THINGS.
JUST BECAUSE THERE WAS THIS NEW
SHINY PIECE OF TECHNOLOGY OUT
THERE DID NOT MEAN THAT IT WAS
GOING TO MEET OUR NEEDS.
AND SO WE FOLLOWED OUR STRATEGIC
PLAN, BUT WE ACTUALLY PUT PLANS
IN PLACE TO SUPPORT THAT PLAN.
SO LET ME EXPLAIN.
TWO OF THE EXAMPLES WOULD BE OUR
TEST DRIVE PROCESS AND OUR
TECHNOLOGY AMBASSADORS.
OUR TECHNOLOGY TEST DRIVE
PROCESS ACTUALLY HAS THREE
PHASES TO IT.
WHAT WE DO IS WHEN A TEACHER
FEELS THERE IS A USE OF
TECHNOLOGY THAT CAN REALLY
SUPPORT AND DRIVE STUDENTS'
SUCCESS, THEN WE ASK THEM TO
PARTICIPATE IN A TEST DRIVE
BEFORE WE COMMIT A LARGE AMOUNT
OF OUR RESOURCES.
AND PART OF THAT IS THE PLANNING
THAT WE REQUIRE.
THE TEACHER HAS TO ESTABLISH A
WAY FOR THEM TO ASSESS WHAT'S
GOING TO HAPPEN IN THEIR
CLASSROOMS WHEN THEY'RE USING
THIS TECHNOLOGY.
AND THAT DOESN'T MEAN
NECESSARILY A MULTIPLE-ANSWER
TEST.
IT COULD AN INFORMATION CENTER,
A RUBRIC FOR A PROJECT
INITIATIVE.
THEN THE TEACHER OUTLINES THE
TIME FRAME.
THEN WE IMPLEMENT THE TEST DRIVE
AND THE STUDENTS USE THE
DEVICES.
WE REFLECT ON THAT IF WE CAN USE
IT IF WE FEEL THIS IS A GOOD WAY
TO USE TECHNOLOGY AND WE WANT TO
SHARE THAT ACROSS THE DISTRICT,
AND THEN THE TEACHER ACTUALLY
PUBLISHES THE RESULTS.
THEY HAVE A WRITTEN OR A VISUAL
ACCOUNT.
AND THEN IT'S DETERMINED WHETHER
OR NOT THIS WOULD BE A GOOD
INVESTMENT FOR THE DISTRICT.
AND IF IT IS, WE CAPTURE ALL OF
THAT AND WE DO HAVE AN IPAL
SYSTEM, WHICH IS OUR WAY OF
WAREHOUSING NOT ONLY CURRICULUM
ASSESSMENTS, BUT RESOURCES FOR
TEACHERS.
AND SO WE CAPTURE THAT AND THAT
CAN BE REPLICATED ACROSS THE
DISTRICT.
AND ALL OF THAT IS GUIDED BY,
AGAIN, MORE QUESTIONING.
SO A SAMPLE OF SOME OF OUR TEST
DRIVE QUESTIONS THAT HAVE TO BE
ANSWERED IS HOW DOES THE
TECHNOLOGY ENHANCE LEARNING
EXPERIENCE?
AND HOW CAN WE MAKE SURE THAT IT
IS HAVING THE IMPACT?
IS IT COST-EFFECTIVE?
HOW CAN IT BE SUPPORTED?
AND AGAIN, IS IT SUSTAINABLE?
BECAUSE THAT'S A CRITICAL PIECE
TO US MAKING CERTAIN WE KEEP
MOVING FORWARD.
AND THE OTHER APPROACH THAT
WE'VE TAKEN THAT HAS REALLY
HELPED US IS TO USE TECHNOLOGY
AMBASSADORS.
AND THESE ARE TEACHERS IN OUR
BUILDINGS WHO REALLY INNOVATIVE
AND CREATIVE AND WANT TO SHARE
THEIR EXPERIENCES.
AND THEY PROVIDE THAT SUPPORT IN
AND ACROSS THE DISTRICT, AND IT
PROVIDES THAT P.D. EMBEDDED IN
THE CLASSROOM.
OFTENTIMES WE THINK WE HAVE TO
PAY FOR P.D. AFTER SCHOOL OR
DURING THE SUMMER.
WHAT WE HAVE FOUND IS SOME OF
OUR MOST EFFECTIVE PROFESSIONAL
DEVELOPMENT IS WHEN IT'S
DELIVERED RIGHT THERE IN THE
CLASSROOM WHEN THE STUDENTS ARE
THERE, AND OTHER TEACHERS ARE
ABLE TO GAIN A GREAT DEAL OF
KNOWLEDGE ABOUT PROCESSES AND
PROCEDURES THAT ARE EFFECTIVE
AND WORKING.
SO THAT'S ANOTHER WAY THAT WE'VE
SHIFTED SOME MONIES INTO
PROFESSIONAL DEVELOPMENT WITHOUT
REALLY HAVING TO, AGAIN, EXPAND
THAT BUDGET FOR PROFESSIONAL
DEVELOPMENT.
AND USING THE TECHNOLOGY THAT IS
THERE AND AVAILABLE FOR STUDENTS
TO USE AS PART OF WHAT HAPPENS.
SO THOSE ARE, AGAIN, SOME OF THE
THINGS THAT WE'RE FINDING VERY
EFFECTIVE, AND IT'S JUST
THINKING DIFFERENTLY ABOUT HOW
WE DELIVER, WHETHER IT'S
PROFESSIONAL DEVELOPMENT,
WHETHER IT'S DECISIONS ON
PURCHASES.
WE JUST USE A DIFFERENT APPROACH
TO DO THAT NOW.
>> THANK YOU, GAIL.
AND I WAS STRUCK BY YOUR
REFERENCE TO CONSTANT
QUESTIONING.
I WROTE DOWN ONE OF YOUR
STATEMENTS, WANTED TO INNOVATE
BUT COULD NOT AFFORD TO
SPECULATE.
THAT IS DEFINITELY MY TWEETABLE
MOMENT.
SO LET ME TURN TO ERIN.
AND ERIN, YOU ARE THE PRINCIPAL
OF A MAJOR ISSUE SCHOOL IN AN
ISSUE DISTRICT, CLEVELAND.
SO CAN YOU TALK ABOUT DIGITAL
LEARNING AND HOW YOU MAKE IT
WORK IN YOUR PARTICULAR SCHOOL
AND PARTICULARLY THE BUDGET
ASPECT?
>> SURE.
FOR US IT'S MORE CHALLENGING AND
THERE ARE LOTS OF OPPORTUNITIES
WHEN IT COMES TO FUNDING DIGITAL
LEARNING AT THE SCHOOL LEVEL.
LIKE GAIL SAID, WE HAD TO
QUESTION WHY WE SHOULD FUND
DIGITAL LEARNING.
UP UNTIL THIS PAST NOVEMBER,
CLEVELAND HAD NOT PASSED THE
LEVEE IN 13 YEARS.
IT MADE IT DIFFICULT TO THINK
ABOUT FUNDING.
SO WE REALLY HAD TO THINK ABOUT
WHY WAS IT IMPORTANT.
WE DID A LOT OF RESEARCH.
AND OBVIOUSLY THE MOST STRIKING
THING WHEN YOU LOOK AT THE
RESEARCH IS THINGS STUDENTS ARE
EXTREMELY MOTIVATED BY
TECHNOLOGY.
THEY WANT TO PARTICIPATE MORE
WHEN THEY HAVE TECHNOLOGY.
THEY LOVE TO INTERACT WITH IT,
AND IT PROVIDES A LOT OF
OPPORTUNITIES FOR TEACHERS TO
INTERACT.
SO THERE'S A BIG BENEFIT
EDUCATIONALLY THAT WAY FROM
USING THE TECHNOLOGY, WHICH
OBVIOUSLY THE MOST IMPORTANT
REASON TO INVEST IN ANYTHING IS
TO IMPROVE STUDENT ACHIEVEMENT.
TEACHERS ALSO REPORT IN THE
RESEARCH THAT THEY HAVE A
GREATER ABILITY TO CUSTOMIZE AND
ADAPT THEIR TEACHING, WHICH THE
DEPARTMENT OF ED HAS SHOWN IS
PROBABLY THE MOST EFFECTIVE
METHOD FOR INSTRUCTION RIGHT
NOW, IF IT'S PROPERLY
IMPLEMENTED.
SO IN LOOKING AT ALL OF THOSE
THINGS AT THE SCHOOL AND
DISTRICT LEVEL, WE THOUGHT ABOUT
THE FUNDS THAT WE HAD AND HOW TO
BEST UTILIZE THEM.
SO WE LOOKED AT SOME OF OUR
FUNDING SOLUTIONS.
OBVIOUSLY E-RATE, WHICH IS A
FEDERAL PROGRAM, HELPED
IMPLEMENT THE STRUCTURAL NEEDS
WE HAD SO WE COULD HAVE THE
BROAD BAND TECHNOLOGY.
AND THEN WE HAD TO GO TO SOME
GRANT MONEY.
WE ARE VERY LUCKY IN CLEVELAND.
WE ARE TWO GENEROUS FOUNDATIONS
WHO ALMOST ENTIRELY FUNDED MY
PARTICULAR PROGRAM IN TERMS OF
THE ONE TO ONE TECHNOLOGY.
THE DISTRICT WOULD NOT HAVE BEEN
ABLE TO DO IT OTHERWISE.
SO THERE WAS A LOT OF TIME
WRITING THE GRANT, HAVING THE
RESEARCH.
I THINK THAT'S SOMETHING THAT
PRINCIPALS HAVE TO GET BETTER
AND BETTER AT.
THERE IS LOTS OF MONEY OUT
THERE.
YOU JUST HAVE TO FIND IT AND YOU
HAVE TO TAKE THE TIME TO LEARN
HOW TO APPROPRIATELY AND
PROPERLY WRITE GRANTS.
THAT'S AN IMPORTANT SKILL SET
FOR PRINCIPALS TO HAVE.
AND FINALLY, WE HAD TO LOOK AT
THE MONEY WE HAD IN OUR BUDGET.
WE HAD THE HARDWARE BY STILL
NEED THE SOFTWARE.
WE SHIFTED SOME OF THE TEXTBOOK
MONEY TO BUY SOFTWARE PROGRAMS.
I SLASHED PAPER.
WE ARE PRETTY MUCH PAPERLESS AT
THE BUILDING AS MUCH AS WE CAN
BE, WHICH IS ALWAYS SURPRISING
HOW MUCH MONEY GOES TO PAPER AT
SCHOOLS.
IT'S TREMENDOUS.
WE LOOKED AT SOME OF THE OTHER
WAYS THAT WE COULD SAVE MONEY
EVEN IN TERMS OF PAPER AND PENS
AND ALL OF THAT.
AND SO REALLY BEING VERY
THOUGHTFUL AND STRUCTURED IN HOW
YOU PURCHASED THING WAS REALLY
IMPORTANT.
INSTEAD OF BUYING, FOR EXAMPLE,
INDEX CARDS FOR ALL THE
STUDENTS, WE MIGHT HAVE
TRANSFERRED IT TO MAKING SURE WE
HAD EVERNOTE ON ALL THE
COMPUTERS, WHICH IS A FREE
PROGRAM.
AND THEN WE COULD SHIFT SOME OF
THAT MONEY SO THE STUDENTS COULD
HAVE HEADSETS.
IT'S NOT EXACTLY A ONE TO ONE,
BUT YOU CAN GET A NICE HEADSET
FOR ABOUT $6.
WE LITERALLY SAT DOWN AND DID
THOSE KINDS OF TRANSITIONS, MY
TEAM AND MYSELF.
SO REALLY THINKING ABOUT HOW YOU
USE THE FUNDING AND LOOKING AT
THE SAVINGS THAT YOU HAVE.
THERE ARE SO MANY FREE RESOURCES
OUT THERE.
GOOGLE DRIVE OBVIOUSLY CAN
REPLACE MICROSOFT OFFICE.
WE USE DROP BOX FOR SHARING.
EVERNOTE AS I MENTIONED BEFORE,
IS A REAL POPULAR APPLICATION
FOR MY STUDENTS BECAUSE THEY CAN
USE IT BOTH ON THEIR COMPUTERS
AT SCHOOL AS WELL AS THEIR
SMARTPHONES, BECAUSE WHILE MOST
OF MY STUDENTS DO NOT HAVE
INTERNET ACCESS AT HOME, ONLY
20% DO, MANY OF THEM HAVE
SMARTPHONES, SO THEY CAN USE
THAT TECHNOLOGY.
SO THEY HAVE ACCESS TO THEIR
NOTES ON THEIR PHONES AS WELL.
I THINK LIBRARY APPLICATIONS ARE
A GREAT SOURCE OF SAVINGS.
WE USE OVERDRIVE, AND THE
CLEVELAND LIBRARY, WE HAVE AN
AGREEMENT THAT ALLOWS STUDENTS
TO GET THEIR BOOKS ON THE
COMPUTER AND THEN ON THE
SMARTPHONE.
SAVES US A TREMENDOUS AMOUNT OF
MONEY IN BUYING BOOKS.
ALSO CUTS DOWN FOR THE KIDS — I
LOVE MY TEENAGERS, BUT THEY TEND
TO FORGET TO RETURN THEIR BOOKS.
SO THEY SAVE MONEY TOO BECAUSE
THEY DON'T HAVE THE LATE FEES.
CONS ACADEMY IS AN IMPORTANT
THING WE'RE USING.
AND PROJECT GUTENBERRY, ALSO.
THERE'S A LOT OF SAVINGS IF
YOU'RE THOUGHTFUL AND CAREFUL
AND INTENTIONAL ABOUT LOOKING AT
THOSE RESOURCES THAT ARE
AVAILABLE TO YOU.
WE ALSO USE DIGITAL FIELD TRIPS
A LOT.
FIELD TRIPS ARE EXPENSIVE RIGHT
NOW, ESPECIALLY WITH THE COST OF
GAS RIGHT NOW.
YOU MAY BE ABLE TO GET INTO THE
MUSEUMS OR INTO DIFFERENT PLACES
FOR FREE, BUT TO GET THE KIDS
THERE IT'S VERY, VERY COSTLY.
VIRTUAL LABS ARE A WONDERFUL
RESOURCE.
A LOT OF KIDS ALSO HAVE MORAL
OPPOSITIONS TO USING ANIMALS,
AND SO DOING IT VIRTUALLY IS A
GREAT OPPORTUNITY FOR THEM.
AND THEN WE USE DIGITAL
CONFERENCING, WHICH ALSO ALLOWS
THEM TO REACH OUT TO OTHER
STUDENTS ACROSS THE COUNTRY OR
EVEN ACROSS THE CITY.
AND AGAIN, IT'S JUST CUTTING
DOWN ON A LOT OF THAT
PAPER-PENCIL-INK THINGS BY USING
THE CLOUD.
SO I THINK THERE ARE SO MANY
OPPORTUNITIES WE HAVE TO USE
TECHNOLOGY TO SAVE MONEY.
AND THEN YOU CAN FIND THE
FUNDING IF YOU WORK REALLY HARD
WITHIN THE BUDGET YOU HAVE —
THAT'S VERY IMPORTANT BECAUSE
YOU ALSO HAVE TO TAKE THE TIME
TO REACH OUT AND EXPLORE.
IT'S TIME REALLY WELL INVESTED.
YOU GET A LOT OF RETURN ON THAT
TIME.
>> YOU PIQUED SHARON'S INTEREST
IN PENNSYLVANIA, WHO ASKED, WHAT
ARE SOME GOOD WAYS TO FIND
GRANTS AND LOANS?
HOW DID YOU GO ABOUT FINDING
SOURCES?
>> GOOGLE IS YOUR FRIEND.
I THINK YOU NEED TO THINK REALLY
HARD ABOUT THE REASON YOU WANT
THE FUNDING.
HOW IS THIS GOING TO APPEAL TO
PARTICULAR GROUPS?
AND THEN LITERALLY JUST GOOGLE
THOSE QUESTIONS AND THEY POP
RIGHT YOU.
IN MY CASE THE CLEVELAND
FOUNDATION AND THE GUN
FOUNDATION REALLY WANTED TO FUND
IMPROVEMENT IN ACADEMICS.
SO WE RESEARCHED AS A TEAM AT
THE DISTRICT LEVEL, THEY
RESEARCHED AS A TEAM THE BEST
PRACTICES FOR IMPLEMENTING
DIGITAL ONE TO ONE TECHNOLOGY
AND CAME UPON THE NEW TECHWORK
WHICH HAS A TON OF RESEARCH
BACKGROUND SHOWING THEY DO
EXTREMELY WELL WITH STUDENTS IN
IMPROVING ACHIEVEMENT.
I THINK YOU HAVE TO HAVE YOUR
DATA ALL LINED UP.
MAKE SURE THAT YOU'RE VERY
CAREFUL IN STRATEGIZING WHAT
YOU'RE SAYING TO APPEAL TO THE
FUNDERS.
I CAN'T EMPHASIZE ENOUGH HOW
IMPORTANT IT IS TO BECOME A GOOD
GRANT WRITER.
I THINK THAT IS SOMETHING THAT
WOULD DO EVERY PRINCIPAL REALLY,
REALLY WELL.
>> GAIL, OR PEG?
>> THIS IS GAIL.
I WAS ALSO GOING TO SAY WE TOO
HAVE GONE OUT AND WRITTEN FOR
GRANTS BUT SOME ARE NOT
COMPETITIVE GRANTS.
SO WHEN YOU THINK ABOUT TITLE
ONE FUNDS OR OTHER GRANTS IN
YOUR DISTRICT, WHAT WE'VE DONE
IS ACTUALLY SET UP MEETINGS
WHERE ALL OF THE PEOPLE IN OUR
DISTRICT THAT ARE RESPONSIBLE
FOR THOSE GRANTS MEET ON A
BI-MONTHLY BASIS, AND WE TALK
ABOUT HOW WE CAN SUPPORT WHAT
OUR GOALS ARE.
AND OFTENTIMES, AGAIN, USING
THAT GRANT MONEY, WE'RE ABLE TO
SUPPORT SOME OF THOSE TECHNOLOGY
NEEDS THAT WE HAVE.
SO IT'S, AGAIN, VERY IMPORTANT
TO HAVE A COORDINATED EFFORT,
AND WHEN YOU'RE TALKING ABOUT
YOUR FUNDS, WHETHER THEY'RE
COMING FROM GRANTS, WHETHER
THEY'RE COMING FROM OUTSIDE
SOURCES, M & O, TRULY AGAIN,
MAKING CERTAIN, JUST AS ERIN
SAID, THAT YOU REALLY ARE
THINKING ABOUT WHAT THOSE NEEDS
ARE AND THINKING OUTSIDE THE BOX
BECAUSE THAT TECHNOLOGY CAN
USUALLY SAVE YOU A LOT OF MONEY
VERSUS SOME OF THAT PAPER OR
THOSE BRICK AND MORTAR KINDS OF
RESOURCES THAT REALLY COST A
LOT.
OUR DISTRICT IS 140 SQUARE
MILES.
WE HAVE ABOUT 26,000 STUDENTS,
AND SO WHEN YOU'RE TALKING ABOUT
THAT DISTANCE AND THAT MANY
STUDENTS, IT CAN BE VERY COSTLY
WHEN YOU'RE TALKING ABOUT
TRANSPORTATION NEEDS, THOSE
SORTS OF THINGS.
BUT AGAIN, YOU THINK ABOUT HOW
CAN WE DO IT DIFFERENTLY, AND
TECHNOLOGY WILL USUALLY GIVE YOU
AN ANSWER THAT WILL ALSO SAVE
YOU MONEY.
>> THANK YOU.
AND MY OBSERVATION IS THAT THERE
ARE A LOT OF AREAS HAVE LOCAL
FOUNDATIONS THAT OFTEN AREN'T
READILY APPARENT, BUT IT'S WORTH
SEEKING THEM OUT.
ALSO, A NUMBER OF COMMUNITIES
FROM THE MOST RURAL TO THE MOST
URBAN HAVE LOCAL EDUCATION
FUNDS.
AND WHILE THEY MAY NOT HAVE
FUNDS DIRECTLY AVAILABLE,
THEY'RE CONNECTED TO PEOPLE WHO
DO.
SO YOU GET THEM PLUGGED IN AND
THEN IN TURN THEY'RE GOING TO
REPRESENT OTHERS.
AND OF COURSE SOME COMMUNITIES
HAVE BUSINESSES THAT ARE LOOKING
FOR HOW TO BE INVOLVED IN A
CORPORATE, BE RESPONSIBLE
CORPORATE CITIZENS.
AND INCREASINGLY WHAT THEY'RE
SAYING TO ME IS WE'RE NOT
INTERESTED IN JUST BACK FILLING
TO DO TRADITIONAL AND EXISTING
PRACTICES THAT HAVEN'T WORKED
OUT THAT WELL BEFORE, BUT IF YOU
CAN SHOW US HOW YOU'RE GOING TO
TRULY INNOVATE, THEN WE WANT TO
TALK TO YOU.
SO THERE ARE DIFFERENT SOURCES
OUT THERE.
SO, PEG, LET ME TURN TO YOU.
YOU'RE NOT ONLY A CLASSROOM
TEACHER BUT YOU'RE AN EINSTEIN
FELLOW WHO JUST SPENT TIME IN
D.C.
ERIN MENTIONED THE E-RATES.
ANY OTHER PROGRAMS?
>> ABSOLUTELY.
I THINK E-RATE IS ONE OF THE
ONES PEOPLE ARE MORE AWARE OF.
WHAT THEY MAY NOT BE AWARE OF IS
WHY IT IS STILL ROBUST AS IT IS.
NAMELY IT DOESN'T GET FUNDING
THE SAME WAY.
IT'S NOT BEING FUNDED THROUGH
THE BUDGET.
IT'S ACTUALLY PART OF THE
TELECOMMUNICATIONS ACT OF 1996.
SO ANYBODY WHO'S PAYING FOR ANY
SORT OF TELECOMMUNICATIONS IS
PAYING INTO THIS FUND.
AND IT SUPPORTS NOT ONLY K-12
STUDENTS, BUT ALSO LIBRARIES.
SO WHEN WE THINK ABOUT OUR
POPULATIONS THAT DON'T HAVE
ACCESS IN THE HOME, THEY HAVE
ACCESS IN THEIR LIBRARIES.
ALICE THAT'S ALSO BEING
SUPPORTED THROUGH E-RATE.
THE DISCOUNTS ARE PHENOMENAL.
IT'S LIMITED IN TERMS OF WHAT IT
IS, BUT STILL 20% TO 90%
DISCOUNT IS HUGE AND HAS
FAR-REACHING IMPLICATIONS IN
THESE TIMES WHEN SO MANY OTHER
FUNDS HAVE BEEN CUT WHEN E.-RATE
IS STILL THERE AND STILL
CONTINUES TO PROVIDE INCREDIBLE
BROAD BAND.
AS WE KEEP HEARING, NO MATTER
WHAT WE'RE TALKING ABOUT, THINGS
HARD WIRED, WIRELESS, THINGS
KIDS ARE BRINGING THEMSELVES,
BROAD BAND SEEMS TO BE A LIMITED
FACTOR ON A LOT OF WHAT NEEDS TO
BE DONE.
AND ANYBODY WHO HAS ANY SORT OF
POVERTY IN THEIR SCHOOL, ANY
SPECIAL POPULATIONS, RURAL
SCHOOLS, URBAN SCHOOLS, THERE'S
PROBABLY A COMPONENT OF E-RATE
THAT'S GOING TO HELP THEM OUT.
TITLE ONE, I FORGET IF IT WAS
ERIN THAT REFERENCED IT, BUT
TITLE ONE IS TO SUPPORT AND
LEVEL THE PLAYING FIELD FOR OUR
ECONOMICALLY DISADVANTAGED
STUDENTS, BUT THAT HAS A BROAD
POSSIBILITY FOR HOW IT'S
INTERPRETED.
AND SCHOOLS CAN USE SOME OF
THEIR TITLE ONE FUNDS TO SUPPORT
NOT ONLY THOSE STUDENTS BUT
THEIR BROADER POPULATION.
SO THE FACT THAT YOU BUY
TECHNOLOGY, WHICH IS
SPECIFICALLY TARGETING YOUR LOW
SCS STUDENTS DOESN'T MEAN IT
CAN'T BE USED ACROSS YOUR
BROADER POPULATION.
TITLE 2-A, FOR THOSE OF US WHO
KNOW THE ED CODE RIDICULOUSLY
WELL, TRAIN HIGH QUALITY
TEACHERS, BUT THAT ENCOMPASSES
ALL OF OUR PROFESSIONAL
DEVELOPMENT.
AND THAT'S SOMETHING WE OFTEN
HEAR ABOUT, IS TOOLING UP ISN'T
JUST TOOLING UP THE DEVICES AND
SOFTWARE.
IT'S ALSO TOOLING UP OUR
TEACHING FORCE, BECAUSE UNLIKE
THE KIDS THAT WALK IN VERY, VERY
COMFORTABLE WITH PUSHING RANDOM
BUTTONS AND FIGURING THAT OUT, A
LOT OF TEACHERS DON'T HAVE THAT
SORT OF INTREPID PERSPECTIVE
ABOUT TECHNOLOGY AND WE CAN'T
ALWAYS AFFORD FOR TEACHERS TO
FAIL AT THE SAME RATE AS KIDS IN
TERMS OF IMPLEMENTING STUFF IN
THEIR CLASSROOMS.
SO TITLE 2-A ALLOWS PROFESSIONAL
DEVELOPMENT MONIES THAT COULD BE
USED SPECIFYING AROUND
TECHNOLOGY AND TOOLING UP AROUND
TECHNOLOGY.
CARL PERKINS ACT, SPECIFICALLY
AROUND VOCATIONAL ED BUT
CERTAINLY IN SECONDARY
ENVIRONMENTS, IF WE LOOK AT WHAT
CTE COURSES DEMAND IN TERMS OF
TOOLING UP AND HAVING THAT
CAPACITY WITHIN SCHOOLS, THAT
INFRASTRUCTURE, THOSE DEVICES,
THAT SOFTWARE CAN ALSO BE USED
IN BROADER IMPLICATIONS ACROSS
THE CURRICULUM, NOT ONLY IN THE
CTE COURSEWORK BUT IN MORE
GENERAL ED COURSEWORK AS WELL.
SO THERE'S SORT OF A RANGE OF
THINGS THAT STILL EXIST DESPITE
MAJOR, MAJOR CUTBACKS.
THERE'S ALSO A HUGE PORTION OF
FEDERAL MONIES AVAILABLE THROUGH
COMPETITIVE GRANTS.
I-3 IS PROBABLY THE ONE MOST
PEOPLE ARE AWARE OF AND SPARKS
PEOPLE'S IDEAS BECAUSE IT TALKS
ABOUT INNOVATION.
THESE ARE COMPETITIVE GRANTS,
FUNDED FOR THREE YEARS NOW.
VERY, VERY BROAD IN TERMS OF
WHAT THEY CAN FUND AND HOW THEY
CAN BE USED.
AND I WOULD ECHO WHAT BOTH GAIL
AND ERIN SAID ABOUT, HAVE YOUR
VISION FIRST.
THIS CAN'T JUST BE ABOUT RUNNING
AFTER DOLLARS.
IT'S ABOUT I HAVE A MISSION THAT
I WANT TO MEET FOR MY KIDS, AND
THEN WHERE DO I FIND THE SUPPORT
TO MAKE IT HAPPEN, AS OPPOSED TO
I'M GOING TO GO OUT AND FIND
DOLLARS, BECAUSE IF ALL YOU'RE
DOING IS TRYING TO FIND MONEY,
NOBODY'S GOING TO GIVE IT TO
YOU.
THE DEPARTMENT OF ENERGY HAS A
WHOLE BUNCH OF ENERGY EFFICIENT
PROGRAMS, WHICH MIGHT NOT COME
TO MIND, BUT AGAIN THERE'S A LOT
OF DIFFERENT COMPONENTS TO THAT,
AND SOME OF THOSE CAN HELP TO
SUPPLY SOME OF THE BROAD-BAND OR
SOME OF INFRASTRUCTURE PIECES.
THE EARLY LEARNING CHALLENGE
FUND IS ONE OF THE COMPONENTS
SORT OF TO THE TOP, WHERE IT WAS
REALLY TRYING TO TARGET THE
EARLY GRADES, INCLUDING PRE-K,
BUT UP THROUGH GRADES 1 AND 2,
AND WHAT WE'RE FINDING IS THAT A
LOT OF SCHOOLS MAYBE AREN'T
THINKING ABOUT HOW DO BRING
TECHNOLOGY IN MEANINGFUL WAYS TO
THE LOWER GRADES.
AND THE WEBSITE I PUT IS
ED.GOV/GRANTAPPS.
AND THAT GIVES YOU A VIEW OF ALL
THE COMPETITIVE PROGRAMS AND THE
DEADLINES WITH A LINK TO FIND
THEM AND ALSO INFORMATION ABOUT
ELIGIBILITY, ET CETERA.
THERE'S ALSO ANOTHER PIECE OF
THIS WORK, OBVIOUSLY, WHICH IS
THE PROPOSED THINGS.
WE KNOW ABOUT THINGS THAT HAVE
BEEN LOST.
BUT THESE ARE THINGS THAT MIGHT
COME INTO PLAY, THAT MIGHT
ACTUALLY BE ON THE HORIZON.
THE WIRELESS INNOVATION FUND.
300 MILLION, WHO KNOWS IF IT'S
GOING TO HAPPEN, BUT ONE OF THE
THINGS I LEARNED ON THE HILL IS
THE DEGREE TO WHICH PROPOSALS
LIKE THIS ARE PART OF THE
RHETORIC, MEANS THEY'RE PART OF
THE THINKING AND PART OF THE
MESSAGING, AND MESSAGING
ACTUALLY DOES MATTER.
BECAUSE THE MORE THAT PEOPLE
HEAR THE MESSAGE, THE MORE THEY
ADOPT IT AND IT BECOMES PART OF
THEIR OWN RHETORIC.
THE WIRELESS INNOVATION FUND,
WHILE NOT SPECIFICALLY
EDUCATION-RELATED, IS LOOKING AT
REALLY EXPANDING OUR VISION FOR
BROADBAND AND SAYING THAT THIS
TRULY HAS GOT TO BE A UNIVERSAL
COMMODITY JUST LIKE ELECTRICITY,
JUST LIKE TELECOMMUNICATIONS
WAS, THAT BROADBAND NOW HAS THAT
SPACE, NEEDS TO BE PART OF THAT
SPACE WITHIN OUR INFRASTRUCTURE
FOR US TO BE REALLY A
FIRST-WORLD COUNTRY.
ARPA ED, A REALLY INTERESTING
PIECE, AND THE NATE ACTUALLY
APPROVED $44.8 MILLION FOR THIS.
BUT IT REMAINS TO BE SEEN WHAT
HAPPENS WITH IT, BUT PARALLEL TO
WHAT DARPA HAS MEANT WITHIN
DEFENSE, ARPA ED WAS REALLY
FOCUSED ON INNOVATION AND
INNOVATION THAT WAS ACTUALLY
YIELDING RESULTS BUT ALSO THIS
IDEA ABOUT R&D.
WE DON'T DO R&D WITHIN EDUCATION
FOR GOOD REASON.
R&D WITHIN MOST INDUSTRY, 10%
SUCCESS RATE IS CONSIDERED TO BE
GREAT.
WE CAN'T AFFORD TO HAVE 90% WITH
CHILDREN FAILING.
BUT THE IDEA WAS LET'S TRY
THINGS, NOT QUITE SPECULATE BUT
LET'S GO A LITTLE FURTHER, PUSH
THE ENVELOPE REALLY HARD AND SEE
WHAT WE MIGHT BE ABLE TO FIGURE
OUT, WITH A REAL SERIOUS FOCUS
ON HOW TECHNOLOGY HELPS US TO DO
SO THOSE THINGS AND BE GENUINELY
TRANSFORMATIVE.
TRANSFORMING EDUCATION THROUGH
TECHNOLOGY ACT, H.R. 521
PROPOSED BY GEORGE MILLER OF
CALIFORNIA, LONG, LONG,
LONG-STANDING SUPPORTER OF
EDUCATION.
CURRENTLY THE MINORITY RANKING
MEMBER ON THE EDUCATION
COMMITTEE WITHIN THE HOUSE.
AND HE'S JUST VERY RECENTLY — I
THINK THIS IS ONLY TWO WEEKS
OLD — PROPOSED SOMETHING CALLED
TRANSFORMING EDUCATION THROUGH
TECHNOLOGY, REALLY TRYING TO
PICK UP THE BANNER THAT WAS
DROPPED, IF YOU WILL, OR THAT
PHASED OUT WITH THE ENHANCING
EDUCATION THROUGH TECHNOLOGY,
WHICH ENDED IN 2010 IN TERMS OF
ITS FUNDING, WHICH WAS REALLY
MAJOR AND A HUGE LOSS.
WELL, THE TRANSFORMING EDUCATION
THROUGH TECHNOLOGY ACT IS
PROPOSING $750 MILLION AND IT
DOES NOT YET HAVE A HOUSE —
EXCUSE ME, A SENATE COMPANION
BILL, BUT THIS IS VERY, VERY NEW
AND IT WILL BE INTERESTING TO
SEE IF IT MOVES FORWARD.
THE IDEA IS THAT IT WILL
ALLOCATE FUNDS TO STATE THROUGH
GRANTS, BUT VERY MUCH LOOKING AT
THE IDEA THAT 90% OF THE STATE
MONEY HAS TO GO DIRECTLY TO THE
LEAs, TO THE EDUCATION
ORGANIZATIONS.
40% IS FOR ACQUIRING TECHNOLOGY
THAT ADDRESSES INFRASTRUCTURE
AND ACCESS.
35% HAS TO GO FOR PROFESSIONAL
DEVELOPMENT FOR DIGITAL
LEARNING.
SO REALLY AGAIN THAT IDEA OF
BUILDING CAPACITY WITHIN
SCHOOLS, AND VERY FLEXIBLE IN
TERMS OF DEFINING WHO CAN APPLY,
HOW THEY CAN APPLY.
THEY CAN APPLY THROUGH
CONSORTIA.
SO THIS WILL BE A VERY
INTERESTING PIECE OF LEGISLATION
TO WATCH AND SEE IF IT MOVES
FORWARD, AND OF COURSE WE'RE ALL
WAITING ON THE REAUTHORIZATION
OF NO CHILD LEFT BEHIND.
WE THOUGHT THERE WAS SOME
MOVEMENT ON IT BACK IN 2010.
IT HAS SINCE — OR EXCUSE ME,
2011.
IT HAS SINCE REALLY, REALLY
SLOWED DOWN.
AND I THINK SENATOR HARKEN WOULD
LOVE TO SEE THAT MOVE FORWARD.
HE'S ANNOUNCED THAT HE'S NOT
SEEKING RE-ELECTION.
I KNOW THAT HE WOULD LOVE TO GET
THE NEW REAUTHORIZATION IN PLACE
BEFORE HE LEAVES.
THERE WAS A REAL FOCUS IN THAT
ABOUT TECHNOLOGY AND INNOVATION,
BOTH ALSO BROADLY THROUGHOUT THE
ENTIRE PIECE OF LEGISLATION.
SOME OF MY COLLEAGUES HAVE ALSO
MENTIONED THE IDEA OF PRIVATE
FUNDING.
THEY'VE MENTIONED LOCAL THINGS
SUCH AS THE CLEVELAND FUND.
BOBBY MENTIONED THE IDEA OF
CORPORATIONS OFTEN WILL WANT TO
FUND PLACES WHERE THEY'VE GOT A
CORPORATE OFFICE.
I KNOW IN CALIFORNIA WE'VE
BENEFITTED FROM RAYTHEON.
BUT THEY'RE NOT JUST IN L.A.
THERE ARE PLENTY OF PLACES
AROUND THE COUNTRY WHERE THEY
EXIST AND THEY'VE BEEN VERY,
VERY PRO-ACTIVE IN FUNDING.
ALSO THE IDEA OF MATCHING FUNDS.
VERY OFTEN CORPORATIONS WILL
ALLOW EITHER THEIR EMPLOYEES OR
BUSINESSES, LOCAL DONORS, TO DO
MATCHING FUNDS WITH THEM.
AND I KNOW RAYTHEON DOES THAT.
WE VERY OFTEN THINK ABOUT THE
GATES FOUNDATION AS JUST THOSE
GIGANTIC HUGE THINGS, BUT
THERE'S ALSO SMALLER PIECES OF
THE GATES FUND.
THEY HAVE CURRENTLY SOMETHING
CALLED THE NEXT GENERATIONS
LEARNING CHALLENGE.
THEY HAVE JUST CLOSED THE
APPLICATIONS FOR WAVE 4, WHICH
IS AWARDING $12 MILLION.
WITHIN GATES MONEY, THAT'S
SAMUEL MONEY, BUT FOR A SCHOOL
OR SCHOOL DISTRICT, THAT'S HUGE.
DONORS CHOOSE SHOULD NOT BE
DISMISSED AS A POTENTIAL FUNDING
SOURCE FOR THESE THINGS.
THEY HAVE AWARDED $77 MILLION
FOR 354,000 PROJECTS.
AND IF WE'RE TALKING ABOUT A
SINGLE SCHOOL OR A SINGLE
CLASSROOM, THAT CAN MAKE A HUGE
DIFFERENCE. I KNOW OF PEOPLE
WHO HAVE GOTTEN LAPTOPS.
I KNOW OF PEOPLE WHO HAVE GOTTEN
iPADS.
THERE'S A LEGENDARY STORY IN
2010 OF THEM RECEIVING A PHONE
CALL FROM A WOMAN WHO WAS
INTERESTED IN MAKING A DONATION,
AND SHE SPECIFICALLY ASKED HOW
MANY CURRENTLY UNFUNDED PROGRAMS
ARE THERE, OR PROPOSALS ARE
THERE IN CALIFORNIA.
WHAT WOULD IT COST TO FUND ALL
OF THEM.
AND THEY TOLD HER, I FORGET THE
NUMBER BUT IT WAS $1.3 MILLION.
AND THE NEXT DAY THEY GOT A
CHECK FOR $1.3 MILLION.
SO TEACHERS AND DISTRICTS SHOULD
NOT DISMISS DONORS CHOOSE AS A
POSSIBILITY FOR SOME OF THEIR
SMALLER PROJECTS.
AND THEN ONE OF THE PLACES —
WE'VE HEARD GOOGLE, BUT ANOTHER
IS ESCHOOLNEWS.COM.
AND THEY HAVE A CONSTANT
PSYCHOLOGICAL OF LITTLE TO VERY,
VERY HUGE OPPORTUNITIES AT LOCAL
LEVELS UP TO NATIONAL LEVELS.
SO THAT'S ANOTHER POSSIBILITY OF
SOMEPLACE TO LOOK WHEN YOU'RE
LOOKING BEYOND WHAT THE FEDERAL
GOVERNMENT COULD DO OR YOUR
STATE GOVERNMENTS.
AND WE KNOW BOTH OF THOSE HAVE
SIGNIFICANTLY REDUCED WHAT
THEY'RE ABLE TO DO FOR SCHOOLS.
>> THANK YOU FOR THAT COMPLETE
RUN-THROUGH.
LET ME ALSO NOTE THAT YOU
REFERRED, PEG, TO THE
COMPETITIVE GRANT.
I-3, SOME OF THE OTHERS, RACE TO
THE TOP FOR DISTRICTS OR FOR
ANYBODY ELSE.
BUT AND SOME PEOPLE OFTEN SAY,
WHY SHOULD I APPLY FOR
COMPETITIVE GRANTS?
THERE ARE 400 OTHERS COMPETING
FOR 16 GRANTS OR SOMETHING.
BUT WHAT I WOULD NOTE IS THAT
THE PLANNING PROCESS YOU GO
THROUGH TO PUT THAT TOGETHER IS
NOW SOMETHING YOU CAN USE FOR A
WHOLE HOST OF GRANT APPLICATION.
AND SO SEEN IN OUR ORGANIZATION,
WE MAY APPLY FOR A GRANT TO A
FOUNDATION AND NOT GET IT, BUT
NOW WE HAVE IN PLACE EXACTLY A
CONCEPT, A GOAL AND ALL THE DATA
NECESSARY TO TAKE IT TO SOMEBODY
ELSE WHO MIGHT MAKE IT WORK.
AND SO I WOULD JUST ENCOURAGE
DISTRICTS NOT TO SIMPLY THINK,
WELL, THE ODDS ARE TOO GREAT
AGAINST US, BUT TO RECOGNIZE
THIS AS A CHANCE TO PULL PEOPLE
TOGETHER, TO GET AGREEMENTS YOU
MIGHT NOT OTHERWISE GET TO DO,
TO REVIEW THE BUDGET AND MORE
IMPORTANTLY, AS GAIL SAID IN THE
BEGINNING, WHAT IT IS YOU SEEK
TO DO, AND THEN HOW YOU REDESIGN
AND ENGINEER TOWARDS THAT.
AND THEN SO IT MAY NOT WORK THE
FIRST TIME OUT, THE SECOND TIME
OUT, BUT YOU'VE GOT A PLAN NOW.
AND YOU'RE GOING TO BE ABLE TO
USE THAT OVER AND OVER AGAIN.
SO LET ME TURN, WE'VE GOT A LOT
OF QUESTIONS THAT HAVE COME IN
ON THIS.
YOU ALL CERTAINLY TOUCHED A
RESPONSIVE CORD HERE.
SO MILES FROM MONTANA ASKS, HOW
HAS YOUR STAFFING CHANGED SINCE
IMPLEMENTING DIGITAL LEARNING?
GAIL, DO YOU WANT TO START AND
THEN I'LL TURN TO ERIN.
>> ACTUALLY, IN TERMS OF OUR
CLASSROOM STAFFING, THAT HASN'T
REALLY CHANGED VERY MUCH AT ALL.
IT'S MORE IN SOME OF OUR SUPPORT
AREAS.
AND I CAN'T SAY OUR NUMBERS, OUR
TOTAL NUMBERS HAVE CHANGED.
HOW WE UTILIZE OUR HUMAN
RESOURCES HAS CERTAINLY CHANGED.
FOR INSTANCE, WE BEGAN TO BUILD
A CATALOG OF ONLINE COURSES.
AND WHAT WE DID ORIGINALLY WAS
TO HAVE SOME OF OUR OWN STAFF GO
THROUGH SOME TRAINING, AND SO
THERE WERE SOME UPFRONT COSTS.
IT WAS ONLINE TRAINING, BY THE
WAY.
AND THEN THEY BEGAN TO HELP US
BUILD THOSE COURSES.
AND NOW WE'RE AT A POINT WHERE
WE HAVE OTHER PRIVATE SCHOOLS
AND DISTRICTS ASKING ABOUT USING
OUR COURSES.
SO FOR A SMALL FEE, WE WILL
ALLOW THEM TO DO THAT.
IN TURN, WE TAKE THAT MONEY AND
WE'RE ABLE TO EXPAND THE NUMBER
OF TEACHERS NOW, AND WE HAVE
SOME FULL-TIME TEACHERS WORKING
IN THAT ONLINE INITIATIVE.
SO ACTUALLY IT'S NOT ABOUT
REDUCING NUMBERS.
IT'S ABOUT USING PEOPLE
DIFFERENTLY FOR WHATEVER THAT
END GOAL IS.
>> I WOULD AGREE WITH THAT
COMPLETELY.
OUR TOTAL NUMBERS HAVEN'T
CHANGED AT MY BUILDING, ALTHOUGH
THERE'S BEEN A REDUCTION AT THE
DISTRICT LEVEL.
I CAN GIVE TWO EXAMPLES.
ONE, AT THE BUILDING LEVEL IT'S
ALLOWED ME TO SCHEDULE UPPER
LEVEL FOREIGN LANGUAGE CLASSES.
WE COMBINE OUR LEVELS TWO AND
THREE AND LEVELS THREE AND FOUR.
IN THE PROJECT PHASE ENVIRONMENT
THE TEACHER IS ABLE TO ADDRESS
THE LANGUAGE NEEDS THROUGH THE
DIGITAL ENVIRONMENT, THROUGH POD
CASTING, USING THE DUAL LINGUAL
PROGRAM, WHILE TEACHING THOSE
CULTURAL STANDARDS IS DONE
THROUGH THE PROJECT FORMAT WHICH
THEY CAN DO WHATEVER THEIR LEVEL
OF VERBAL ABILITY IS IN THE
FOREIGN LANGUAGE.
AT THE DISTRICT LEVEL IT'S
ALLOWED US TO TEACH A.P.
CLASSES.
WE DON'T HAVE A LOT OF A.P.
CERTIFIED TEACHERS, AND SO THEY
CAN SHARE.
THEY DO IT THROUGH WEBCASTING
AND THAT KIND OF THING, SO THAT
YOU MIGHT HAVE 40 KIDS
THROUGHOUT THE DISTRICTS WHO
WANT TO TAKE A PARTICULAR COURSE
BUT ONLY ONE TEACHER CERTIFIED
TO TEACH IT.
AND SO THAT TEACHER WORKS FROM
ONE CLASSROOM, AND THEN THE
OTHER STUDENTS AT THE OTHER
SITES ARE ABLE TO TAKE IT THAT
WAY.
SO AGAIN, AS GAIL SAID, IT'S
MORE ABOUT HOW YOU UTILIZE YOUR
STAFF MORE THAN THE TOTAL NUMBER
OF STAFF MEMBERS YOU HAVE.
>> FROM DOUG, DO MOST SCHOOLS
MAG THE TECHNOLOGY GLITCH WITH
AN FTE. DO YOU NEED A WHOLE
STAFF PERSON TO DO THIS?
>> WE UTILIZE A HALFTIME PERSON.
WE SHARE WITH ANOTHER BUILDING.
WE'RE VERY, VERY LUCKY, MOST OF
THE DISTRICTS DO NOT HAVE THAT.
IT HELPS TO HAVE ONE PERSON ON
STAFF WHO IS VERY, VERY GOOD
WITH THE TROUBLE SHOOTING.
I HAVE TWO PLUS MYSELF AT MY
BUILDING ON THE DAYS THAT A TECH
PERSON IS NOT THERE THAT CAN FIX
MOST OF THE PROBLEMS THAT DON'T
HAVE TO DO WITH THE NETWORK.
AND THEN YOU TRAIN THE KIDS.
ESPECIALLY AT THE HIGH SCHOOL
LEVEL AND I WOULD THINK DOWN TO
ABOUT SIXTH GRADE, THE KIDS
OFTEN CAN BE YOUR MOST HELPFUL
RESOURCE WHEN IT COMES TO FIXING
A LOT OF THE SOFTWARE PROBLEMS.
>> AND LIKE ERIN, WE DON'T HAVE
A PERSON PER BUILDING, AND MOST
OF OUR PEOPLE ARE COVERING AT
LEAST THREE BUILDINGS PLUS
DEPARTMENTS.
BUT WE DO HAVE, WHEN THERE IS AN
ISSUE, WE DO THE SAME THING.
WE HAVE SOME STUDENTS THAT HELP.
WE HAVE SOME OTHER MEMBERS OF
THE STAFF THAT HAVE THAT
CAPABILITY.
BUT YOU DO HAVE TO HAVE, I
BELIEVE, AT A DISTRICT LEVEL
SOME MORE HIGHLY TRAINED PEOPLE.
ONE OF THE THINGS WE'VE BEEN
TALKING ABOUT IS THE FACT THAT
WHEN WE'RE BRINGING IN SOME OF
THIS EQUIPMENT, WE REALIZE THE
LIFE SPAN IS GOING TO BE
PROBABLY FIVE TO SEVEN YEARS.
I MEAN, WE'VE UNFORTUNATELY HAD
TO KIND OF PUSH THOSE LIMITS
BECAUSE OF FUNDING ISSUES.
SO WE DON'T REALLY NEED TO HAVE
AS MANY PEOPLE WHO ARE ATTENDING
TO, REFURBISHING, FIXING,
KEEPING THOSE KINDS OF THINGS
GOING.
IT'S MORE ABOUT THE
INFRASTRUCTURE NOW THAN IT IS
ABOUT THE DEVICE.
WHEN WE BRING A DEVICE IN, WE
REALIZE THAT WE'RE GOING TO HAVE
TO BE REPLACING IT, BECAUSE
NUMBER ONE, IT WON'T BE LASTING
THAT LONG, BUT ALSO, THERE ARE
GOING TO BE SO MANY CHANGES THAT
WE'RE GOING TO HAVE TO UPDATE IF
WE WANT TO KEEP UPDATED WITH THE
KINDS OF TECHNOLOGIES THAT ARE
OUT THERE.
SO YOU REALLY SHOULDN'T BE
INVESTING A LOT OF, I DON'T
BELIEVE, TIME OR MONEY INTO
TRAINING PEOPLE TO TAKE CARE OF
THOSE TECHNOLOGY PIECES ALONE.
REALLY, THEY NEED TO BE ABLE TO
SUPPORT IN A NUMBER OF DIFFERENT
WAYS.
>> AND CERTAINLY IN L.E.
UNIFIED, WE'RE CUT TO THE BONE
AND THEN SOME, SO WE REALLY ARE
RELYING ON NOT ONLY OUR STUDENTS
BUT ALSO THE PEOPLE ON STAFF
THAT HAVE CAPACITY.
SO I BECAME THE GO-TO PERSON
ABOUT OUR ELECTRONIC GRADE BOOK
PROGRAM BECAUSE I WAS ONE OF THE
EARLY ADOPTERS AND HAD FIGURED
OUT A LOT OF THINGS.
SO ANYTIME THERE WERE ISSUES,
PEOPLE KNEW THEY COULD COME TO
ME AND THAT WAS NOT AN ISSUE.
THAT WAS EXPECTED, AND I SAW
THAT AS PART OF MY ROLE OF BEING
A PRODUCTIVE MEMBER OF THE
FACULTY.
I THINK IT'S ALSO TAPPING WHERE
YOU HAVE OPPORTUNITY TO.
AND I THINK THAT SOME OF THE
SUPPORT THINGS, I THINK BACK TO
THE DAY WHEN THERE WERE ISSUES
ABOUT DISKS GETTING STUCK IN
COMPUTERS AND THOSE THINGS JUST
DON'T EXIST ANYMORE BECAUSE OF
THE WAY THAT WE'RE DOWNLOADING
SOFTWARE AND SO MUCH IS BEING
DONE VIRTUALLY AS OPPOSED TO
PHYSICALLY, AND I THINK THAT
WE'RE SEEING THAT THINGS DON'T
BREAK IN THE SAME WAYS, AND
THEREFORE THEY DON'T REQUIRE
BEING MAINTAINED.
THEY'RE ALSO LESS FUSSY BECAUSE
OF THAT.
SO I HAVE HOPES THAT SOME OF
THOSE DEMANDS ARE ACTUALLY GOING
TO BE DIMINISH OVER TIME BECAUSE
OF THE NATURE OF THE DEVICES
WE'RE USING.
>> GOOD POINT.
KANSAS ASKS A QUESTION, WHICH IS
REFLECTED THROUGHOUT A NUMBER OF
THE QUESTIONS.
DO THE PANELISTS FIND THEY SEE
SIGNIFICANT SAVINGS IN AREAS
SUCH AS TEXTBOOKS, STRUCTURAL
COSTS SUCH AS REMEDIATION AFTER
INTEGRATING DIGITAL LEARNING?
I KNOW THIS HAS BEEN TOUCHED ON
BUT IF THERE'S ADDITIONAL
SAVINGS YOU ALL HAVE NOTED, OR,
BECAUSE I ALSO SEE A THREAD OF
QUESTIONS ABOUT, ARE YOU AT THE
STAGE WHERE YOU CAN DOCUMENT
DIGITAL LEARNING AND CAN
CORRELATE TO INCREASE IN
LEARNING OUTCOME?
>> I THINK YOU CAN DEFINITELY
CORRELATE THE INCREASE IN
LEARNING OUTCOMES.
AND I WOULD SAY, BEYOND
REMEDIATION, I SEE IN A COST
SAVINGS IN ACCELERATION.
I THINK WE AT MY BUILDING ARE
BETTER ABLE TO ADDRESS OUR
HIGH-LEVEL LEARNERS.
I HAVE A SPECIAL ED STUDENTS
THAT ARE INTEGRATED INTO A
REGULAR ED CLASSROOM WHO COME
READING AT A SECOND GRADE LEVEL
ALL THE WAY TO KIDS READING AT A
POSTCOLLEGE LEVEL ENTERING AS
NINTH GRADERS.
AND THE DIGITAL ENVIRONMENT
ALLOWS THE TEACHERS TO
PERSONALIZE THE EDUCATION FOR
THOSE UPPER LEVEL KIDS AND THE
KIDS WHO ARE STRUGGLING.
AND BECAUSE I DON'T HAVE TO
SEPARATE THEM OUT AND I CAN
STILL GIVE THEM THAT ACCELERATED
CURRICULUM THAT THEY NEED TO BE
CHALLENGED APPROPRIATELY, WE
HAVE EXPERIENCED COST SAVINGS
AND WE'RE SEEING MORE GROWTH.
AND WE'RE ABLE TO DOCUMENT THAT
WE USE NWEAs IN MY DISTRICT.
SO WE'RE ABLE TO SEE THEM
INCREASE THEIR MATH SCORES.
I THINK OFTENTIMES WE THINK
ABOUT REMEDIATION.
WE ALSO NEED TO THINK ABOUT THAT
OTHER END AND ACCELERATION.
>> I WOULD AGREE.
WE HAVE SEEN SOME OF THOSE SAME
RESULTS.
RIGHT NOW ANOTHER STUDY WE'RE
INVOLVED IN BECAUSE WE'RE PART
OF A CONSORTIUM WITH A FEW OTHER
STATES IS LOOKING AT OUR OER
RESOURCES WE'RE USING TO BUILD
OUR OWN TEXTBOOKS.
THOSE ARE FREE RESOURCES, AND
THE PLUS IS THAT IT REALLY HAS
CHANGED NOT ONLY THE WAY
TEACHERS TEACH, BUT THE WAY
STUDENTS LEARN.
AND OUR TEACHERS ARE GROWING, AS
THEY'RE A PART OF THOSE TEAMS
THAT ARE CREATING THOSE
TEXTBOOKS FOR THEIR COURSES,
THEY ARE LEARNING SO MUCH.
THE OTHER THING WE'RE FINDING
WITH A COMMON CORE NOW IN THE
TRANSITION, WE HAVEN'T FELT THAT
ALL OF THE RESOURCES THAT YOU
COULD BUY OUT THERE DO AS GOOD A
JOB AS WE WANT THEM IN
TRANSITIONING OVER TO THE COMMON
CORE.
SO WE FEEL THAT WE'RE A STEP
AHEAD BY CREATING THESE
RESOURCES, AND IT HAS CHANGED
TEACHING AND LEARNING.
AND WE'RE IN A STUDY NOW, AND
SOME OF THE INITIAL RESULTS THAT
CAME BACK, THOSE STUDENTS THAT
ARE USING THOSE ELECTRONIC
RESOURCES ARE ACTUALLY SCORING
BETTER ON STATE ASSESSMENTS.
>> AND I WOULD TAKE A LITTLE
DIFFERENT TACT ABOUT THIS IDEA
OF MEETING THE NEEDS OF OUR
REALLY PRECOCIOUS KIDS.
I WORKED IN A PROGRAM FOR
GIFTED, OR AS WE USED TO CALL
THEM FATALLY GIFTED,
SPECIFICALLY IN MATHEMATICS.
I WILL TELL YOU THAT SOME OF THE
TRACK CAPACITY, WHETHER TALKING
ABOUT GRAPHING CALCULATORS, OR
WHETHER THE VIRTUAL ONES WE CAN
GET ON ANY DEVICES.
IF ANYONE HAS NOT YET SEEN
DESMOS, IT WILL BLOW YOUR MIND
IF YOU'RE A MATH PERSON.
BUT ALSO THE GEOMETRY, AND THE
FACT I COULD HAVE MY STUDENTS
DOING, NOT THE IDEA I COULD GET
THEM AHEAD, BUT ALSO THE FACT
THEY CAN GO SO MUCH DEEPER.
SO MY GEOMETRY CLASS WAS NOT
ONLY DOING GEOMETRY, WHICH IS
NOT TYPICALLY SEEN IN MIDDLE
SCHOOLS, BUT WE WERE DOING
GEOMETRY THAT INCLUDED
NON-EUCLIDIAN PROJECTIVE IS
THINGS YOU WOULD NOT SEE UNTIL A
COLLEGE LEVEL OR GRADUATE LEVEL
GEOMETRY COURSE.
SO I WOULD NOT SAY WE WERE
MOVING THEM THAT FAR AHEAD BUT
THE NOTION THAT YOU'RE GOING TO
GO DEEPER AND GET THEM SO MUCH
MORE ENGAGED.
AND I THINK THERE'S VALUE IN
TERMS OF REALLY MEETING THE
NEEDS OF OUR ADVANCED LEARNERS.
>> THERE'S ANOTHER COMMON THREAD
OF QUESTIONS.
IN THE FEW MINUTES WE HAVE
REMAINING, I THINK IT'S
IMPORTANT TO GET TO.
NATALIA ASKS THE BEST WAYS TO
COMBINE PROFESSIONAL DEVELOPMENT
FOR TEACHERS, IF YOU COULD
COMBINE THAT FROM MATTHEW IN
ALABAMA, HOW DO YOU FIND
SCHEDULED TIME FOR TEACHER
TRAINING AND LEARNING, AND HOW
DOES TECHNOLOGY MAKE THAT
EFFECTIVE OR EFFICIENT.
BECAUSE THE WHOLE ISSUE IS HOW
DOES IT BENEFIT DEVELOPMENT AND
LEARNING.
>> I THINK THAT MUCH LIKE THE
KIDS WE FLIP A LOT OF OUR
INSTRUCTION.
MY DISTRICT USES P.D. 360, SO A
LOT OF REFERENCING JUST IN TIME
TO VIDEOS I CAN GIVE THEM.
JUST LIKE MY TEACHERS CREATE
COURSES ON OUR EDUCATIONAL
PLATFORM.
I HAVE A P.D. COURSE FOR THEM ON
THE PLATFORM SO THAT ALL THE
RESOURCES ARE THERE.
THEY CAN GO WATCH THE VIDEOS,
READ THE INFORMATION SO THAT
WHEN WE DO ACTUALLY HAVE TIME
TOGETHER, WE HAVE THE BACKGROUND
KNOWLEDGE ALREADY COVERED, AND
WE CAN DISCUSS THEM AS A GROUP.
THEY ALSO DO A LOT OF WORK ON
GOOGLE DOCK, WHERE THEY CRITIQUE
PROJECTS.
SO THEY POST THEIR PROJECTS FOR
THE ENTIRE COMMUNITY TO READ AND
WE GIVE FEEDBACK AND IT
COMMUNICATES TO GOOGLE DOCK.
SO A LOT OF TIME IS OUTSIDE THE
SCHOOL DAY.
AND I'M EXTREMELY FORTUNATE.
MY TEACHERS ARE REALLY DEDICATED
AND THEY ARE WILLING TO SPEND
THAT TIME OUTSIDE THE SCHOOL DAY
TO DO IT.
BUT WHEN YOU DO HAVE THE TIME IN
FRONT, I THINK IT'S REALLY
IMPORTANT TO GIVE TEACHERS THE
RESOURCES TO ACCESS THOSE AFTER,
BEFORE AND TO MAXIMIZE THE TIME
YOU HAVE WITH THEM.
>> ANY OTHER THOUGHTS?
>> THE OTHER THING I WOULD ADD,
YOU MENTIONED AT THE BEGINNING,
BOB, THAT YOU WERE LIVE TWEETING
SOME OF THIS.
THE DID WE TO WHICH TWITTER IS
BECOMING A PROFESSIONAL VOICE
WRITER, THERE ARE PEOPLE WHO ARE
DOING REALLY IMPORTANT WORK
AROUND EDUCATION.
THERE'S A GROUP WE REFER TO
OURSELVES AS THE GLOBAL MATH
DEPARTMENT.
AND THROUGH BLOGS AND TWEETS,
140 CHARACTERS IS NOT A LOT OF
TO SAY, BUT IT'S ENOUGH TO SORT
OF SPARK THINKING AND SPARK
CONVERSATION.
AND VERY OFTEN I'M FINDING THAT
SOME OF MY MOST PROVOCATIVE
IDEAS ARE REALLY COMING OUT OF
THE INTERACTIONS I'M HAVING NOT
ONLY WITH COLLEAGUES IN MY
DISTRICT BY COLLEAGUES ACROSS
THE COUNTRY AND ACROSS THE
WORLD.
AND I THINK THAT TEACHERS WHO
HAVE NOT YET TAPPED INTO THAT OR
SCHOOLS THAT HAVE ENCOURAGED
TEACHERS TO TAP INTO THAT HAVE
NOT EXPLORED THIS OPPORTUNITY TO
USE IT IN A MEANINGFUL WAY.
>> AND I WOULD ADD THAT WE USE
PLCs, PROFESSIONAL LEARNING
COMMUNITIES, AND AS PEG SAID,
NOW, BECAUSE PEOPLE CAN REALLY
CONNECT OUTSIDE THE WALLS IN
WHICH THEY WORK, THOSE PLCs HAVE
REALLY GROWN.
AND IN FACT, WE HAVE THIS SYSTEM
WE BUILT WHERE INTERNALLY ALL OF
OUR CURRICULUM, OUR RESOURCES,
OUR ASSESSMENTS ARE AT THE TIPS
OF OUR TEACHERS' FINGERTIPS
BECAUSE THEY CAN ACCESS IT
ONLINE FROM ANYWHERE.
AND WHAT WE'VE ADDED NOW IN OUR
CURRICULUM AREA, WHEN THEY'RE
WORKING ON DEVELOPING THEIR
LESSON PLANS OR GOING THROUGH
THOSE RESOURCES, THEY CAN ALSO
BE COMMUNICATING WITH ANY OF THE
TEACHERS ACROSS THE DISTRICT
BECAUSE WE'VE BUILT IT RIGHT
INTO THE SYSTEM NOW.
AND THEY UTILIZE THAT.
SO IF YOU THINK ABOUT FOUR
PEOPLE WORKING TOGETHER AND EACH
OF THEM HAS ONLY THAT HALF HOUR,
YOU'VE NOW TURNED THAT INTO TWO
HOURS, BECAUSE TOGETHER THEY CAN
PRODUCE SO MUCH MORE AND SHARE
SO EASILY.
SO YOU REALLY HAVE TO THINK
ABOUT THAT TIME DIFFERENTLY.
>> ALSO, YOU CAN SAVE THAT HIGH
SCHOOL OR MIDDLE SCHOOL TEACHER
FROM TAKING PAPERS HOME TO
GRADE, JUST THINK ABOUT WHAT
YOU'VE DONE TO IMPROVE QUALITY.
AND I WANT TO THANK THIS PANEL
FOR ADDRESSING THE TOPIC
CONSTANTLY COMING UP, HOW DO YOU
BUDGET AS YOU GO THROUGH A
DIGITAL LEARNING PROCESS.
AND SO I WANT TO THANK PEG
CAGLE, ERIN FREW, AND GAIL
PLETNICK FOR JOINING US TODAY
AND SHARING YOUR INCREDIBLE
EXPERIENCE.
THIS WAS THE SIXTH OF OUR SERIES
OF WEBINARS, AND YOU CAN JOIN US
AGAIN ON MAY THE 23rd FOR A
DISCUSSION OF TEACHING AND
PROFESSIONAL LEARNING.
IF YOU SIGNED UP FOR PROJECT 24,
MAKE SURE YOU COMPLETE THAT
SELF-ASSESSMENT, CHECK OUT THE
BLOG POSTS, AND IF YOU AREN'T
PARTICIPATING IN THE MOOC FOR
EDUCATES, DON'T WORRY.
WE'RE ALREADY LOOKING AT
REWRITING IT IN THE FALL AS
THERE HAS BEEN SO MUCH INTEREST.
AND REMEMBER THAT ALL OF THESE
RESOURCES ARE AND ALWAYS WILL BE
FREE.
TO SIGN UP FOR PROJECT 24, ALL
YOU HAVE TO DO IS GO TO THE
ALLIANCE FOR EXCELLENT EDUCATION
WEBSITE, CLICK ON DIGITAL
LEARNING 24.
IT LEADS YOU RIGHT INTO THE
PROCESS.
AGAIN YOU CAN FOLLOW US AT
TWITTER.COM/ALLFOREDPROJECT24
FOR THE LATEST UPDATES.
AND IF YOU WANT TO SHARE A VIDEO
FROM TODAY'S WEBINAR OR ANY OF
OUR OTHER 24 WEBINARS, YOU CAN
FIND ARCHIVED VIDEO AT
WWW.ALLFORED.ORG/PROJECT24
WEBINARS.
WE HOPE YOU'RE FEELING MORE
INSPIRED ABOUT DIGITAL LEARNING.
WITH YOUR BUDGET, YOU CAN MAKE
IT HAPPEN.
HAVE A GREAT DAY.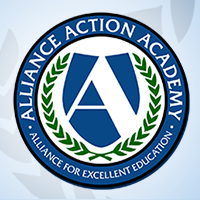 Welcome to the Alliance for Excellent Education's Action Academy, an online learning community of education advocates. We invite you to create an account, expand your knowledge on the most pressing issues in education, and communicate with others who share your interests in education reform.
Register Now
or register for Action Academy below: