July 18, 2010
10:00 am – 11:30 am EDT
Dirksen Building, U.S. Senate Washington, DC
Scroll down for video from the event.
Nearly seventy educators, stakeholders, and policymakers gathered July 10 on Capitol Hill to learn about municipal leaders and practitioners who are at the forefront of a national movement to establish alternative high schools for students poorly served by, and at risk of dropping out from, traditional schools. The discussion was hosted by the Alliance for Excellent Education and the National League of Cities (NLC). NLC's Institute for Youth, Education, and Families (YEF) has spearheaded the Alternative High School Initiative (AHSI) in over two hundred communities nationwide through a partnership with the Big Picture Company. Senator Lamar Alexander (R-TN) and Mayor Karl Dean of Nashville, Tennessee—one of the municipalities recently selected to join the AHSI network—both attended to discuss their interest in reducing the number of high school dropouts, while increasing the number of high school graduates.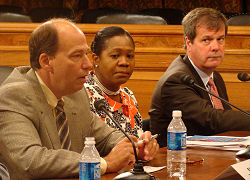 Bob Wise, former governor of West Virginia and president of the Alliance for Excellent Education, discussed the importance of initiatives like the AHSI in the context of the current dropout crisis. He said that municipal leaders have firsthand experience in dealing with the impacts of the crisis, which affects nearly one third of all students and up to half from communities of color, in the form of lost income and incarceration rates higher than those in communities with low dropout rates.
Clifford Johnson, executive director of the YEF Institute at the National League of Cities, agreed that municipal leaders are uniquely positioned to curtail the dropout crisis, as education—with its large influence on local business and communities' social vibrancy— "is one of the key determinants of quality of life in cities." In fact, Johnson argued that, "the debate about whether mayors should engage in education is over." Rather, the question now is how mayors without direct control over their local school districts can make an impact. Citing examples of mayoral efforts in Atlanta, Boston, Corpus Christi, Hartford, Phoenix, San Jose, and Seattle, Johnson said that mayors can raise awareness, review local services and legislation to ensure that they are not blocking needed reforms, create financial incentives for the expansion of alternative high schools, and establish partnerships with local stakeholders to support reform.
Audrey Hutchinson, program director for education and afterschool initiatives at the YEF Institute, provided clarity regarding the defining elements of alternative high schools. She dispelled the outdated perception that these schools are dumping grounds for so-called bad kids. In actuality, Hutchinson explained, alternative high schools prepare students for postsecondary success through "distinguishers" such as future-focused, student-centered authentic learning; personalized school cultures; and shared leadership and partnerships among school administration, faculty, and local stakeholders. She also provided highlights from the YEF Institute's recent report, Setting the Stage for New High Schools: Municipal Leadership in Supporting High School Alternatives, which provides lessons learned from AHSI on seven key policy conditions that must be in place for the alternative high school movement to achieve large-scale success: increased college access, a need-based approach to funding, reasonable and rigorous academic standards, strong accountability, expanded options for students and families, an open sector receptive to alternative high schools, and coordination between public agencies and community organizations.
Senator Alexander addressed the need to remain competitive in a global economy in which other countries have recently made great strides, particularly in math and science education. "We still have in our country a remarkable economic engine," he said. "We're still the grand champion in technology and education…. But the competition is getting fierce. Other countries around the world want the same standard of living we have. They understand it has a lot to do with developing their brain power …we in the United States need to make sure over the next decade or two that we maintain our competitive advantage."
Alexander lauded the pace with which Mayor Karl Dean has worked on education since his election, referencing a summit Dean held on dropout rates within his first hundred days in office.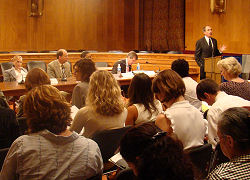 Dean described Nashville as a strong city with a diverse economy that includes everything from health care, to publishing, to the music industry, but also acknowledged that it has issues with its schools, which are currently facing corrective action under No Child Left Behind.
"Nashville is a great city; we've benefitted from good government…we're a city on the rise, but we have not focused adequately on education," he said. "There is a connection between schools and keeping kids in schools and having reduced crime and a safer city. If you have a safer city and good schools, you're going to see economic development. Those three things are just intrinsically connected."
Dean's commitment to education was never more present than in his mayoral election bid, where he campaigned on an education-based platform because of his belief that education is inextricably linked with municipal safety and economic development, and "these are the three pitches mayors must hit everyday."
Dean discussed his work designed to reduce the dropout rate and keep more students in school. His efforts include appointing a task force to study the issue, working with the NLC to develop alternative high schools, and reaching out to different models and programs around the country—such as charter schools and Teach for America—to learn more about best practices and how to use them. He also included money in his budget to develop an "Attendance Center."
"Truancy is something that is the number-one indicator [of whether] a student is going to drop out of school," he said. "The Attendance Center is in-between the juvenile courts, the schools, and the police. It's where kids can be brought when they're loitering or they're truant, where there will be social workers and teachers who will find out what the real problem is…and get them back on the right track."
Dean explained that his emphasis on truancy and dropout rates stem from his work as a public defender. "When I was doing adult criminal work, I would represent tons of people in a given day," he said. "Every one of them except for just a few were high school dropouts—and I'm talking hundreds of people. I'm not saying that's the only issue, but there is clearly a correlation."
He added that he often worked with juveniles, particularly with youth accused of very serious crimes. "All of those kids that I saw in juvenile—whether it was the serious cases or the less serious delinquent-type cases—were chronically truant. I think the city has a responsibility to pay attention to that issue all of the time and keep those kids in schools….There are no throw-away people in our society. We are not going to be satisfied until all of our schools have graduation rates in the 90th percentile."
Other featured speakers at the briefing included Elliot Washor, codirector of the Big Picture Company, an organization that began with the design of The Met, a high school in Rhode Island, and has continued to create radically different schools across the country though the AHSI. As one of the most recent cities selected to join the initiative, Nashville will partner with AHSI to reduce dropout rates and improve students' educational outcomes. Part of that work will include helping the city establish several innovation-model high schools, with new schools debuting as soon as the 2009–2010 school year.

Washor talked about his experiences in different alternative schools around the country and on the importance of longitudinal studies that follow students through high school and into college, and shared success stories from schools the Big Picture Company helped establish. He pointed to Camden and Detroit, where—despite local average graduation rates of less than 30 percent—Big Picture alternative high schools have succeeded in graduating 90 percent of their students. Washor asserted that in the era of No Child Left Behind, "measures don't tell the whole story—[they're] a sign, not a treatment or a prevention," and stressed that as proponents of alternative high schools, we must consider the supports created for students around the measure, both by the adults in their lives and by the government. "We can't have good practice without good policy, and we can't have good policy without good practice," he said.
He explained that Big Picture Company schools not only measure students' success in college, but school staff also get involved with students and continue to stay in contact with them through college—a vital support considering that, nationwide, only 10 percent of low-income, minority students graduate from college. Additionally, Washor applauded policy proposals like the Graduation Promise Act that would support the creation of more alternative high schools.
Bethany Little, vice president for policy and federal advocacy at the Alliance for Excellent Education, commented on how federal policy can best leverage support for proven models at the local level, citing the partnership between Nashville and the Alternative High School Initiative. Little described three basic scenarios that call for a federal role in education: when issues of civil rights and equity are involved, when issues of economic and national security are involved, and when there's a need for the accumulation and dissemination of a knowledge base on best practices. She argued that the dropout crisis captures all three scenarios.
Little also argued that subsequent federal investment in education must be explicitly directed at high schools, which presently benefit little from federal funds, as well as research and development to bolster initiatives like those presented at the event. Recognizing that money is not a silver bullet, however, Little said that the federal government must also use its accountability structure to make graduation rates a stronger point of accountability.
Setting the Stage for New High Schools: Municipal Leadership in Supporting High School Alternatives is available at http://www.nlc.org/ASSETS/8D1C9C4738C7419DAE8060B73828827D/IYEF_Setting_the_Stage.pdf.
Audio* and 
Video (Windows Media) of the Entire Event
I. Welcome and Opening Remarks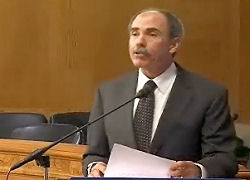 Bob Wise, President, Alliance for Excellent Education 
Video
II. Municipal Leaders and the Dropout Crisis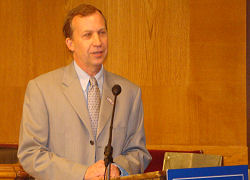 Clifford M. Johnson, Executive Director, National League of Cities (NLC) Institute for Youth, Education, and Families 
Video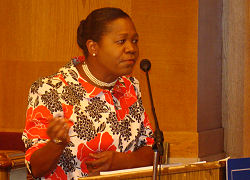 Audrey Hutchinson, Program Director, Education and Afterschool Initiatives, Institute for Youth, Education and Families, National League of Cities 
Video
 III. Introduction of Senator Lamar Alexander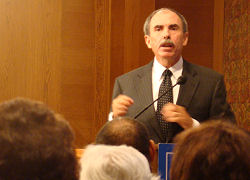 Bob Wise, President, Alliance for Excellent Education 
Video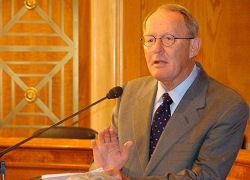 The Honorable Senator Lamar Alexander (R-TN), United States Senate 
Video
IV. Mayoral Presentation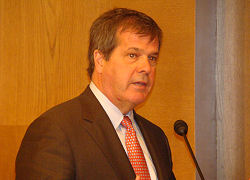 Mayor Karl Dean, Metropolitan Government of Nashville and Davidson County, Tennessee 
Video
V. The Alternative High School Initiative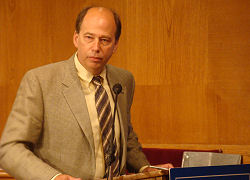 Elliot Washor, Co-founder and Co-director, The Big Picture Company 
Video
 VI. Alternative High Schools and Federal Policy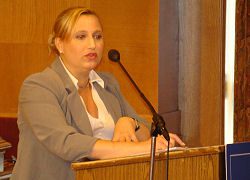 Bethany Little, Vice President for Federal Policy and Advocacy, Alliance for Excellent Education 
Video
VII. Question & Answer Session
VIII. Closing Remarks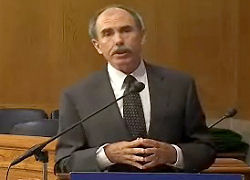 Bob Wise, President, Alliance for Excellent Education 
Video
Categories:
Uncategorized