Linked Learning: Using Learning Time Creatively to Prepare Students for College and a Career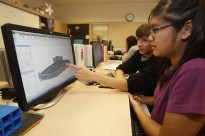 September 30, 2014
6:00 pm – 7:00 pm EDT
Having trouble viewing the webcast? Contact Technical Assistance here.
The Alliance for Excellent Education and the Center for American Progress Invite You to Attend a Webinar
Linked Learning: Using Learning Time Creatively to Prepare Students for College and a Career
Panelists
Monica Almond, PhD, Policy and Advocacy Associate, Alliance for Excellent Education
Anya Gurholt, College and Career Pathway Coach, Oakland Unified School District 
Tameka McGlawn, EdD, Director of Equity and Impact, ConnectEd: The California Center for College and Career
Tiffany Miller, Associate Director, School Improvement, Center for American Progress
Following the Alliance's September 23 webinar, "Leading with a Vision: Using Time Differently to Provide New and Better Student Learning Experiences," that examines innovative models of more and better learning time in high schools around the country, this webinar will focus on the way that time is used through California's Linked Learning approach to ensure that more students in the Golden State are leaving high school ready for college, a career, and life.
California recently made significant strides in promoting a college- and career-ready agenda through a $250 million investment that encourages regional partnerships among K–12 schools, higher education institutions, and businesses to implement promising strategies for creating a well-equipped twenty-first-century workforce, and the state is poised to double that investment. Much of this work is spearheaded through Linked Learning, which is an approach to education that transforms the traditional high school experience by blending core academic content with career-based learning in the classroom and real-world workplace experiences. This approach benefits from additional time for effective implementation of its strategies.
In this webinar, Tiffany Miller, an expanded-learning time researcher, will set the stage for the movement to increase learning time in underperforming schools across the country. Anya Gurholt will describe the strategies implemented in Oakland Unified School to increase learning time and the promising outcomes that resulted at Skyline High School, and Tameka McGlawn will discuss how Linked Learning and increased learning time work in tandem to promote effective educational experiences for students. Monica Almond will moderate the discussion. Panelists will also address questions submitted by webinar viewers from across the country.
This webinar is made possible with support from the Irvine Foundation and the Ford Foundation. 
Register and submit questions for the webinar using the registration form below. After registering, you will receive an email confirmation. Please check your email settings to be sure they are set to receive emails from alliance@all4ed.org.
Please direct questions concerning the webinar to alliance@all4ed.org.
If you are unable to watch the webinar live, an archived version will be available at all4ed.org/webinars shortly after the event airs.
Supplemental Resources:
Good afternoon. Welcome and thank you for  joining us today for a joint  webinar with the center for  american progress, this webinar  will explore the use of time to  ensure that more students in  golden state are leaving high  school ready for college, for a  career and for life. There is a flurry of activity  surrounding this topic. Today we will discuss Linked Learning with a terrific panel  of experts. Next week a joint report will be  released.
First, let me provide some  background. Last week there was a webinar,  leading with a vision, using  time differently to provide new  and better student learning  experiences. The webinar focused on more and  better learning time in high  schools around the country. For example, we learned about  generation schools that  implement the unique model in  brooklyn and denver. Students in generation schools  attend class 200 days a year and  participate in regular core  classes and intensive classes  that require students to conduct  research, engage in the  workplace and participate in  college and work planning. This grows from frustration and  need. All one has to do is look at the  disturbing results of the  2013 12th grade national  assessment of college to  understand how poorly prepared  students are. Only 38% of america's 12th grade  students are proficient in  reading and it's even more  dismal for african-american and  latino students. Linked Learning, a california led  initiative, offers a promising  systemic approach to improve  student outcomes for all  students, particularly those  that have been historically  underserved. Linked Learning was first  implemented in california high  schools in 2009 and has expanded  to both houston and detroit
so  you may be asking, what is Linked Learning? I'm glad you asked. Our guests will give you the  details but let me provide a  thumbnail. Linked Learning transforms the  traditional high school  experience by bridging together  rigorous academics, rigorous  career and technical education,  real world workplace experience  and student support. To date, finding that students  make more progress each year  when compared with similar  peers. Data also show that students in  Linked Learning are more likely  than their peers to graduate  from high school and enter post  second dairy education.
Over the next hour it will focus  on district and level activities  to increase time through the  Linked Learning approach. We are also going to hear about  efforts with increased learning  time programs both inside and  outside of the traditional  school day.
Maybe that was more than a  thumbnail. On my immediate left is tiffany  miller, the associate director  for school improvement at the  center for school awareness. Path is right here in  washington, d.c. it is dedicated to improving the  lives of americans through  progressive ideas and action. You can follow cap on  twitter @ed progress. Tiffany, thanks for partnering  with us. Next to tiffany we have  anya gurholt from oakland  unified school district in  oakland, california. This is one of the nine  districts that make up the  california Linked Learning  districts. It's made up of school districts  such as long beach, los angeles,  and san diego that uses Linked Learning for high school  transformation. Great to have you, anya. Anchoring our panel today is dr.  Tameka mcglawn. Director for equity and impact  connect ed. It partners with communities to  transform education through Linked Learning. Can you follow connect ed on  twitter at connect ed org. Our panelists will have an  opportunity to address questions  submitted by you, our viewers,  from across the country. Please join a conversation by  sending us your questions using  the box below this video window. If you're on twitter i encourage  you to tweet about today's  webinar or ask us questions  using #linklearning. Finally, if you miss any of the  webinar or want to share it with  colleagues, archived video will  be available tomorrow at  all4ed.org webinar.
Tiffany, we'll start with you to  learn more about the movement to  increase learning times across  the country. First, can you help us  understand what we mean by  learning time?
thank you, monica. Thank you for the wonderful  introduction. Increased learning time, that's  a good question. I have been working in the field  of increased learning time  studying at school time  programs, expanded learning  time, extended time for a number  of years. We use a lot of different terms  to describe this type of work. It can be somewhat confusing. Wanted to step back and iron out  especially the terminology that  we'll be using in the report  that will be released next week. Increased learning time is often  used with the u.s. department of  education. It's most prominent in their  school improvement grant program  also known as s.i.g. s.i.g. is a formula grant  program administered to states. States then take that money and  make it — turn it into  competitive grant programs for  school districts. Typically the neediest districts  and those that show they have  provide school turn around, two  of those models actually require  schools to increase learning  time.
So exactly what is meant by  increased learning time? It's kind of self-explanatory. It is significantly lengthening  the school day, week, year to  spend more time on core academic  subjects, enrichment activities  and it provides teachers with  more time for planning,  collaboration, and to engage in  professional development. So there's also another set of  terms to describe somewhat  similar work, and that's out of  school time programming and  extended learning time. I think a pretty strong argument  could be made for sort of  separating out the two terms,  but forsake of brevity i've  combined them here. When we talk about out of school  time, we talk about things  outside of traditional school  day. That could be after school  programs, before school  programs, summer learning, could  be going to community center to  participate in swimming at the  y, boys and girls clubs, things  like that. Next, expanded learning time. And i'm actually going to spend  a little bit more time talking  about expanded learning time and  how that differs from the other  two sets of terms. Expanded learning time is  something that's been near and  dear to cap almost since it  started about ten years ago. It is aimed at high poverty  underperforming schools and it's  an initiative to significantly  incompetent be crease the length  of time that students spend in  school. This is something that is  mandated for all schools —  sorry, for all students if  possible. The amount of time that the  school is lengthened is  significant. It's between 25 to 30%, which  translates into about two hours  or so per day. And students are really the  center. They're the purpose for  extending the learning day.
And thinking about expanded  learning time, it's more than  just tacking on minutes at  random. It's more than just shaving off  a couple of minutes of recess  and trying to narrow down  transition time between classes  all of which is important when  you're thinking about how to  organize your day and really be  efficient. Expanded learning time is a  complete redesign of the school  day and it's intentional. It's planned. You're constantly reviewing data  in order to make sure that the  time that you're using is really  effective. You're going to have that  lengthened school day and you're  going to want to make sure that  the students are really getting  the most out of it. So what exactly are these  students doing when they're in  expanded learning time schools? Well, yes, they are doing —  they're having more time to  focus on core academics. We are asking more of our  students than we have ever  before. It's providing them for more  time with important enrichment  activities, something that we  could all say helps produce a  well-rounded education for  students. So they're participating in  arts, music, dance, physical  education, community service. Often some of the most  successful expanded learning  time schools are partnering with  community-based organizations  and after school programs are  coming in to help pull this off. They're getting enrichment which  is helping to close opportunity  gaps. We know that students often from  high poverty schools are missing  out on opportunities to  participate in enrichment  activities. They're getting more time for  hands on academics, it could be  robotics, it could be getting  tutoring and mentoring. There are a variety of different  activities going on in expanded  learning time school.
great.
so, that's how it benefits  students but there's also a  benefit to teachers as well. So it provides teachers with a  significant amount of time to  spend on planning and  collaboration and professional  development. I believe there is one survey  out that is up here on the  screen now, i believe, where  overall on average teachers  are — have reported that they  have about 15 minutes, 15  minutes worth of collaboration  daily. That's not a lot of time. I don't know what you do in 15  minutes, but at expanded  learning time schools you could  have upwards of 85 minutes for  more time to hone your craft,  tailor the instruction and sort  of improve overall instruction  and learning for students. So what i would like to talk  about is the importance of time. I was very brief with my slide  on the research but am happy to  send any research along. There are a lot of studies that  positively associate more time  in learning with higher academic  achievement. And for the most part, again,  these are studies that are  looking at high quality  instruction, very if he cussed  instruction. It's not simply lengthening the  school day for the purpose of  lengthening the school day. It has closed achievement gaps  and increased student  achievement.
terrific.
so thinking about the use of  time in high schools, when  you're thinking about  significantly lengthening the  school day, there's one approach  that you can take at the  elementary school level. The students, they're more  likely to listen and not leave  school after school, they might  be waiting for a bus to pick  them up or waiting for the  parents to pick them up. At the high school level you  have to take a different  approach. You have to keep in mind that  high school students are able to  vote with their feet, so to  speak. So you need to make sure that  your lengthened school day is  really connected to real world  experiences for high school  students. That means taking them to  college campuses to get a taste  of what it's like to go to  school, to go to college. Helping them with the transition  to college and career. You don't know exactly what  route they might take and you  want to be able to expose them  and help them with that  transition. You want to offer them  apprentice ships and especially  paid internships and wanting to  give them that opportunity. High school students may want to  take care of siblings, they may  need to work and they need the  money so they have to work after  school. There's a lot of competing  interests with high school  level. You want to make sure when  you're lengthening the school  day, when you're using that  extra time at the high school  level that it's really meeting  the needs of your particular  group of students. So i'm not going to spend too  much time because it's covering  length learning and they know  may more about it than i do. There are two different  approaches to thinking about  time use at the high school  level and actually two different  approaches within Linked Learning  it sufficient. Some schools have significantly  lengthened the school day  through use of s.i.g. grants and  others are using existing time  creatively. There's a lot of things to get  done in the length learning  approach. High schools are taking  different approaches in order to  get that done. You talked about generation  schools. I know that you recently had a  webinar about them so i won't  spend too much time talking  about that.
we have video for that.
right. They're doing amazing things. Like you said, they're  significantly lengthening the  school day. 200 days per year for their  students. What's most interesting about  that to me in addition to giving  the students more time to learn  as they're doing wonderful  things there, the teachers,  they're still teaching for 180  days. So they have a very different  way that they think about their  staff and teachers and staggered  teachers' schedules. It's a very interesting model. I encourage you if you haven't  had an opportunity to view the  webinar to do so and learn more  about generation schools.
one follow-up question to  what you shared with the  audience. Increased learning time isn't a  new phenomenon. How many schools are  participating in some of the  extended learning time  activities across the country?
as of right now the latest  count i had was about 15 — at  least 1500. Probably — and that figure is  probably about a year old right  now. So there's momentum behind the  movement especially with  infusion of incentives from the  obama administration, they have  been very supportive of  increased learning time  policies. So schools that have a s.i.g.  grant and are implementing the  two turn around models that  require increased learning time  are doing so. There's other programming  available as well.
great. Thank you. Thanks so much, tiffany.
you can learn more about  tiffany's work and the center  for american progress online at  americanprogress.org. The link is available at the url  at the bottom of our screen. Now let's turn to anya. Before you joined oakland  unified school district as a  career pathway coach, you were  at a school. Tell us about the efforts that  are underway to increase  learning time.
thank you, dr. Almond and  tiffany. The primary reform strategy now  is a Linked Learning initiative.  My personal interest in linked  learning, as dr. Almond  mentioned, stems from eight  years of teaching in a Linked Learning pathway and an  assistant principal position  responsible for seeing three  link pathways at skyline school. More recently as a Linked Learning  pathway coach for oakland  unified school district. With Linked Learning at oakland  unified school district's  primary reform strategy, we have  about 27 Linked Learning pathways  in oakland that cover a variety  of industry sectors that might  be education, computer  technology, green energy, media,  public health and so on. And we have Linked Learning  pathways in approximately 13 of  our oakland high schools. And right now about half of the  students in oakland unified  school district, a little less  than half, are enrolled in Linked Learning pathways. As far as the demographics that  oakland unified school district  serves, 38% of our students are  latino, approximately 31% are  african-american. 41% are asian. Only 12% are white and then the  final side percent are pacific  islander and native americans.
So one thing that we knew early  on about Linked Learning is that  it would require increased  learning time, not only for  students, but also for teachers. Even before skyline implemented  linked learning and before  oakland unified school district  implemented it in a moore  systemic model, we saw it  specifically for teachers. This occurred in 2010 when we  redesigned our freshman house  and one of the things that we  did during that redesign is  we — within the six-period day  we gave each freshman teacher  two periods with no students. So one period was traditional  preparation, grade papers, run  to the restroom, but we also  gave them a second period with  no students that was solely  dedicated to collaborating with  their colleagues. They shared contents or common  students. Some collaborated with other  teachers in their industry  sector. We saw that this redesign had a  phenomenal impact on teacher  practice. Within a six period day it would  look like this. Two periods here, followed by  prep, time to collaborate and in  the afternoon a couple more  classes. However, not all teachers in  2010 had the luxury of  collaborating every day. We saw that stark contrast  between those that could  collaborate and those who could  not. For example, this was a  particular challenge for  teachers who were in a linked  learning pathway to not have  that hour a day to talk about  whether it be integrated  curriculum, more common  students. We decided to think really  creatively how could we as an  open school with very little  resources, how could we redesign  the school day without actually  increasing the number of minutes  that we were asking teachers to  be on the clock and students to  be at school. What we did is we designed a  seven-period day at skyline high  school. This was really in response to  the need for teacher  collaboration. With that seven period day,  every teacher on campus was  teaching five classes, they had  one period to collaborate and  one period for traditional  preparation. Of course, during that time  teachers were able to do a  variety of things with one  another. Again, they were planning  integrated projects, they were  examining student work,  analyzing student work, finding  out where there were gaps in  understanding. And as you will see, skyline was  able to adjust that schedule,  the bell schedule, without  altering the 8:00 to 3:00 day. So, whereas, on the six-period  schedule each period was 58  minutes, now each period is 51  minutes and whereas our old  passing period was six minutes  long, it's now five minutes  long. The 33-minute lunch does remain  the same. So how does this seven-period  day extend learning time for  teachers and students. Now that all skyline teachers  have approximately 50 minutes  addai, they really are able to  create personalized support  systems for students. They're able to reflect on those  integrated projects that they've  implemented and tweak them so  they're even more meaningful. They're able to align some of  their common instructional  practices, classroom protocols  and this also benefits students,  right? So students now have an  additional class period every  day where they're able to, for  example, remediate courses that  they previously failed. They can take additional  electives like an a.p. course or  in linked learning they're able  to take a career technical  education course while still  being able to take other  electives like dance or p.e. also within the structure of the  seven-period day, it creates  more time for students to engage  in work-based learning so that  might be an internship. It might be outside job  experience, inside job  experience such as a peer tutor  for example. And/or they might do job  shadowing. They might go off campus and do  a job shadowing, something of  the sort. There's a couple of other things  that oakland unified school  district is doing to extends the  learning time for both teachers  and for students. So one thing we've done is we  have offered summer internships  for all juniors who are enrolled  in a Linked Learning pathway. Those summer internships are  specifically tied to the  industry sector of the pathway. People might have an internship  at a local elementary summer  school. Student in the computer academy  might have an internship with a  particular computer tech for  students in the public health  industry might have an  internship at a hospital. We've extended summer learning  time for teachers. We have what's called the summer  institute for Linked Learning  teachers. This is a two to three week  professional development where  teachers come together and  perhaps design pathway student  outcomes or, again, tweak their  curriculum. It's also an opportunity for  core teachers, cla teachers,  science teachers to integrate  the academy theme into their  core class.
Then finally there's one more  thing that oakland unified  school district has recently  implemented to increase learning  time, two of our teachers are  looking at an eight period block  schedule. Rather than fitting eight  periods into one school day,  that would be a lot of  transition time. Here you'll see a sample eight  period block schedule. Within this teachers are able to  collaborate twice a week for a  full hour and a half and once a  week for a half hour. Also, students within the eight  period block schedule, they're  able to complete 80 credits  within a school year versus only  60 credits within a school year. This bell schedule, we were able  to do this while still staying  within the confines of  approximately 8:00 to 3:00. These are just some of the  strategies that oakland unified  school district is doing to  extend learning time for our  students as well as our  teachers.
thank you. Thank you, anya. That is great. There's lots to learn from  oakland. So now we'll turn to dr.  Tameka mcglawn whose work have  made her a leading voice in the  Linked Learning community. Dr. Mcglawn, tell us how Linked Learning and pathways are  working with students, parents  and communities to provide them  with what they need to increase  learning time both inside and  outside the learning content.
thank you, dr. Almond. I appreciate the opportunity to  be here with you and tiffany and  anya. Much gratitude for the alliance  for excellent education for  having us here today.  My intent is to offer a bridge  as an anchor to some of the  commentary that tiffany and anya  provided with the notion of  bridging expanded learning time  with Linked Learning and how do we  begin to emphasize through the  length of equity all students  being sufficiently prepared for  college, their careers and life  after high school. That's the trajectory is of  their design. They have officially prepared  them well. The other piece is understanding  the need to build systemic  coherence from a structural lens  when we think about having to  maximize time in, during, after,  out, away from school with the  structural shift that Linked Learning posits as the needed  shift. They can't use the model of 1917  to serve today's progressive  young people, et cetera, to  build their economy. When i think of the overarching  work i think, wow, one band, one  sound. What a way to convince  structurally shifting in some of  the highlights that oakland has  taken on and how to maximize  time as tiffany highlighted when  becoming created by design. Speaking of time and excellence  and equity, how do we serve  other students, other people's  children as regardless of what  we owned. As an educator, teacher,  counselor, principal,  superintendent, board member,  business and industry partner  who's invested in this type of  approach how do you start  thinking of serving other  people's children like you would  your own. In the concept of excellence by  design we think, hey, this  doesn't automatically keep  students at the center. Some do, some intend to and some  have intentions to but how do we  look at effective strategies  like expanded learning time and  Linked Learning to create that  type of alignment and coherence  with educational experiences so  that we see the results in real  time? For those systems that are  actually invested in making true  change in transforming the way  they do business in public  education have clearly defined  student outcomes that are  measurable, they have outcomes  that drive all aspects of the  school program, program of  study, master schedule. Their systems of student support  are integrated and meaningful. Most importantly they are  designed for the student in  line. I want to highlight a recent  study as a reference point on  leveraging time for school  equity. Fantastic report that elevates  relevant indicators around more  and better learning time. It's not just more time added,  it's how are you effectively  utilizing time in a more  efficient way within the  classroom and away from the  classroom. There's learning opportunities  all the time for young people. So in thinking about some of the  common goals specific to the  alignment, college and career  readiness, it's not one or the  other. The intention is the and. When you think of the and by  design, you minimize the  dichotomy in stratifying the  tracking that has historically  plagued some of our educational  systems.
i don't know. How do we think about the and?
youth development skills. Competencies. What do we want students to know  and use?
project based learning was  mentioned earlier and how do we  know? We ask students. Student voice is critical. They will tell you. As you said, students will lead  by their feet whether or not  they're engaged in their  learning and whether or not  they're motivated and excited  about what learning can occur  when the adults that are  providing that quality  instruction, those enrichment  activities, those ways in which  students are leading their own  learning, what a powerful  combination. Another common goal with  expanded learning time and Linked Learning is the work based  learning opportunities, out of  the classroom experiences,  service learning, career  explorations, the college visits  so that you create more  opportunities around what it is  students are excited about  because they've been exposed to  a range of things. Then ultimately, broad  stakeholder and community  engagement. How do we start to think about  the communities that our  students come from as assets and  build on the strengths of those  community members and those  institutions within those  communities and see them as  partners in this work because  they have rich opportunities to  offer the student and the  families and communities which  we're in service to. As we think of Linked Learning, we  think of a systemic approach,  one band and one sound. How we've designed the  structure, what does the quality  of instruction look like? So that students are always at  the center of discussion. Creating systemic structures  from within the classroom. We know you've heard of common  core.
never heard of that.
how is that integrated and  how do we see this? In reframing reform so it's not  the reform of yesteryear. So we have to practice something  different and i'm thinking and  our behaviors and in our  actions. So creating those instructional  shifts that lead to policy  shifts and resource allocations  where we put our money where our  mouth is. If we're invested in young  people, we're willing to do  something different. When we think of the system, we  think of student at the center,  the classroom, the pathway in  the school and then we think of  the district, right? We think of a systemic structure  that says we're invested in our  students so then they become  invested in ourselves. Everything is about creating  trajectory. I want to highlight some of the  features within the assets  grant, okay? And asset is the safety and  enrichment for teens. It's a 21st century community  learning program. I give them great acknowledgment  because what they've done is  aligned some of those resources  where in california the  districts that are highlighted  in the report that is soon to be  released by the alliance and  from the center, there has been  an intentional effort by those  districts within california that  have said, we want to have the  standard learning time in Linked Learning. With our opportunities at  connected to partner with  children and partnerships with  children and youth, we have  worked systemically as a region  using our resources and my  valuable teammate. And jessica gunderson at  department of children and  youth. We have worked to support the  state but the federal level  investments in afterschool  groups and practitioners to say  how do we work with our after  school resources, external  community based resources to  create a coherent educational  experience. In, during, after, out, await  from school.
i highlight some of these  quickly, when we talk about  alignment, it's by design, not  by mistake. How do we start to be specific. They insist upon collaboration  which was mentioned by tiffany  and anya in terms of how do we  design the school day  intentionally. 15 minutes isn't enough to even  bake a full set of cookies. How do you get to collaboration  in a meaningful way which  students are at the summer for  for expectation. If we want to design it, we have  to be able to measure it. Then we have to build in  mechanisms to monitor if we  actually did what we said we'd  do as a result of student  performance and outcomes and  results. Also we want to look at as anya  reported the pathway program of  studies. They had to be intentional about  that master schedule. The master schedule can be an  anchor in decision making by  default if there isn't by design  a willingness to say that  structure is not serving all of  our students well. Are we willing to think about an  eight period day, four by four  block schedule. Are we willing to say to our  after school care providers,  let's have you work with our  core academic teachers to create  a project that weaves throughout  the school day into the after  school time. There has to be some alignment  that we elevate in some of the  consultancy that we look to  secure assets funding.
> then we also talked about  shared professional development? We're asking practitioners to  change their practice. Leaders differently about how  they lead. With this in mind sometime you  have to learn together. That's another aspect. Ultimately tools and resources  to support common work. Resources and tools are always  going to be essential in growing  the work. Even as the adults engage in  this work, we're always  learning. So lastly one of the things i  want to highlight is the program  elements and collaboration and  partnerships. When we think of the alignment,  we think of some of the academic  indicators and we think of some  of those intentional goalposts  for learning, rigorous  goalposts, work-based learning  experiences, integrated  personalized student support. So we want to encourage how do  we start to map your language so  that the thinking, the sale  saying, the doing is in  alignment when you're looking to  secure resources. Lastly, how do we work and  partner together differently? We're asking of something  different, something of a  different nature when we're  saying transfer your practice. Be willing to let go and shift  that paradigm so the emphasis is  on creating more results for  students so that the choice when  they graduate and they go on to  pursue whatever it is that they  desire, they've been able to do  so because they haven't been  limited by being under prepared. At connected ed we see this as  mutually compatible avenues to  reform the way we do business in  public education.
indeed. Here here. Thank you, dr. Mcglawn. You can learn more about connect  ed online. Now that we've learned about the  way that time is used to improve  the learning experience and link  in. I'm hoping that our panel can  help us dig deeper. Anya, specifically for you,  skyline has been kind of the  panicle and has been a leader in  this work for oakland. I know that they've had some  great results. If we can spend some time  talking about — i know oakland  will have 100% of their students  in pathways in oakland. In particular, talk about some  of the results?
absolutely. Of course our findings are  preliminary as this is a newer  initiative, but we see some  very, very exciting and  promising results coming out of  the linked learning initiative  and oakland unified school  district. Last year, 2013, 2014 school  year graduation rates for Linked Learning students was 83% and  that's compared to only 65%  graduation rate for nonpathway  students. That's nearly a 20% increase in  graduation rates for pathway  students. Also looking at the suspension  rate, we've noticed that the  suspension rate for linked  learning pathway students is  already 17% lower than  nonpathway students. As tiffany mentioned, students  having the ability to be in  classrooms or school days make a  significant difference. And i think, you know, the — i  would say the final exciting  results to me is looking at  students who are able to fulfill  their university of california  and california state university  requirements. We call those the a through g  requirements in california. Again, in 2013 and 2014, 57% of  our Linked Learning pathway  students fulfilled their course  requirements to attend a uc or  csu. That's compared to only 36%  statewide. So we do see some very exciting  and promising results. I think that as we move forward  to full implementation and have  100% of students in Linked Learning pathway classrooms,  we'll get more information on  it.
promising and exciting  initial results. Dr. Mcglawn, as policy makers  and researchers, we talk about  teaching practice, systems,  structures, what we'll do to  reform education. We rarely get to the student  level and talk about what  students want and what excites  them. Share with us some ways that the  Linked Learning approach is being  inclusive through increased  learning time, inside, outside,  away from, i forget how you  categorize it.
absolutely, dr. Almond. One of the things that i find  fascinating and impressive  around the pathways that are  employing this alignment with  expanded learning time and Linked Learning is the presence of  student voice. So i'll give a few examples of  what we know has been  effectively demonstrated in  practice in the places where  we've seen results like in  oakland. So the role of students is  elevated. Again, by design it's  purposeful. So, for example, there's student  leadership that's part of the  advisory board within the school  context. Students are incorporated and  involved in industry leadership  associations. You might have the engineering  professionals of california,  they have representative  students from these particular  pathways as part of student  voice within the leadership  decision making. They're very active. Whether it's a council  representative or a school based  employee. They're intentional in creating  a partnership and making sure a  student voice is present. We've seen several districts  including sacramento,  porterville, oakland has been  featured here very well by anya  and then la usc, they've been  very purposeful about creating  community based action research  projects. It's not just project based  learning for the sake of project  based learning, it's created to  create social justice, research  base activities that are  specific to a project. There's a thesis that has to be  written within the project so  students are engaged in not only  learning but also translating  what they learned to have an  impact on their communities. Another highlight that i think  is quite positive is watching  these schools promote  establishments in operations  within the school context. You might have, say, for  example, at kearney high school  a student ran enterprise. They take care of all of the  athletic activities and/or they  run a student store so they're  engaged in the business and  engagement around those  different types of  establishments specific to  school-run activities that are  based in business and finance  and engaging students in real  meaningful ways where they get  to make decisions about money. I have yet to meet a student who  doesn't enjoy understanding how  to actually utilize money from a  business standpoint. Another activity that most  students that i've observed  engaged in the Linked Learning and  expanded learning time alignment  is this notion of a willingness  to conduct research using  student voice. So, for example, coordinating  focus groups with students who  have been disenfranchised or who  have dropped out of school to  collect data when a school or  program is thinking about  designing a youth development  program. What are the things that are  going to be intriguing to  students? Listening to those who haven't  participated or who chose to  disengage or who for whatever  reason wasn't participating in a  consistent way. How do you define activities to  engage students who may have  been in all the ap courses, have  been able to access the  information from the system. I think having pathways and  programs that are willing to  engage students' voice, those  are the places where i believe  policy makers, educators, and  other leaders in business and  industry partners can strengthen  where the student role is. They are empowering students.
kind of on that note talking  about policy and policy plays  such an important role in how  this is funded and how it's  implemented and the  accountability piece. Tiffany, many of the decisions  around increased learning time  are made at the local level. Decisions around lengthening the  school day, local ops schedule. Before and after enrichment. In some cases they are supported  but most often it is a local  decision. What are the implications for  state and federal policy to  ensure that the necessary policy  is in place to provide for more  opportunities?
that's a great question. I absolutely love to hear about  all of the coordination of  funding and resources that you  all are doing out there in  california. That's incredibly important. California has a very long  history of community based  organizations and after school  programs and sort of partnering  together which is incredibly  important and at the federal  level 21st century community  learning center grant funds are  crucial, crucial in in order to  make this happen. I know that that's something  that you all probably rely a lot  on to make it happen. To be perfectly honest, we're in  a tight budget time. For things that are going well,  when it's something this  important, the investment needs  to be there. I would suggest that, you know,  there is a substantial increase  in funding for a 21% funding  grant funds to support these and  for a while flexibility at the  local level. To include expanded learning  time or for schools that might  want to use it for after school  programs or before school  programs. You know, you need to have that  flexibility. You need a substantial increase  in funding as well. At the local — rather, at the  states level, there's actually  some interesting movement in  this field. Two states come into mind in  particular, massachusetts has an  extended learning time grand  program and we're just the  leader in the field of doing  that. New york just recently announced   grantees for their own version  of extended learning time for  grants.
that's terrific.
if i can add california to  your list of growing states,  tiffany. One of the things that i think  has been beautiful with the  stars aligning in california is  the local control funding  formula.
yes.
i'm sure you're familiar with  that. And the opportunities for the  local level and local control.
right. The accountability plans people  have allotted specific to  targeted student needs. There is an intentionality that  is playing its way out not only  with flexible spijing but also  this notion of rethinking our  accountability structure,  creating more opportunities for  resources with the california  careers pathway trust funding  followed by the '90s. These legislative changes taking  place in california absolutely  under girds the points you were  making about massachusetts and  new york.
great. Great. Great.
i would love to see it grow.
indeed, right.
awesome. Now some of the questions that  we received from our audience. If you would like to ask a  question, use the form at the  bottom of this page. Would he have a question for  anya from bob in georgia. He asked about how do parents  respond. How do parents respond when a  change is made at skyline? Is it more hectic for parents? How do you make the transition  and get parents to think this is  something that we want?
i really appreciate georgia's  question because throughout the  process we have valued parental  input as dr. Mcglawn pointed  out. Because we were able to adjust  the bell schedules without  altering the instructional  minutes during the day, we kept  the bell schedule between 8:05  a.m. and 3:05 p.m. parents were actually very  excited about the change for the  reason that students were able  to take additional elective  courses. For the top scholars, they can  take an environmental science  class. Students who are behind on their  credits and maybe at risk of not  graduating, it gives them the  freedom to take an extra course  within the school day, in class  course to remediate failed  courses. Parents were very supportive of  the change. Stores it being hectic, what we  have found is it is a little bit  challenging moving from the  six-minute passing to the  five-minute passing period. The first period day to the  second period day we did notice  the first semester tardies  increased. As far as the adjustment to the  eight period day, we've just  started that at two high schools  this year. We don't have a lot of  indicators about whether or not  students and parents are feeling  it's effective but so far we see  some pretty exciting and  promising results in that  teachers do have that additional  time to plan more rigorous,  meaningful less than and  students have two more periods  during the day. So far the results have been  quite positive. I think that's the result of  doing it within 8:00 to 3:00. As tiffany pointed out, a lot of  our students are working and  taking care of their siblings  after school. Have we tried to, for example,  make the school day start at  4:00 a.m. and it end at 67:30  p.m.
next month. That's a question also about  funding. You did not offer the  instructional minimums for  teachers. Was there any additional funding  to do this? The funding in place, was that  sufficient?
yes, it did not require us to  pay teachers any additional  salaries, however, for the leave  teachers in Linked Learning  pathways, they do need an  additional third period off  within the school day to  coordinate the pathway  logistics. That's where a little additional  funding was used. Our powerful pathway grand.
preparation three for the  teachers. Fairly minimal. We only have one or two  teachers.
great. Great. That was scott in arizona who  asked the question. Thanks for that question, scott.
dr. Mcglawn, jordan from  portland wants to know has a  Linked Learning been successful in  a large, comprehensive high  school?
absolutely. Great question from jordan. One that commonly comes up is  what can't be doing in urban  settings. We've found this to be an urban  school district. Same with sacramento and la usd. Well known for being an urban  school district. We've seen promising results in  high schools where they've  elevated the play and been  intentional with the context of  serving students. All four of them implemented the  fidelity, high quality group. I think the other thing with  jordan's question is the notion  of a traditional high school. What Linked Learning posits is  it's not going to function like  a traditional comprehensive high  school. There have been ways to  incorporate and integrate  pathways that are specific to  industry sectors in california  that are aligned to the four  components of Linked Learning.
that's terrific. Thank you. Thank you for elaborating on  that point.
i will add long beach also. Long beach has been very  intentional about ensuring that  the transformation includes  their high school. I have to acknowledge long beach  for this, they only have one  classical high school left. The rest of their high schools  have been, you know,  thoughtfully and intentionally  transforming utilizing the Linked Learning approach.
great. Can't forget about long beach. I have another question for you,  anya. Teres from berkeley asks, what  expanded learning time programs  do to better align their  programs with the regular school  day? Work that they're already doing,  they have programs already in  place. They're thinking of  transitioning to add additional  learning time. What are some steps that  facilitators can take to be  intentional? I know we've spent a good deal  of time talking about that  today. For example, what is the first  step that they should take? Anyone feel free to respond. I was thinking, what can we do  for students to learn more,  engage more and be purposeful. What are the first steps they  need to kick that off?
such an excellent question. I think one of the very first  steps, particularly in the Linked Learning model and expanded  learning time, if we want to  integrate work-based learning is  to look at the occupational  outlook for that particular  industry sector. In oakland there will be a great  need for health care and public  service. As schools begin to roll out  this work they want to make sure  the offerings are aligned with  future careers, future job  openings and occupational  outlooks. That will certainly be one of  the steps that i would do in  order to make this not only a  meaningful educational  experience for students but for  it to legitimately have  potential future career for  students as well.
i was going to say, i think  it's important you talked about  getting a new voice involved in  that as well. You want to get — introduce  them to things that they might  not have otherwise been exposed  to or knew they had an interest  in. You want to get some of their  input in some of the things that  they're interested in doing as  well.
and to quickly add to anya  and tiffany, thank you. That was one part of what i was  going to share. The other part is this notion of  preparing young people for  careers so that they see  themselves not just as someone  who will be employed but someone  who can also be the employer and  how do we create opportunities  that have evolved because they  have that exposure and they  recognize that their career  trajectory is based upon having  some kind of post secondary  educational experiences that  lend themselves to being lead  ers in learners.
another question from janice  in arizona. Her question is how does this  approach to learning time  support students who are  learning english or who have  special needs? This is probably for anya. How does Linked Learning help  them?
well, as i mentioned earlier,  within the structure of a  six-period day, that only allows  six hours or six hours or six  courses. If we transition to a seven  period day or eight period block  schedule that opens up time to  take an eld class. They're still able to fulfill  their core classes, academy  classes and then they can take  eld i, eld ii, intensive study  services if they're available on  a particular campus.
if i can add to anya's point,  with the shifting of the  structure, that gives english  language learners to create more  opportunities to engage in  pathways. It becomes a matter of access. If you create more time based on  the way oakland has structured  the school day, they get the  proficiency needed and they can  strengthen other skill sets as  well. It is the same for special  education students also. I also like to add to janet's  question this notion of how do  we serve special education  students as well within the  context of their specific needs.
great. Fantastic. Unfortunately, i think we've run  out of time. This has been a very productive  hour. I'm so grateful that our  panelists are here today,  tiffany, anya, dr. Mcglawn. It's been a pleasure to have you  here today as we continue to  discuss central issues central  to preparing students to  graduate from high school. I want to thank our audience for  joining us and for participating  and asking terrific questions. For more information on how Linked Learning is using time  efficiently and effectively, be  on the lookout for the paper  that the alliance will be  releasing next week, a week from  today, titled Linked Learning. Using learning time creatively  to prepare students for college  and a career. If you missed any of today's  webinar or want to share it with  your colleagues, archive video  will be available tomorrow at  all 4 ed. If you're an action academy  member, the code word for  today's webinar is orange. If you are not a member, please  visit all 4 ed.org and click on  take action. We hope you'll become a member  of our academy. We hope you'll join us for  future webinars on these  important topics. Thank you for joining us and  have a terrific day.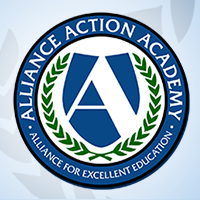 Welcome to the Alliance for Excellent Education's Action Academy, an online learning community of education advocates. We invite you to create an account, expand your knowledge on the most pressing issues in education, and communicate with others who share your interests in education reform.
Register Now
or register for Action Academy below: