PISA: What It Measures, Why It Matters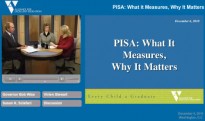 December 6, 2010
3:00 pm – 4:00 pm EDT
Washington, DC
Participants
Susan K. Sclafani, Director, State Services, National Center on Education and the Economy
Vivien Stewart, Senior Advisor for Education, Asia Society
Bob Wise, President, Alliance for Excellent Education
The Programme for International Student Assessment (PISA) is one of the few mechanisms for regularly and directly comparing the quality of educational outcomes in the countries that make up almost 90 percent of the world's economy. The 2009 PISA results, which show the performance of fifteen-year-olds in reading, mathematics, and science, was released on December 7, 2010. These results show how well U.S. students can apply their knowledge to solve problems, and how their performance compares with that of their peers in seventy countries.
On December 6, the Alliance for Excellent Education held a webinar to provide background on PISA to prepare educators and policymakers for the results. The webinar described what PISA measures, how the United States has performed on past examinations, and why the results matter for the nation's future. The discussion was followed by an interactive conversation with experts using questions submitted by participants from around the country.
EVENT-DAY MATERIALS
PISA: What It Measures, Why It Matters, a PowerPoint presentation by Bob Wise, Alliance for Excellent Education (PDF)
U.S. Response to PISA, a PowerPoint presentation by Susan Sclafani, National Center on Education and the Economy (PDF)
SUPPLEMENTAL MATERIALS
Categories:
Uncategorized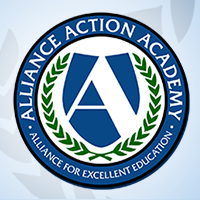 Welcome to the Alliance for Excellent Education's Action Academy, an online learning community of education advocates. We invite you to create an account, expand your knowledge on the most pressing issues in education, and communicate with others who share your interests in education reform.
Register Now
or register for Action Academy below: