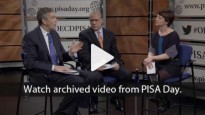 December 3, 2013
3:00 pm – 8:00 pm EDT
The Newseum-Washington, DC
On December 3, 2013, the Alliance for Excellent Education and its partners hosted PISA Day to explore the latest results from the 2012 Programme for International Student Assessment (PISA). The event included:
the official announcement by U.S. Department of Education Secretary Arne Duncan and OECD Secretary-General Angel Gurria of the international results of the PISA with discussions of implications for U.S. education policy;
a presentation by Andreas Schleicher, Deputy Director for Education and Skills, and Special Advisor on Education Policy to the Secretary-General of the OECD, containing in-depth findings from the report;
a student panel discussion moderated by Amanda Ripley, author of the bestselling The Smartest Kids in the World And How They Got That Way; and
discussions with other leaders on implications of the results for policy, teaching, and economic growth.
The Alliance also released a new report, The Deepest Learners: What PISA Can Reveal About Learning That Matters. Based on the new PISA data, the report reveals that the United States struggles to produce top performers in reading, math, and science at the rates of its international peers. These students, who the report calls the "deepest learners," demonstrate the deep understanding of content and the ability to apply knowledge to solve problems, think critically, and communicate effectively.
A complete archive of video from PISADay is available at http://www.pisaday.org/.
Categories:
Uncategorized