Perspectives on the Future of Teacher Preparation in the Digital Age
December 11, 2012
3:00 pm – 4:00 pm EDT
Washington, DC
Panelists
Barnett Berry, PhD, President and Chief Executive Officer, Center for Teaching Quality
Lynne Schrum, PhD, Dean, College of Human Resources and Education, West Virginia University
Ronald Thorpe, EdD, President and Chief Executive Officer, National Board for Professional Teaching Standards
Mary Ann Wolf, PhD, Consultant, Alliance for Excellent Education
The Alliance for Excellent Education (the Alliance) held a webinar on the future of teacher preparation in the digital age. The webinar highlighted promising developments and explored the challenges of remodeling teacher preparation programs.
Due to an increasingly global economy and complex world, the skills and knowledge that today's students need to succeed have changed. In its recently released paper, Culture Shift, the Alliance states that it is imperative to continue shifting the culture of teaching to ensure that all students graduate from high school ready for college and a career. Meeting these twenty-first-century learning demands requires moving the education system to a learner-centered instructional model driven by high-quality digital learning and the effective use of technology that provides a more personalized, rigorous, and collaborative learning environment for each student.
Successfully transitioning to this type of education system requires a culture shift in the way high-quality instruction is delivered in the nation's schools. Additionally, the teaching profession needs to be elevated and made more specialized through changes in the way the nation's teachers are prepared.
During the webinar, Mary Ann Wolf, who supports much of the Alliance's work in digital learning, moderated a discussion with leaders representing a wide range of perspectives on teacher preparation. Barnett Berry, president of the Center for Teaching Quality, provided a glimpse of what teacher preparation might look like in the future, whileLynne Schrum shared on-the-ground experience of her efforts at West Virginia University. Ronald Thorpediscussed what the National Board for Professional Teaching Standards is doing to take teacher preparation into the digital age. Panelists also answered questions submitted by viewers from across the county.
Supplemental Material:
The Alliance for Excellent Education is a Washington, DC-based national policy and advocacy organization that works to improve national and federal policy so that all students can achieve at high academic levels and graduate from high school ready for success in college, work, and citizenship in the twenty-first century. For more information about the Alliance, visit https://all4ed.org.
Categories:
Uncategorized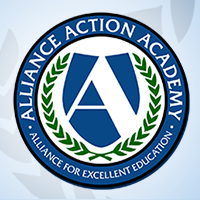 Welcome to the Alliance for Excellent Education's Action Academy, an online learning community of education advocates. We invite you to create an account, expand your knowledge on the most pressing issues in education, and communicate with others who share your interests in education reform.
Register Now
or register for Action Academy below: