Perspectives on the Future of Teacher Preparation in the Digital Age, Part II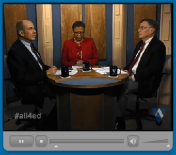 March 20, 2013
3:30 pm – 4:30 pm EDT
Washington, DC
Panelists
Tom Carroll, President, National Commission on Teaching and America's Future (NCTAF)
Charles Coble, Cofounder and Partner, Teacher Preparation Analytics
Sharon Robinson, President and Chief Executive Officer,
American Association of Colleges for Teacher Education (AACTE)
Bob Wise, President, Alliance for Excellent Education
The Alliance for Excellent Education held a follow-up webinar on the examination of the future of teacher preparation that was initiated in December 2012. The first webinar in this series featured Ron Thorpe of the National Board for Professional Teaching Standards; Barnett Berry of the Center for Teaching Quality; and Lynne Schrum, dean of the College of Human Resources and Education at West Virginia University, who discussed the implications of an increasingly global economy and complex world for training teachers.
In its recently released paper, Culture Shift, the Alliance states that it is imperative to continue shifting the culture of teaching to ensure that all students graduate from high school ready for college and a career. Meeting these twenty-first-century learning demands requires moving the education system to a learner-centered instructional model driven by high-quality digital learning and the effective use of technology that provides a more personalized, rigorous, and collaborative learning environment for each student.
Alliance President Bob Wise moderated the webinar with special guest Tom Carroll, president of NCTAF. Also joining the panel were Charlie Coble, cofounder and partner of Teacher Preparation Analytics, and Sharon Robinson, president of AACTE. Panelists highlighted promising developments in remodeling teacher education and explored the challenges in making lasting, systemic change.
Supplemental Material:
Please direct questions concerning the webinar to alliance@all4ed.org.
NOTE: If you are unable to watch the webinar live, an archived version will be available
at https://all4ed.org/webinars approximately one or two days after the event airs.
The Alliance for Excellent Education is a Washington, DC-based national policy and advocacy organization that works to improve national and federal policy so that all students can achieve at high academic levels and graduate from high school ready for success in college, work, and citizenship in the twenty-first century. For more information about the Alliance, visit https://all4ed.org.
TEST TEST TEST TEST TEST TEST TEST TEST
>>> HELLO, I'M BOB WISE, PRESIDENT OF THE ALLIANCE FOR EXCELLENT EDUCATION. WELCOME AND THANK YOU FOR JOINING US TODAY. I AM VERY EXCITED TO MODERATE THIS SECOND IN A SERIES OF WEBINARS ABOUT THE FUTURE OF TEACHER PREPARATION IN THE DIGITAL AGE. FIRST, LET ME INTRODUCE THE PANELISTS WHO WILL BE ADDRESSING THIS TOPIC TODAY. HERE IN THE STUDIO, I'D LIKE TO WELCOME TOM CARROLL, PRESIDENT OF THE NATIONAL COMMISSION ON TEACHING AND AMERICA'S FUTURE, OR NCTAF. TOM HAS BEEN PRESIDENT OF THE NATIONAL COMMISSION ON TEACHING AND AMERICA'S FUTURE FOR OVER A DECADE NOW. HE HAS LONG BEEN A LEADER IN THE EDUCATIONAL TECHNOLOGY FIELD, HAVING FOUNDED THE PREPARING TEACHERS TO USE TECHNOLOGY PROGRAM AND THE TECHNOLOGY INNOVATION GRANTS PROGRAM AT THE U.S. DEPARTMENT OF EDUCATION. HE IS ALSO THE FIRST DIRECTOR OF TECHNOLOGY PLANNING AND EVALUATION FOR THE E-RATE PROGRAM. I'D ALSO LIKE TO WELCOME SHARON ROBINSON. SHARON HAS SERVED AS AACTE'S PRESIDENT AND CEO SINCE 2005. I'M GRATEFUL TO DR. ROBINSON FOR THE WORK SHE HAS DONE TO FIGHT FOR THE NATION'S MORAL AND PROFESSIONAL RESPONSIBILITY TO EDUCATE AND MAXIMIZE THE POTENTIAL OF MINORITY AND DISABLED STUDENTS. SHARON WAS FORMERLY PRESIDENT OF THE EDUCATIONAL TESTING SERVICES, OR ETS, EDUCATIONAL POLICY LEADERSHIP INSTITUTE AND ASSISTANT SECRETARY OF EDUCATION WITH THE U.S. DEPARTMENT OF EDUCATION'S OFFICE OF EDUCATION RESEARCH AND IMPROVEMENT, NOW SHORTENED TO INSTITUTE OF EDUCATION SCIENCES. SHE ALSO JUST WRAPPED UP, I MIGHT ADD, A VERY SUCCESSFUL CONFERENCE OF THE AMERICAN ASSOCIATION FOR COLLEGES AND TEACHER EDUCATION IN ORLANDO THAT I WAS HAPPY TO BE ABLE TO ATTEND THIS YEAR, AND I KNOW THAT SHE'S VERY HAPPY ABOUT HOW WELL IT WAS CONDUCTED. FINALLY, ON THE TELEPHONE WITH US TODAY WE HAVE CHARLES COBLE. DR. COBLE IS CO-FOUNDER AND PARTNER AND TEACHER OF PREPARATION ANALYTICS. HE BEGAN AS A HIGH SCHOOL SCIENCE TEACHER AND SERVED AS DEAN OF EDUCATION AT EAST CAROLINA UNIVERSITY AND AS VICE PRESIDENT FOR UNIVERSITY SCHOOL PROGRAMS FOR THE UNIVERSITY OF NORTH CAROLINA SYSTEM. WHERE HE LED THE DEVELOPMENT OF THE UNIVERSITY SCHOOL'S TEACHER EDUCATION PARTNERSHIP IN ALL UNC SYSTEMS TEACHER PREPARATION. HE'S ALSO ORGANIZED THE UNC CENTER FOR SCHOOL LEADERSHIP DEVELOPMENT. THANK YOU ALL SO MUCH FOR JOINING US TODAY. IN THE PREVIOUS WEBINAR BACK IN DECEMBER, REMEMBER ALL OF THE WEBINARS ARE ARCHIVED SO YOU CAN GO BACK AND LOOK AT IT. WE LOOKED AT A WIDE RANGE OF ISSUES RELATED TO THE POLICIES AND PRACTICES THAT ARE NEEDED TO ENSURE THAT ALL STUDENTS HAVE ACCESS TO AN EXCELLENT TEACHER. IF YOU MISSED THAT WEBINAR, YOU'LL FIND MORE INFORMATION BELOW IN THE SUPPLEMENTAL MATERIALS SECTION. WE STARTED BY LOOKING AT THE ALLIANCE'S RECENT REPORT, CULTURE SHIFT, TEACHING IN A LEARNER-CENTERED ENVIRONMENT POWERED BY TECHNOLOGY, AND HOW IT OUTLINES THE ROLE OF THE TEACHER IN THIS LEARNING-CENTERED ENVIRONMENT. I OFTEN DESCRIBE THIS ROLE AS A MERGING ROLE AS THAT OF AN EDUCATION DESIGNER WHICH INCLUDES THE TEACHER AS A FACILITATOR OF LEARNING AS WELL AS A USER OF DATA AND ASSESSMENTS, A COLLABORATOR, A CONTRIBUTOR, AND A COACH WITH PEERS AND A CURRICULUM ADAPTER AND DESIGNER. HOWEVER, THESE NEW ROLES REQUIRE RELEVANT AND ONGOING SUPPORT AND PROFESSIONAL LEARNING OPPORTUNITIES THAT ARE JOB EMBEDDED. WHICH ARE CONSISTENT ALSO WITH TEACHER PREPARATION OVERALL. IN PARTICULAR, NEW TEACHERS FACE CHALLENGES AS NEW COLLEGE AND CAREER READY OR COMMON CORE STATE STANDARDS. ONLINE ASSESSMENTS AND DEMANDS TO PERSONALIZE LEARNING FOR INCREASINGLY DIVERSE STUDENTS. TODAY WE'LL TALK MORE ABOUT WHAT IT WILL TAKE TO PREPARE THESE NEW TEACHERS TO BE SUCCESSFUL WITH ALL STUDENTS IN THIS DIGITAL AGE. BELOW THIS VIDEO WINDOW IS A CHAT BOX WHERE YOU CAN SUBMIT QUESTIONS FOR OUR PANELISTS. WE'VE ALREADY GOTTEN A NUMBER IN. WE WILL TURN TO THESE QUESTIONS FROM TIME TO TIME DURING THE NEXT HOUR. YOU CAN ALSO FOLLOW US ON TWITTER AT @ALLFORED. TOM, IF WE COULD, LET'S START WITH YOU. TELL US ABOUT WHAT NCTAF IS DOING TO MOVE TEACHER EDUCATION FORWARD. I KNOW HOW BUSY YOU HAVE BEEN.
>> THANK YOU, BOB, AND THANK YOU FOR THIS OPPORTUNITY. WE APPRECIATE THE LEADERSHIP THAT THE ALLIANCE IS SHOWING BY HOSTING THIS SERIES OF WEBINARS. I THINK THE WEBINARS INCLUDING THIS ONE TODAY ENACT WHAT WE'RE SPEAKING ABOUT HERE. SO IF WE LOOK AT THE THEME OF THIS SESSION, TEACHER PREPARATION IN THE DIGITAL AGE, WE ASK OURSELVES WHAT DOES THAT REALLY MEAN? WHAT IT MEANS TO BE IN THE DIGITAL AGE IS THAT WE ARE NOW IN AN OPEN LEARNING ECOSYSTEM. WE ALL WENT TO SCHOOL AS A LEARNING PLACE. NOW SCHOOL IS NO LONGER THE LEARNING PLACE. THE OPEN LEARNING ECOSYSTEM IS A LEARN SAYS PLACEING PLACE IN A NETWORK OF LEARNING EXPERIENCES. SO WHEN IT COMES TO THE ROLE OF THE TEACHER, THE IDEA OF A TEACHER, HIGHLY QUALIFIED TEACHER IN EVERY CLASSROOM IS AN IDEA WHOSE TIME HAS PASSED. WHAT WE'RE TALKING ABOUT IS TEACHERS WHO BECOME NOT JUST LEARNING FACILITATORS BUT LEARNING NAVIGATORS WHO CAN WORK WITH THEIR STUDENTS AND NAVIGATE THEIR EXPLORATION AND THEIR WORK AND THEIR COLLABORATION IN THIS OPEN LEARNING ECOSYSTEM. WHAT DOES THAT MEAN FOR TEACHER PREPARATION AND NCTAF'S WORK? FIRST IT MEANS THAT A LONGSTANDING PROBLEM THAT WE'VE HAD FOR BEGINNING TEACHERS, WHICH IS THAT THEY TELL US THAT THEY FEEL LIKE THEY HAVE BEEN THROWN SINK OR SWIM INTO REALLY CHALLENGING SETTINGS, THEY'RE ALONE AND STRUGGLING, THAT TIME CAN BE OVER BECAUSE THOSE TEACHERS IN THE 21st CENTURY CAN BE CONNECTED REALTIME ALL THE TIME TO ALL THE TOOLS AND SUPPORT THEY NEED. IT ALSO MEANS THAT THE LONGSTANDING DISCONNECT BETWEEN PRESERVICE PREPARATION AND IN-SERVICE TEACHING CAN ALSO BE ERASED. WE CAN CREATE WITH THIS ECOSYSTEM A SEAMLESS PROFESSIONAL NETWORK. IF WE, IN THE PREPARATION PHASE OF A TEACHER'S DEVELOPMENT, INTEGRATE THEM INTO THIS COMMUNITY, INCORPORATE THEM INTO THE PROFESSIONAL NETWORK AND GIVE THEM THE TOOLS, AS LEARNING NAVIGATORS, THEY CAN START TO NAVIGATE THEIR OWN SUCCESSFUL ENTRY INTO THE PROFESSION. THEY'RE NO LONGER STANDING ALONE IN A CLASSROOM STRUGGLING WITH AN INSTRUCTIONAL PROBLEM OR A MANAGEMENT PROBLEM THAT THEY CAN'T HANDLE ON THEIR OWN. THEY CAN REACH OUT IN REALTIME TO ACCOMPLISHED PROFESSIONALS IN THEIR DISTRICT OR BACK ON THEIR CAMPUS SO THEY HAVE ALL THE SUPPORT THAT THEY NEED. SO FOR NCTAF, WE'VE TRANSLATED THAT INTO WHAT WE'RE SHOWING ON OUR SLIDE HERE ON TEACHERS LEARNING AND NETWORK COMMUNITIES. WE HAVE CREATED A PARTNERSHIP OF UNIVERSITY SCHOOL OF EDUCATION PROGRAMS THAT ARE LINKED TO THE SCHOOLS WHERE THEIR STUDENTS ARE GOING TO SERVE IN AN ONLINE AND FACE-TO-FACE BLENDED COMMUNITY. WE CALL IT TEACHERS LEARNING AND NETWORK COMMUNITIES. IT MEANS THAT TEACHERS ARE LEARNING BEFORE THEY ENTER THE CLASSROOM TO USE A SET OF TOOLS AND USE A SET OF PROFESSIONAL NETWORKS THAT THEY CAN DRAW ON FOR THE FUTURE. IT ALSO MEANS THAT THE FACULTY AT THOSE UNIVERSITIES ARE LEARNING TO DO THE SAME THING. FACULTY NEED TO STEP OUT OF THEIR CLASSROOMS AS WELL. SOME OF OUR LESSONS ARE THAT THE FACULTY NEED TO MODEL THIS NOT JUST FOR THEIR STUDENTS BUT WITH THEIR STUDENTS. THEY NEED TO BECOME CO-CREATORS OF THIS LEARNING ENVIRONMENT WITH FUTURE TEACHER CANDIDATES THAT THEY WILL ACTIVELY PARTICIPATE IN THOSE NETWORKS WITH THOSE STUDENTS AFTER THEY GRADUATE AND LEAVE AND GO INTO TEACHING. SOME OF OUR SITES — AND I'LL SHOW YOU ABOUT PROMISING PRACTICES HERE — UNIVERSITY OF COLORADO AT DENVER HAS A WIDE ARRAY OF NETWORK COMMUNITIES TO SUPPORT ITS TEACHING RESIDENCY. ONE OF THEM IS A MONTHLY WEBINAR. SO WE ARE IN A WEBINAR. IF YOU ALL OUT THERE WHO ARE PARTICIPATING IN THIS WEBINAR ARE IN A SCHOOL OF EDUCATION, ASK YOURSELF, WHY AREN'T YOUR STUDENTS IN REGULAR WEBINARS WITH THEIR PREPARATION COHORTS WORKING ON ISSUES IN COMMON? THEY RUN WEBINARS AT UC-DENVER ON A REGULAR BASIS WITH THEIR STUDENTS. GEORGIA STATE IN ATLANTA DOES SOMETHING SIMILAR IN WHICH THEY'RE ABLE TO PROVIDE REALTIME FEEDBACK TO THEIR STUDENTS WHO MEET CHALLENGES. UNIVERSITY OF NORTH CAROLINA-GREENSBORO, REALTIME COACHING AND VIRTUAL COACHING FOR TEACHER CANDIDATES IN THEIR CLINICAL PRACTICE. SO TO COME BACK TO THE ORIGIN OF THIS WEBINAR BUT ALSO WHERE WE ARE TODAY, WE'RE IN AN OPEN LEARNING ENVIRONMENT. WE'RE ALL CONSTANTLY CONNECTED TO LEARNING RESOURCES WE NEED. THE FUTURE OF A TEACHER IS TO BE A LEARNING FACILITATOR, A LEARNING NAVIGATOR. WE NEED TO PREPARE THEM TO DO THAT FROM THE FIRST DAY THEY ENTER THEIR PREPARATION PHASE OF THEIR CAREER.
>> SHARON, LET ME TURN TO YOU BECAUSE YOU OBVIOUSLY, AS HEAD OF A MAJOR ASSOCIATION, AMERICAN ASSOCIATION OF COLLEGES FOR TEACHER EDUCATION, YOU'RE DIRECTLY RESPONSIBLE, YOUR ORGANIZATION, FOR MOVING US FORWARD IN THESE DIRECTIONS AND HOW MANY HUNDREDS OF MEMBERS DO YOU HAVE?
>> WE HAVE OVER 800.
>> THAT'S WHAT I THOUGHT. I'D LOVE YOUR PERSPECTIVE ON WHERE TEACHER PREPARATION IS MOVING, PARTICULARLY IN TERMS OF WHAT TOM HAS JUST PUT FORWARD.
>> WELL, THE VISION THAT TOM HAS ARTICULATED IS ONE THAT THE MEMBERSHIP OF AACTF IS ONE WE WELCOME AND EMBRACE. IN FACT, THE NOTION OF HAVING THE RESPONSIBILITY FOR DEVELOPING EDUCATORS WHO ARE READY FOR THE REALITIES OF PRACTICE ON DAY ONE IS A DIFFERENT KIND OF CHALLENGE FOR US NOW. WE HAVE THIS NOTION OF BEING CLEAR ABOUT WHAT TEACHERS NEED TO KNOW AND BE ABLE TO DO IS DEFINED NOT BY SOME SERIES BUT BY THE REALITIES OF TODAY'S CLASSROOM. AND TYPICALLY, THAT MEANS TEACHERS WILL ENTER AN ENVIRONMENT WHERE THEY WILL BECOME PARTNERS AND PARTIES TO AN EFFORT TO INFLUENCE PRACTICE. SO CANDIDATES MUST COME IN READY TO IMPLEMENT THE CURRICULUM, IF YOU WILL, BUT ALSO BE PARTY TO THE CHANGES NECESSARY TO IMPLEMENT THE COMMON CORE. THE CHANGES NECESSARY TO EXPLOIT THE BENEFITS OF TECHNOLOGY. SO WE'RE FINDING THAT WE'RE HEADING IN THE RIGHT DIRECTION ON SOME THINGS. OUR CANDIDATES ARE GETTING MUCH MORE EXPOSURE TO THE USE OF VARIOUS TECHNOLOGY TOOLS, FOR INSTRUCTION AND FOR THE MANAGEMENT OF DATA. BUT WE'VE GOT MUCH MORE THAT WE WANT TO DO. THE CLINICAL EXPOSURE COMPONENT IS THE REAL — IS A REALLY IMPORTANT DYNAMIC HERE. WHAT TOM IS DESCRIBING IS PARTNERSHIPS BETWEEN SCHOOLS OF EDUCATION AND SCHOOL DISTRICTS TO CREATE AN ENVIRONMENT TO ACCOMPLISH ALL THAT NEEDS TO BE ACCOMPLISHED WHICH NEITHER ENTITY CAN DO ALONE. AND SO THESE PARTNERSHIPS ARE MUCH MORE IN DEPTH AND INTEGRAL THAN SIMPLY THE ASSIGNING OF STUDENT TEACHERS AND A NETWORK OF COOPERATING TEACHERS. IT IS TAKING RESPONSIBILITY FOR STUDENTS' LEARNING AND FOR CANDIDATE DEVELOPMENT IN THESE SITES THAT ARE, WE HOPE, IN THE PROCESS OF GETTING BETTER. SO THE CLINICAL COMPONENT IS NOW A MUCH MORE DYNAMIC COMPONENT THAN WE PERHAPS HAD ENVISIONED. WE'RE LOOKING AT PROGRAMS THAT ARE IMPLEMENTING PERFORMANCE MEASURES AND A RANGE OF ASSESSMENT TOOLS THAT HELP THEM TO EXPERIENCE THOSE TOOLS AS LEARNERS. SO WE'RE ACCEPTING THE USE OF FORMER ASSESSMENTS TO BE MUCH MORE PROMINENT IN THE LEARNING PROCESS WITH THE IMPLEMENTATION OF A COMMON CORE. TEACHERS NEED TO EXPERIENCE ASSESSMENTS AS LEARNERS BECAUSE THEY WILL BE WORKING WITH THEIR TEACHERS WHO KNOW HOW TO USE FORMATIVE ASSESSMENTS. SO WE'RE DRIVING INTO THE EDUCATED PREPARATION PROCESS NEW METHODS OF INSTRUCTION WHICH, AFTER ALL, ARE VERY INFLUENTIAL IN HOW CANDIDATES USE THE ACT OF TEACHING THEMSELVES. IT HAS TO BE MUCH MORE COLLEGIAL AND COLLABORATIVE. AND THE PROCESS OF CONTINUOUS IMPROVEMENT IS A PART OF IT. IT IS NOT SOMETHING THAT YOU LEARN WELL AND IN A FASHION, AND THAT'S GOING TO SERVE YOU FOR VERY LONG BECAUSE IT'S A PROCESS THAT'S GOING TO BE INFLUENCED BY NEW TECHNOLOGY, NEW DEMANDS AND OPPORTUNITIES FOR STUDENTS. AND I HOPE — I HOPE — DETERMINE AMBITIOUS VISION FOR WHERE WE WANT TO GO. WHERE WE HAVE SOME CHALLENGES, I MEAN, ALL OF OUR CHALLENGES ARE TACTICAL. HOW DO WE KEEP OUR CANDIDATES IN TOUCH WITH DATA TO UNDERSTAND THE IMPACT THAT THEY'RE HAVING ON STUDENT LEARNING. HOW DO WE KEEP OUR PROGRAMS IN TOUCH WITH THAT SAME DATA. HOW DO WE DEAL WITH THE FACT THAT SO MUCH EDUCATIVE PREPARATION NOW IS HAPPENING IN INSTITUTIONS THAT HAVE NOT YET BEEN RESPONSIBLE FOR THE IMPACT ON THE LABOR MARKET. WELL, NOW WE NEED MATH, SCIENCE TEACHERS, WE NEED TEACHERS OF MANUFACTURING TEACHERS. WE NEED TEACHERS OF ENGLISH LEARNERS. WE NEED SPECIAL ED TEACHERS. WE NEED TEACHERS IN CERTAIN GEOGRAPHIC SETTINGS. UNIVERSITIES ARE LEARNING HOW TO BECOME A RESPONSIBLE PARTY TO SOLVING THOSE PROBLEMS THAT THEY ARE PERSISTING. AND THE DEMOGRAPHIC CHALLENGE IS ONE THAT I FEEL, YOU KNOW, WE JUST MUST STEP UP AND SOLVE. THE FACT THAT WE ARE NOW DEVELOPING AN EDUCATION WORK FORCE THAT IN NO WAY RESEMBLES THE DEMOGRAPHIC CHARACTERISTICS OF STUDENTS WHO ARE COMING AS LEARNERS IS SOMETHING THAT — IT'S AN EMBARRASSMENT THAT WE SHOULD NO LONGER ENDURE. SO I THINK WE'RE FACING UP TO OUR CHALLENGES. THE NOTION OF TECHNOLOGY, THOUGH, IS REALLY INTERESTING AS I'VE LOOKED INTO THIS. OUR CANDIDATES ARE USING TECHNOLOGY TO SUPPORT THEIR OWN LEARNING. I WATCH WITH ALMOST AMUSEMENT. IT JUST HAPPENS. PEOPLE PULL OUT THE iPAD AND START TAKING PICTURES OF CANDIDATES AND SEND THAT INFORMATION BACK TO A PANEL ON CAMPUS WHO WILL BE DEVELOPING A RESPONSE TO WHAT THEY'RE SEEING IN TERMS OF LESSONS, PERHAPS, AN ACTUAL LESSON, COUNSELING, IN TERMS OF JUST WHATEVER FEEDBACK YOU WANT TO GIVE THE CANDIDATE. WE ARE USING A NATIONWIDE DIGITAL COMMUNITY TO SCORE CANDIDATE PORTFOLIOS AS A CAPSTONE EVENT IN THE PROGRAM. SO USING TECHNOLOGY FROM AVATARS TO iPADS. AND THEY ARE USING IT FOR EVERYTHING FROM INSTRUCTION, ACCESS TO INSTRUGZCTIONAL MATERIAL, ENGAGING WITH PARENTS, ENGAGING WITH THEIR OWN TEACHERS, THE LEARNING COMMUNITY AND ACCESSING DATA ABOUT STUDENT LEARNING. IT WAS FASCINATING FOR ME TO UNDERSTAND THAT PROGRAMS ARE ACTUALLY PUTTING IN PLACE ASSESSMENTS OF CANDIDATES' CAPABILITIES TO USE VARIOUS TECHNOLOGY TOOLS. AS I SAID, THE ISSUE OF DATA AND ACCESSING DATA CONTINUES TO BE A REALLY IMPORTANT NEXUS OF TECHNOLOGY AND INSTRUCTION. CANDIDATES ARE TAUGHT TO KNOW THE IMPACT OF YOUR INSTRUCTION. HOW DO YOU KEEP TRACK OF ALL OF THAT INFORMATION AND MAKE IT REALLY USABLE AND MAKE IT ACCESSIBLE AND USEFUL TO YOU? YOU HAVE TO USE TECHNOLOGY TOOLS. SCHOOL DISTRICTS SEEM TO DO THIS REALLY, REALLY WELL. AS WE AGGREGATE AND GET TO THE STATE-LEVEL DATA COLLECTION, YOU GET MORE — YOU GET FURTHER AND FURTHER AWAY FROM MAKING THE CONNECTIONS BACK TO THE PROGRAM. SO THIS IS A PROBLEM THAT WE'RE GOING TO HAVE TO SOLVE. IN FACT, IT WAS ADVISED THAT PERHAPS WE OUGHT TO START SOLVING IT AT THE LOCAL LEVEL AND LET SOME OF THOSE SOLUTIONS ROLL UP AND INFORM STATE AND FEDERAL POLICY, HOW TO MAKE IT HAPPEN. AND FINALLY, I THINK WE'VE GOT SOME KEY GATEKEEPING FUNCTIONS THAT WE HAVE TO TAKE RESPONSIBILITY FOR. OPERATING WITH A VERY HIGH DEGREE OF INTEGRITY. TOM HAS DESCRIBED A VISION OF PRACTICE. I HAVE DESCRIBED A PROCESS OF LEARNING TO BECOME AN EDUCATOR THAT REQUIRES REAL VIGILANCE AND DEDICATION IN TERMS OF PAY ATTENTION TO IT. HONOR IT. DON'T TRY TO COMPROMISE IT. SO NOT EVERYBODY CAN TEACH JUST BECAUSE THEY WANT TO. I BELIEVE A LARGE NUMBER OF PEOPLE CAN LEARN TO TEACH IF THEY DESIRE TO BE A TEACHER. BUT WE CAN NOW PROVIDE DOCUMENTATION OF COMPETENCY NECESSARY TO DO THIS WORK. AND THIS DOCUMENTATION, WE FEEL, IS A VERY IMPORTANT TOOL TO PUT IN THE HAND OF EVERY PROSPECTIVE TEACHER AND TO PROVIDE EVERY PROGRAM AND EVERY PROSPECTIVE EMPLOYER. SO THE WORK THAT WE'RE DOING TO CREATE IS CERTAINLY ABOUT CREATING A CAPSTONE EVENT THAT REPRESENTS A STANDARD OF COMPETENCE WE STRIVE TO ACCOMPLISH AS AN INDUSTRY. BUT IT ALSO REPRESENTS A COMMITMENT THAT WE WANT TO MAKE TO THE PUBLIC. AND SO WITH THAT SAID, I THINK THAT WE SHOULD BE VERY CLEAR, IF YOU'RE GOING TO BE PART OF A LEARNING COMMUNITY, CREATING A LEARNING ENVIRONMENT FOR OTHERS, YOU MUST BE DEVELOPED IN TERMS OF YOUR SKILL AND OTHER ATTRIBUTES THAT ARE ESSENTIAL TO THAT TASK.
>> THANK YOU. CHARLES, YOU'VE BEEN A DEAN. YOU'RE NOW WORKING WITH COLLEGES OF EDUCATION TO UTILIZE THEIR DATA ON TEACHER PREPARATION PROGRAMS. WHAT ARE YOU LEARNING?
>> WELL, A LOT. LET ME, IF WE COULD PULL UP A SLIDE. I ONLY USED ONE SLIDE, BUT I'LL TALK FROM IT. AND I WANT TO JUST SAY, BEFORE I GET STARTED, I WANT TO APPLAUD THE ALLIANCE FOR A DOCUMENT YOU PRODUCED A LITTLE OVER A YEAR AGO, CULTURE SHIFT, TEACHING IN A LEARNING-CENTERED ENVIRONMENT POWERED BY DIGITAL LEARNING. I THINK MARYANN WOLF DEVELOPED THAT WITH AND FOR YOU. AND I THOUGHT IT WAS A VERY INSTRUCTIVE DOCUMENT AND LAYS OUT THESE COMPONENTS OF DIGITAL LEARNING, PERSONALIZED LEARNING AND OTHER COMPONENTS WHICH I THINK ARE GOOD FOR THOSE OF US IN TEACHER PREPARATION AND WORKING AROUND IT TO SUPPORT IT, TO PAY ATTENTION TO THAT WORK. IT CERTAINLY HELPED ME IN FRAMING SOME COMMENTS AND SOME TOOLS I'VE BEEN DEVELOPING OVER TIME. ONE OF WHICH IS THIS SET OF COOLS AROUND THIS FRAMEWORK YOU SEE ON THE SCREEN RIGHT NOW, TEACHER DEVELOPMENT CONTINUUM. IT'S IN PART, I THINK, VERY MUCH IN TUNE WITH WHAT TOM WAS DESCRIBING EARLY ON. THIS LOOKS MORE LINEAR, BUT I THINK WE'RE REALLY IN AN ECOSYSTEM, AS TOM DESCRIBED, OF TEACHER DEVELOPMENT. I'VE HEARD TOM IN HIS MORE PROVOCATIVE MOOD TALK ABOUT GETTING OUT OF THE TEACHER PREPARATION BUSINESS AND GETTING INTO THE TEACHER DEVELOPMENT BUSINESS. I THINK IN PART THIS IS WHAT THE SLIDE IS TRYING TO CONVEY, THAT TEACHER EDUCATION, WHICH IS A PART OF TEACHER DEVELOPMENT, IS SORT OF IN THE MIDDLE OF THE GAME, IF YOU WILL, THAT TEACHER PREPARATION ACTUALLY GETS UNDER WAY WELL BEFORE PEOPLE ARE FORMALLY ENGAGED IN THE PROGRAM. AND IT IS TRULY NOT OVER ON GRADUATION DAY. TEACHER PREPARATION IS STILL UNDER WAY. AND WHAT I'M LEARNING AND WHAT I'M ADVOCATING FOR ARE FOR SCHOOLS AND COLLEGES, DEPARTMENTS OF EDUCATION TO RECOGNIZE THAT AND TO ACTIVELY SEEK TO BE A PART OF IT. AND I'M GOING TO BLEND IN IN A MINUTE HOW I THINK TECHNOLOGY IS REALLY HOW THAT'S GOING TO HAPPEN. SO IF WE EVEN LOOK AT SOMETHING IN THE SCHEMATA WE HAVE ON SCREEN RIGHT NOW, WHAT I CALL PRE-SERVICE IN THE RECRUITMENT STAGE, THERE ARE A LOT OF PEOPLE OUT THERE WHO START PREPARING THEMSELVES TO BE TEACHERS WELL BEFORE THEY CONCEPTUALIZE FOR THEMSELVES THAT THAT'S WHAT THEY WANT TO DO. THEY ARE WORKING IN CLUBS AND CHURCHES AND COMMUNITY GROUPS AND ALL KINDS OF THINGS, WORKING WITH AND HELPING PEOPLE LEARN. IN SOME CASES THEY'RE VERY PERSISTENT IN DOING THAT. AND IT'S THOSE PEOPLE WE WANT TO TRY TO ATTRACT. I WAS ON THE CAMPUS OF ARIZONA STATE UNIVERSITY RECENTLY WHERE THEY HAVE WHAT THEY CALL THE SANFORD INSPIRE PROGRAM. AND IN THAT PROGRAM THEY HAVE A HIGHLY DEVELOPED RECRUITMENT STRATEGY. IT'S AKIN TO SOME OF THE KIND OF WORK WE SEE IN TEACH FOR AMERICA WHERE THEY GO OUT AND THEY DON'T JUST ACCEPT PEOPLE INTO THEIR TEACHER EDUCATION PROGRAM, WITH HIGH STANDARDS, THEY GO LOOKING FOR THE PEOPLE THEY WANT. AND THEY TRACK THEM AND THEY KEEP WORKING TO MOVE THAT PERSON FORWARD. AND THEY RECOGNIZE SOME THINGS LIKE PARENTS ARE INSTRUMENTAL IN THAT DECISION-MAKING PROCESS. SO THEY HAVE SETS OF TOOLS THEY HAVE DEVELOPED TO REALLY RECRUIT PEOPLE INTO TEACHER PREPARATION. NOW, WHEN WE CROSS OVER THAT THRESHOLD AND WE ACTUALLY HAVE PEOPLE IN PROGRAMS, PERHAPS AS FRESHMEN, PERHAPS AT THE FORMAL ADMISSION PROCESS WHICH IS UPSTREAM IN THEIR JUNIOR YEAR, WE KNOW THAT PROCESS OCCURS. I THINK IT'S IMPORTANT TO RECOGNIZE THAT TEACHER PREPARATION IS AN ALL-CAMPUS RESPONSIBILITY. AND I'M NOT JUST BEING TRITE ABOUT THAT. THERE ARE SOME VERY IMPORTANT ROLES THAT THE ARTS AND SCIENCES FACULTY OBVIOUSLY HAVE IN TEACHER PREPARATION. SO THE WAY THOSE COURSES ARE TAUGHT WITH TECHNOLOGY OR NOT IS SENDING A CLEAR SIGNAL TO THE STUDENTS ABOUT THE WAY THEY WILL LEARN AND THE WAY THEY WILL TEACH. SHARON MENTIONED CLINICAL PRACTICE. WE'RE IN A SEA CHANGE, AND SHE'S HELPED CREATE THAT, OF CLINICAL PRACTICE IN THIS COUNTRY. OUR ACCREDITING BODY IN THIS COUNTRY RECENTLY REORGANIZED ACCREDITING BODY HAS ISSUED A RECENT SET OF STANDARDS WHICH LIFTS CLINICAL PRACTICE — IT'S SORT OF IN A SENSE FLIPS TEACHER PREPARATION. I KNOW THE TERM IS VERY MUCH IN LINE WITH TECHNOLOGY, BUT THIS ALSO FLIPS THE STRATEGY. AND AS SHARON ALLUDED TO, SORT OF THE HIGH WATER MARK OF OUR TEACHER EDUCATION PROGRAM IS REALLY WHAT'S GOING ON IN THE CLASSROOMS IN WHICH WE PLACE OUR TEACHERS FOR CLINICAL INTERNSHIPS. # IF GOOD EFFECTIVE PRACTICE IS OCCURRING THERE, THAT'S WHAT THEY'RE GOING TO SEE, AND THAT'S LARGELY WHAT THEY'RE GOING TO LEARN. AND WE CAN REINFORCE THAT. SO IT'S THE SCHOOLS THAT WE SELECT, HOW THOSE TEACHERS ARE WORKING AND HOW OUR FACULTIES AT THE UNIVERSITIES ARE WORKING WITH THOSE TEACHERS ARE VERY CONSEQUENTIAL. SO THEY MUST DEMONSTRATE THE KIND OF PRACTICES THAT WE WANT TO SEE IN PLACE. THAT'S A HUGE STEP FOR IMPROVING TEACHER PREPARATION IS THE SITE SELECTION AND PREPARATION FOR THE FACULTY IN THOSE SCHOOLS TO WORK WITH FACULTY AT THE UNIVERSITIES TO CO-PREPARE TEACHERS SO THAT WE ARE LOOKING AT TEAMS OF PEOPLE WORKING TOGETHER. THE TEACHER TO BE, THE TEACHER CANDIDATE, THE TEACHERS OF PRACTICE AND THE UNIVERSITY FACULTY, IF YOU WILL, WORKING AS A TEAM. SO GREATLY ENABLING THAT PROCESS ARE THE KIND OF TOOLS AND TECHNOLOGIES THAT WE HAVE TO KEEP EACH OTHER INFORMED, TO POST INFORMATION, TO DO CRITIQUES ONLINE, TO EVEN ANALYZE CLASSROOM LESSONS. FOR EXAMPLE, JUST A COUPLE EXAMPLES ALONG THAT LINE, DAKOTA STATE UNIVERSITY, IT'S AN INTERESTING UNIVERSITY IN THAT THEY HAVE REDESIGNED THEIR PROGRAM IN SUCH A WAY — I'M NOT TALKING JUST ABOUT TEACHER EDUCATION. I'M TALKING ABOUT THE ENTIRE UNIVERSITY. SO THAT THE SUBSET OF THOSE STUDENTS, THE TEACHER EDUCATION MAJORS, LEAVE THERE 100% WITH THE TECHNOLOGY ENDORSEMENT FROM THE STATE OF SOUTH DAKOTA. IT'S FASCINATING TO GO TO THAT CAMPUS AND SEE HOW THEY REALLY WORK LEARNING IN THAT ENVIRONMENT AND WORK A LOT OF THE TOOLS OF TECHNOLOGY WHICH THE TEACHERS ARE GREATLY ADVANCED HAD THEY LEAVE THAT ENVIRONMENT IN BEING ABLE TO IMPLEMENT IN CLASSROOMS. AGAIN, I WANT TO COME BACK TO, SAY, BANK STREET, FOR EXAMPLE. THEY'VE RECOGNIZED SOMETHING THAT IS AHEAD OF THE GAME IN MANY WAYS. BUT ONE OF THEM IS THE FACT THAT WE KNOW NOW IN THIS COUNTRY THAT IN FORMAL EDUCATION WHAT HAPPENS OUTSIDE OF SCHOOL IN MUSEUMS AND PLANETARIUMS AND AQUARIUMS AND ALL KINDS OF PLACES THAT ARE NOT PART OF FORMAL LEARNING IS A SITE FOR SOME OF THE MOST EXTENSIVE LEARNING, ESPECIALLY IN THE SCIENCES AND MATHEMATICS, THAT STUDENTS ACQUIRE. SO THAT BANK STREET IS DEFINING WAYS TO WORK WITH THOSE MUSEUM ENVIRONMENTS TO BRING THAT KNOWLEDGE INTO THEIR TEACHER PREPARATION PROGRAM. AND IT'S NOT JUST LIKE TAKING FIELD TRIPS TO THE ZOO. THEY HAVE VERY SOPHISTICATED LINKS INTO THOSE ENVIRONMENTS SO THAT THE ONLINE DIGITAL LEARNING ENVIRONMENT IS VERY IMPORTANT TO ADVANCE THAT PROGRAM. IF WE MOVE ACROSS THIS CONTINUUM ON THE DAY OF GRADUATION WHEN WE SEND OUR STUDENTS OUT INTO THE WORLD AND IN THE PASS, THE NEXT PERSON THEY GENERALLY HEAR FROM IS THE ALUMNI ASSOCIATION. WHAT WE'RE ASKING FOR AND CALLING FOR IS THAT WE MAINTAIN A CONTINUING RELATIONSHIP WITH OUR TEACHER CANDIDATES, NOW BECOME TEACHERS, AS THEY EXIT THE UNIVERSITY INTO THEIR TEACHING. AS I LOOK AT EXAMPLES OF THAT AROUND THE NATION, UNIVERSITY OF MINNESOTA HAS DEVELOPED A SCIENCE TEACHER INDUCTION NETWORK AS A SUBSET OF THEIR TEACHER INDUCTION NETWORK PROCESS IN WHICH THEY HAVE REFLECTIVE JOURNALS ONLINE, THEY HAVE TOPICAL RESPONSES, STUDENTS CAN SEND IN TOPICS. PROFESSORS ARE FOUND. FACULTIES ARE FOUND AND PUT ONLINE WITH STUDENTS TO TALK ABOUT THOSE TOPICS. THEY HAVE HA THEY CALL VENTURE VEXATIONS, THINGS THAT THEY RUN INTO IN THE CLASSROOM THEY DIDN'T ANTICIPATE. AND THERE ARE PEOPLE, AGAIN, ONLINE BOTH VISUALLY AND NOT TO WORK WITH THEM. AND THEY HAVE PROFESSIONAL DEVELOPMENT PROGRAMS. AND THERE'S AN INTERESTING VIDEO ANNOTATION PROCESS IN WHICH THEY CAN VIEW THEMSELVES, STOP IN REALTIME, MAKE NOTATIONS ABOUT IT AND THEN ASK QUESTIONS OF THEIR LEARNING. IF I GO BACK TO ARIZONA STATE JUST A LITTLE BIT IN THAT REGARD, I SAT THROUGH RECENTLY A FABULOUS AVATAR PROGRAM IN WHICH THE WHOLE EPISODE WAS ABOUT HOW TO BEST MANAGE A SITUATION IN THE CLASSROOM. THAT WAS AKIN TO NEAR VIOLENCE. AND IT WAS A VERY REALISTIC ENACTMENT OF WHAT A TEACHER COULD DO TO DEFUSE THAT SITUATION. THAT IS SIMPLY NOT POSSIBLE TO DO WITHOUT THE EFFECTIVE USES OF GOOD DIGITAL TECHNOLOGY. THEN THE LAST THING — AND I'LL WRAP THIS UP ON THE END OF THIS CONTINUUM, THEY'RE OUT IN THE SCHOOLS NOW. SO WHAT WE'RE SAYING HERE IN TERMS OF PROFESSIONAL DEVELOPMENT, IT MATTERS TO US WHAT TEACHERS ARE DOING OUT THERE AND THE WAY TO IMPROVE TEACHER EDUCATION AT THE UNIVERSITIES AND COLLEGES OR WHEREVER IS TO HELP IMPROVE THE TEACHING OF SUBJECT MATTER CONTENT IN THE REALTIME SETTINGS. NOW, ON THE LOWER PART OF THE DIAGRAM, YOU SEE I HAVE SOMETHING CALLED LEADERSHIP POLICY AND INFRASTRUCTURE. THERE'S THE TECHNOLOGY WE NEED JUST TO TRACK WHAT WE'RE DOING AND TO KEEP UP WITH WHAT WE'RE DOING. AGAIN, SHARON MENTIONED HAVING A CONTINUOUS IMPROVEMENT PERSPECTIVE. IF WE DON'T CONTINUE TO COLLECT THE INFORMATION AND PROVIDE FEEDBACK INTERNALLY TO OURSELVES ACROSS THAT CONTINUUM I JUST DESCRIBED, WE CAN DECLARE OURSELVES GOOD, BUT THE DATA MAY NOT SUPPORT THAT. AND WE ARE RISE TO COLLECT THAT INFORMATION AND TO ACT ON THAT INFORMATION. BUT WE HAVE TO HAVE THE DATA SYSTEMS TO DO THAT. AND SO JUST FOR INTERNAL IMPROVEMENT OF TEACHER EDUCATION ITSELF ACROSS THAT CONTINUUM, MORE SOPHISTICATED DATA SYSTEMS ARE NECESSARY. AND PEOPLE IN MULTIPLE SETTINGS NEED TO MAKE USE OF THAT. SO I'LL JUST STOP THERE AND WE CAN OPEN UP THE CONVERSATION.
>> THANK YOU VERY MUCH, CHARLES. I'M GOING TO ASK EACH OF YOU TO TAKE ONE OF THESE. JANE FROM RIYADH, SAUDI ARABIA, ASKS, WHAT ARE THREE QUICK WINS FOR TEACHER EDUCATION? TOM, I'LL START WITH YOU. WHAT WIN DO YOU SEE AS ACHIEVABLE IN THE NEAR FUTURE?
>> WELL, QUICK AND A WIN, THOSE ARE TWO PARTS OF OUR QUESTION. I WOULD SAY THAT TO PICK UP ON WHAT CHARLES AND SHARON HAVE SAID, THIS NEW LEARNING ENVIRONMENT GIVES SCHOOLS OF EDUCATION AN OPPORTUNITY TO GET OUT OF THE TEACHER PREPARATION BUSINESS AND INTO THE EDUCATOR TALENT DEVELOPMENT BUSINESS. IT'S A MUCH MORE POWERFUL PROFESSIONAL DEVELOPMENT MODE THAN WE'VE HAD IN THE PAST WHICH IS THE FRONT END-LOADED ACKNOWLEDGING SKILLS AND LAUNCH INTO THE PROFESSION. EVERYTHING THAT SHARON DESCRIBED IS REALLY ABOUT CONTINUOUS GROWTH IN THE PROFESSION. SO WE CAN ACTUALLY MOVE PRETTY QUICKLY FROM AN ANTIQUATED JOB PREPARATION MODEL TO A 21st CENTURY TALENT DEVELOPMENT MODEL BECAUSE THE STUDENTS CAN HELP US LEAD THIS. THE STUDENTS ARE COMING TO US, THE TEACHER CANNEDDIDATE STUDENTS I'M SPEAKING OF, ARE COMING TO US AS THE MOST CONNECTED GENERATION WE'VE EVER HAD. THEY ARE LEARNING HOW TO ACTIVELY ENGAGE IN A SOCIAL LEARNING NETWORK. WHAT THEY DON'T KNOW ABOUT IS HOW TO USE THAT FOR PROFESSIONAL WORK. THEY KNOW HOW TO DO IT PERSONALLY. BUT IF WE TEAM UP AND HAVE THE STUDENTS BECOME CO-LEARNERS WITH THE FACULTY, NOT LEARNING FROM THE FACULTY BUT LEARNING WITH THE FACULTY TO MAKE THIS TRANSITION, WE CAN FIND OURSELVES MOVING FAIRLY QUICKLY. WE CAN GIVE FACULTY THE SAME UNIVERSITY FACULTY THE SAME TOOLS THAT SHARON IS SAYING THAT A K-12 TEACHER SHOULD HAVE. SO SHARON, YOU EMPHASIZED THAT TEACHERS NEED TO KNOW HOW TO USE FEEDBACK ABOUT HOW THEIR STUDENTS ARE LEARNING TO IMPROVE THEIR INSTRUCTIONAL PRACTICE. FACULTY AT SCHOOLS OF EDUCATION NEED TO KNOW THAT ALSO. AND THEY NEED TO USE REALTIME FEEDBACK ON HOW THEIR STUDENTS ARE PERFORMING IN THE CLASSROOMS, IN THEIR CLINICAL PRACTICE. AND ONCE THEY'RE IN THEIR PLACEMENT, AS FEEDBACK TO THEM, TO IMPROVE THEIR WORK ON DEVELOPING THE NEXT COHORT OF TEACHERS. SO WE CAN ACTUALLY MAKE A SHIFT, A FLIP, FROM TEACHER PREPARATION TO EDUCATOR TALENT DEVELOPMENT, ACHIEVE A HUGE GAIN AND STRENGTHENING THE PROFESSION, AND WE CAN DO IT FAIRLY QUICKLY BECAUSE ALL THE TOOLS AND RESOURCES ARE THERE, THE NETWORKS ARE THERE. IF WE WORK WITH STUDENTS AS CO-LEARNERS WITH FACULTY, WE CAN MOVE VERY QUICKLY.
>> AND AM I CORRECT THAT THAT REALLY DOESN'T REQUIRE A LOT OF POLICY CHANGE. IT DOES REQUIRE INTERNAL — REQUIRES FORTITUDE AND LEADERSHIP.
>> THAT'S RIGHT. IT'S A MINDSET. IT'S A SHIFTING MINDSET, AND IT'S A SHIFT IN MINDSET THAT'S HAPPENING OF OUR TRAILING PARTNERS, THOSE PARTNERS ARE USING THE KINDS OF THINGS THAT SHARON DESCRIBED ARE POSSIBLE. THEY'RE USING REALTIME FEEDBACK WITH TABLETS AND SMARTPHONES, VIDEO WHAT'S GOING ON IN THE CLASSROOM, GIVE FACULTY A LOOK AT THAT. THOSE FACULTY CAN GIVE TEACHER CANDIDATES QUICK FEEDBACK AND COACHING ON WHAT TO DO NEXT. THIS CAN HAPPEN. WE DON'T NEED A WHOLE LOT OF POLICY CHANGES, A WHOLE LOT OF REGULATORY STRUCTURE. WE JUST NEED TO KIND OF UNLEASH WHAT'S ALREADY THERE.
>> SHARON, HAVE YOU GOT A QUICK WIN?
>> WELL, I HAVE TO SAY, GIVEN HOW FAR WE'VE COME TO CREATE A TOOL TO DOCUMENT CANDIDATE CAPABILITIES, I THINK WE'RE ALMOST THERE. I THINK WE'RE AT A POINT WHERE THE INDUSTRY IS UNIFYIED ENOUGH AROUND STANDARDS OF WHAT IT IS WE WANT TO CREATE. AND ONE OF THE DIMENSIONS OF THIS ASSESSMENT THAT WE DON'T TALK ABOUT OFTEN BUT INTRIGUES ME MIGHTILY IS THIS NOTION OF HAVING THE TEACHER UNDERSTAND THAT THEIR KNOWING IN THE DISCIPLINE IS REALLY ALL ABOUT KNOWING HOW TO MAKE THAT DISCIPLINE ACCESSIBLE TO THE LEARNER. WE CALL IT ACADEMIC LITERACY. I MEAN, THIS IS — THIS IS HOW YOU TRANSLATE THIS CONCEPT OF — I'LL GIVE YOU AN EXAMPLE FROM MY OWN EXPERIENCE WITH MY GRANDDAUGHTER. SHE TOLD ME THEY HAD A TEST — A MATH TEST. AND I SAID, OKAY. I SAID, WHAT'S IT ON? SHE SAID IT'S MORE THAN AND LESS THAN. I SAID, EMMA, YOU KNOW MORE THAN AND LESS THAN. SHE SAID NO, YOU HAVE TO WRITE ABOUT IT. SO THAT IS ACADEMIC LEARNING. THAT IS KNOWING WHAT IS THE LANGUAGE OF MATH THAT SHE IS NOW BEING TESTED ON, NOT JUST THE COMPUTATION. SO WE'RE TAKING THIS DISCIPLINE IDEA TO A DIFFERENT LEVEL THAT I FIND — I THINK THE PROFESSIONALS ON COLLEGE CAMPUSES ARE FINDING THIS REALLY INTRIGUING AS THEY ENGAGE WITH US AROUND UNDERSTANDING HOW TO ASSESS THAT. IT'S CHALLENGING THEM TO UNDERSTAND HOW THEY ARE TEACHING IT. AND SO I FIND THAT THIS NOTION OF CREATING TOOLS AND DYNAMICS THAT MAKE ALL OF US LEARNERS ON BEHALF OF THE LEARNING SERVICES, THE EDUCATIONAL SERVICES WE WANT TO PROVIDE OTHERS IS A REAL SALUTORY IMPACT ON THIS INDUSTRY. I THINK YOU'RE ALMOST THERE.
>> THE EXAMPLE OF YOUR GRANDDAUGHTER, MY SENSE, IS THAT DRIVEN BY THE COMMON CORE?
>> IT IS DRIVEN BY THE COMMON CORE. ACADEMIC LANGUAGE REQUIRES YOU TO MAKE THIS DISCIPLINE USABLE BY THE STUDENT. IT IS NOT WHAT YOU KNOW ABOUT IT — OF IT, IT'S HOW DO YOU USE IT? HOW DO YOU PUT IT TO USE IN YOUR OWN LIFE TO SUPPORT YOUR OWN SUBSEQUENT QUESTIONS AND INTERESTS. ANOTHER DYNAMIC THAT I SEE US USING BECAUSE TECHNOLOGY MAKES IT SO ACCESSIBLE IS PRIMARY SOURCES. AS WE ENCOURAGE THESE PROBLEMS, THESE PROBLEM-BASED LEARNING ACTIVITIES THAT WE KNOW WILL BE DRIVING — WILL BE A MAJOR INSTRUCTIONAL TOOL IN TEACHING THE COMMON CORE. THEY'VE GOT TO GET ACCESS TO A LOT OF MATERIAL. WELL, PRIMARY SOURCES CAN BE REALLY USEFUL, BUT THEY HAVE ALL BEEN SO DISTANT FOR ALL OF US FOR SO MANY YEARS. THE LIBRARY OF CONGRESS IS NOW COMPLETELY DIGITIZED. EVERY PLACE IN TOWN HAS A WEALTH OF DIGITAL MATERIAL. THE HOLOCAUST MUSEUM BRINGS TEAMS OF FUTURE EDUCATORS IN EVERY SUMMER TO DEFINE TEACHER DEVELOPMENT ACTIVITIES FOR FACULTY AND FOR COLLEAGUES IN K-12 CLASSROOMS. SO I THINK THIS IS CREATING LEARNERS OF US ALL. AND MAYBE THAT'S THE NEAR WIN I'D POINT TO, THE ASSESSMENT TOOL IS A TOOL IN THE SERVICE OF LEARNING. I BELIEVE WE'RE STARTING TO DEVELOP A HEALTHY RESPECT FOR LEARNING, JUST THE DYNAMIC OF IT, THE BEAUTY OF IT, THE EXCITEMENT OF IT. AND IF WE CAN SHARE THAT WITH OUR STUDENTS, I THINK WE'RE GIVING THEM AN AMAZING GIFT.
>> LET ME PICK UP ON THAT FOR A MINUTE AND THEN I WANT TO HEAR WHAT CHARLES SAYS. IF WE JUST GO WITH WHAT SHARON SAID. THINK OF THE TEACHER AS A LEARNER. SO YOU'VE BEEN TALKING ABOUT THE LEARNERS. IN THE CLASSROOMS, THE K-12 STUDENTS. BUT WE NEED TO RECOGNIZE THAT THE TEACHER IS A LEARNER. THE TEACHER IS AN EXPERT LEARNER, IS BECOMING AN EXPERT LEARNER, A FACILITATOR OF LEARNING LEARNING, A NAVIGATOR OF LEARNING. IN TERMS OF A QUICK WIN, THIS GAP BETWEEN PREPARATION AND PRACTICE THAT SCHOOLS OF EDUCATION GET BEAT UP ABOUT SOMETIMES, THAT CAN BE OVER. THIS SINK OR SWIM PLACEMENT OF BEGINNING TEACHERS IN CHALLENGING SETTINGS WITH NO SUPPORT, THAT CAN BE OVER, AND IT CAN BE OVER RIGHT AWAY. WE HAVE THE TOOLS AND ONLINE NETWORKS TO BUILD A PATHWAY FOR INDIVIDUAL TEACHERS AS PROFESSIONAL LEARNERS TO NAVIGATE THEIR WAY INTO THE PROFESSION AND ACCELERATE THEIR PERFORMANCE. THEY DON'T HAVE TO GO IN ALONE. THEY'RE CONNECTED. WE CAN BUILD A DIGITAL BRIDGE FROM THE PREPARATION PHASE INTO THE PRACTICE PHASE SO THAT WE HAVE THE TOOLS, RESOURCES AND PROFESSIONAL COLLEAGUES WITH THEM REALTIME ALL THE TIME TO DEAL WITH THE CHALLENGES THEY'RE FACING. THOSE ARE QUICK WINS. THE STUDENT TEACHERS ALREADY KNOW HOW TO DO THIS. THEY ALREADY HAVE THE TOOLS. THEY DON'T HAVE TO SPEND A LOT OF MONEY. IT'S IN THEIR HAND OR IN THEIR PURSE. AND WE HAVE PLENTY OF EVIDENCE THAT EMBEDDING PEOPLE IN A PROFESSIONAL ONLINE COMMUNITY ADDS TREMENDOUS POWER TO THEIR WORK.
>> CHARLES, PLEASE JUMP IN. WHAT DO YOU SEE IN THE FORESEEABLE FUTURE? WHAT GAINS CAN WE SEE IN TEACHER EDUCATION?
>> WELL, ONE OF THE QUICK VICTORIES I THINK THAT CAN HAPPEN IS REINFORCING WHAT WE ALREADY HEARD FROM TOM AND SHARON, THAT IS WE CAN CHANGE THE WAY WE TEACH. AND I'VE WITNESSED THIS AT SOME UNIVERSITIES AROUND THE COUNTRY IN ALONG THE LINES OF DEVELOPING A TOOL I'VE WORKED ON THE LAST FEW YEARS CALLED THE ANALYTIC FRAMEWORK, TRYING TO LOOK DOWN DEEPLY INSIDE OF PROGRAMS TO SEE WHAT THEY'RE DOING. AND SOME OF THE MOST EXCITING CHANGES ARE SHIFTS FROM THE TEACHER DOING THEIR PRIVATE LEARNING, THE PROFESSIONAL DOING THEIR PRIVATE LEARNING AND THEN GOING INTO THE CLASSROOM AND TEACHING THE STUDENTS AND THEN TESTING THEM LATER AND THEN BEING INVARIABLY DISAPPOINTED THAT PEOPLE DIDN'T LEARN EVERYTHING THEY SHOULD HAVE LEARNED AND THEN ONLY TO DISCOVER EVEN LATER THAT THEY DON'T EVEN KNOW HOW TO APPLY IT. SO THAT'S SORT OF THE STRUCTURE THAT WE HAVE TO MOVE AWAY FROM, INTO ONE THAT AS A TEAM ASSOCIATED WITH PROBLEM SOLVING. THERE ARE LOTS OF ISSUES AND PROBLEMS THAT WE NEED TO SOLVE OUT THERE IN SCHOOLS. AND THE TEACHER CANDIDATES, THE PROFESSORS AND THE MASTER TEACHERS OUT THERE THAT ARE WORKING TOGETHER AS TEAMS TO ATTACK THAT CAN BE A MUCH MORE ENGAGING, ACTIVE AND I THINK SUSTAINING KIND OF CAREER PATH WHEN WE HAVE PEOPLE WORKING IN KIND OF EXCITING COMMUNITIES TRYING TO ADDRESS SOME OF THE PROBLEMS OF SCHOOLS. AND I'VE SEEN THOSE IN PLACE AT UNIVERSITIES AROUND THE COUNTRY. AND OBVIOUSLY NOT JUST AT THE UNIVERSITY. THEY'RE OUT IN THE CLINICAL SITES. BUT ANOTHER EXAMPLE OF THAT WAS THAT THE UNIVERSITY OF ARKANSAS, JUST TO SEE WHY THEY WERE PRODUCING MORE PHYSICS TEACHERS, I WAS THERE LOOKING FOR THEIR PHYSICS TEACHER RECRUITMENT PROGRAM ONLY TO DISCOVER THEY HAD NO TEACHER PHYSICS RECRUITMENT PROGRAM. WHAT THEY HAD DESIGNED, WITH THE HELP OF MASTER PHYSICS TEACHERS IN THE AREA, WERE SOME OF THE MOST EXCITING INTRODUCTORY PHYSICS CLASSES I HAVE EVER WITNESSED. AND IT DROVE PEOPLE TO WANT TO BE TEACHERS BECAUSE OF THE EXCITEMENT THEY FELT IN THOSE PHYSICS CLASSES WHICH WERE EXTRAORDINARILY RIGOROUS BUT ENGAGING STUDENTS AND FACULTY AND PEOPLE FROM THE SCHOOLS AND TEAMS LEARNING PHYSICS, IF YOU WILL, FROM EACH OTHER. SO WE CAN CHANGE THIS, AS TOM AND SHARON ARE ALLUDING TO. IT CAN HAPPEN QUICKER THAN WE THINK. BUT WE HAVE TO CHANGE OUR MINDSET ABOUT WHAT OUR ROLE IS. AND OUR ROLE IS NOT ONE-WAY CONTENT DELIVERY. IT'S FACILITATING OUR LEARNING FROM AND WITH EACH OTHER.
>> MUCH OF WHAT YOU ALL HAVE BEEN DISCUSSING RELATES TO TECHNOLOGY, OBVIOUSLY, AND THE ABILITY OF TECHNOLOGY TO ENHANCE THE TEACHER'S EFFECTIVENESS. STEPHANIE ASKED, THOUGH, HOW ARE ALL THESE HIGHLY TRAINED TEACHERS GOING TO DEAL WITH HAPHAZARD INFRASTRUCTURE AND NONEXISTENCE TECH DEPARTMENTS? IS OUR INFRASTRUCTURE KEEPING UP WITH OUR KNOWLEDGE AND ABILITY OF KNOWING WHAT TO DO?
>> A QUESTION LIKE THAT BRINGS US BACK TO THE REALITY OF PRACTITIONERS THAT ARE THERE RIGHT NOW — EXACTLY. AND THESE FOLKS THAT HAVE THE VISION AND THE ASPIRATIONS TO DO SOME OF THE WORK THAT WE ARE DESCRIBING, AND THEY CAN'T PLUG ANOTHER THING IN. THE ELECTRICAL SYSTEM WON'T SUPPORT IT OR THE TECH DEPARTMENT IS KIND OF NONEXISTENT. HERE IS WHERE I BELIEVE WE'VE GOT TO MAKE SCHOOLS, THE REALITY OF SCHOOLS, MORE EXPOSED TO THE LARGER COMMUNITY. AND THAT IS — WE'VE BEEN KEEPING SECRETS. YOU KNOW, WE GO IN. WE DO THE BEST WE CAN. THAT'S WHAT I WAS TAUGHT, YOU GO AND YOU DO THE BEST YOU CAN. AND I THINK WE HAVE TO HELP TEACHERS BECOME ADVOCATES FOR THE WAY IT OUGHT TO BE. AND HELP THEM UNDERSTAND HOW TO EXERCISE THEIR VOICE AND THEIR AUTHORITY ON BEHALF OF THE NEEDS OF THE LEARNERS THEY WORK WITH TO GIVE THEM THE WAY IT OUGHT TO BE AND NOT TRY TO MAKE DO WITH THE WAY IT IS. SO ONE OF THE DYNAMICS OF THIS NEW CULTURE THAT ACTUALLY WE'RE WRITING ABOUT A LOT IS THE MORAL RESPONSIBILITY OF TEACHING. THE MORAL RESPONSIBILITY AS IT RELATES TO NOT JUST CITIZENSHIP BUT TO YOUR PROFESSION. WHAT IS YOUR OBLIGATION? IF YOU WALK INTO A SITUATION THAT CANNOT SUPPORT GOOD PRACTICE, ARE YOU SUPPOSED TO TRY TO PRETEND YOU'RE DOING GOOD PRACTICE? WHAT IS THE MORAL OBLIGATION HERE? SO WE, I THINK, ARE ENCOURAGING OUR CANDIDATES NOW TO DELIBERATE ON THESE MATTERS. KNOW WHERE YOU STAND AND WHAT YOU CAN DO AND HOW YOU CAN CONTRIBUTE TO THAT RESOLUTION. THIS IS THE SITUATION THAT SHOULD NOT EXIST BECAUSE IT'S DENYING STUDENTS BENEFITS THAT ARE READY TO BE BROUGHT TO THEM RIGHT NOW.
>> THIS IS REALLY AN IMPORTANT POINT BECAUSE I'VE BEEN IN SCHOOLS IN NEW YORK CITY WHERE STUDENTS, HAD THEYWHEN THEY ENTER THE BUILDING, GO THROUGH A METAL DETECTOR, HAVE TO TURN IN THEIR iPHONE, HAVE TO PAY $1 A DAY TO CHECK THEIR iPHONES AND THEN GET THEM BACK AT THE END OF THE DAY WHEN PROBABLY THE iPHONE IS THE MOST POWERFUL TECHNOLOGY THAT WOULD HAVE BEEN AVAILABLE TO THEM IN THE SCHOOL. WE NEED TO STOP DOING THAT. WE'RE JUST IN THE PHASE OF SHIFTING OUT OF SOMETHING I THINK YOU'RE ALLUDING TO, BUT I'LL TAKE RESPONSIBILITY FOR, SHARON. WE HAVE A LEGACY OF NOW K-12 SCHOOLS. A LEGACY OF EDUCATION THAT IS A CONTROL TO DELIVER MODE OF EDUCATION. THE SCHOOL DISTRICT WILL CONTROL A CURRICULUM, CONTROL CONTENT, CONTROL WHAT TEXTBOOKS ARE USED AND CONTROL THE TECHNOLOGY. AND FOR A WHILE, IT WAS NOT JUST CONTROLLING BUT OWN IT. SO BEFORE WE HAD — WE WERE IN THE AGE OF A MOBILE LEARNING WORLD, WE HAD LAPTOPS AND DESKTOP DESKTOPS. IT WAS NOT PRACTICAL TO THINK THAT STUDENTS WERE GOING TO BRING DESKTOPS TO SCHOOL WITH THEM, OBVIOUSLY. NOW WE'RE MOVING WITH LAPTOPS. WE'RE IN A MOBILE LEARNING WORLD. EVERY STUDENT AND EVERY TEACHER ALREADY HAS OR COULD HAVE A MOBILE LEARNING DEVICE THAT IS AFFORDABLE THAT IS A SMART DEVICE THAT DOES NOT REQUIRE A HUGE INVESTMENT BY THE SCHOOL DISTRICT AND INFRASTRUCTURE TO SUPPORT OR SUSTAIN. AND TO MAKE THAT WORK, WE NEED TO FIRST OF ALL FREE UP TEACHERS TO DO IT. QUALCOMM IS ONE OF OUR SPONSORS IN THE INITIATIVE. QUALCOMM HAS A NEW PARTNER, ALL JOIN I BELIEVE IT'S CALLED, IT ENABLES THE TEACHER WITH A SMARTPHONE OR A TABLET, ANOTHER DEVICE THEY COULD USE, TO CREATE A LOCAL AREA NETWORK IN HER CLASSROOM WITH HER STUDENTS' SMARTPHONE. IT'S SAFE. THEY DON'T HAVE TO HAVE A FIREWALL BECAUSE THE ONLY ONES WHO CAN GET INTO THIS NETWORK ARE THE ONES THAT THE TEACHER LETS IN. IT DOESN'T REQUIRE A LOT OF INFRASTRUCTURE. AND THE TEACHER HAS TOTAL INSTRUCTIONAL LEADERSHIP IN THE USE OF THAT NETWORK. SO WE NEED TO FIRST OF ALL EMPOWER TEACHERS AND STUDENTS TO USE THE SMART MOBILE DEVICES THEY HAVE IN THEIR HANDS AND POCKETS AND PURSES, FIRST OF ALL. PART OF THAT MEANS TAKING DOWN FIREWALLS. THIS NOTION THAT SCHOOL NETWORKS ARE LOCKED DOWN BEHIND FIREWALLS, WE NEED TO GET RID OF THAT. AND WE NEED TO COME UP WITH MUCH MORE PROGRESSIVE LEARNING-EFFECTIVE WAYS TO MANAGE A SAFE LEARNING ENVIRONMENT THAN SIMPLY LOCKING DOWN EVERYTHING AND SHUTTING PEOPLE OUT OF THIS OPEN LEARNING ECOSYSTEM. THAT'S WHERE THE POWER IS FOR LEARNING. AND IF YOU PUT A FIREWALL UP, YOU'RE SAYING WE STILL CONTROL THE SPACE AND YOU'VE JUST CUT YOURSELF OFF FROM ALL THE RICH LEARNING RESOURCES IN THE WORLD.
>> CHARLES, ANYTHING YOU'D LIKE TO ADD?
>> I WOULD LIKE TO JUST PICK UP ON THAT BECAUSE SOME THINGS ARE HAPPENING AROUND THE COUNTRY, WE'RE ON THE EDGE OF WHAT TOM AND SHARON ARE TALKING ABOUT THERE IN THAT IN LOCAL PARENTIS, OVERREGULATED ENVIRONMENT OF SCHOOLS REALLY HAS TO COME DOWN IN ORDER TO OPEN UP THE KIND OF LEARNING THAT WE'RE TALKING ABOUT IN THIS CONVERSATION. NOW, WITH ALL THE SAFEGUARDS NECESSARY TO MAKE SURE THAT CHILDREN ARE PROTECTED AND THEY CAN BE, WE CAN STILL OPEN UP THESE ENVIRONMENTS. SO WE — THIS IS GOING TO CAUSE US TO BE IN GREATER COMMUNICATION WITH PARENTS AND COMMUNITIES ABOUT WHAT WE NEED TO DO AND WHY WE NEED TO DO THESE THINGS. WHY WE NEED TO OPEN THESE SCHOOLS UP, WHY WE NEED TO HAVE THESE MOBILE DEVICES AND WHY SOMETIMES IN SCHOOLS NEED TO DO THE MINIMAL INVESTMENT NECESSARY TO MAKE SURE THESE MOBILE DEVICES ARE IN THE HANDS OF STUDENTS. THERE'S TOO MUCH AT STAKE HERE. AND IN SOME STATES IN THE UNITED STATES, THEY'RE MOVING RAPIDLY TO INCREASE BROADBAND DEVELOPMENT. AS YOU KNOW, THIS NATION IS WAY BEHIND THE REST OF THE — PARDON ME, MANY OTHER NATIONS IN THE WORLD IN TERMS OF JUST INTERNET SPEED AND ACCESS. FIRST OF ALL. AND THE USE OF THESE DEVICES TO ACCESS LEARNING WHEN SO MUCH OF WHAT IS NEEDED TO BE KNOWN, IT LIES OUTSIDE OF A TEXTBOOK. IT DOESN'T MAKE SENSE TO CONTINUE TO INVEST OUR MONEY IN THOSE KINDS OF STATIC ENVIRONMENTS WHICH NOW CANNOT BE REPURCHASED FOR SOMETIMES SEVEN AND TEN YEARS. THAT'S RIDICULOUS. AND SO WE HAVE TO MOVE OFF OF THAT MODEL AND MOVE TO A MODEL AKIN TO WHAT I THINK TOM WAS LAYING OUT THERE IN HIS VISION. AND SOME STATES ARE BEGINNING TO MOVE THAT. MY OWN HOME STATE OF NORTH CAROLINA IS PASSING A LAW — OR IF NOT HAS ALREADY PASSED IT, WILL SOON PASS IT — TO ALLOW OUR TEXTBOOK MONEY TORE USED FOR OTHER PURPOSES THAT WOULD LINE UP WITH THE VISION. I THINK THAT'S THE RIGHT STEP. SO IN MY MODEL — I DON'T WANT TO BRING IT BACK UP ON SCREEN, BUT WE TALKED ABOUT LEADERSHIP POLICY AND INFRASTRUCTURE. ONE OF THE THINGS THAT UNIVERSITIES CAN HELP THE PUBLIC SCHOOLS TO DO IS TO BE AN ADVOCATE FOR THE KIND OF POLICIES THAT THEY'RE FREE OF, THAT THE PUBLIC SCHOOLS ARE NOT FREE OF, WHICH CONSTRAIN THE KIND OF TEACHING AND LEARNING THAT NEED TO HAPPEN. SO THE UNIVERSITIES AND CAMPUS RESPONSIBILITY FOR TEACHER PREPARATION NEEDS TO ALSO BE AN ADVOCATE FOR THE POLICIES THAT SUPPORT GOOD TEACHING AND LEARNING OUTSIDE THEIR ENVIRONMENT.
>> A NUMBER OF HIGHLY EFFECTIVE TEACHERS HAVE REMARKED TO ME IN WAY WAY OR THE ANOTHER. AND TOM, YOU REFERENCED THIS, THAT ONE OF THE THINGS THEY HAVE TO LEARN IN THE CLASSROOM WAS TO GIVE UP CONTROL, NOT IN TERMS OF CLASSROOM MANAGEMENT, BUT IN TERMS OF THE LEARNING PROCESS, THAT IT WASN'T DIRECTED AT THE STUDENTS. THERE WILL BE THIS ALLOTMENT OF CONTENT DISSEMINATED TODAY. YOU WILL MEMORIZE IT AND REGURGITATED BACK. YOU HAD TO BE WILLING TO LET THE STUDENTS GO ON THEIR OWN AND WITH YOU GUIDING AND FACILITATING AND HELPING GET THEM ULTIMATELY TO THE POINT YOU WERE TRYING TO. HOW DO YOU EMBED THAT IN A TEACHER PREPARATION PROGRAM? AS YOU THINK ABOUT THAT — MAYBE THIS TOM AND WEST VIRGINIANS ALWAYS GET THEIR QUESTIONS ASKED — TOM IN WEST VIRGINIA ASKED ME — OR ASKED US, IN MANY HIGHER ED INSTITUTIONS, THERE ARE MAJOR GAPS IN TECHNOLOGY USAGE BY OLDER INSTRUCTORS AND FIREWALLS THAT PREVENT ACCESS. HOW DO WE SPEED UP THIS CHANGE IN HIGHER ED? I THINK THAT GOES A LITTLE BIT WITH HOW DO YOU — IN TEACHER PREPARATION, HOW DO YOU TEACH TO GIVE UP CONTROL?
>> AND I THINK ON MANY CAMPUSES, TEACHER EDUCATION WILL, IN FACT, BE AT THE VANGUARD OF CHANGE IN LEARNING IN THE ACADEMY. IT'S INTERESTING TO NOTE THAT THE RESEARCH ON HOW TO SUPPORT PERSISTENCE, COMPLETION OF HIGH-RISK STUDENTS IN HIGHER EDUCATION NOW SAYS VERY CLEARLY YOU MUST FIRST INTEGRATE THESE STUDENTS IMMEDIATELY INTO THE COMMUNITY, INTO A LEARNING COMMUNITY. THEY MUST BE ASSIGNED A LOT OF WRITING ON WHICH THEY GET FEEDBACK. THEY SHOULD WORK IN GROUPS, PROJECTS TO WHICH THEY HAVE TO REALLY STRUGGLE TO MAKE A CONTRIBUTION. THERE SHOULD BE REAL EFFORT IN THIS. AND THEY SHOULD EXPERIENCE SOME KIND OF CAPSTONE EVENT TO NOTE A PLACE IN THE LEARNING PROCESS. NOT A CAPSTONE EVENT TO NOTE THAT YOU ARE FINISHED, BUT TO NOTE WHERE YOU ARE IN THE LEARNING PROCESS. THESE ARE — THESE FINDINGS COME OUT OF RESEARCH AND HIGHER EDUCATION, HOW TO SUPPORT HIGH-RISK STUDENTS BECAUSE WE'RE GIVING A LOT MORE HIGH-RISK STUDENTS. THEY'RE OLDER. THEY HAVE JOBS. THEY NEED TO WORK. THEY HAVE FAMILIES. SO I THINK THAT HIGHER EDUCATION IS TURNING ITS ATTENTION TO LEARNING AS WELL AND SUPPORTING STUDENT COMPLETION, STUDENT SUCCESS, NOT JUST ACCESS. SO YEAH, THERE WILL BE SOME GENERATIONAL DIMENSIONS TO THIS. SOME FOLKS WHO HAVE BEEN THERE A WHILE WHO PERHAPS FELT THAT YOU CAME TO GET WHAT YOU COULD FROM THEM AND THEN YOU LEFT WILL PROBABLY RETIRE AT SOME POINT. YOUNGER PROFESSORS ARE ENGAGED IN QUESTIONS OF RESEARCH THAT TAKE THEM INTO THE COMMUNITY OR INTO THE FIELD. SO THE NOTIONS OF EVALUATING RESEARCH ARE CHANGING IN HIGHER EDUCATION. SO I SEE A LOT OF SIGNS THAT ARE REALLY VERY, VERY HOPEFUL. I DO BELIEVE THAT WE MUST KEEP UP THE DEMAND FOR MOVING IN THIS DIRECTION, HOWEVER. I THINK THE EXPRESSION OF WHAT WE WANT PEOPLE TO DO WHEN THEY COME OUT OF THE ACADEMY, WHETHER THEY GO INTO TEACHING OR WHETHER THEY'RE GOING INTO BUSINESS OR MANUFACTURING OR WHATEVER, ALL SPEAK TO THE FACT THAT WE EXPECT YOU TO LEARN SOMETHING THAT YOU'RE GOING TO PUT TO USE IN THE COMMUNITY. THAT'S WHERE WE GET THE PAYBACK, ON THE INVESTMENT. SO I BELIEVE WE'VE GOT TO KEEP THAT EXPECTATION REALLY HIGH AND TOP OF MIND BOTH FOR THE LEARNER AND FOR THE INSTITUTION BECAUSE THAT CLARIFIES SUBMISSION. THAT CLARIFIES WHAT'S SUPPOSED TO GO ON HERE.
>> SO IF WE — IF WE TAKE WHAT WE WERE SAYING EARLIER IN THE DISCUSSION, AND WE WERE DEALING WITH THE QUESTION HERE ABOUT FACULTY, TRADITIONAL INSTITUTIONS, TRADITIONAL FACULTY, COLLEGES AND UNIVERSITIES THAT HAVE FIREWALLS, THEY HAVE THE SAME CHALLENGES, TO TAKE THOSE FIREWALLS DOWN. ONE OF THE OPPORTUNITIES THAT THESE INSTITUTIONS HAVE IS THAT IT'S MUCH MORE COST EFFECTIVE TO RELY ON A BRING YOUR OWN DEVICE MODEL THAN THAT THE INSTITUTION OWNS THE INFRASTRUCTURE AND HAS TO OPERATE TO MAINTAIN IT. SO FIRST OF ALL, THERE'S A HUGE COST SAVINGS HERE. BIG COST SAVINGS, SOME OF THOSE DOLLARS CAN BE SHIFTED TO FACULTY DEVELOPMENT. NOT JUST TEACHER PROFESSIONAL DEVELOPMENT BUT FACULTY DEVELOPMENT. WE HAVE FACULTY, EVEN IF YOU'RE SAYING YOU HAVE A TRADITIONAL FACULTY MEMBER WHO'S IN THE KIND OF STAND-AND-DELIVER MODE, PEOPLE AT UNIVERSITIES ARE THERE BECAUSE THEY'RE LEARNERS. THEY HAVE A SENSE OF INQUIRY. THEY GOT INTO THIS PROFESSION WAY BACK MAYBE OUT OF JUST A DEEP-SEEDED CURIOSITY AND DESIRE TO LEARN. MY GUESS IS THAT FLAME IS STILL THERE. IT MAY NOT ALWAYS GIVE THEM THE OPPORTUNITY TO HAVE THAT DESIRE THRIVE, BUT WE COULD NOW. THEY COULD BECOME CO-LEARNERS AGAIN WITH THEIR STUDENTS, WITH THEIR UNDERGRADUATES AND GRADUATE STUDENTS. I DON'T SEE MANY FACULTY WHO ARE RESISTANT TO WORKING ON RESEARCH OR INQUIRY PROJECTS WITH OTHER GRADUATE STUDENTS AND UNDERGRADUATES. THEY COULD BE DOING THE SAME THING IN TERMS OF DEVELOPING AND MODELING EFFECTIVE PRACTICE FOR EDUCATOR TALENT DEVELOPMENT, AND IN THE PROCESS, ENGAGE IN THEIR OWN GROWTH.
>> LET ME JUST REINFORCE — I'M SORRY, GO AHEAD.
>> GO AHEAD, CHARLES.
>> WELL, I JUST WANT TO REITERATE, YOU MENTIONED THE UNIVERSITY OF COLORADO A FEW MINUTES AGO. THERE'S AN AMAZING TRANSFORMATION IN TEACHING AND LEARNING AND TEACHER PREPARATION GOING ON AT THAT UNIVERSITY. AND WHAT IS VERY INTERESTING ABOUT THAT WAS, IT WAS INITIATED REALLY BY, IN ONE CASE, DICK McRAE WHO IS A NOBLE LAUREATE AND FOLLOWED ON BY ANOTHER NOBLE LAUREATE AT THE UNIVERSITY. THESE WERE WHAT YOU MIGHT CALL THE OLD GUARD FACULTY WHO STARTED LOOKING AT WHAT WAS GOING ON AND SAID WE HAVE TO CHANGE. AND THEY LED THE CHANGE. I DO THINK WE CAN MAKE THOSE KIND OF CHANGES AS SHARON AND TOM ARE ALLUDING TO. BUT IT'S VERY HELPFUL WHEN SOME OF THE MOST SENIOR OF THE FACULTY STEP OUT AND LEAD THE WAY.
>> AND THAT'S A GOOD PLACE, PARTICULARLY THOSE OF US, BECAUSE WE'RE ALL OVER 35 HERE. WHAT I'VE NOTICED IS THAT SOME OF THOSE TEACHERS THAT ARE MOST ENTHUSIASTIC ABOUT THE USE OF TECHNOLOGY ARE THOSE THAT ARE IN THEIR SENIOR YEARS OF TEACHING, THE 20 TO 30-YEAR TEACHERS, SEVERAL HAVE COMMENTED, I FEEL LIKE I'M REALLY BEING PRODUCTIVE FOR THE FIRST TIME. I'M REALLY ACHIEVING WHAT I SET OUT TO DO. AND SO WE SET OUT SOMEWHAT WHAT WE WANTED TO DO IN THIS WEBINAR ABOUT THE ROLE OF TECHNOLOGY AND DIGITAL LEARNING AND TEACHER PREPARATION. THERE ARE A LOT MORE QUESTIONS, OBVIOUSLY, THEY'VE BEEN COMING IN, AND WHAT I'D LIKE TO DO IS SEE IF I CAN SET UP ANOTHER TIME TO GET YOU ALL BACK BECAUSE THE QUESTIONS, FOR INSTANCE, ABOUT TEACHER PREPARATION AND TEACHER DEVELOPMENT BEING A CONSTANT ENTERPRISE AS OPPOSED TO ONE THAT'S FIXED AND SEGMENTED. THE OTHER IS WHAT DOES PROFESSIONAL LEARNING LOOK LIKE IN A DIGITAL AGE, AND HOW DO WE DO — ARE WE SEEING AN END, I HOPE, TO PROFESSIONAL DEVELOPMENT AS WE'VE KNOWN IT IN TERMS OF BEING AN EPISODIC ONE. AND SHARON, PARTICULARLY WITH YOU AND EVERYONE ELSE IN THE FUTURE IS WHAT, THEN, IS THE ROLE OF THE INSTITUTION, TEACHER EDUCATION INSTITUTION, ONCE THEIR STUDENTS GRADUATE, GO INTO THE SYSTEM, BUT IS THERE A ROLE, PARTICULARLY DIGITALLY NOW FOR THEM TO STAY IN TOUCH AND BE CONTINUING TO WORK WITH THOSE STUDENTS. SO IF I COULD TRY AND BOOK YOU TENTATIVELY FOR ANOTHER TO CONTINUE THIS. SO CHARLES, LET ME THANK YOU VERY MUCH FROM NORTH CAROLINA. TOM AND SHARON, FOR YOUR THOUGHTFUL COMMENTS AND EXCELLENT RECOMMENDATIONS. WHILE WE CERTAINLY HAVE A LOT OF WORK AHEAD OF US TODAY, TO ENSURE THAT TEACHER PREPARATION PROGRAMS MEET THE NEEDS OF EDUCATIONAL SYSTEMS THAT ULTIMATELY OUR TEACHERS AND OUR STUDENTS, OUR TEACHERS ARE AT THE FOREFRONT OF THIS WORK AND THE WORK THAT YOU'RE DOING IS PUTTING THEM THERE. I THINK WE'RE ALL ENCOURAGED ABOUT WHAT'S POSSIBLE. I WAS VERY ENCOURAGED WHEN I HEARD WHAT YOU THINK ARE IMMEDIATELY ACHIEVABLE WINS AND GAINS. AND SO I WANT TO ALSO THANK YOU, THE PARTICIPANTS, FOR BEING A PART OF THIS VERY THOUGHT-PROVOKING WEBINAR. THIS WEBINAR WILL BE ARCHIVED AND AVAILABLE IN THE NEXT DAY OR TWO AT ALLFORED.ORG/WEBINARS. AND WE ENCOURAGE YOU TO SHARE IT WITH YOUR COLLEAGUES. THANK YOU AND HAVE A GREAT DAY.
>> THANK YOU.
Categories:
Uncategorized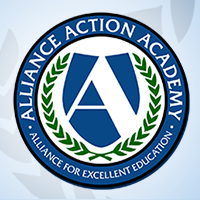 Welcome to the Alliance for Excellent Education's Action Academy, an online learning community of education advocates. We invite you to create an account, expand your knowledge on the most pressing issues in education, and communicate with others who share your interests in education reform.
Register Now
or register for Action Academy below: