Perspectives on the Federal Student Aid System: Promise and Problems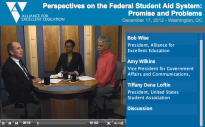 December 17, 2012
2:00 pm – 3:00 pm EDT
Washington, DC
Panelists
Tiffany Dena Loftin, President, United States Student Association
Amy Wilkins, Vice President for Government Affairs and Communications, The Education Trust
Bob Wise, President, Alliance for Excellent Education
The federal student aid system is an assortment of grants, loans, campus-based aid, tax incentives, and other policies aimed at increasing access to postsecondary education by helping students and families pay for college. The system is both complicated and costly, but is it effective? What measures should be used to determine the effectiveness of these programs? As numerous organizations across the country take on the task of reimagining the design and delivery of federal student aid, the system warrants a critical examination.
The Alliance for Excellent Education held a webinar on to learn more about the perspectives of three organizations committed to student success, and hear their views about the problems and potential of the federal student aid system to help increase access and opportunity for postsecondary students.
Bob Wise, president of the Alliance and former governor of West Virginia, moderated a conversation with two representatives from student advocacy organizations in Washington, DC. Amy Wilkins is vice president for government affairs and communications at The Education Trust, an organization whose goal is to close the gaps in opportunity and achievement that consign far too many young people—especially those from low-income families or who are black, Latino, or American Indian—to lives on the margins of the American mainstream. Tiffany Dena Loftin is president of the United States Student Association, the country's oldest, largest, and most inclusive national student-led organization, which develops current and future leaders and amplifies the student voice at the local, state, and national levels by mobilizing grassroots power to win concrete victories on student issues.
Supplemental Material
This webinar is made possible with support from the Bill & Melinda Gates Foundation.
The Alliance for Excellent Education is a Washington, DC-based national policy and advocacy organization that works to improve national and federal policy so that all students can achieve at high academic levels and graduate from high school ready for success in college, work, and citizenship in the twenty-first century. For more information about the Alliance, visit https://all4ed.org.
Categories:
Uncategorized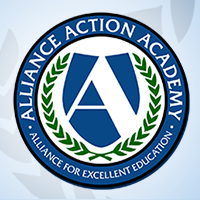 Welcome to the Alliance for Excellent Education's Action Academy, an online learning community of education advocates. We invite you to create an account, expand your knowledge on the most pressing issues in education, and communicate with others who share your interests in education reform.
Register Now
or register for Action Academy below: