Avoiding the Pitfalls of Digital Deployments: Three Success Factors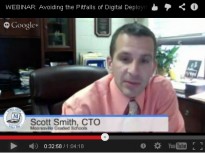 Registration Required
October 24, 2013
6:00 pm – 7:00 pm EDT
Google+ Hangout On Air
The Alliance for Excellent Education Invites You to Attend a Project 24 Webinar
Avoiding the Pitfalls of Digital Deployments: Three Success Factors
Panelists
Patrick Larkin, Assistant Superintendent for Learning, Burlington Public Schools (MA)
Lenny Schad, Chief Information Technology Officer, Houston Independent School District (TX)
Terri Schwartzbeck, Senior Digital Outreach Associate, Alliance for Excellent Education
Scott Smith, Chief Technology Officer, Mooresville Graded School District (NC)
Please join the Alliance for a webinar featuring insight from successful district leaders on how to avoid pitfalls and disasters when embarking on digital learning efforts. For this webinar, the Alliance will continue to use Google Hangout On Air technology, showcasing one of the many innovative tools that are now available to educators.
Everyone has heard the stories of districts that make huge investments in technology only to see dismal results. The less common stories are equally heartbreaking: the teacher who has high hopes, only to be disappointed when promised professional development never materializes; the district culture that is unable to shift; and most of all, the students who miss out on opportunities to succeed.
This live discussion with three of the Project 24 team of experts will provide insight and real-world advice on how to avoid those pitfalls. Lenny Schad, who successfully led a major digital learning effort in Texas's Katy school district and is now planning for one in Broad-award–winning Houston, will kick off the discussion with his three critical factors for success. Scott Smith, chief information technology officer for the widely praised Mooresville schools, will reflect and share how to overcome deficiencies that could undermine the best of efforts. And Patrick Larkin, who is leading a major iPad initiative in Burlington, will provide his experiences from the instructional side. All three will answer questions, share lessons learned, and provide a path forward for leaders hoping to transform learning. Terri Schwartzbeck of the Alliance will moderate the discussion. Panelists will also address questions submitted by viewers from across the country.
Register and submit questions for the webinar using the form below.
Please direct questions concerning the webinar to alliance@all4ed.org. If you are unable to view the webinar live, an archived version will be available at https://all4ed.org/webinars within one to two business days after the event airs.
Supplemental Materials:
Categories:
Uncategorized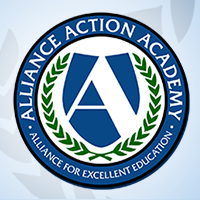 Welcome to the Alliance for Excellent Education's Action Academy, an online learning community of education advocates. We invite you to create an account, expand your knowledge on the most pressing issues in education, and communicate with others who share your interests in education reform.
Register Now
or register for Action Academy below: