Webinar: Rethinking Accountability to Support College and Career Readiness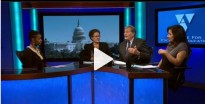 Registration Required
October 16, 2014
7:00 pm – 8:00 pm EDT
Having trouble viewing the webcast? Contact Technical Assistance here.
The Alliance for Excellent Education Invites You to Attend a Webinar on
Rethinking Accountability to Support College and Career Readiness
Panelists
Linda Darling-Hammond, EdD, Charles E. Ducommun Professor of Education, Stanford University
Lara Evangelista, Principal, The Flushing International High School
Charmaine Mercer, PhD, Vice President of Policy and Advocacy, Alliance for Excellent Education
Gene Wilhoit, Executive Director, National Center for Innovation in Education
Please join the Alliance for Excellent Education for a webinar focused on a broader vision for accountability to support higher and deeper levels of learning for all students and to provide greater flexibility for schools and districts.
Based on Accountability for College and Career Readiness: Developing a New Paradigm, a new report jointly issued by the Stanford Center for Opportunity Policy in Education (SCOPE) and the Center for Innovation in Education at the University of Kentucky, this discussion will concentrate on how states might construct new accountability systems that ensure a high-quality education for all students.
Charmaine Mercer will moderate a conversation with two of the report's authors, Linda Darling-Hammond and Gene Wilhoit. Using an imaginary "51st state" as the model, the panelists will discuss principles for effective accountability systems, the ways in which these principles might be applied, and places where these principles are already being enacted in some states and communities. Panelists will also address questions submitted by viewers from across the country.
Register and submit questions for the webinar using the registration form below. After registering, you will receive an email confirmation. Please check your email settings to be sure they are set to receive emails from alliance@all4ed.org.
Please direct questions concerning the webinar to alliance@all4ed.org.
If you are unable to watch the webinar live, an archived version will be available at all4ed.org/webinars usually one or two days after the event airs.
GOOD AFTERNOON.
WELCOME AND THANK YOU FOR
JOINING US TODAY.
I WILL BE YOUR MODERATOR FOR THE
NEXT HOUR AS WE EXAMINE A
PROVOCATIVE PROPOSAL TO
TRANSFORM ONE OF THE MOST
IMPORTANT ASPECTS OF K-12
EDUCATION POLICY,
ACCOUNTABILITY.
TODAY WE EXAMINE A NEWLY
RELEASED REPORT ENTITLED
ACCOUNTABILITY FOR COLLEGE AND
CAREER REEDINESS WHICH PROVIDES
A NEW WAY OF THINKING ABOUT
ACCOUNTABILITY.
WE ARE PRIVILEGED TO BE JOINED
BY A PANEL OF EXPERTS WHO
DISCUSS HOW REENVISIONED
ACCOUNTABILITY SYSTEM CAN BE
IMPLEMENTED.
LET ME PROVIDE A BIT OF
BACKGROUND.
STATES HAVE HELD SCHOOLS
ACCOUNTABLE FOR DECADES.
IN 2001 THE NO CHILD LEFT BEHIND
ACT CREATED A FEDERAL SYSTEM FOR
ACCOUNTABILITY THAT REQUIRED
SCHOOLS TO SHOW STEADY
IMPROVEMENT FOR ALL STUDENTS AND
DESIGNATED GROUPS OF STUDENTS.
WHILE MOST OBSERVERS AGREE THE
LAW HELPED ACHIEVEMENT GAP
ACROSS STUDENTS AND MANY AGREE
THE LAW DID NOT RAISE STUDENT
ACHIEVEMENT THE WAY ADVOCATES
HOPED AND PRODUCED UNINTENDED
AND NEGATIVE CONSEQUENCES SUCH
AS OVERFOCUS ON WROTE
MEMORIZATION AND CHEATING ON
SOME STANDARDIZED ASSESSMENTS.
SEVERAL STATES CREATED NEW
ACCOUNTABILITY SYSTEMS.
WHILE SOME APPROACHES ARE
PROMISING, OTHERS REPRESENT A
STEP BACKYARDS.
IF STATES ACROSS THE NATION MADE
IMPORTANT SHIFTS TO ACCEPTING
ALL STUDENTS WOULD BE PREPARED
IT IS IMPERATIVE THAT WE DEVELOP
A BROADER VISION OF
ACCOUNTABILITY TO SUPPORT HIGHER
AND DEEPER LEVELS OF LEARNING
FOR ALL STUDENTS AND PROVIDE
GREATER FLEXIBILITY FOR SCHOOLS
AND DISTRICTS WHILE INSURING
EQUITY FOR ALL STUDENTS.
LET ME INTRODUCE OUR PANEL.
ON MY IMMEDIATE LEFT IS DR.
LINDA HAMMOND, THE PROFESSOR OF
EDUCATION AT THE STANFORD
UNIVERSITY GRADUATE SCHOOL OF
EDUCATION.
LINDA IS AN EXPERT ON
ASSESSMENT, TEACHER POLICY,
EDUCATIONAL EQUITY AND MANY
OTHER ISSUES AND BRINGS A WEALTH
OF KNOWLEDGE TO THIS DISCUSSION.
>> THANK YOU.
>> NEXT TO LINDA IS GENE
WILLHOYT, EXECUTIVE DIRECTOR FOR
INNOVATION IN EDUCATION AT THE
UNIVERSITY OF KENTUCKY.
SHE IS THE FORMER EXECUTIVE
DIRECTOR OF THE COUNSELOR OF
SCHOOL OFFICERS.
ALL OF THESE ROLES INCLUDING THE
CURRENT ONE GENE HAS BEEN VERY
INVOLVED IN ACHIEVING
ACCOUNTABILITY POLICIES AND
SYSTEMS.
WE ARE PLEASED TO HAVE PRINCIPAL
OF THE FLUSHING INTERNATIONAL
HIGH SCHOOL IN NEW YORK CITY.
LAURA IS A 19-YEAR VETERAN OF
THE NEW YORK CITY PUBLIC SCHOOLS
AND ONE OF THE FOUNDERS OF
FLUSHING INTERNATIONAL.
IT IS ONE OF THE SMALL NUMBER OF
HIGH SCHOOLS IN NEW YORK CITY TO
RECEIVE A GRADE OF A UNDER THE
DISTRICT'S ACCOUNTABILITY
SYSTEM.
THANK YOU ALL FOR JOINING US.
I ALSO WANTED TO POINT OUT THAT
THIS WEBINAR IS AN INTERACTIVE
AFFAIR.
WE WANT TO HEAR FROM YOU.
TO ASK US A QUESTION USE THE
FORM BELOW THIS VIDEO WINDOW.
WE WILL TURN TO THE QUESTIONS
FROM TIME TO TIME THROUGHOUT THE
WEBINAR.
YOU CAN ASK QUESTIONS AND FOLLOW
THE DISCUSSION USING THE TWITTER
HASH TAG ALL FOR ED WHICH IS
SHOWN IN THE LEFT CORNER OF THE
VIDEO SCREEN.
WITH THOSE OUT OF THE WAY LET'S
HEAR FROM OUR PANELISTS.
>>> WELL, I AM GOING TO GET US
GOING AND THEN TURN TO MY
COLLEAGUE TO LAUNCH THE
DISCUSSION OF THE NEW
ACCOUNTABILITY PARADIGM.
THIS BEGAN IN A SET OF
CONSULTATIONS.
WHY DON'T YOU KICK US OFF?
>> THAT'S A GOOD START.
WE ARE OPERATING IN A VERY
DIFFERENT SYSTEM.
PEOPLE MAY NOT RECOGNIZE THIS
BUT WE TALKED ABOUT STANDARDS
BASED ACCOUNTABILITY FOR A LONG
TIME.
BUT WE REALLY HAD NOT
IMPLEMENTED THIS UNTIL THE
STATES TOOK THE INITIATIVE FIVE
TO SIX YEARS AGO TO BEGIN TO
COME TOGETHER TO IDENTIFY
COLLEGE AND CAREER READINESS
STANDARDS.
THEY WERE DIFFERENT AND LAID OUT
IN PROGRESSIONS AND GAVE
GUIDANCE AROUND OUTCOMES WE
EXPECTED.
VIRTUALLY EVERY STATE WHETHER
COMMON CORE STATE STANDARDS OR
ANOTHER SET OF STANDARDS.
THE RESULTS ARE MUCH HIGHER
LEVELS OF EXPECTATIONS.
WHAT YOU CAN SEE IS NOT SIMPLY
DIFFERENT CONTENT.
IT IS REORGANIZED AND WE ARE
ASKING STUDENTS TO DO THINGS WE
HAVE NOT ASKED THEM TO DO BEFORE
WHICH IS CAUSING A CASCADING
EFFECTS ON THE SYSTEM.
THOSE THINGS ARE GENERALLY THE
MENTAL ABILITIES TO APPLY
KNOWLEDGE.
THEY ARE THINGS LIKE BEING ABLE
TO THINK CREATIVELY, PROBLEM
SOLVE.
THEY ALSO INCLUDE INTELLECTUAL
CAPACITIES THAT THEY NEED TO BE
SUCCESSFUL IN LIFE, CAREERS AND
HIGHER EDUCATION.
WHAT WE CONTINUE TO DO IN THIS
COUNTRY IS WORK AT THIS VERY
HARD.
WE SHOW VERY LITTLE PROGRESS.
WE MOVE AHEAD A LITTLE BIT.
WE FALL BACK A LITTLE BIT.
OUR SENSE IN THIS REPORT THAT IT
IS TIME TO THINK ABOUT A SYSTEM
THAT WOULD SUPPORT PRETTY
DRAMATIC IMPROVEMENTS IN STUDENT
LEARNING BOTH IN TERMS OF
INDIVIDUAL STUDENTS AND
ADDRESSING THE EQUITY ISSUE.
SO WE HAVE EVOLVED AS YOU SAID
IN THE INTRODUCTION FROM THE
EARLY YEARS OF ACCOUNTABILITY.
WE NOW ARE A STANDARDS BASED
SYSTEM.
WE ARE TALKING ABOUT MANY THINGS
WE WEREN'T TALKING ABOUT SEVERAL
YEARS AGO.
WE LAID A GROUNDWORK FOR NEW
IDEAS.
THE STATES ARE BEGINNING TO
BRING FORWARD IDEAS ABOUT NEW
ACCOUNTABILITY AND TEACHERS ARE
BEGINNING TO TALK ABOUT LEARNING
VERY DIFFERENTLY THAN A FEW
YEARS AGO.
WHEN YOU SET HIGH STANDARDS
THESE EXPECTATIONS TEACHERS
BEGIN TO THINK ABOUT HOW DO I
CARRY THIS OUT?
I WILL HAVE TO PERSONALIZE
LEARNING AND MEASURE STUDENT
PERFORMANCE DIFFERENTLY THAN WE
HAVE IN THE PAST.
ALL OF THAT IS PUTTING PRESSURE
ON THIS SYSTEM THAT WE HAVE TO
CHANGE AND EVOLVE.
SO WE THINK IT IS TIME.
WE THINK IT IS IMPORTANT THAT WE
BEGIN TO ADDRESS THIS WHOLE
ISSUE OF ACCOUNTABILITY.
ACCOUNTABILITY IS MORE THAN A
TEST.
A TEST IS SIMPLY A WAY WE USE TO
EXPRESS CERTAIN WAYS STUDENTS
EXHIBIT LEARNING.
TESTS ARE NOT ASSESSMENTS IN
GENERAL.
ASSESSMENTS ARE NOT ALL OF
ACCOUNTABILITY AND
ACCOUNTABILITY INCLUDES MUCH
MORE.
WE LAID OUT A SYSTEM THAT REALLY
RESTS ON THREE BASIC IDEAS.
AND THOSE ARE THE CENTER POINT
OF THIS CONVERSATION.
IT'S NOT SIMPLY DEVELOPING A
BETTER TEST THAN WHAT WE HAVE
HAD IN THE PAST.
IT IS A MATTER OF THINKING ABOUT
WHAT IS THE KIND OF ENVIRONMENT
THAT WE CREATE THAT PROMOTES
LEARNING.
THAT IS SUPPORTED BY HIGHLY
COMPETENT AND EXCITED AND
COMMITTED PROFESSIONALS
SUPPORTED BY THE RESOURCES THAT
ARE NECESSARY TO CARRY OUT THIS
SYSTEM.
AND EACH OF THOSE ARE CRITICAL
IN OUR MINDS IN TERMS OF A
SYSTEM.
YOU CAN'T LOOK AT ONE OF THOSE
AND IGNORE THE OTHERS.
THAT SEEMS TO BE THE PROBLEM IN
THE COUNTRY.
WE PICK UP ON ONE PIECE OF THIS
AND MOVE TO THE NEXT WITHOUT THE
KIND OF DELIBERATE ATTENTION.
SO WHAT WE ARE PUTTING ON THE
TABLE IS THIS IDEA THAT YOU NEED
A FRAMEWORK.
THOSE ACCOUNTABILITY PRINCIPLES
THAT ARE INCLUDED IN THAT
FRAMEWORK, FIRST OF ALL, STH
ULTIMATE GOAL IS TO CREATE AN
ENVIRONMENT WHERE SCHOOLS ARE
ENGAGED IN CONTINUOUS
IMPROVEMENT WHERE THEY ARE
REFLECTING ON THEIR PRACTICE AND
USING INFORMATION THAT THEY
GATHER FOR MULTIPLE SOURCES.
THEY ARE USING THAT TO MAKE
DECISIONS ABOUT IMPROVING
LEARNING AND CLIMATE OF SCHOOLS
AND OVERALL PERFORMANCE OF
STUDENTS.
WE ARE ALSO TALKING ABOUT A
SYSTEM THAT IS RECIPROCAL.
EVERYBODY IN THIS SYSTEM OUGHT
TO BE HELD ACCOUNTABLE AND
AROUND THE GOALS AND
RESPONSIBILITIES.
IT IS NOT SOMETHING THAT IS
SIMPLY RESPONSIBILITY OF THE
TEACHERS OR THE STATE.
WE ALL HAVE FROM FEDERAL
GOVERNMENT TO STATE GOVERNMENT
TO THE LOCAL LEVEL
RESPONSIBILITIES INCLUDING
STUDENTS AND PARENTS.
THIRD, WE THINK THAT ALL OF THIS
OUGHT TO ENGAGE IN MEANINGFUL
LEARNING.
BY THAT WITH MEAN THESE NEW
OUTCOMES WE ARE EXPECTING ARE
GOING TO NEED SUPPORT IN WAYS
THAT WE HAVE NOT THOUGHT ABOUT
BEFORE.
IN ORDER TO DO THAT WE CANNOT
MEASURE WITH THE CURRENT
ASSESSMENTATHIZE KIND OF
MEANINGFUL LEARNING THAT WE ARE
TRYING TO PROMOTE.
THERE IS A DISCONNECT BETWEEN
METHODOLOGIES WE ARE USING TO
ASSESS STUDENTS AND KINDS OF
RESULTS WE ARE PROPOSING THAT
THEY ACHIEVE.
WE ARE TALKING ABOUT A SYSTEM
THAT WOULD ENSURE THAT THE
RESOURCES THAT ARE IN THE SYSTEM
ARE ADEQUATELY PROVIDED.
THAT INCLUDES BOTH INSTITUTIONAL
COMMITMENT TO INDIVIDUAL STUDENT
NEEDS, DIFFERENTIATION AND THAT
INCLUDES BOTH FUNDS BUT IT
INCLUDES PROFESSIONAL SUPPORT
AND INCLUDES THE KINDS OF
SUPPORTS THAT TEACHERS NEED AND
STUDENTS NEED FOR THE LEARNING
PROCESS.
AND WE ALSO ARE TALKING ABOUT IN
THAT SYSTEM THE WHOLE IDEA OF
LOCALS BEING ACCOUNTABLE FOR
STUDENT RESULTS.
USING THOSE RESOURCES TO ACHIEVE
THOSE RESULTS.
WE ARE TALKING ABOUT BUILDING
PROFESSIONAL CAPACITY IN THIS
WHOLE SYSTEM.
PUTTING THE REAL RESOURCES
BEHIND THE COMMITMENT THAT WE
TALK ABOUT, MOVING TEACHERS TO A
TRUE PROFESSIONAL ENTERPRISE,
MAKING THEM PRODUCERS OF
KNOWLEDGE AS OPPOSED TO THE
CONSUMERS OF OTHER PEOPLE'S
IDEAS THAT WE SEEM TO BE CAUGHT
IN.
WE ARE TALKING ABOUT USING
MULTIPLE MEASURES.
THE SOLE RELIANCE ON SUMMATIVE
ASSESSMENTS FROM STATES HAS BEEN
EXPANDED BEYOND ITS CAPACITY.
WE CANNOT USE THOSE AS
INSTRUMENTS FOR MEASURING THE
KINDS OF THINGS THAT ARE
NECESSARY AT THE POINT OF
LEARNING.
WE NEED MUCH MORE ATTENTION TO
THE FORMATIVE ASSESSMENT THAT
STUDENTS NEED.
WE WANT THIS SYSTEM TO FILL
CAPACITY AND CAUSE INDIVIDUALS
TO BE EXCITED ABOUT LEARNING, TO
CAUSE STUDENTS TO BE ENGAGED IN
THAT LEARNING AND MOVE FORWARD.
THOSE ARE THE BASIC PRINCIPLES
THAT WE ARE TALKING ABOUT IN THE
SYSTEM.
>> SO THE GROUP THAT CONVENED
THAT ADVISED THIS PROCESS THAT
WE TOOK RESPONSIBILITY FOR
TRYING TO LEARN FROM THE ADVICE
WE WERE BEING GIVEN INCLUDED
FEDERAL AND STATE AND LOCAL
POLICYMAKERS AS WELL AS PEOPLE
WHO HAD BEEN TEACHERS IN THE
CLASSROOM, PRINCIPALS, COMMUNITY
MEMBERS.
AND THE CHALLENGE WAS THROWN OUT
TO THIS GROUP TO IMAGINE WHAT
THIS SET OF PRINCIPLES WOULD
LOOK LIKE IN A 51st STATE.
WE INVENTED A 51st STATE AND
LEARNED A GREAT DEAL FROM GENE'S
EXPERIENCE AS COMMISSIONER IN
KENTUCKY WHERE UNDER THE
KENTUCKY EDUCATION REFORM ACT
MANY VERY, VERY EFFECTIVE AND
INNOVATIVE STRATEGIES WERE USED
TO MOVE THE STATE FORWARD.
AND THE EXPERIENCES OF OTHER
STATES AND OTHER COUNTRIES.
SO 51st STATE HAS ENGAGED IN
WHAT WE CALL R&D, NOT JUST
RESEARCH AND DEVELOPMENT BUT
RIPOFF AND DISSEMITY TO PULL
TOGETHER A SET OF SYSTEMS THAT
MEET THE PRINCIPLES THAT GENE
DESCRIBED.
I WILL QUICKLY DESCRIBE THE WORK
OF THE 51st STATE.
I KNOW SOMEBODY WHO IS MAGICAL
IS CONTROLLING SLIDES SOMEWHERE.
IF YOU CAN FIND THE 51st STATE
YOU WILL KNOW EXACTLY WHERE WE
ARE.
I THINK THE FIRST THING THAT IS
IMPORTANT IS THAT THE 51st STATE
IS TRYING TO TACKLE THE QUESTION
OF MEANINGFUL LEARNING BY
ADDRESSING THE FULL RANGE OF
COLLEGE AND CAREER READY SKILLS,
NOT JUST THE ONES THAT ARE
EASIEST TO TEST IN A SIT DOWN
STANDARDIZED TEST BUT ALSO THE
ONES THAT YOU NEED IN COLLEGE
FOR CAREERS THAT INCLUDE
COOPERATING AND COMMUNICATING
AND CRITICAL THINKING AND
PROBLEM SOLVING IN REAL
SITUATIONS.
SO THE CURRICULUM AND ASSESSMENT
SYSTEM INCLUDES RICH, VERY
LOCALLY ADMINISTERED PERFORMANCE
TESTS AS WELL AS STATE TESTS
WHICH HAD SOME PERFORMANCE
COMPONENTS CALLING ON THOSE
COMMUNICATIONS SKILLS.
THEY CONNECT TO CURRICULUM AND
INSTRUCTION IN WAYS THAT ARE
VERY TIGHTLY TIED TO TEACHING
AND LEARNING.
IT REALLY IS A SYSTEM.
WE SEE THIS IN MANY SYSTEMS
ABROAD, THE TEACHING LEARNING
CURRICULUM AND ASSESSMENT ARE
COMPLETELY INTERWOVEN WITH ONE
ANOTHER.
THEY INVOLVE TEACHERS
DEVELOPING, REVIEWING,
DESIGNING, SCORING THE
ASSESSMENTS WHICH MEANS TEACHERS
ARE VERY KNOWLEDGEABLE AND
BECOME INCREASINGLY ADEPT TO
TEACHING TO THE STANDARDS.
THEY SPEND TIME THINKING ABOUT
HOW TO ENABLE STUDENTS TO ENACT
THE KINDS OF TESTS THAT ARE PART
OF THE SYSTEM.
AND THEN THEY KEEP TRACK OF
LEARNING IN WAYS THAT ACTUALLY
SUPPORT STUDENT AGENCIES BECAUSE
STUDENTS SHOULD OWN THE
ASSESSMENTS AND BE ABLE TO CARRY
THEM FORWARD TO CAREER AND
COLLEGE AND USE THE ASSESSMENTS
TO REVISE THEIR WORK TO A
STANDARD AS WELL AS INFORM
COLLEGES AND EMPLOYERS.
THE PERFORMANCE TASKS WE ADOPTED
ASSESSUBLES, USE OF TECHNOLOGY,
COLLABORATION AND VERY
IMPORTANTLY IN THIS ERA OF
SCIENCE TECHNOLOGY ENGINEERING
AND SO ON THEY INVOLVE STUDENTS
IN MODELING, DESIGN AND
DEVELOPING PRODUCTS AS WELL AS
WRITING THINGS AND TALKING ABOUT
THEM.
THE INTERACTIVE ELEMENTS OF THE
ASSESSMENT SYSTEM INCLUDE VERY
COMPLIMENTARY SET OF STATE
ASSESSMENTS THAT ARE FEWER BUT
MORE POWFUL IN WHAT THEY
MEASURE, USED TO VALIDATE A RICH
AWAY OF ASSISTANTS THAT TRACK
STUDENTS SYSTEMATICALLY ACROSS
THE YEARS OF SCHOOLING, ACROSS A
LONG CONTINUUM OF LEARNING AND
THAT GIVE DETAILED INFORMATION
TO TEACHERS ABOUT EXACTLY WHAT
STUDENTS THINK AND KNOW AND DO
AND HOW THEY CAN BE ADDRESSED IN
THE TEACHING AND LEARNING
PROCESS.
SO IT'S GOT TO BE DESIGNED SO
THAT THOSE ASSESSMENTS INFORM
TEACHING.
THE STATE ASSESSMENTS VALIDATE
BUT DON'T TRY TO DO EVERYTHING.
AND STUDENTS ARE ENGAGED IN WORK
THAT IS NOT AN OVERTESTING
SITUATION BUT WHERE MUCH OF THE
WORK THEY ARE DOING IS
INTEGRATED INTO THE CLASSROOM IN
WAYS THAT WE HOPE ARE EXCITING
AND ENGAGING AS WELL AS
INFORMATIVE.
WE HAVE DEVELOPED A SYSTEM OF
CURRICULUM AND ASSESSMENTS.
YOU CAN SEE A VERY SIMILAR
SYSTEM THAT WAS DEVELOPED IN
PLACES LIKE KENTUCKY AND VERMONT
AND MAINE IN THE 1990s.
ALSO PLACES LIKE AUSTRALIA,
VICTORIA, SINGAPORE WHERE THERE
ARE VERY CAREFULLY ARTICULATED
SETS OF LOCAL PERFORMANCE
ASSESSMENTS AND TESTS AND TASKS
THAT RESULT ULTIMATELY AND
MODERATED WHEN TEACHERS SCORE
THEM SO THEY ARE CONSISTENT IN
RELIABILITY BUT RESULT IN
STUDENTS DEVELOPING A GRADUATION
PORTFOLIO THAT WORK THAT THEY
ARE ABLE TO DO LIKE PRACTICAL
ASSESSMENTS IN SCIENCE.
YOU SEE THOSE IN SINGAPORE AND
AUSTRALIA AND CONNECTICUT AND
VERMONT AND OTHER STATES WHERE
THEY DESIGN AN EXPERIMENT AND
CONDUCT IT AND EVALUATE DATA.
THEY WRITE IT UP.
THIS IS WHAT WE WANT THEM TO BE
ABLE TO DO IN SCIENCE AND
TECHNICAL CAREERS AND IN
COLLEGE.
AND THEN THAT KIND OF VERY DEEP
WORK IS ARRAYED IN A PORTFOLIO
WHICH CAN BE LOOKED AT BY
EMPLOYERS OR COLLEGES FOR
ADMISSION OR PLACEMENT OR
ADVISEMENT.
THERE IS ALSO A VERY EASILY
ACCESSIBLE EFFICIENT IN THE
DIGITAL PORTFOLIO, A SUMMARY
WHICH IS A TRANSCRIPT AND GRADES
AND TEST SCORES BUT ALSO
STATEMENTS OF GOALS AND A VIDEO
CLIP OF THE STUDENT PRESENTING
THEIR WORK AND A TABLE OF
CONTENTS THAT ALLOWS THOSE TO
WHOM THE STUDENT WANTS TO
PRESENT THEIR WORK TO SAY YOU
HAVE APPLIED FOR OUR MAJOR IN
ART.
WE ARE GOING TO LOOK AT YOUR ART
PORTFOLIO AND REALLY UNDERSTAND
WHAT YOU ARE CAPABLE OF THERE.
IT IS A COMBINATION OF DEEP
INFORMATION BUT EFFICIENT
INFORMATION ALONG MULTIPLE
MEASURES.
THE STATE HAS TACKLED RESOURCE
ACCOUNTABILITY MUCH LIKE THE
STATE OF CALIFORNIA RECENTLY AND
PREVIOUSLY THE STATES OF
KENTUCKY AND MASSACHUSETTS IN
EARLIER DAYS OF REFORM WHERE
THEY WEIGHTED STUDENT FORMULA
THAT GIVES MORE MONEY FOR THE
STUDENTS IN POVERTY, ENGLISH
LEARNERS.
IN CALIFORNIA'S CASE FOSTER
CARE.
WE HAVE ADOPTED THAT IN THE 51st
STATE SO THAT MONEY FOLLOWS
PEOPLE'S NEEDS.
WE WANT TO BE SURE THE MONEY IS
SPENT WISELY.
SO THERE IS A LOCAL PROCESS OF
COMMUNITY ENGAGEMENT AROUND HOW
THE MONEY WILL BE SPENT AND A
DASHBOARD OF MEASURES THAT TELL
US WHERE IT IS GOING AND WHAT
THE OUTCOMES ARE.
THERE IS A CONTINUAL PROCESS OF
EVALUATING WHETHER THE OUTCOMES
ARE WHAT WE WANT AND HOW WE
SHOULD REALLOCATE THE RESOURCES
TO MAKE SURE THAT STUDENTS ARE
GETTING WHAT THEY NEED.
THE MULTIPLE MEASURE DASHBOARD
REPLACES THE IDEA OF A SINGLE
MEASURE WITH THE IDEA THAT THERE
ARE MANY THINGS WE CARE ABOUT IN
EDUCATION AND WANT TO TRACK AND
USE TO IMPROVE.
WE BORROW AND LEARN FROM THE
CORE DISTRICTS IN CALIFORNIA
THAT ARE USING A DASHBOARD VERY
MUCH LIKE WHAT YOU SEE HERE THAT
INCLUDES ACADEMIC INDICATORS, A
VARIETY OF KINDS OF TEST SCORES
AND OTHER MEASURES OF
ACHIEVEMENT, GRADUATION RATES,
SOCIAL EMOTIONAL MEASURES.
HOW ARE STUDENTS DOING IN TERMS
OF BOTH STAYING IN SCHOOL,
SOCIAL SUSPENSION AND EXPULSION
DATA BUT ALSO NONCOGNIZANT
SKILLS LIKE THE ABILITY TO
COLLABORATE AND BE RESOURCEFUL
AND USE FEEDBACK AND BE
RESILIENT AND THEN THE SCHOOL
CLIMATE WHICH IS MEASURED WITH
SURVEYS OF STUDENTS AND TEACHERS
AND PARENTS AS WELL AS MOVING
ENGLISH LEARNERS FORWARD AND
DEALING WITH THE NEEDS OF
SPECIAL EDUCATION STUDENTS.
WITH THAT KIND OF DATA ALONG
WITH INDICATORS OF LEARNING
OPPORTUNITIES, WHAT ARE KIDS
GETTING ACCESS TO IN THE
CURRICULUM, HOW ARE PARENTS
INVOLVED, YOU CAN THEN HAVE A
SYSTEM WHERE YOU ARE CONTINUALLY
EVALUATING BOTH INTERNALLY TO
THE SCHOOL WHAT WE ARE DOING
WELL AND LESS WELL AND ALSO
ACTIVATING INTERVENTION OR
CORRECTIVE ACTION FROM THE STATE
OR DISTRICT IF IT IS NEEDED.
FROM OUR FRIENDS IN ALBERTA,
CANADA WE BORROWED THE IDEA OF A
REPORT CARD THAT GIVES
INFORMATION ON MULTIPLE
INDICATORS AND GIVES EVIDENCE
ABOUT WHERE IF THINGS ARE
IMPROVING AND DOING WELL AND
WHERE THERE MAY BE CAUSE FOR
ALARM.
THE STATE CAN LOOK AT THAT AND
SEE IF THERE ARE A LOT OF RED
FLAGS THAT THIS IS A DISTRICT OR
SCHOOL THAT NEEDS TO BE GETTING
SPECIAL ATTENTION, INTERVENTION,
SUPPORT IN A DIAGNOSTIC FASHION
TO FIGURE OUT HOW TO REALLY WRAP
AROUND THAT SCHOOL AND HELP IT
IMPROVE.
THAT INVOLVED PROCESS OF SCHOOL
QUALITY REVIEW WHERE EXPERTS
ALONG WITH PEERS FROM OTHER
SCHOOLS IN CONCERT WITH THE DATA
CAN BE DIAGNOSTIC AND PROVIDE
GUIDANCE FOR IMPROVEMENT.
FINALLY, THE 51st STATE IS
PAYING A LOT OF ATTENTION TO
BUILDING PROFESSIONAL CAPACITY.
THE STATE IS RESPONSIBLE FOR
MAKING SURE THAT IT CAN EDUCATE
AN ADEQUATE SUPPLY OF WELL
PREPARED EDUCATORS AND ENSURE IT
GETS TO ALL SCHOOLS.
IT HAS TAKEN A VERY AMBITIOUS
EFFORT TO IMPROVE QUALITY OF
PREPARATION, LICENSING AND BE
SURE THAT THOUGHTFUL
PROFESSIONAL DEVELOPMENT IS
AVAILABLE AND EVALUATION OF
PROFESSIONALS IS LINKED TO THE
STANDARDS, PROVIDES EVIDENCE OF
PRACTICE AND STUDENT LEARNING
AND CONTRIBUTIONS TO COLLEAGUES
AND COLLABORATION.
ONE OF THE THINGS THAT THE 51st
STATE KNOWS IS THAT
COLLABORATION IS AT THE HEART OF
EFFECTIVE SCHOOLS AND TEACHING
IS A TEAM SPORT.
MANY OF THE EFFORTS ARE REALLY
AROUND BUILDING THE CAPACITY OF
THE GROUP OF EDUCATORS TO WORK
TOGETHER TO HAVE A COHERENT
CURRICULUM THAT IS WELL
SUPPORTED WITH THOUGHTFUL
INSTRUCTION AND HIGH QUALITY
ASSESSMENTS.
IF THE SCHOOL DOESN'T SUCCEED
SUFFICIENTLY ON ITS OWN TO
CONTINUE TO GROW AND IMPROVE
THERE ARE SUPPORTS FOR
IMPROVEMENT.
THERE ARE TEAMS OF EXPERT
EDUCATORS WHO ARE TRAINED TO
WORK WITH STRUGGLING SCHOOLS,
DISTINGUISHED EDUCATORS WHO
THEMSELVES HAVE DONE THIS KIND
OF WORK BEFORE, SCHOOLS CAN BE
PAIRED WITH EACH OTHER.
STRUGGLING SCHOOLS WITH MORE
SUCCESSFUL SCHOOLS TO LEARN FROM
EACH OTHER, NETWORKS OF SCHOOLS
ARE AVAILABLE.
LAURA WILL TELL US ABOUT A
NETWORK THAT HER SCHOOL IS IN
THAT IS A GOOD MODEL FOR THIS IN
NEW YORK CITY TO ENABLE
LEARNING.
THERE ARE TRAINED CURRICULUM
COACHES.
THERE ARE WRAP AROUND SERVICES
FOR CHILDREN AND SCHOOL REDESIGN
THAT IS REALLY BASED ON WHAT WE
KNOW FROM BEST PRACTICE.
SO THAT ULTIMATELY THE GOAL IS
TO HAVE A VERY COHERENT SYSTEM
THAT IS FOCUSED ON THE KIND OF
VERY AMBITIOUS LEARNING AND
CAPACITY BUILDING THAT IS NEEDED
TO MEET THESE NEW STANDARDS.
>> THANK YOU, LINDA.
>>> NEXT WE HEAR FROM LAURA.
>> THIS IS ALL VERY EXCITING FOR
MY NETWORK AND MY SCHOOL BECAUSE
THIS IS THE KIND OF WORK THAT WE
HAVE BEEN ENGAGED IN FOR ALMOST
20 YEARS.
WE ARE A SCHOOL INTERNATIONAL
NETWORK FOR PUBLIC SCHOOLS AND
MY SCHOOL HAS BEEN WORKING WITH
SOME OF THE HIGHEST NEEDS
STUDENTS IN NEW YORK CITY AND
USING THESE KINDS OF PERFORMANCE
ASSESSMENTS AND PROFESSIONAL
PRACTICES AT OUR SCHOOLS FOR A
LONG TIME.
AND OUR STUDENTS ARE — THEY
ARRIVE IN THIS COUNTRY VERY
OFTEN NOT KNOWING ENGLISH.
WE ARE TAKING STUDENTS SCORING
BEGINNING TO INTERMEDIATE LEVEL
ON STATE ENGLISH ASSESSMENT.
THEY HAVE BEEN IN THE COUNTRY
LESS THAN FOUR YEARS AND MOST
LESS THAN ONE YEAR WITH THEY
COME TO US.
WE WANTED TO GIVE A ROBUST
CURRICULUM TO PREPARE THEM FOR
CLEEMG.
WE MODEL AROUND DEEPER LEARNING
SKILLS, THINGS LIKE PROBLEM
SOLVING, CRITICAL ANALYSIS,
COLLABORATION, MASTERY OF
CONTENT.
THESE WERE ALL LOCALLY DEVELOPED
ASSESSMENTS THAT WE WANTED
STUDENTS TO DO IN THE CLASSROOM,
EMBED IT IN THE CURRICULUM AND
THEN PRESENT AS A MEANS OF
ASSESSING WHETHER THEY WERE
READY TO GRADUATE AND MOVE ON TO
COLLEGE.
THESE ASSESSMENTS HAVE REALLY
BEEN VERY POWERFUL IN THE WAY
THEY HAVE AFFECTED OUR NETWORK
OF SCHOOLS AND OUR SCHOOL
COMMUNITY.
FIRST THROUGH THE CURRICULUM
BECAUSE YOU CAN'T DO THAT KIND
OF WORK WITH STUDENTS WITHOUT IT
TRICKLING THROUGH INTO THE
CLASSES.
YOU HAVE TO EMBED THE SKILLS
THROUGHOUT.
SO IN ORDER TO PREPARE STUDENTS
FOR THOSE ASSESSMENTS WE CREATED
PROJECTS IN THE CLASSROOM THAT
WOULD SUPPORT THEM TO PRODUCE
THOSE FINAL ASSESSMENTS.
THOSE ASSESSMENTS INCLUDE THINGS
LIKE AN ORIGINAL RESEARCH PAPER,
ORIGINAL SCIENCE PROJECT,
LITERARY ESSAY, INTERNSHIP
EXHIBITION, ARTS PIECE, NATIVE
LANGUAGE PIECE.
ALL OF THESE PIECES CALL FOR
RESEARCH, WRITING IN A VARIETY
OF GENRES, SORTING OUT
INFORMATION, DECIDING ON GOOD
SOURCES, ASKING GOOD QUESTIONS,
USING TECHNOLOGIES, ALL OF THE
SKILLS WE KNOW STUDENTS NEED TO
BE ABLE TO DO IN ORDER TO BE
SUCCESSFUL IN COLLEGE.
BUT IT CAN'T JUST HAPPEN ALL AT
THE END.
IT HAS TO HAPPEN THROUGHOUT.
AND SO ALL OF OUR PROJECTS IF
YOU WALK INTO ANY OF OUR CLASSES
IT WAS OUR BRAND NEW STUDENTS
WHO JUST ARRIVED BEING ASKED TO
WORK IN GROUPS, STAND UP IN
FRONT OF THE CLASS TO PRESENT IN
ORDER TO PREPARE FOR
PRESENTATIONS.
THOSE PRESENTATIONS ARE ASSESSED
THROUGH A PANEL, A SERIES OF
ADULTS.
MENTOR TEACHER, ANOTHER TEACHER
IN THE CONTENT AREA AND AN
OUTSIDER AND STUDENTS ASSESS THE
FINAL PRODUCTS AND THE
PRESENTATION IN ORDER FOR THE
STUDENT TO MOVE ON TO GRADUATE.
WE HAVE A WAIVER FROM CERTAIN
EXAMS IN NEW YORK STATE AND WE
ARE ABLE TO USE THOSE
ASSESSMENTS IN LIEU OF THE STATE
EXAMS.
WHAT HAS ALSO HAPPENED BECAUSE
OF THAT IS JUST SIMILARLY TO THE
WAY IT IS DESCRIBED IN THE 51st
STATE IS THAT THERE IS A REAL
KIND OF PROFESSIONAL BENEFIT AND
COMMITMENT THAT HAPPENS BECAUSE
OF THAT.
AS LINDA SAID IT CAN'T HAPPEN IN
ISOLATION.
THIS HAS TO BE WORK AMONG GROUPS
OF TEACHERS.
AND AS A TEACHER, AS I MYSELF IS
A TEACHER WHO TAUGHT IN THIS
SYSTEM AND BECAME AN
ADMINISTRATOR I SEE IT IS TO SIT
AROUND A PANEL OF YOUR PEERS AND
LOOK AT STUDENT WORK AND NORM ON
A SET OF COMMON RUBRICS AROUND
THAT WORK TO DECIDE WHERE THE
STUDENT IS AND WHAT THE NEXT
STEPS ARE FOR THAT STUDENT.
IT ALSO EMPOWERS TEACHERS TO
THINK ABOUT WHAT I NEED TO DO IN
MY CLASSROOM IN ORDER TO GET
STUDENTS THERE.
WE ALSO LOOK AT TASKS THAT ARE
CREATED BY TEACHERS AND DO
MODERATION STUDIES USING THOSE
RUBRICS TO SAY IS THIS A TASK
THAT PREPARES STUDENTS TO MEET
THE HIGHEST LEVEL OF THE RUBRIC?
IF NOT HOW DO WE SUPPORT THIS
TEACHER IN CREATING MORE TASKS
LIKE THAT.
THIS HAS BEEN INCREDIBLY
CHALLENGING WORK.
REALLY INVIGORATING WORK.
WE HAVE CONTINUED IT IN SPITE OF
THE FOCUS SOLELY ON TEST SCORES
AT THE STATE AND FEDERAL LEVEL.
AND I THINK THAT OUR SUCCESS
SHOWS WHY IT IS GOOD WORK.
I MEAN, OUR STUDENTS ARE
GRADUATING AT A RATE THAT IS
DOUBLE THAT OF THE CITY.
OUR STUDENTS ARE OFTEN MUCH
MORE — THEIR RESULTS IN COLLEGE
ARE MUCH HIGHER IN TERMS OF
ARTICULATION.
WE HAVE SEEN THOSE SUCCESSES AND
WE KNOW THAT IT IS BECAUSE OF
THE KIND OF WORK THAT WE ARE
DOING IN OUR SCHOOL.
AND WE USE MULTIPLE MEASURES TO
JUDGE OUR OWN WORK AND THE CITY
USES MULTIPLE MEASURES.
WHILE THE STATE EXAMS ARE USED
AS PART OF THOSE MEASURES THEY
ALSO TAKE INTO ACCOUNT HOW OUR
STUDENTS ARE DOING ON THOSE
ASSESSMENTS.
THEY LOOK AT OUR LEARNING
ENVIRONMENT SURVEYS, WHAT DO
YOUR STUDENTS, TEACHERS AND
FAMILIES SAY ABOUT US IN TERMS
OF SCHOOL ENVIRONMENT.
THEY ARE LOOKING AT HOW WE ARE
DOING WITH CERTAIN SUBGROUPS OF
STUDENTS IN TERMS OF WHERE THEY
CAME IN AND WHERE WE MOVE THEM
TO.
THERE IS A NUMBER OF CREDITS THE
STUDENTS HAVE PASSED.
THERE ARE SO MANY DIFFERENT
THINGS THAT THEY ARE LOOKING AT.
WE OFTEN SAY THAT WE ARE ALWAYS
AS PART OF THE PROCESS WE ARE
TRYING TO TEACH STUDENTS TO USE
DIFFERENT PIECES OF EVIDENT TO
COME UP WITH CONCLUSIONS.
AND THIS IS EXCITING TO US
BECAUSE IT SEEMS LIKE MAYBE THE
STATE AND THE FEDERAL GOVERNMENT
WILL ALSO TAKE THAT SAME ADVICE
AND USE MULTIPLE MEASURES BEFORE
THEY JUDGE AND EDUCATE OUR
SCHOOLS.
>>> THANK YOU, LAURA.
I AM DELIGHTED TO BE JOINED BY
THESE THREE INDIVIDUALS WHO ARE
DEDICATED TO EXPLORING
POSSIBILITIES FOR ACCOUNTABILITY
SYSTEMS THAT EXPLORES DEEPER
LEARNING.
I WANTED TO REMIND VIEWERS YOU
CAN POSE QUESTIONS USING THE
FORM BELOW THIS VIDEO WINDOW.
BEFORE WE GET TO VIEWER
QUESTIONS I WANT TO ASK A FEW OF
MY OWN QUESTIONS.
I START WITH LINDA.
FOR DECADES THE UNITED STATES
HAD ACCOUNTABILITY SYSTEMS
LARGELY KIND OF BASED ON TESTS,
WHAT ARE SOME OF THE PROBLEMS
WITH THIS TYPE OF SYSTEM?
>> WELL, IF ONE HAS THE RIGHT
KIND OF TESTS USED IN THE RIGHT
WAY WITH THE RIGHT KIND OF
SUPPORTS TESTS CAN BE A USEFUL
PART OF AN ACCOUNTABILITY
SYSTEM.
I THINK THAT IS WHAT WE ARE
TRYING TO DESCRIBE IN THIS CASE.
BUT IF ALL YOU HAVE IS TESTING
WITHOUT INVESTING AND WITHOUT
ALL OF THE OTHER DIAGNOSTIC
INFORMATION QUITE OFTEN WHAT
PEOPLE ARE DOING IS JUST USING
THE SCORE WHICH DOESN'T TELL YOU
MUCH ABOUT HOW A CHILD LEARNS OR
WHAT THEY NEED TO KNOW AND JUST
TRY TO DO TEST PREP TOWARDS —
IT SO HAPPENS BECAUSE NO CHILD
LEFT BEHIND DRAMATICALLY
INCREASED THE NUMBER OF REQUIRED
TESTS MANY STATES DECIDED TO
ELIMINATE SOME OF THE MORE
AMBITIOUS KIND OF PERFORMANCE
ASSESSMENTS THAT THEY HAD IN
PLACE.
THEY JUST TRIED TO BUY WHATEVER
THE LEAST EXPENSIVE TEST, WE USE
MOSTLY MULTIPLE CHOICE TESTS IN
THE UNITED STATES.
MOST COUNTRY EXAMINATION SYSTEMS
ARE OPEN ENDED ESSAYS AND
PROJECT-BASED ELEMENTS.
OUR CURRICULUM HAS TRACKED WHAT
THE TESTS ARE CALLING FOR.
A RECENT STUDY FOUND THAT ALMOST
ALL OF THE ITEMS ON CURRENT
STATE TESTS MEASURE LOW LEVEL
SKILLS AND VERY FEW MEASURE
HIGHER ORDER THINKING SKILLS.
SO WHAT WE NEED IS TO BALANCE
THE WAY IN WHICH WE USE
ASSESSMENTS.
WE NEED MORE ROBUST ASSESSMENTS
OF HIGHER ORDER THINKING SKILLS.
WE NEED DEEPER AND MORE FREQUENT
ASSESSMENT AT THE LOCAL LEVEL
THAT MATTERS.
STATE ASSESSMENTS SHOULD BE
HIGHER QUALITY AND POTENTIALLY
FEWER BUT VALIDATE TO VERIFY THE
DEEP WORK THAT IS GOING ON IN
LOCAL SCHOOLS.
THEY SHOULD BE USED FOR
IMPROVEMENT AND NOT FOR
SANCTIONS SO THAT WE ARE NOT
CREATING INCENTIVES FOR
CORRUPTING THE MEASURES OF
THEMSELVES.
THEY SHOULD BE REINFORCED AND
WITH THE RESOURCES THAT ALLOW
SCHOOLS AND TEACHERS AND
EDUCATORS AND CHILDREN TO
SUCCEED.
WE HAVE A VERY UNEQUAL FUNDING
SYSTEM IN THIS COUNTRY.
TESTING ALONE DOES NOT CORRECT
ALL THE PROBLEMS THAT WE HAVE OR
THE NEEDS THAT WE HAVE.
>> CERTAINLY.
THANK YOU.
>>> AND IN THE PAPER YOU
PROPOSED THAT THIS SYSTEM, THIS
NEW ACCOUNTABILITY SYSTEM WOULD
REST ON THESE THREE PILLARS.
CAN YOU DESCRIBE THAT A LITTLE
MORE AND THE DETAILS ENTAILED.
>> I THINK GENE DID A GOOD JOB
GETTING US STARTED WITH THAT.
WE TALK ABOUT MEANINGFUL
LEARNING, THAT THE FOCUS OF THE
SYSTEM SHOULD BE ON MEANINGFUL
LEARNING WHICH IS COLLEGE AND
CAREER READY KINDS OF SKILLS.
WE DON'T WANT KIDS WHO CAN JUST
BUBBLE IN AND PICK ONE ANSWER
OUT OF FIVE.
YOU NEVER DO THAT IN A REAL JOB.
GOOGLE RIGHT NOW — SINCE I AM
FROM CALIFORNIA I HAVE TO CALL
OUT MY COLLEAGUES IN
CALIFORNIA — GOOGLE DOESN'T USE
TEST SCORES AT ALL WHEN HIRING
EMPLOYEES, THEY ARE LOOKING AT
LEARNING ABILITY AS PRIMARY
THING, ABILITY TO LEARN NEW
THINGS BY GRABBING INFORMATION
AND MAKING SENSE OF IT AND APPLY
IT AND BEING ABLE TO BE WELL
GROUNDED AND CREATIVE.
WE WANT STUDENTS TO DEVELOP
THOSE MEANINGFUL LEARNING
SKILLS.
WE WANT THEM TO BE IN A SYSTEM
WHERE THERE IS PROFESSIONAL
CAPACITY IS THE SECOND PILLAR.
TO DO THAT WORK IT IS VERY
COMPLEX TEACHING, VERY COMPLEX
KIND OF EDUCATION THAT DOES
THIS.
LAURA DID A GREAT JOB EXPLAINING
THAT STATES HAVE TO HELP DEVELOP
THAT PROFESSIONAL CAPACITY BOTH
BEFORE EDUCATORS GET IN THE
SYSTEM AND WHILE THEY ARE THERE
AND TO HAVE THE RESOURCE
ACCOUNTABILITY THAT WE HOLD
ACCOUNTABLE AND THE SYSTEM HOLDS
GOVERNMENTS ACCOUNTABLE FOR
PROVIDING THE RIGHT RESOURCES
NEEDED FOR KIDS TO LEARN WITHOUT
HAVING TO ENGAGE IN LITIGATION
TO TRY TO GET THOSE RESOURCES.
>> THANK YOU.
>>> AND SO GENE HOW DIFFERENT
WOULD YOU SAY THE IDEA THAT IT
IS IN THE 51st STATE ARE
DIFFERENT THAN WHAT STATES ARE
PUTTING FORTH IN THEIR WAIVERS
RIGHT NOW.
>> I WOULD SAY STATES ARE ALL
OVER THE BOARD ON THIS.
SOME OF THE WAIVERS ARE QUITE
TAME AND DON'T MOVE FORWARD VERY
MUCH.
BUT THERE IS A COHORT OF STATES
WHO ARE REALLY WRESTLING WITH
THE ISSUES IN SINCERITY AND
ATTEMPTING TO COME UP WITH
SOLUTIONS.
WE ARE AT A POINT WHERE THEY ARE
READY TO TRY THESE IDEAS.
I WOULD SAY PROBABLY THE
DIFFERENCE IN THE PAPER AND WHAT
WE ARE SEEING IN MOST OF THE
STATES IS THE COHERENCE OF THE
IDEAS AND THE THREE AREAS THAT
ARE MENTIONED ARE TREATED
DIFFERENTLY IN THE STATES OR MAY
NOT BE ADDRESSED IN SEQUENCE
THAT SUPPORTS EACH OTHER.
FOR EXAMPLE, A STATE MAY BE
WRESTLING WITH TEACHER VALUATION
BUT OUTSIDE THE CONTEXT OF
SUPPORT.
THEY MAY PEA WRESTLING WITH HOW
THEY REDESIGN THE TESTING SYSTEM
BUT NOT DIGGING INTO THE ISSUES
OF THE DEEPER LEARNING KINDS OF
SKILLS AND APPLICATIONS THAT
LINDA TALKED ABOUT.
THERE IS MOVEMENT.
STATES WANT TO MOVE FORWARD.
I THINK THAT HOPEFULLY THE PAPER
AND OTHER FOLKS WHO ARE BRINGING
THINGS FORWARD WILL HELP THEM
BEGIN TO THINK ABOUT HOW THESE
THINGS FIT TOGETHER IN A
COHERENT WAY AND HOW THEY BEGIN
TO MOVE THESE TO A LARGER SCALE.
A LOT OF STATES IN ADDITION TO
THIS ARE BEGINNING TO DEVELOP
SORT OF WAIVERS INSIDE WAIVERS
OR OPPORTUNITIES FOR CERTAIN
DISTRICTS WHO HAVE THE CAPACITY
AND INTEREST TO TRY SOME OF
THESE THINGS MORE AGGRESSIVELY.
AND THEN I WOULD FINALLY SAY
THERE ARE PROBABLY FOUR TO FIVE
TO SIX STATES THAT HAVE PUT MOST
OF THE PIECES TOGETHER AND ARE
READY TO MOVE FORWARD.
WHAT THEY ARE TRYING TO STRUGGLE
WITH NOW IS GETTING FEDERAL
APPROVAL TO DO SO AND MEET
WAIVER RESPONSIBILITIES.
BUT WE ARE HOPING THAT THIS
POINT THEY CAN BENEFIT FROM THE
PAPER.
IT WOULD ENHANCE THE WORK THEY
HAVE BEEN DOING AND MAKE IT MORE
FRUITFUL.
>> THANK YOU.
>>> SO WE HAVE HEARD FROM YOU
ABOUT A LOT OF THE DIFFERENT
WORK THAT IS TAKING PLACE WITH
TEACHERS AND ASSESSMENTS.
CAN YOU DESCRIBE HOW YOUR SCHOOL
HOLDS ITSELF ACCOUNTABLE FOR THE
WORK AND STUDENT OUTCOMES THAT
YOU GUYS ARE DOING.
>> I THINK THERE IS NO
ACCOUNTABILITY LIKE SITTING
AROUND A TABLE WITH YOUR PEERS
AND HAVING THEM LOOK AT YOUR
WORK AND GETTING FEEDBACK FROM
THEM.
THE PANEL PROCESS WHEN STUDENTS
ARE PRESENTING AND YOU KNOWING
YOU WORKED WITH THE STUDENT TO
HELP PREPARE THEM, THAT STUDENT
IN THEIR PRESENTATION IS PART OF
YOUR WORK OR YOU WERE THE
TEACHER WHOSE THAT PROJECT CAME
OUT OF YOUR CLASS.
THAT RESEARCH PAPER CAME OUT OF
YOUR CLASS, I THINK YOU ARE HELD
ACCOUNTABLE BECAUSE EVERYTHING
THAT THAT STUDENT IS PRESENTING
ALL COMES BACK TO HOW YOU
PREPARED THEM AND WHAT YOU DID
TO GET THEM TO THAT.
AND THEN WE ALL ARE INVESTED IN
MAKING SURE THAT THE STUDENTS
ARE PREPARED BECAUSE IT IS NOT
JUST ABOUT WHOEVER THE TEACHER
WAS THAT THEY HAD FOR THAT
PARTICULAR RESEARCH PAPER.
IT WAS ALL OF THE TEACHERS THAT
LED UP TO.
WERE ALL OF THE SKILLS BUILT IN
ALONG THE WAY SO THAT THEY COULD
HANDLE THIS KIND OF PANEL AT THE
END OF THEIR FOUR YEARS.
SO THAT'S FIRST AND FOREMOST.
I KNOW FOR MYSELF BEING A
TEACHER AND KNOWING WHEN MY
RESEARCH PAPERS WERE OUT THERE
TEACHERS WOULD SAY WHAT DID YOU
DO TO SUPPORT STUDENTS?
DO YOU THINK THIS IS A GOOD
SOURCE FOR THIS?
WHAT KIND OF CONVERSATION DID
YOU HAVE?
IT MADE ME THINK BACK ON MY OWN
CURRICULUM AND SAY MAYBE I
SHOULD DO MORE ABOUT LIKE
RELIABLE SOURCES AND TEACHING
STUDENTS TO LIKE LOOK AT
DIFFERENT SOURCES AND MAKE
JUDGMENTS BET THAT.
MAYBE I DIDN'T DO THAT ENOUGH
WITH STUDENTS.
SO THAT'S FIRST AND FOREMOST.
AND THEN SECOND I THINK IS
LOOKING AT OUR OWN STUDENT DATA.
ARE THEY GRADUATING?
WHO IS GRADUATING?
HOW ARE THEY DOING IN COLLEGE?
ALL OF THAT INFORMATION WE ARE
LUCKY ENOUGH TO BE IN THE CITY
WHERE WE HAVE A LOT OF DATA
AVAILABLE TO US.
SO THAT IS SOMETHING THAT ALL OF
US LOOK AT, NOT JUST ME AS THE
PRINCIPAL BUT ALL TEACHERS BEING
PART OF OUR PD AND SDRIBIATIVE
LEADERSHIP MODEL THAT WE ARE
LOOKING AT THE DATA AND MAKING
DECISIONS BASED ON THAT.
>> WHEN YOU THINK ABOUT
PROFESSIONAL ACCOUNTABILITY WHAT
YOU DESCRIBED AS TEACHERS MAKING
THEIR PRACTICE PUBLIC, STUDENTS
MAKING THEIR WORK PUBLIC IS
REALLY A KEY PART OF
ACCOUNTABILITY, THAT PUBLIC
ASPECT OF IN A PROFESSION THAT
WE ARE ACCOUNTABLE FOR EACH
OTHER NOT JUST FOR OURSELVES IS
WELL ILLUSTRATED IN WHAT YOU
JUST DESCRIBED.
>> AND I WANTED TO SEE IF YOU
COULD SHARE MORE ABOUT THE DATA
THAT IS USED.
DO YOU HAVE ACCESS TO LOTS OF
DATA.
I KNOW YOUR SCHOOL, NETWORK AS
WELL AS NEW YORK CITY DOES
PROVIDE PARTICULAR DATA.
CAN YOU SHARE MORE ABOUT THE
TYPES OF DATA THAT ARE
AVAILABLE?
>> WE GET A SCHOOL QUALITY
SNAPSHOT THAT HAS LOTS OF
DIFFERENT KINDS OF DATA ABOUT
OUR SCHOOL AND OUR STUDENTS.
SO WE LOOK AT, FOR EXAMPLE, WE
GET INFORMATION HOW WELL WE
PROGRESSED WITH CERTAIN GROUPS
OF STUDENTS, WHERE WERE THEY
WHEN THEY CAME IN BASED ON THEIR
EIGHT GRADE TEST SCORES AND
WHERE ARE THEY NOW?
WE GET REPORTS THAT ARE CALLED
WHERE ARE THEY NOW THAT SHOW HOW
OUR STUDENTS ARE DOING IN
COLLEGE.
GIVEN THE POPULATION THAT WE
WORK WITH MANY OF OUR STUDENTS
HAVE BEEN OUT OF THE COUNTRY OR
AWAY FROM THEIR FAMILIES AND OUT
OF THE COUNTRY FOR MANY YEARS
WHEN THEY IMMIGRATE HERE.
WHEN OUR STUDENTS DO COME AND
REUNITE WITH THEIR FAMILIES IF
THEY WERE AN UNACCOMPANIED MINOR
OR IF THEY WERE SEPARATED FOR
OTHER REASONS THEY OFTEN DON'T
WANT TO LEAVE THE CITY.
SO THAT PROVIDES DATA FOR US
BECAUSE MANY ARE GOING TO THE
CITY SYSTEM.
THERE IS A REAL BACK AND FORTH
BETWEEN THE CITY AND THE
DEPARTMENT OF EDUCATION WHERE WE
ARE SEEING HOW MANY CREDITS WERE
ATTEMPTED AND HOW MANY WERE
PASSED AND WHAT IS THE
METICULATION RATE?
SO IT IS BROKEN DOWN IN ALL
KINDS OF DIFFERENT WAYS.
AND ON TOP OF THAT THEN WE HAVE
ALL OF THE LEARNING ENVIRONMENT
INFORMATION.
SO A LOT OF THE INFORMATION FROM
STUDENTS AND FAMILIES AND
TEACHERS ABOUT WHAT THEY THINK
IS WORKING WELL WITH THE SCHOOL,
WHAT DO THEY THINK COULD BE
IMPROVED?
HOW DO THEY FEEL SUPPORTED?
WHAT ARE THE SOCIAL EMOTIONAL
ASPECTS OF THEIR LEARNING THAT
NEED TO BE BETTER ADDRESSED.
THERE IS REALLY ALMOST AN
OVERWHELMING AMOUNT OF DATA THAT
WE CAN USE IN ORDER TO MAKE
DECISIONS AT THE SCHOOL.
>>> LINDA, CAN YOU TELL ME, ARE
THERE ANY POTENTIAL UNINTENDED
CONSEQUENCES ASSOCIATED WITH THE
SYSTEM THAT IS PROPOSED IN THE
51st STATE PAPER?
IF THE ANSWER IS YES OR
DEPENDING ON YOUR RESPONSE ARE
THERE GUARD RAILS THAT NEED TO
BE IN PLACE TO HELP WITH THAT?
>> WHEN WE STUDY POLICY WE TALK
ABOUT IMPLEMENTATION IS THE
GREAT SLIP BETWEEN THE TOUGH AND
THE LIP.
YOU CAN HAVE A GREAT IDEA AND IF
YOU HAD A ALL THE PIECES IN
PLACE YOU WOULD HAVE WAYS TO SEE
INFORMATION ABOUT WHAT IS
HAPPENING AND YOU WOULD HAVE
INVESTMENTS BEING MADE THAT ARE
NECESSARILY.
I THINK THE SINGLE BIGGEST
CHALLENGE PARTICULARLY IN THE
WAY THAT AMERICAN POLICYMAKERS
AND PRACTITIONERS HAVE SOMETIMES
ATTEMPTED REFORMS IS THAT WE TRY
TO DO THINGS QUICKLY.
SOMETIMES WE ARE NOT AS
DELIBERATE AND ENGAGED AROUND
THE IMPLEMENTATION PROCESS AS WE
NEED TO DO.
WE DID INVENT McDONALD'S.
IT IS NOT FRENCH COOKING.
WE LIKE TO DO THINGS FAST.
IF YOU LOOK AT THE CURRICULUM
PROCESS IN MOST COUNTRIES WHERE
THEY HAVE A NATIONAL CURRICULUM
IT IS A SEVEN YEAR PROCESS OF
THINKING OF THE NEXT ROUND OF
THE CURRICULUM AND TESTING IT
OUT AND REVISING AND
IMPLEMENTING AND DEVELOPING
ASSESSMENTS.
WE ARE MUCH MORE, YOU KNOW,
HURRIED.
WE FEEL LIKE WE ARE IN A HURRY.
I THINK ONE THING THAT WE HAVE
TO BE SURE ABOUT AND STATES THAT
ARE ATTEMPTING THESE NEW REFORMS
ARE IN MANY CASES BEING VERY
DELIBERATE ABOUT WHAT THEY ARE
DOING IS THAT WE PUT IN PLACE
THE SUPPORTS FOR BUILDING
PROFESSIONAL CAPACITY BECAUSE
THIS WORK IS HARD WORK.
IT IS GOING TO BE HARD WORK
WHETHER WE TRY TO DO IT THE OLD
WAY OR NEW WAY.
WE ARE LESS LIKELY TO GET THERE
GOING THE OLD WAY BECAUSE WE
WON'T BE FOCUSING ON THE RANGE
OF SKILLS THAT ARE NEEDED.
WE HAVE TO WORK WITH EVERY
ASPECT OF THE PROFESSIONAL
DEVELOPMENT SYSTEM FOR EDUCATORS
AND GIVE EDUCATORS A LOT OF
OPPORTUNITIES TO MAKE THEIR WORK
PUBLIC, TO LOOK AT STUDENT WORK
AND BE INVOLVED IN THIS.
THAT IS GOING TO TAKE PATIENCE
AS WELL AS PERSISTENCE AND A LOT
OF SENSE OF PURPOSE.
BUT ACTUALLY GENE DID THIS IN
KENTUCKY TO GREAT EFFECT AND
VERY STRONG GAINS IN ACHIEVEMENT
AND REDUCTIONS IN THE GAP DURING
THE '90s.
I THINK YOU HAD THAT
PERSISTENCE.
>> STICK WITH US OVER A PERIOD
OF TIME.
YOU CAN'T JUMP FROM PROGRAM TO
PROGRAM.
20 YEARS OF WORK.
A COMMITMENT ON THE PART OF THE
FOLKS TO RECOGNIZE THEIR LEGACY
AND DO SOMETHING ABOUT IT AND
THAT THE POLICYMAKERS STICK WITH
THAT COMMITMENT OVER TIME AND
SUPPORT IT IS REALLY IMPORTANT.
BUT THE INTENSE WORK THAT IS
DONE WITHIN THE PROFESSION TO
BUILD A TRUE PROFESSIONAL
PRACTICE AND ENTRUSTING THOSE
FOLKS TO BE A PART OF THE
ACCOUNTABILITY SYSTEM AND
PRODUCERS OF THE NEW KNOWLEDGE
IS REALLY CRITICAL.
YOU CAN BEGIN TO DO SOME OF THIS
WORK IN ASSESSMENTS THAT PEOPLE
ARE QUESTIONING.
THEY ARE SAYING THIS IS NOT
OBJECTIVE OR WE CAN'T TRUST THAT
TEACHERS WILL DO THIS OR THAT
THERE ARE GOING TO BE ALL KINDS
OF SLIPPAGE IN THE SYSTEM AND
WILL NOT BE CONSISTENT.
WE STILL HAVE TO HAVE EXPERSONAL
JUDGMENT AS A PART OF THE
SYSTEM.
WE NOT SAYING DO AWAY WITH THAT.
WE HAVE IGNORED TO A GREAT
DEGREE THIS ABILITY TO PRODUCE
TEACHERS CAPACITY TO SUPPORT
INNOVATION AND REFORM OVERTIME.
WE ACTUALLY SCORED OUR TEST
RESULTS BY TEACHERS AND WHAT WE
FOUND OVER TIME AND AGAIN PEOPLE
WERE ASKING THAT QUESTION, CAN
THE SYSTEM BE TRUSTED?
WE HAD OUTSIDE RESEARCHERS LOOK
AT THIS.
WE HAD AS MUCH RELIABILITY IN
THOSE RESULTS AS TRADITIONAL
TEST SCORING RELIABILITIES TEST
AND ALL SCORED BY TEACHERS.
WE HAD THE SUPPORT SYSTEM AROUND
THEM.
YOU HAVE PROFESSIONAL
DEVELOPMENT AND SYSTEMS TO
ENSURE THAT THE TEACHERS HAVE
THE COMPETENCE TO DO SO.
THEY MOVE FROM NOVICE LEVELS OF
WORK TO VERY SOPHISTICATED
LEVELS.
>> AND IN THE VIRTUE OF HAVING
KIDS IN THE WRITING PORTFOLIO IS
THAT THEY WERE ENGAGED IN
DEEPENING THEIR WRITING
CONSISTENTLY.
THE ONE THING THAT I WILL SAY AS
A HIGHER ED REPRESENTATIVE, WE
ARE ALWAYS WHINING ABOUT THAT
STUDENTS DON'T KNOW HOW TO WRITE
WHEN THEY GET TO COLLEGE.
THEY HAVE TO WRITE IN ORDER TO
LEARN TO WRITE.
AND YOU CAN ACTUALLY DEVELOP A
SYSTEM THAT ALLOWS THAT TO
HAPPEN.
AUTHENTICALLY AS PART OF THE
CLASSROOM WORK BUT ALSO
RELIABLY.
>>> CAN YOU DESCRIBE WHAT THE
FEDERAL GOVERNMENT'S ROLE LOOKS
LIKE IN TERMS OF SUPPORTING,
CULTIVATING THE STATES IN THE
IMPLEMENTATION OF ACCOUNTABILITY
SYSTEMS SUCH AS THIS?
>> IN A SENSE THE FEDERAL
GOVERNMENT HAS CREATED THIS MESS
WE ARE IN.
THEY CREATED AN ENVIRONMENT
STARTING WITH THE AREAS THAT YOU
MENTIONED EARLIER AROUND NCLB
AND WE MOVED TO A POINT WHERE WE
HAVE HIGH STANDARDS AND HIGHER
EXPECTATIONS.
NO ONE SHOULD BE SURPRISED THAT
PEOPLE ARE TRYING TO FIGURE OUT
HOW TO MEET THOSE EXPECTATIONS.
SO WHAT THE FEDERAL GOVERNMENT
WILL HAVE TO DO MOW IS BEGIN TO
SUPPORT THIS IDEA OF INNOVATION
TO RECOGNIZE THAT THERE ARE
OUTCOMES THAT ARE EXPECTED AND
THAT WILL BE MEASURED AND
VALIDATED BY THE FEDERAL
GOVERNMENT BUT THERE ARE
MULTIPLE WAYS TO REACH THAT AND
THERE ARE MULTIPLE ENVIRONMENTS
AROUND WHICH THAT COULD HAPPEN
BASED ON CONTEXT AND SITUATION
IN THE STATES.
SO BEING THAT KIND OF ENTITY
THAT SUPPORTS STATES AS THEY
BEGIN TO INNOVATE IS CRITICAL.
THE MESSAGE FROM THE FEDERAL
GOVERNMENT OUGHT TO BE WE EXPECT
INNOVATION AND IMPROVEMENT AND
EXPECT YOU TO DO THINGS IN WAYS
THAT BRING ABOUT HIGHER
PERFORMANCE THAN WHAT WE HAD
BEFORE.
THEY SHOULD CONTINUE TO
VALIDATE.
NAPE IS IMPORTANT THAT THE GOOD
VALIDATION OF THE STATE RESULTS.
THEY OUGHT TO HOLD US
ACCOUNTABLE AND CONTINUE TO
RESOURCE PROGRAMS AROUND EQUITY
THAT ARE SO CRITICAL.
THEY NEED TO BEGIN TO THINK
ABOUT HOW THEY RESEARCH THIS
DYNAMIC ENVIRONMENT THAT IS
GOING ON IN STATES RIGHT NOW.
HOW DO WE LEARN FROM ALL THESE
THINGS THAT ARE GOING ON?
HOW DO WE NETWORK FOLKS IN A WAY
THAT CREATES A GREATER LEARNING.
I CAN'T GO INTO A HOSPITAL AND
HAVE A PROCEDURE TODAY WITHOUT
THAT BEING RECORDED AND THE
RESULTS OF THAT BEING RECORDED.
AND YET TEACHERS ARE OUT THERE
DOING REALLY INNOVATIVE THINGS
IN REALLY DIFFICULT
CIRCUMSTANCES.
AND WE AS AN INERTPRISE ARE NOT
CAPTURING THAT KNOWLEDGE AND
BEGINNING TO SHARE THAT.
I THINK THE FEDS COULD PLAY A
ROLE IN THAT.
>> WHAT KIND OF SUPPORT WOULD
YOU AND YOUR STAFF NEED TO MAKE
A SYSTEM LIKE THIS EFFECTIVE?
>> WELL, I WOULD SAY THAT OUR
SYSTEM WITHIN OUR OWN SCHOOL,
OUR RESULTS SHOW THAT AND WITHIN
OUR NETWORK OF SCHOOLS.
I THINK THE OPPORTUNITY TO LEARN
FROM OTHER TEACHERS.
WE AS TEACHERS WORK TOGETHER TO
DEVELOP THESE ASSESSMENTS AND
NORM AROUND THE ASSESSMENTS AND
HAVE MORE SUPPORT TO BE ABLE TO
SHARE THE KIND OF WORK WITH
OTHERS WOULD, I THINK,
TREMENDOUSLY HELP TO GROW IT AND
TO ENRICH IT.
THAT, I THINK, WOULD BE GREAT
FOR US AND OTHERS TO BE ABLE TO
SHARE.
I FEEL LIKE WE HAVE MAINTAINED
THIS WORK BUT IT HAS BEEN
CHALLENGING OVER THE PAST TEN OR
SO YEARS.
TO DO IT AT THE SAME TIME THAT
WE ARE BEING HELD ACCOUNTABLE
WHEN OUR SCHOOL OPENED, WHEN MY
PARTICULAR SCHOOL OPENED WE HAD
TO GIVE ALL FIVE REGENTS EXAMS.
THESE TASKS CALLED FOR NEW YORK
STATE EXAMS.
THESE FIVE TASKS — THE TASKS
FOR THE PORTFOLIOS INVOLVE A LOT
OF TIME IN THE CLASSROOM.
AT THE SAME TIME WE ARE TRYING
TO PREPARE STUDENTS FOR 50
MULTIPLE CHOICE QUESTIONS ON
5,000 YEARS OF HISTORY.
THE TWO DIDN'T GO TOGETHER.
WE WOULD SPEND A LOT OF TIME ON
PROJECTS AND RIGHT BEFORE THE
TEST SHIFT GEARS WITH THE
STUDENTS.
THAT WAS ALWAYS CHALLENGING.
NOW THAT WE HAVE A WAIVER FROM
SOME OF THOSE EXAMS AND
FLEXIBILITY SO THAT WE ONLY HAVE
TWO, THAT HAS BEEN REALLY
LIBERATING FOR US AND WILL
CONTINUE TO BE.
>> GREAT.
I HAVE A FOLLOW UP QUESTION FOR
ALL PANELISTS, IT IS A QUESTION
FROM BRIDGET FROM WASHINGTON,
D.C.
SHE IS WONDERING WITH ALL OF THE
TESTING FATIGUE THAT WE HAVE
BEEN TALKING ABOUT HOW DO YOU
ENVISION THE ROLE OF ASSESSMENTS
AS WE MOVE FORWARD?
>> IT IS INTERESTING HOW ONE
DEFINES TESTING FATIGUE.
I THINK MANY PEOPLE SAY IT IS
OVERTESTING.
MY SENSE IS IRRELEVANT TESTING
OR TESTING NOT CONNECTED TO
LEARNING.
PEOPLE CAN'T PERCEIVE.
ASSESSING HOW YOU ARE DOING ON A
CONTINUAL BASIS IS VERY
IMPORTANT.
IT IS DONE IN EVERY ENTERPRISE
AND YET MANY PEOPLE ARE
REBELLING AGAINST TESTS TODAY
BECAUSE I THINK THEY FEEL LIKE
THEY ARE NOT CONSISTENT WITH THE
LEARNING PROCESS.
THEY ARE AN INTERRUPTION.
THEY DON'T SEE THE RESULTS
COMING BACK IN A TIMELY WAY.
I THINK SOME OF THE THINGS WE
ARE PROPOSING HERE WOULD CHANGE
THAT.
IF STUDENTS GET ENGAGED IN A
SCIENTIFIC EXPERIMENT THERE IS
AN ASSESSMENT AROUND HOW WELL
THE STUDENT DID AND BRINGS YOU A
WEALTH OF INFORMATION YOU DIDN'T
HAVE ABOUT THE LEARNING PROCESS.
I DON'T THINK ANYBODY WILL
NEGATIVELY REACT TO THAT.
THEY DON'T SEE THAT AS TESTING.
SO WHAT WE HAVE TO DO IS FIGURE
OUT A WAY THAT THAT BECOMES VERY
IMPORTANT IN THIS WHOLE
ENTERPRISE AND ASK SERIOUS
QUESTIONS ABOUT WHAT WE ARE
ASKING THE SUMMATIVE ASSESSMENTS
TO DO.
THEY ARE TAKING ON MANY
RESPONSIBILITIES THAT GO BEYOND
THEIR ORIGINAL INTENT WHICH WAS
INSTITUTIONAL ACCOUNTABILITY.
WE STILL NEED INSTITUTIONAL
ACCOUNTABILITY AND WAYS TO
MEASURE STUDENT GROWTH EVERY
YEAR BUT WE NEED TO THINK ABOUT
UNIQUE AND EXCITING WAYS TO DO
THAT.
I THINK THAT MIGHT HELP SOME OF
THE FATIGUE.
>> IF YOU THINK ABOUT WHAT YOU
SAID THAT SCIENTIFIC EXPERIMENT
IS PART OF THE CURRICULUM AND
TEACHING AND LEARNING PROCESS.
I REMEMBER WHEN MY DAUGHTER WAS
IN THE 11th GRADE AND HAD A
TEACHER WHO DID A WRITING
PORTFOLIO IN HER ENGLISH CLASS
AND HAD TO TAKE A REGENTS EXAM
AND WAS ASSEMBLING THIS WRITING
PORTFOLIO WHICH DID NOT FEEL
LIKE A TEST TO HER.
IT WAS LEARNING TO WRITE AND
GETTING FEEDBACK AND DURING
REVISIONS.
SHE WORKED SO HARD AND IMPROVED
HER WRITING SO MUCH BECAUSE OF
THAT.
THAT IS AN ASSESSMENT THAT IS
MEANINGFUL AND PRODUCES
MEANINGFUL LEARNING.
AND DOES NOT, IN FACT, CREATE
OVERTESTING.
IT CREATES A TEACHING AND
LEARNING PROCESS THAT IS MORE
EQUITABLE.
OTHER THINGS THAT HAPPEN IN THE
OTHER COUNTRY'S SYSTEMS AND
INTERNATIONAL SYSTEM IS THAT
WHEN THAT IS PART OF THE
EXPECTATION YOU GET MORE
CURRICULUM EQUITY BECAUSE
EVERYONE IS DOING SCIENCE
INVESTIGATIONS AND DOING THE
WRITING PORTFOLIO, NOT JUST THE
KIDS IN THE WEALTHY DISTRICTS,
NOT JUST THE KIDS WHO SOMEBODY
HAS DESIGNATED AS WE THINK YOU
HAVE A FUTURE TO GO TO COLLEGE.
EVERYONE GETS RICH CURRICULUM.
WHAT YOU SEE IN STATES AND
SOCIETIES THAT DO THAT IS THAT
ACHIEVEMENT GAP NARROWS BECAUSE
THE QUALITY OF THE EXPECTATION
OF WORK AND MORE AVAILABLE TO
KIDS.
>>> ANOTHER QUESTION FROM
CALIFORNIA.
WHAT ROLE DO SOCIAL AND
CHARACTER QUALITIES PLAY IN THE
ACCOUNTABILITY SYSTEM?
>> WELL, I DON'T KNOW IF
SOMEBODY CAN FIND THE RIGHT
SLIDE.
YOU CAN GET IT ON THE WEBSITE
LATER.
THERE ARE TWO WAYS AT LEAST.
ONE IS THAT WHEN YOU ENGAGE IN
THIS KIND OF PERFORMANCE TEST
THAT WE TALKED ABOUT YOU ARE
DEVELOPING AND ILLUSTRATING A
LOT OF SOCIAL AND EMOTIONAL
SKILLS, THE CAPACITY TO PLAN AND
ORGANIZE.
WHEN YOU COLLECT INFORMATION AND
RUN INTO SNAGS TO OVERCOME
OBSTACLES WHICH ARE GOING TO BE
ON THE WAY, TO TAKE FEEDBACK AND
USE IT PRODUCTIVELY, TO HAVE AN
ACADEMIC GROWTH MINDSET.
A LOT OF THESE KINDS OF WHAT
SOME PEOPLE CALL NONCOGNITIVE
SKILLS ARE BEING DEVELOPED IN
THAT CONTEXT.
ALSO IN THE 51st STATE IN THE
DASHBOARD OF INDICATORS OUR
SOCIAL AND EMOTIONAL SKILLS AND
THE HEALTH OF THE SOCIAL
EMOTIONAL CLIMATE AND SUPPORTS
IN SCHOOLS.
BOTH OF THOSE THINGS ARE PART OF
THE MEASUREMENT SYSTEM THAT THEN
HELPS PEOPLE FIGURE OUT WHERE TO
DEEPEN AND IMPROVE THEIR
PRACTICE.
>> GREAT.
THANK YOU.
>>> AND ANOTHER QUESTION FROM
CHICAGO.
HOW DO WE DEVELOP THE POLITICAL
WILL TO MOVE AWAY FROM THE
CURRENT ACCOUNTABILITY PARADIGM?
ANYBODY?
>> I THINK IT IS BEGINNING TO
HAPPEN.
>> IT IS BEGINNING TO HAPPEN.
THERE ARE A NUMBER OF PEOPLE WHO
ARE BEGINNING TO ASK QUESTIONS
AND A NUMBER OF PEOPLE ARE
FRUSTRATED.
I GET NUMEROUS COMMENTS FROM
EDUCATORS ABOUT WE'LL GO AHEAD
AND PLAY THIS GAME YOU ARE
PUTTING ON US BUT WE ARE GOING
TO TRY TO OPERATE AROUND THAT
SYSTEM.
WE SHOULDN'T BE DOING THAT.
I THINK YOU USED THE WORD IN
SPITE OF YOU ARE DOING SOME OF
THESE PRACTICES.
SO PRACTITIONERS ARE CONCERNED.
POLICYMAKERS ARE GETTING
CONCERNED ABOUT WHETHER THEY ARE
GETTING RESULTS.
WE PRETTY MUCH HAVE PRETTY
STAGNANT ACHIEVEMENT RESULTS IN
THE LAST FEW YEARS.
AND THE OTHER IS THAT I THINK WE
HAVE BEEN PROMPTED BY THIS
MOVEMENT TOWARDS OUR STANDARDS
NOW WHICH WE ARE EXPECTING SO
MUCH OUT OF OUR STUDENTS THAT WE
WERE NOT EXPECTING BEFORE.
THEY ARE APPROPRIATE.
THEY ARE IMPORTANT.
WHEN YOU HAVE TO REACH THOSE
KINDS OF LOFTY GOALS AND YOU
LOOK AT HOW WE ARE COLLECTING
INFORMATION AND HOW WE ARE
ASSESSING, THEY JUST DON'T MATCH
AND PEOPLE ARE ASKING QUESTIONS
ABOUT THAT.
A LOT OF PEOPLE ARE COMING
FORWARD WITH THOUGHTFUL
PROCESSES.
WE HOPE THIS IS A CONTRIBUTION
TO THAT CONVERSATION.
I THINK THE IDEA HERE OF PUTTING
THE PRINCIPLES OUT AND THE
ILLUSTRATION OF HOW YOU DO THAT
WE HOPE HELPS US BEGIN TO HAVE A
SERIOUS CONVERSATION IN THE
COUNTRY.
>> POLITICAL WILL I THINK WE ARE
GETTING CLOSE.
>> I THINK THERE IS GROWING
POLITICAL WILL AND PARTLY WHAT
THE VARIOUS PARTS OF THE
AMERICAN PUBLIC HAVE TO COME
TOGETHER AROUND IS THERE IS A
WILL TO CHANGE.
I MEAN, YOU CAN PERCEIVE THAT IN
COMMENTS MADE BY, YOU KNOW,
OFFICIALS AND CANDIDATES AT
FEDERAL, STATE AND LOCAL LEVELS.
THERE IS A LOT OF CONVERSATION
ABOUT A POLITICAL WILL TO
CHANGE.
WE HAVE TO GET OURSELVES
ORGANIZED AND HAVE CONVERSATIONS
ABOUT WHAT WE WANT NEXT AND HOW
COULD THAT OPERATE.
SO I THINK ALONG WITH THE
POLITICAL WILL WE NEED TO
DEVELOP A PLAN FOR WHERE WE WANT
TO GO.
I THINK THIS IS PART OF THAT
CONVERSATION.
MANY PEOPLE ARE ENGAGED IN
BEGINNING TO DEVELOP BOTH THE
CONVERSATION AND THE KINDS OF
PRINCIPLES, THE EXAMPLES OF WHAT
IS POSSIBLE AND HOW WE MIGHT DO
IT THAT WILL ALLOW US TO COUPLE
THE POLITICAL DESIRE FOR AN
EVOLUTION WITH THE WELL THOUGHT
OUT DESIGN THAT MIGHT GET US THE
RESULTS THAT WE WANT.
>> I WOULD AGREE.
I MEAN, I THINK THAT I HAVE SEEN
A SHIFT IN THE STATE AT THE
STATE LEVEL OF PEOPLE MORE OF
THEM BEING INTERESTED IN WHAT WE
DO AND COMING TO SEE WHAT WE DO
AND ASK ABOUT WHAT WE DO.
FIVE YEARS AGO I NEVER WOULD
HAVE EXPECTED THAT WE WOULD HAVE
GOTTEN A WAIVER FROM SOME OF THE
EXAMS THAT WE NOW HAVE FOR OUR
STUDENTS.
SO I THINK THE SHIFT IS
HAPPENING.
>> THAT'S GREAT.
>>> WE REALLY COULD CONTINUE ON
THIS ALL DAY BUT UNFORTUNATELY
OUR TIME ON THIS SET IS UP.
I WANT TO THANK LINDA, GENE AND
LAURA FOR JOINING US TODAY.
I ALSO WANT TO THANK YOU, OUR
WEBINAR VIEWERS FOR JOINING US.
IF YOU MISSED ANY OF TODAY'S
WEBINAR OR WANT TO SHARE IT YOU
CAN ACCESS ARCHIVE VIDEO
BEGINNING TOMORROW AT
ALL4ED.ORG.
IF YOU ARE A MEMBER OF THE
ALLIANCE ACTION ACADEMY TODAY'S
CODE WORD IS PUMPKIN.
ENTER THE CODE WORD AND EARN
POINTS FOR WATCHING TODAY.
REMEMBER TO KEEP UP TO DATE ON
THE LATEST HAPPENINGS IN FEDERAL
EDUCATION POLICY, FOLLOW
ALLIANCE ON TWITTER AND LIKE US
ON FACEBOOK.
HAVE A GREAT AFTERNOON.
THANK YOU.
Categories:
Uncategorized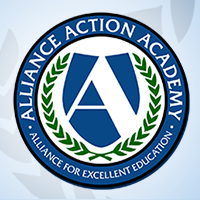 Welcome to the Alliance for Excellent Education's Action Academy, an online learning community of education advocates. We invite you to create an account, expand your knowledge on the most pressing issues in education, and communicate with others who share your interests in education reform.
Register Now
or register for Action Academy below: