Hacking the Way to Success: How One School District Broadened Student Understanding of Computer Science Through Maker Camps and Hackathons

November 2, 2016
4:00 pm – 4:30 pm EDT
Hangouts On Air
Future Ready Schools® Invites You to a Webinar
Hacking the Way to Success:
How One School District Broadened Student Understanding of Computer Science Through Maker Camps and Hackathons
Panelists
Rafranz Davis, Executive Director of Professional and Digital Learning, Lufkin ISD (TX)
Tom Murray, Director of Innovation, Future Ready Schools, Alliance for Excellent Education
Please join Future Ready Schools® (FRS) for a webinar that is part of its Leadership Hub, a one-stop-shop of professional learning opportunities for school leaders.
When it comes to developing students as inventors, there is nothing more empowering than placing students in the driver's seat of their own creative journey. One rural Texas school district, Lufkin Independent School District (ISD), has worked diligently to provide access and opportunity for all students. On the cusp of broadening their implementation of "computer science for all" (#CSforAll), the Lufkin team created opportunities for students to lead the way by providing them with the tools, resources, and needed supports to tackle problems of their choosing through mentor-based collaboration and computational thinking.
As one of the leaders of the work, Rafranz Davis, executive director of professional and digital learning for Lufkin ISD, will share how a partnership with Microsoft helped her create an opportunity of a lifetime for Lufkin students, challenging them to hack their classrooms while providing each student with their own Raspberry Pi computers to continue developing their higher order thinking and computer science skills.
FRS's Tom Murray and Ms. Davis will discuss
how Lufkin ISD made the needed connections to provide such opportunities for their kids;
what schools and communities can do to host similar events;
the impact these opportunities have had on Lufkin ISD; and
key takeaways and next steps.
Join FRS for this engaging conversation. Mr. Murray and Ms. Davis will also address questions submitted by viewers from across the nation.
Register and submit questions for the webinar below
---
Please direct questions concerning the webinar to alliance@all4ed.org. If you are unable to watch the webinar live, an archived version will be available in "Resources" of the FRS Dashboard after the event airs.
Future Ready Schools® is a collaboration between the US Department of Education and the Alliance for Excellent Education, a Washington, DC–based national policy and advocacy organization dedicated to ensuring that all students, particularly those traditionally underserved, graduate from high school ready for success in college, work, and citizenship.
Follow Future Ready Schools on Twitter (twitter.com/FutureReady);
Facebook (facebook.com/futurereadyschools);
and the Future Ready Schools' Leadership Hub (futureready.org/hub).
---
If you are interested in renting the Alliance's facilities for your next meeting or webinar, please visit our facilities page to learn more.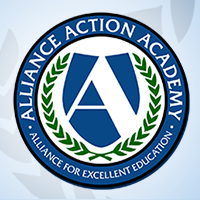 Welcome to the Alliance for Excellent Education's Action Academy, an online learning community of education advocates. We invite you to create an account, expand your knowledge on the most pressing issues in education, and communicate with others who share your interests in education reform.
Register Now
or register for Action Academy below: