Getting Connected: Developing a Personal Network of Support

November 21, 2016
7:00 pm – 7:30 pm EDT
Hangouts On Air
Future Ready Schools® Invites You to a Webinar
Getting Connected:
Developing a Personal Network of Support
Panelists
Will Deyamport III, EdD, Instructional Technology Specialist, Hattiesburg Public School District (MS)
Tom Murray, Director of Innovation, Future Ready Schools, Alliance for Excellent Education
On November 21, 2016 Future Ready Schools® (FRS) held a webinar as part of its Leadership Hub, a one-stop-shop of professional learning opportunities for school leaders.
Over the past few years, there has been tremendous buzz on teachers using various social networking sites, such as Twitter, for professional learning. Recent peer-reviewed journal publications about the uses and benefits of teachers getting connected, and the isolation so many teachers feel across the country, speak about the successes and challenges many educators face when seeking a professional network online.
As an instructional technologist, Will Deyamport shared research-based strategies and personal anecdotes to effectively engage, share, and design one's own personal learning network (PLN).
FRS's Tom Murray and Dr. Deyamport discussed various aspects of PLNs, including
findings from research studies on developing a PLN;
personal anecdotes and experiences with building and sustaining a vibrant PLN; and
strategies, tools, and other resources available to assist teachers, schools, and districts in getting connected.
Mr. Murray and Dr. Deyamport also addressed questions submitted by viewers from across the nation.
---
Please direct questions concerning the webinar to alliance@all4ed.org. If you are unable to watch the webinar live, an archived version will be available in "Resources" of the FRS Dashboard after the event airs.
Future Ready Schools® is a collaboration between the US Department of Education and the Alliance for Excellent Education, a Washington, DC–based national policy and advocacy organization dedicated to ensuring that all students, particularly those traditionally underserved, graduate from high school ready for success in college, work, and citizenship.
Follow Future Ready Schools on Twitter (twitter.com/FutureReady);
Facebook (facebook.com/futurereadyschools);
and the Future Ready Schools' Leadership Hub (futureready.org/hub).
---
If you are interested in renting the Alliance's facilities for your next meeting or webinar, please visit our facilities page to learn more.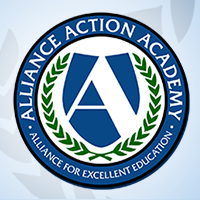 Welcome to the Alliance for Excellent Education's Action Academy, an online learning community of education advocates. We invite you to create an account, expand your knowledge on the most pressing issues in education, and communicate with others who share your interests in education reform.
Register Now
or register for Action Academy below: