Next-Generation Standards and Accreditation Policies for Teacher Preparation and Development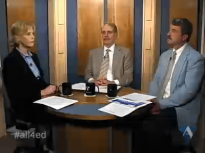 August 15, 2013
1:00 pm – 2:15 pm EDT
Washington, DC
Panelists
James Cibulka,PhD, President, Council for the Accreditation of Educator Preparation (CAEP)
Mariana Haynes, PhD, Senior Fellow, Alliance for Excellent Education
Irv Richardson, Director of Shared and Effective Leadership, Education Workforce, Council of Chief State School Officers (CCSSO)
Maria del Carmen Salazar, PhD, Associate Professor of Curriculum Studies and Teaching, Morgridge College of Education, University of Denver
Teacher Candidate(TBD), Morgridge College of Education, University of Denver
Please join the Alliance, CCSSO, and CAEP, for a webinar on the InTASC (Interstate Teacher Assessment and Support Consortium) Model Core Teaching Standards and Learning Progressions for Teachers 1.0. These standards and progressions—which define what teachers should know and be able to do to ensure every graduate is ready for college and a career—have been integrated into CAEP's proposed accreditation standards for teacher preparation programs. Together, these revised standards set forth a new vision of teaching that empowers learners in attaining twenty-first-century knowledge and skills, values diversity, and leverages technology and changing learning environments.
Maria del Carmen Salazar and Jim Cibulka will discuss the InTASC standards and the implications for teacher preparation and development. Irv Richardson will provide an overview of the InTASC LumiBook, a free interactive, multimedia guide to help educators collaboratively examine and improve teaching practices aligned with the standards and progressions.A teacher candidate from the University of Denver will share his/her perspectives on acquiring expertise through teacher preparation programs that have integrated the InTASC standards. Mariana Haynes will moderate the discussion. Panelists will also address questions submitted by webinar viewers from across the country.
THE COUNCIL FOR THE
ACCREDITATION IS THE NEW SOUL
SPECIALIZED EDUCATOR OF EDUCATOR
PREPARATION.
IT'S IDEALLY POSITIONED TO PLAY
A KEY ROLE.
>>> HELLO.
MY NAME IS MARIANA HAYNES FROM
THE NONPROFIT ADVOCACY
ORGANIZATION BASED IN
WASHINGTON, D.C.
THE ALLIANCE, THE COUNCIL OF
CHIEF STATE SCHOOL OFFICERS AND
THE COUNCIL FOR THE
ACCREDITATION OF EDUCATOR
PREPARATION ARE DELIGHTED YOU
HAVE JOINED US FOR TODAY'S
WEBINAR ON THE DESIGN OF THE
NEXT GENERATION STANDARDS AND
ACCREDITATION STANDARDS FOR
TEACHER PREPARATION AND
DEVELOPMENT.
TODAY'S DISTINGUISHED GUESTS
WILL DISCUSS HOW THE STANDARDS
AND ACCREDITATION POLICIES FOR
TEACHER PREPARATION PROGRAMS GO
HAND IN HAND TO DEFINE A NEW
VISION OF TEACHING FOR TODAY'S
LEARNERS.
IN ADDITION WE'LL LEARN ABOUT A
POWERFUL DIGITAL TOO TO MAKE
TEACHING PRACTICES ACCESSIBLE TO
EDUCATORS.
WE'LL BEGIN BY TAKING A LOOK AT
THE MODEL CORE TEACHING
STANDARDS FROM THE TEACHER
ASSESSMENT AND SUPPORT
CONSORTIUM.
THIS IS UNDER THE DIRECTION OF
THE COUNCIL OF CHIEF STATE
SCHOOL OFFICERS OR CCFSO.
TO EP H US UNDERSTAND HOW THE
STANDARDS OR INTEGRATED INTO
PROGRAMS WE ARE DELIGHTED THAT
DR. MARIA DEL CARMEN SALAZAR IS
JOINING US BY PHONE.
HELLO.
ARE YOU THERE?
>> I'M HERE.
THANK YOU.
>> WELCOME.
SHE IS AN ASSOCIATE PROFESSOR IN
CURRICULUM STUDIES AND TEACHING
AND THE DIRECTOR OF TEACHER
EDUCATION AT THE UNIVERSITY OF
DENVER'S MORGRIDGE COLLEGE OF
EDUCATION.
SHE'S SERVED FOR FOUR YEARS ON
THE INTERSTATE TEACHER
ASSESSMENT AND SUPPORT
CONSORTIUM TO DEVELOP THE MODEL
CORE TEACHING STANDARDS AND
LEARNING PROGRESSIONS FOR
TEACHER PREPARATION, LICENSING,
ASSESSMENT AND DEVELOPMENT.
SHE IS A PROLIFIC RESEARCHER
FOCUSED ON TEACHER EDGE
EQUATION, LINGUISTICALLY DIVERSE
EDUCATION AND CLENL READINESS
FOR A LAT KNOW STUDENT.
NEXT IN THE ALLIANCE STUDIO IS
DR. JAMES CIBULKA.
WELCOME.
>> THANK YOU.
>> PRESIDENT OF THE COUNCIL FOR
THE ACCREDITATION OF EDUCATOR
PREPARATION OR CAPE.
THIS PAST YEAR JIM HAS LED AN
EXTRAORDINARY COMMISSION TO
ADOPT NEW ACCREDITATION
STANDARDS FOR TEACHER
PREPARATION PROGRAMS.
TO BETTER T MEET URGENT NATIONAL
NEEDS.
THESE STANDARDS WHICH INTEGRATE
THE STANDARDS AND PROGRESSIONS
SET FORTH A NEW VISION OF
TEACHING FOR 21st CENTURY
KNOWLEDGE AND SKILLS, VALUES,
LEVERAGING CHANGE ING LEARNING
ENVIRONMENTS.
MORE THAN 900 EDUCATION
PROVIDERS WILL INITIALLY
PARTICIPATE IN THE ACCREDITATION
SYSTEM.
YOU MAY WANT TO UPDATE THAT WITH
RECENT NEWS.
ALSO WITH US IN STUDIO IS DR.
IRV RICHARDSON, DIRECTOR OF
SHARED AND EFFECTIVE LEADERSHIP
FOR CCSFO'S TEAM.
HE IS A MAINE TEACHER OF THE
YEAR AND RECEIVED THE MILL KIN
EDUCATOR AWARD IN THE '90s.
HE SERVED ON THE WORK GROUP TO
ARE REVISE THE STANDARDS, AND HE
ALSO CONSULTED ON LICENSING
GENERAL AND SPECIAL EDUCATION
TEACHERS OF STUDENTS WITH
DISABILITY.
IRV HAS BEEN THE LEAD IN
DESIGNING THE INTERACTIVE MULTI
MEDIA GUIDE WE'LL HEAR ABOUT
TODAY.
FINALLY LAURA SULLIVAN JOINING
US BY PHONE GIVES HER
PERSPECTIVE AS A TEACHER
CANDIDATE WHO WORKS WITH DR.
SALAZAR AT THE UNIVERSITY OF
DENVER TO DEVELOP COMPETENCIES
OUTLINED IN THE NEW STANDARDS.
WELCOME TO YOU TOO.
>> THANK YOU.
>> BEFORE WE BEGIN OUR
DISCUSSION, LET ME REMIND
VIEWERS THIS IS AN INTERACTIVE
WEB CAST.
TO ASK QUESTIONS USE THE FORUM
BELOW THE WINDOW.
WE'LL TURN TO YOUR QUESTIONS
FROM TIME TO TIME THROUGHOUT THE
WEB NAR.
IF YOU'RE ON TWITTER, WE
ENCOURAGE YOU TO TWEET ABOUT THE
WEBINAR OR ASK A QUESTION USING
THE HASH TAG YOU WILL SEE IN THE
LEFT CORNER OF THE VIDEO WINDOW.
THANKS TO OUR GUESTS FOR JOINING
US TODAY.
WE'LL HEAR FROM THEM IN A
MOMENT.
FIRST LET ME SET THE STAGE.
ELIMINATING DISPARITY IN
EDUCATION OPPORTUNITIES DEPENDS
ON IMPROVING TEACHING QUALITY.
RECOGNIZED AS THE MOST POWERFUL
SCHOOL BASED FACTOR IN STUDENT
LEARNING.
THE ONLY WAY TO ENSURE STUDENTS
WITH DIFFERENT BACKGROUNDS AND
EXPERIENCES GET AN EQUAL
EDUCATIONAL OPPORTUNITY IS IF
THEY HAVE TEACHERS WHO KNOW HOW
TO TEACH CONTENT AND ADDRESS
SPECIFIC LEARNING NEEDS OF
STUDENTS.
STATES HAVE TAKEN THE FIRST STEP
TO RAISE THE LEVEL OF CONTENT
STUDENTS WERE EXPECTED TO LEARN.
THE MAJORITY OF STATES HAVE DONE
SO BY ADOPTING COMMON CORE
STANDARDS IN ENGLISH LANGUAGE
ARTS AND MATHEMATICS AND OTHER
STANDARDS.
THE STATES MUST TAKE THE SECOND
STEP TO INCREASE TEACHER SKILLS
AND KNOWLEDGE.
TEACHERS ARE A CRITICAL LEVERAGE
POINT FOR IMPROVING STUDENT
OUTCOME.
MAKING THE DIFFERENCE BETWEEN
BEING AT THE TOP OF THE CLASS OR
THE BOTTOM COMPLETING HIGH
SCHOOL OR DROPPING OUT.
INCREASING THE EFFECTIVENESS OF
THE WORK FORCE OVER 3.5 MILLION
IS THE MAJOR CHALLENGE FACING
PUBLIC EDUCATION.
IN THE NEXT FEW YEARS WE NEED AN
ADDITIONAL 1.7 MILLION NEW
TEACHERS.
FOR THE PAST 20 YEARS THERE'S
BEEN A GAP BETWEEN THE STATED
AIMS OF FEDERAL AND STATE POLICY
AND SERIOUS INVESTMENTS IN THE
KNOWLEDGE AND SKILLS OF OH
EDUCATORS.
IN CONTRAST, HIGH PERFORMANCE
SYSTEMS LIKE SINGAPORE, ONTARIO
AND FINLAND THAT RISE TO THE TOP
OF INTERNATIONAL RANKINGS
PROVIDE RIGOROUS CLINICALLY
BASED PREPARATION FOR TEACHERS.
THE FIRST STEP STATES MUST TAKE
IS TO SPFL ARTICULATE WHAT IS
STILL TEACHING PRACTICE.
ENCOURAGED BY THE COMMON CORE OF
CONTENT FOR STUDENTS LEARNING IN
MATHEMATICS AND ENGLISH LANGUAGE
ARTS STATES ARE POISED TO
ESTABLISH A COMMON CORE OF
PROFESSIONAL KNOWLEDGE AND
SKILLS THAT CAN BE TAUGHT TO
ASPIRING TEACHERS ACROSS ALL
TYPES OF PROGRAMS AND PATHWAYS.
THIS COMMON CONTENT SHOULD
IMINCLUDE KNOWLEDGE AND SKILLS
IN ORDER TO MAKE DECISIONS ABOUT
READINESS FOR INDEPENDENT
PRACTICE AND ADVANCEMENT.
NOW THROUGH THE INTERSTATE
TEACHER ASSESSMENT AND SUPPORT
CONSORTIUM, THE MODEL TEACHING
STANDARDS AND FRO GREGS DEFINED
WHAT TEACHERS SHOULD KNOW AND BE
ABLE TO DO TO ENSURE EVERY
GRADUATE IS READY FOR COLLEGE
AND A CAREER.
>>> THE NEXT AND EQUALLY
IMPORTANT ACTION STATES SHOULD
TAKE IS TO ENSURE THE QUALITY OF
PROGRAMS THAT PREPARE TEACHERS
TO ENTER THE PROFESSION.
THE CURRENT POLICY INTERESTS IN
WELL PREPARED TEACHERS IS HIGHER
THAN EVER, ESPECIALLY IN STATES
AND THEY WILL NEED TO DEVELOP
COHERENT SYSTEMS FOR DEVELOPING
TEACHERS LINKED TO STANDARDS OF
PRACTICE.
IN JUNE, THE CAPE COMMISSION ON
STANDARDS AND REPORTING
UNANIMOUSLY APPROVED NEW
ACCREDITATION STANDARDS FOR
TEACHER PREPARATION THAT INSISTS
THAT PREPARATION BE JUDGED BY
OUTCOMES AND IMPACT ON P-12
STUDENT LEARNING AND DWOM.
THIS WORK IS NOT BUSINESS AS
USUAL BUT REPRESENTS A
SIGNIFICANT DEPARTURE FROM
EDUCATION ACCREDITATION IN THE
PAST.
A HIGHLY SKILLED EDUCATOR
WORKFORCE MUST HAVE THE
KNOWLEDGE, SKILLS AND
DISPOSITION TO ADDRESS KEY
DIMENSIONS OF 21st CENTURY
LEARNING.
STANDARDS FOR TEACHING PRACTICE
MUST ADDRESS THE SURGE IN
LEARNER DIVERSITY, INFUSION OF
DIGITAL TECHNOLOGIES, DEMAND FOR
KNOWLEDGE UTILIZATION AND
PROBLEM SOLVING, USE OF
ASSESSMENTS FOR FEEDBACK AND
ACCELERATING IMPROVEMENTS,
LEARNER CENTERED APPROACHES TO
SCHOOL B AND ONGOING ENGAGEMENT
IN COLLECTIVE INQUIRY TO IMPROVE
PRACTICE.
SO WE ARE GOING TO BEGIN WITH
DR. SALAZAR.
MAR YARKS WOULD YOU PROVIDE AN
OVERVIEW OF THE STANDARDS AND
LEASH LEARNING PROGRESSIONS.
WHAT DOES THIS MEAN FOR USING
THE STANDARDS AND PROGRESSIONS
FOR PREPARATION PROGRAMS?
>> ABSOLUTELY.
I WAS VERY PRIVILEGED TO BE PART
OF THE IN TEST COMMITTEE AND
DEVELOPMENT OF STANDARDS AND
LEARNING PROGRESSIONS.
I WOULD LIKE TO START BY GIVING
YOU A SENSE OF WHERE THE
STANDARD STARTED AND HOW WE GOT
WHERE WE ARE TODAY.
IN 1992 THE STANDARDS WERE
RELEASED.
THESE WERE MODEL STANDARDS FOR
BEGINNING TEACHER LICENSING,
ASSESSMENT AND DEVELOPING.
IT TOOK ABOUT 18 MONTHS FOR A
PANEL OF EXPERTS TO DEVELOP
THESE STANDARDS.
THEY CAME FROM STATE EDUCATION
AGENCIES TO CRAFT MODEL
STANDARDS FOR LICENSING NEW
TEACHERS.
THIS WAS SUPPORTED BY THE
INTERSTATE NEW TEACHER
ASSESSMENT AND SUPPORT
CONSORTIUM PROGRAM OF THE
COUNCIL OF CHIEF STATE SCHOOL
OFFICERS.
THIS GROUP CAME TOGETHER TO
DEVELOP A COMMON CORE OF
TEACHING KNOWLEDGE, DISPOSITION
AND SKILLS THAT SHOULD BE
ACQUIRED BY ALL NEW TEACHERS TO
HELP STUDENTS ACQUIRE 21st
CENTURY KNOWLEDGE AND SKILLS.
THIS GROUP DEVELOPED TEN
PRINCIPLES FOR COMPETENT
BEGINNING TEACHERS AVAILABLE
ONLINE IF YOU WOULD LIKE MORE
INFORMATION ABOUT THE 92
STANDARDS.
THE INTENT OF THE GROUP WAS TO
STIMULATE DIALOGUE AMONG STAKE
HOLDERS OF THE TEACHING
PROFESSION ABOUT WHAT
CONSTITUTES COMPETENT BEGINNING
TEACHING AND THIS WAS TO BE
IMPLEMENTED ACROSS THE UNITED
STATES.
BECAUSE OF THE DIALOGUE AND THE
GROUP THAT HELPED WITH STANDARDS
MANY STATE AGENCIES AS WELL AS
TEACHER PROGRAMS AND DISTRICTS
USED TEN STANDARDS TO GUIDE
THEIR PROFESSIONAL TEACHING
STANDARDS AND DEVELOPMENT.
THIS WAS A REVOLUTIONARY
APPROACH IN 1992 TO REALLY
STARTING SOME KEY DIALOGUE TO
MOVE THE NATION FORWARD AND
IDENTIFYING THE KEY
COMPETENCIES, DISPOSITIONS AS
WELL AS KNOWLEDGE.
IN 2011 INTEST CAME TOGETHER
AGAIN.
THE CCSO BROUGHT TOGETHER EXPERT
S REPRESENT ING SCHOOL
TRICK-OR-TREATS.
WE HAD TEACHERS EXPERTS FROM
STATE AGENCIES.
REPRESENTATIVE S FROM THE
NATIONAL EDUCATION ASSOCIATION
FROM THE EDUCATIONAL TESTING
SERVICES, PEARSON, HIGHER
EDUCATION AND THESE EXPERTS CAME
TOGETHER.
I WAS FORTUNATE TO BE PART OF
THIS GROUP TO SERVE AS A
RESOURCE FOR STATES, DISTRICTS,
PROFESSIONAL ORGANIZATIONS AND
TEACHER EDUCATION PROGRAMS.
AS WELL AS TEACHERS AND POLICY
MAKERS INVOLVED IN PREPARING,
LICENSING, SUPPORTING,
EVALUATING AND REWARDING
TEACHERS.
THIS GROUP WANTED TO LOOK AT
THE — BUILD ON THE GREAT WORK
DONE IN 1992 WITH THE STANDARDS,
BUT ALSO EXTEND IT AND LOOK AT
WHAT WAS THE NEED IN TODAY'S
SCHOOLS WITH TEACHERS AND
STUDENTS.
WE WANTED TO DEVELOP MORE OF A
SYSTEMATIC APPROACH IN SUPPORT
OF INFRASTRUCTURE FOR TEACHERS
IN THE FIELD AS WELL.
THIS WAS DRIVEN BY THE IMPER TIF
THAT EVERY STUDENT CAN AND MUST
ACHIEVE HIGH ACADEMIC STANDARDS.
WE WANTED TO CALIBRATE STANDARDS
AGAIN TO THE NEEDS OF THE TODAY.
THE STANDARDS ALSO THERE WAS A
KEY CHANGE.
THEY WERE NO LONGER INTENDED FOR
BEGINNING TEACHERS.
THIS WAS SEEN AS A FRAMEWORK OF
PROFESSIONAL PRACTICE ACROSS
DIFFERENT DEVELOPMENTAL STAGES
OF A TEACHER'S CAREER.
THE WORD NEW WAS REMOVED FROM
THE NAME AND THEY ARE NOW CALLED
THE INTERSTATE TEACHER
ASSESSMENT AND SUPPORT
CONSORTIUM.
VERY IMPORTANT IS THAT WE
CONTINUE TO MAINTAIN A FOCUS ON
DISPOSITIONS AND KNOWLEDGE
THROUGHOUT THIS DOCUMENT.
HOWEVER WE HAVE PLACED
PERFORMANCE FIRST AS THE ASPECT
THAT CAN BE OBSERVED IN TEACHING
PRACTICE.
WE WANT TO EM IF A SIZE THAT
PERFORMANCE PLAYS A KEY ROLE IN
HOW TEACHERS DO, HOW THEY ACT IN
PRACTICE AND HOW THEY IMPACT
STUDENT ACHIEVEMENT AND STUDENT
OPPORTUNITIES.
WE HAVE TEN STANDARDS GROUPED
INTO FOUR GENERAL CATEGORIES.
THE FOUR CATEGORIES ARE THE
LEARNER AND LEARNING, CONTENT,
INSTRUCTIONAL PRACTICE AND
RESPONSIBILITY.
THESE STANDARDS ARE AVAILABLE ON
OH LINE.
WE HIGHLY ENCOURAGE YOU TO TAKE
A LOOK AT THEM IN THE DOCUMENT.
WANTING TO EMPHASIZE KEY THEMES
WE SAW AS BEING DISTINGUISHED
FROM THE 1992 STANDARDS TO THE
2011 MODEL COURSE TEACHING
STANDARDS.
SOME OF THE KEY THEMES ARE
PERSONALIZED LEARNING FOR
DIVERSE LEARN ERS.
INCREASING DIVERSITY ACROSS
K-12, ACROSS ALL OF THE UNITED
STATES AND HOW IMPORTANT IT IS
TO LOOK AT STUDENTS FROM THE
RESOURCES THEY BRING AND TO
PERSONALIZE THEIR LEARNING AS
INDIVIDUALS AND MEMBERS OF A
GROUP.
WE LOOKED AT A KEY THEME AS A
STRONGER FOCUS ON THE
APPLICATION OF KNOWLEDGE AND
SKILLS.
AGAIN THE FOCUS ON TEACHERS AND
HOW THEY IMPACT STUDENT
LEARNING.
WE LOOKED AT LITERACY ACROSS
MANY SCHOOLS AND DISTRICTS
ACROSS THE UNITED STATES.
WE WANTED TO OH PROVIDE GREATER
FOCUS HERE AND INCREASE IN
COLLABORATION.
A COLLABORATIVE PROFESSIONAL
CULTURE.
NO LONGER CAN TEACHERS TEACH IN
SILOS AND HOW IMPORTANT IT IS TO
COLLABORATE ACROSS THE
PROFESSIONAL CULTURE.
WE WANTED TO EMPHASIZE
LEADERSHIP ROLES AND HOW
IMPORTANT IT IS FOR TEACHERS TO
BE LEADERS IN THE FIELD.
THESE WERE KEY THINGS YOU WOULD
SEE AMPLIFIED.
THERE DEFINITELY WAS FOCUS IN
THE 1992 STANDARDS BUT WE WANTED
TO AMPLIFY THIS FOCUS IN THE
2011 STANDARDS.
YOU WILL SEE THEMES LIKE
CULTURAL COMPETENCE, FOCUS ON OH
FAMILIES AND COMMUNITIES,
LEADERSHIP, A VERY BIG FOCUS ON
STUDENT DIRECTED LEARNING,
TECHNOLOGY, AND THE USE OF DATA
TO SUPPORT LEARNING.
IN ADDITION TO THE STANDARDS,
THE TEN STANDARDS TAR GROUPED
INTO FOUR CATEGORIES WE WANTED
TO GO A STEP FURTHER AND THOUGHT
IT WAS IMPORTANT TO, AGAIN,
CREATE THE SYSTEMATIC APPROACH
AND SUPPORT OF INFRASTRUCTURE.
SO WE WORKED TO DEVELOP THE
LEARNING PROGRESSIONS FOR
TEACHERS RELEASED IN 2013.
THIS IS A RESOURCE FOR ONGOING
TEACHER DEVELOPMENT.
IT DESCRIBES THE INCREASING
COMPLEXITY AND SOPHISTICATION
ACROSS THREE LEVELS.
THIS IS NOT ONLY FOR NEW
TEACHERS BUT ACROSS THE
CONTINUUM OF A TEACHER'S CAREER.
WE WANTED REALLY TO CAPTURE THE
INCREASING COMPLEXITY AND
SOPHISTICATION OF TEACHING
PRACTICE FOR EACH COURSE ACROSS
THREE LEVELS.
WASN'TED TO CAPTURE THIS AS A
TOOL FOR TEACHER DEVELOPMENT.
AS YOU CAN SEE THE
PROGRESSIONS — THIS IS AN
EXAMPLE OF STANDARD SIX
ASSESSMENT.
THIS IS A VISUAL OF HOW WE
LOOKED AT THE DEVELOPMENTAL
CONTINUUM ACROSS EACH STANDARD.
WE START WITH THE FIRST LEVEL,
MOVE TO THE SECOND AND THE
THIRD.
THE TEACHER CAN START AT
DIFFERENT AREAS.
THAT DOESN'T MEAN A TEACHER IN
THE FIELD BEGINS AT A TWO OR
THREE WHO'S BEEN IN THE FIELD
LONGER THAN THREE OR FOUR YEARS.
IT DEPENDS ON THE TEACHER,
CONTEXT AND THE NEW CONTENT AREA
OR GRADE LEVEL.
WE REALLY WANTED TO LOOK AT THE
IDEA OF THE PROGRESSION OF OH
HOW WE CAN IDENTIFY COMPETENT
PRACTICE, EFFECTIVE TEACHING.
TEACHERS SHOULD BE ABLE TO SEE
THEMSELVES ACROSS THE DIFFERENT
LEVELS.
WE WANTED TO FOCUS ON HOW TO
HELP TEACH RS SHIFT THEIR
PRACTICE.
WE HAVE A COMPONENT TO THE
STANDARDS THAT GIVES SOME
SUPPORT IN TERMS OF HELPING
TEACHERS SHIFT THEIR PRACTICE.
FOR EXAMPLE, USING ASSESSMENT
FLEXIBLY TO EXPAND AND DEEPEN
UNDERSTANDING OF LEARNER
PERFORMANCE AND HOW DO YOU THEN
SHIFT TEACHER TO OH THE NEXT
LEVEL OF DEVELOPMENT.
WE HAVE IN THE LEARNING
PROGRESSIONS THE DEVELOPMENTAL
PROCESS AND SOME EXAMPLES OF HOW
TO DO THIS SUCH AS BUILDING
KNOWLEDGE AND SKILLS THROUGH
PROTOCOLS TO DEVELOP TEACHER
STRENGTHS.
AND ALSO USING TECHNIQUES AND
TASKS TO HELP STUDENTS
UNDERSTAND HOW TO INCREASE
LEARNING ACROSS THE CONTINUUM
AND HAVE STUDENTS INCREASE THEIR
LEARNING.
THE STANDARDS AND LEARN ING
PROGRESSIONS IS WE WANTED TO
PROVIDE A COMMON FRAMEWORK,
UNDERSTANDING OF COMPETENT
PRACTICE OF EFFECTIVE TEACHING.
WE WANTED TO PROVIDE A
SUPPORTIVE UH TOOL THAT STATES
CAN USE IN BUILDING THEIR
STANDARDS AND FOCUS TO BE SURE
TO FOCUS ON THE DEVELOPMENT FOR
TEACHERS AND HELP THEM SHIFT TO
THE NEXT LEVEL OF PRACTICE.
WE ARE FOCUSED ON DEVELOPMENT.
IN TERMS OF HOW WE HAVE USED
STANDARDS IN OUR PROGRAM AT THE
UNIVERSITY OF THE DENVER, I WAS
VERY FORTUNATE TO BE WORKING ON
THE STANDARDS AND BUILDING THEM
INTO OUR PROGRAM SIMULTANEOUSLY.
SO IT WAS A VERY POWERFUL
PRACTICE FOR ME.
AT THE SAME TIME WE WERE WORKING
ON THE STANDARDS, I WAS WORKING
ON A FRAMEWORK — WHAT WE CALL
OUR OH FRAMEWORK FOR EQUITABLE
AND EFFECTIVE TEACHING.
WE RE FER TO IT ACTUALLY AS THE
FEET.
WE WERE IDENTIFYING LEARNING
FROM THE INTEST STANDARDS AND
LEARNING PROFWREGSS ABOUT WHAT
IS TILT IN PRESERVICE?
WHAT DO TEACHERS NEED TO KNOW
AND BE ABLE TO DO TO IMPACT
STUDENT LEARNING?
WE WANTED TO BE SURE THE FOCUS
WAS A FOCUS ON DIVERSE LEARNERS.
WE DEVELOPED FIVE DIMENSIONS
ENGAGING, PLANNING, TEACHING AND
LEADING.
REALLY IT'S ABOUT BOILING THOSE
DOWN TO THE COMPETENCIES OF AN
EFFECTIVE TEACHER.
WE HAVE FIVE DIMENSIONS AND 15
COMPETENCIES.
WE HAVE 65 INDICATORS.
OUR PRESERVICE TEACHERS ARE
EXPECTED THE TO MEET ALL OF THE
INDICATORS AT A PROFICIENT
LEVEL.
SO WE HAVE A SYSTEM OF LEARNING
PROGRESSIONS AS WELL THAT WE
HAVE ADAPTED AND WE HAVE ALSO —
WE HAVE FOUR LEVELS OF
DEVELOPMENT.
UNSATISFACTORY, DEVELOPING,
PROFICIENT AND ADVANCED.
THE WAY WE USE THE STANDARDS IS
THE FIRST LEVEL OF DEVELOPMENT
FOR THE LEARNING PROGRESSIONS
HAVE BEEN INTEGRATING INTO OUR
PROFICIENT.
WITH SAW THE FIRST LEVEL AGENCY
EVERYTHING OUR PRESERVICE
TEACHERS NEEDED TO ATTAIN BEFORE
THEY ENT ERRED THE FIELD.
WE LOOKED AT STANDARDS AND WE
LOOKED AT LEARNING PRODWREGSS AT
THE FIRST LEVEL AND MADE SURE
THERE WAS AN ALIGNMENT TO THE
PROFICIENT LEVEL N..
WE WANTED TO PROVIDE ROOM FOR
DEVELOPMENT.
SO WE HAVE AN ADVANCED CATEGORY
THAT INTEGRATES THE INTEST
STANDARDS AND LEARNING
PROGRESSIONS IN THE SECOND AND
THIRD LEVEL.
WE TOOK A FOCUS ON LEARNING,
TECHNOLOGY.
SOME OF THE THEMES,
COLLABORATION, LEADERSHIP.
YOU WILL FIND THEM IN THE
ADVANCED CATEGORY.
WE DON'T EXPECT OUR TEACHERS TO
DEMONSTRATE THE ADVANCED
CATEGORY BUT WE EXPECT ALL OF OH
THEM TO DEMONSTRATE PROFICIENT
BY THE END OF THE PROGRAM.
WITH TRY TO PUSH THEM INTO THE
ADVANCED CATEGORY AND GIVE THEM
ROOM FOR GROWTH.
WE USE THE STANDARDS AND
LEARNING PROGRESSIONS TO HELP H
TEACHERS UNDERSTAND THE
TRAJECTORY OF GROWTH.
HOW IMPORTANT IT IS FOR THEM TO
UNDERSTAND WHERE THEY NEED TO
START BUT TO UNDERSTAND THAT
THERE IS NOT AN END IN SIGHT.
AS AN EFFECTIVE TEACHER YOU ARE
ALWAYS MOVING INTO ADVANCED
CATEGORIES, MOVING BEYOND
ADVANCED CATEGORIES TO SUPPORT
STUDENTS AND CREATE THE BEST
OPPORTUNITIES FOR THEM TO LEARN.
FOR US THIS HAS BEEN A VERY
POWERFUL TOOL, A VERY POWERFUL
SUPPORT IN HELPING US UNDERSTAND
WHAT PRESERVICE TEACHERS SHOULD
NO AND BE ABLE TO DO WHEN THEY
ENTER THE FIELD READY TO TEACH
AS WELL AS EP HEING THEM
UNDERSTAND THEIR THE TRAJECTORY
OF GROWTH AND ACTUALLY SETTING
GOALS.
WE USE THE DOCUMENT TO TEP
STUDENTS SET GOALS FOR
DEVELOPMENT FOR PRESERVICE AND
IN THE FIRST YEARS OF TEACHING.
I CANNOT EMPHASIZE ENOUGH HOW
POWERFUL THIS AS BEEN IN OUR
PROGRAM AND HELP HEING US
DEVELOP THE MOST EFFECTIVE
TEACHERS FOR ALL KIDS.
>> THANK YOU VERY MUCH FOR THAT
WONDERFUL OVERVIEW OF THE
STANDARDS.
YOUR COMMENTS ABOUT DIVERSITY
PROMPTED A QUESTION FROM ANTHONY
FROM UTAH.
HE IS ASKING THE QUESTION
ABOUT THE CRITICAL DISPOSITIONS
TEACH RS WILL NEED TO
EFFECTIVELY ENGAGE STUDENTS FROM
DIVERSE BACKGROUNDS.
CAN YOU TELL US A LITTLE BIT
WHAT IT MIGHT MEAN FOR SELECTING
CANDIDATES WHO ENTER TEACHER
PREPARATION PROGRAMS AND
SUBSEQUENT DEVELOPMENT?
>> ABSOLUTELY.
WE HAD A FOCUS ON DISPOSITIONS
IN THE FIRST STANDARDS, THE
19992 STANDARDS.
HOWEVER THEY WERE ACTUALLY VERY
ACCURATE.
VERY SUPPORTIVE.
WE BUILT ON THESE DISPOSITIONS.
WE CALL THEM CRITICAL
DISPOSITIONS IN THE SECOND
DOCUMENT AND REALLY EMPHASIZE
HOW IMPORTANT IT IS FOR TEACHERS
TO HAVE ASSET ORIENTATIONS
TOWARD STUDENTS THEY TEACH AND
DEVELOP THESE.
THIS IS SOMETHING WE USE IN OUR
TEACHER PREPARATION PROGRAM IN
ADMISSIONS AND SCREEN ING.
WE HAVE ESSAYS WE PUT INTO PLACE
AND WE USE THE CRITICAL
DISPOSITIONS IN THE INTEST
STANDARDS DOCUMENT TO HELP US
REALLY NARROW DOWN HOW TO CREATE
THE ESSAY QUESTIONS AND
INTERVIEW QUESTIONS TO TRY TO
GET AT THE ASSET ORIENTATIONS
THAT POTENTIAL TEACHER
CANDIDATES BRING INTO THE FIELD.
WE PLACE STUDENTS IN DIVERSE
CONTEXT.
THIS IS SOMETHING THAT'S VITAL
TO OUR SCREENING PROCESS.
THE.
>> THANK YOU SO OH MUCH.
I WILL NOW TURN TO JIM.
WOULD YOU GIVE US AN OVERVIEW OF
THE CAPE ACCREDITATION STANDARDS
FOR TEACHER PREPARATION, HOW
WILL THE NATIONAL ACCREDITATION
STANDARDS LEVERAGE THE IMPACT OF
THE WHAT MARIA DESCRIBED AND
WHAT DOES THAT MEAN FOR TEACHER
PREPARATION?
>> COLLEGE AND CAREER READY
STANDARDS CERTAINLY RAISED THE
ANTE FOR P 12 STUDENTS.
THE IN TASK STANDARDS AND
PROGRESSIONS CLEARLY ASK MORE OF
TEACHERS.
SO IF WE ARE TO EFFECTIVELY
IMPLE MEANT BOTH SETS OF
STANDARDS WE NEED TO RETHINK HOW
WE PREPARE TEACHERS AND SCHOOL
LEADERS.
WITH NEED TO THINK ABOUT
TRANSFORMATION.
WE REALLY HAVE A FORTUITOUS
CIRCUMSTANCE THAT WE ARE
CREATING AND AN ACCREDITEDING
BODY.
IT IS IDEALLY POSITIONED TO PLAY
A KEY ROLE THROUGH THE
ACCREDITATION STANDARDS.
IT WANTS TO BE A COLLABORATOR
AND INITIATOR OF CHANGES.
IT WANTS TO ENHANCE THE EFFECTS
OF COLLAGEN CAREER READY
STANDARDS IN THE STTDS AND
PROGRESSIONS.
REALLY A NUMBER OF VERY FAR
REACHING REFORMS.
THE ACCREDITATION PROCESS
PROVIDES AN OPPORTUNITY TO BRING
EVIDENCE TO BEAR ON THE TASK OF
MEETING THE UNIQUE DEMANDS,
CHALLENGES, OPPORTUNITIES THAT
ARE NOW PART OF OUR EDUCATIONAL
LANDSCAPE.
THE FIST PUBLICALLY VISIBLE
ACTION WAS THE CREATION IN MAY
2012 OF ITS COMMISSION ON
STANDARDS AND PERFORMANCE
REPORTING WHICH YOU ALLUDED TO
EARLIER.
THIS HIGH PROFILE COMMISSION
WHICH REALLY INCLUDED A VERY
WIDE RANGE OF STAKE HOLDERS
INCLUDING CRITICS WAS TASKED
WITH TRANSFORMING EDUCATORS BY
CREATING A RIGOROUS SYSTEM OF
ACCREDITATION, ONE THAT'S
FOCUSED ON NOT SIMPLY ADEQUACY
BUT EXCELLENCE.
PRODUCING EDUCATORS WHO HAVE THE
ABILITY TO RAISE P-12 STUDENT
ACHIEVEMENT.
THAT'S WHAT IT'S ALL ABOUT.
THE COMMISSION WORK WAS
ORGANIZED AROUND THREE AREAS OF
TEACHER PREPARATION THAT WERE
IDENTIFIED IN 2010 BY THE
NATIONAL RESEARCH COUNCIL AND
ITS REPORT.
THESE THREE AREAS, THE DOWN OH
KRILL SAID, ARE LIKELY TO HAVE
THE STRONGEST EFFECTS ON RAISING
P-12 STUDENT ACHIEVEMENT.
FIRST OF ALL, CONTENT AND
PEDAGOGICAL KNOWLEDGE.
CLINICAL EXPERIENCE AND THIRDLY
THE QUALITY OF THE TEACHER
CANDIDATES WHO ARE ADMITTED AND
WHO GRADUATE FROM THE PROGRAM.
THE COMMISSION EXPLORED OTHER
IMPORTANT FUNCTIONS OF AN
ACCREDITING BODY BECAUSE OF
CONTINUOUS IMPROVEMENT AND
ACCOUNTABILITY AND TRANSPARENCY.
TRYING TO DRAW ON WHAT WE KNOW
ABOUT HIGH PERFORMING
ORGANIZATIONS, NOT ONLY IN
EDUCATION BUT IN A RANGE OF
SETTINGS.
SPECIFICALLY THE FIRST COMPONENT
OF THE STANDARDS ON CONTENT,
PEDAGOGICAL KNOWLEDGE REQUIRE
THAT IS THE CANDIDATES
DEMONSTRATE UNDERSTANDING THE
TEN STANDARDS AT THE APPROPRIATE
LEVELS IN THE FOLLOWING
CATEGORIES.
THE LEARN HAER LEARNING, CONTENT
AND RESPONSIBILITY.
THE RATIONALE SPECIFICALLY LIST
IT IS TEN STANDARDS AS
ARTICULATING THE CONTENT AND
PEDAGOGICAL KNOWLEDGE.
THE STANDARDS ARE VERY EXPLICIT
AND DEMANDING.
THEY DO RAISE OUR EXPECTATIONS
FOR WHAT TEACHERS KNOW AND ARE
ABLE TO DO.
AS THE COMMISSIONERS APPROACHED
THEIR WORK THEY TOOK THE
PERSPECTIVE THAT THESE NEW
STANDARDS WERE NOT TO BE
ACCREDITATION BUSINESS AS USUAL.
THEY WERE TO BE TRANSFORMATIVE.
A COMMON CRITICISM OF GRADUATES
BY EMPLOYERS IS THAT OFTEN NEW
TEACHERS DON'T KNOW HOW UH TO
APPLY THEIR CONTENT OR HOW TO
WORK WITH DIVERSE STUDENTS.
PARTICULARLY IN LOW PERFORM ING
SCHOOLS AND STUDENTS WHO PRESENT
SPECIAL NEEDS SUCH AS THOSE FROM
BACKGROUNDS, ENGLISH LANGUAGE
LEARNERS, OTHER TYPES OF SPECIAL
NEEDS.
THE TYPICAL MODEL OF TEACHER
PREPARATION IS GOING TO BE
TRANSFORMED TO PROVIDE MORE
CLINICAL OPPORTUNITIES THAT GIVE
THE CANDIDATES AN OPPORTUNITY TO
LEARN HOW TO PRACTICE WITH
DIVERSE STUDENTS AND HELP
TESTIMONY REACH HIGHER
EXPECTATIONS IN COLLEGE AND
CAREER READY STANDARDS.
THAT'S WHY THE IN TASK STANDARDS
ARE SO IMPORTANT AS WE THINK
ABOUT COLLEGE AND CAREER READY
STANDARDS.
OUR EXPECTATIONS THERE IN HOW
THE CANDIDATES THROUGH MASTERING
THE IN TASK STANDARDS CAN HELP
STUDENTS REACH HIGHER
EXPECTATIONS.
THE STANDARDS FOCUS ON CLINICAL
PARTNERSHIPS AND PRACTICE AND
REALLY THIS STANDARD SERVES AS
THE TOOL KIT TO MAKE SURE THAT
CANDIDATES CAN EFFECTIVE UHRY
DELIVER INSTRUCTION USING THE
GUIDANCE AND IN-TEST STANDARDS.
THIS IS REALLY A CHALLENGE WE
HAVE IN PREPARING THE NEXT
GENERATION OF TEACHERS.
CERTAINLY PART OF THE THIS
DEMAND IS CLOSER COLLABORATION
WITH SCHOOLS AND DISTRICTS TO
ENSURE THAT THE PREPARATION
PROGRAMS ARE MEETING CURRENT
NEEDS OF SCHOOLS AND NEEDS THEY
ANTICIPATE WITH RESPECT TO THE
RANGE OF OH TEACHERS THAT MUST
BE PREPARED AS WELL AS THEIR
SKILL SETS AND THEIR
DISPOSITIONS.
THEY NEED TO BE CLASSROOM READY.
WHEN THEY LEAVE THE PROGRAM AND
ENTER A JOB.
THEY NEED TO BE PREPARED THE TO
INCREASE LEARNING FOR ALL
STUDENTS.
THAT REALLY IS A TRANSFORMATION.
IT WAS ALSO A VERY CLEARLY
STATED BY THE COMMISSION H THAT
RICH CLINICAL EXPERIENCE SHOULD
BE EMBEDDED THROUGHOUT A
PREPARATION PROGRAM AND NOT JUST
AN ADD-ON.
IT NEED S TO ALLOW CANDIDATES TO
APPLY THEIR CONTENT AND
PEDAGOGICAL KNOWLEDGE AND
MASTERY OF THE STANDARDS IN A
VARIETY OF CLASSROOM SETTINGS
THROUGH THE COURSE OF THEIR
PREPARATION.
>> THANK YOU VERY MUCH.
WE RECEIVED A COUPLE OF
QUESTIONS FROM OUR VIEWERS.
YOU TALKED ABOUT NATIONAL
RESEARCH COUNCIL FINDINGS THAT
QUALITY OF CANDIDATES IS A KEY
FACTOR.
ASHLEY FROM NEW YORK IS ASKING
ABOUT WHY IS THERE ARE
RESISTANCE TO CAPE'S HIGHER
STANDARDS FOR ENTRY INTO TEACHER
TRAINING PROGRAMS ON THE GROUNDS
THAT IT IS RACIALLY BIASED.
SHE SAID IT SEEMS PATRONIZING TO
HER.
ISN'T THE GOAL TO HAVE THE BEST
POSSIBLE TEACHERS TEACHING ALL
STUDENTS TO A HIGH STANDARD?
>> ABSOLUTELY.
>> I'M SURE.
>> YOU KNOW IT'S NOT AN
EITHER/OR PROPOSITION.
TO STATE IT THAT WAY DOES A
DISSERVICE TO THE CHALLENGE OUR
NATION HAS.
WE HAVE TO INCREASE DIVERSITY
AND SELECTIVITY SIMULTANEOUSLY.
THE COMMISSION FOUGHT LONG AND
HARD ABOUT HOW TO MEET THIS
CHALLENGE AND FRAME THE
STANDARD.
STANDARD 3 ON A CANDIDATE
QUALITY RECRUITMENT AND
SELECTIVITY.
REALLY VERY CAREFULLY.
SEVERAL THINGS ARE WORTHY OF
NOTE.
IT PLACED AN EMPHASIS ON
RECRUITMENT.
THIS IS QUITE A NEW EXPECTATION
FOR MOST PREPARATION PROGRAMS.
THEY MIGHT HAVE HIGH STANDARDS
OR THEY MIGHT NOT.
EVEN IF THEY HAVE HIGH STANDARDS
FOR ADMITTING STUDENTS THEY
DON'T TYPICALLY RECRUIT ALTHOUGH
WE SEE IT OFTEN IN NONHIGHER ED
ALTERNATIVE IF YOU WILL PROGRAMS
BECAUSE THEY HAVE TO SELECT BY
RECRUITMENT.
WE BELIEVE THIS IS ONE OF THE T
WAYS IN WHICH WE CAN ACHIEVE
BOTH GOALS.
SECONDLY, WE REALLY WOULD LIKE
TO, IN THE STANDARD, EMPHASIZE
THAT WE'RE GOING TO ASK THE
PREPARATION PROGRAMS TO APPROACH
THIS THROUGH AN ENTIRE COHORT.
THERE ARE OPPORTUNITIES FOR THEM
TO USE DIFFERENT CRITERIA AND TO
LOOK OVER THE LONG TERM AT THE
EFFICACY OF THE CHARACTERISTICS.
THERE IS AN EXPLICIT COMPONENT
OF THE STANDARD THAT DOES TALK
ABOUT ADDITIONAL SELECTIVITY
FACTORS.
IT'S NOT MERELY A MATTER OF
ONE'S ACADEMIC ABILITY.
ITS DISPOSITION.
ITS GRIT.
IT'S A SERIES OF THINGS WE ARE
LEARN ING MORE ABOUT.
>> THEY MATTER GREATLY.
>> THEY MATTER GREATLY IN HOW
EFFECTIVE A TEACHER CAN BE IN
REACHING ALL STUDENTS AND
HELPING THEM BE SUCCESSFUL.
THIRDLY, RECOGNIZING THAT WE
DON'T REALLY HAVE A FIRM
KNOWLEDGE BASE ABOUT THE
PREDICTORS BEING AN EFFECTIVE
TEACHER.
THE COMMISSION SAID IF A
PREPARATION PROGRAM HAS
ALTERNATIVE CRITERIA AND IT CAN
DEMONSTRATE IT PRODUCES
EFFECTIVE CANDIDATES WHO CAN
RAISE P-12 STUDENT LEARNING
WE'LL LOOK AT THE THAT AND AS A
MATTER OF FACT WANT TO LEARN
FROM THAT IN LOOKING AT THE NEXT
GENERATION OF OH CAPE STANDARDS.
THERE WAS A REPORT RELEASED LAST
FEBRUARY BY THE EQUITY AND
EXCELLENCE COMMISSION.
A REPORT TO THE SECRETARY OF
EDUCATION AND THEY GOT IT RIGHT.
I WANT TO QUOTE FROM IT.
I THINK IT IS A VERY IMPORTANT
OBSERVATION.
WE WON'T HAVE A SERIOUS EQUITY
POLICY UNTIL WE STEER OUR BEST
TALENT THE TO THE CLASSROOMS
WHERE IT'S MOST NEEDED.
WE WON'T RAISE THE BAR FOR ALL
CHILDREN UNTIL FAR MORE OF OUR
ENTERING TEACHERS IN ALL SCHOOLS
ARE WELL PREPARED THEMSELVES.
I THINK THAT PUTS IT SO
ACCURATELY AND OF COURSE OH ONCE
WE ARE KRUT THERE ARE OTHER
THINGS WE HAVE TO DO AS FAR AS
HAVING THEM IN THE PROGRAM.
AMONG THEM A RICH SET OF
CLINICAL EXPERIENCES THAT PUT
CANDIDATES IN CLASSROOM AND
SCHOOL SETTINGS AND GIVE THEM AN
OPPORTUNITY TO WORK WITH ALL
KINDS OF P 12 STUDENTS.
>> SPEAKS TO WHAT MARIA WAS
TALKING ABOUT.
>> ABSOLUTELY.
>> WHERE THEY ARE AND IN
ADVANCING THAT.
TERRIFIC.
I HAVE ONE MORE AND I'LL TURN IT
TO YOU.
THERE IS A QUESTION FROM
CATHERINE FROM WASHINGTON, D.C.
SHE'S WONDERING ABOUT WHETHER
THE CHANGES WILL ALTER THE RATE
OF OH ACCREDITATION AMONG
PROGRAMS.
FEWER PROGRAMS THAT ANTICIPATE
BEING ACCREDITED AND WILL IT
HELP CANDIDATES BE STEERED
TOWARD HIGH QUALITY PROGRAMS.
>> WE HAVE A CHALLENGE IN OUR
COUNTRY.
ONLY ABOUT HALF OF THE
PREPARATION PROGRAMS ARE
ACCREDITED.
YOU WOULD NOT FIND THIS IN
HEALTH PROFESSIONS.
ENGINEERING.
ARCHITECTURE.
WE ACTUALLY EXPECT THAT WE'LL
SEE MORE PREPARATION PROGRAMS
COME INTO ACCREDITATION BECAUSE
OF THE NEW STATE PARTNERSHIPS
THAT CAPE WILL BE —
MORE RIGOROUS EXPECTATIONS.
>> THE POINT YOU RAISED.
SO MUCH OF THIS RESTS ON THE
STATE'S ROLE.
>> YES.
>> THEY HAVE ULTIMATE
RESPONSIBILITY FOR LICENSING AND
PREPARATION AND PROGRAM APPROVAL
AND SO FORTH.
SO MUCH DEPENDS ON THEIR
DECISIONS ABOUT HOW TO MOVE
FORWARD.
>> RIGHT.
ABSOLUTELY.
THAT'S WHY WE WANT TO WORK
CLOSELY WITH THE COUNCIL OF
CHIEF STATE SCHOOL OFFICERS AND
INDIVIDUAL STATES.
IN ALIGNING THEIR PROGRAM
APPROVAL POLICIES TO WHAT CAPE
WANTS TO DO AND BUILDING OUT THE
DATA SYSTEMS.
>> HERE'S A RESOURCE THAT'S BEEN
DEVELOPED.
I'M GOING TO NOW GO TO DR.
RICHARDSON.
CAN YOU TAKE US THROUGH THE
LOOMY BOOK?
THEY HAVE DEVELOPED AN
INTERACTIVE GUIDE FROM WHAT I
UNDERSTAND.
MAYBE SOME EXAMPLES OF WHAT'S
INTEGRATED AND INCLUDED THAT CAN
HELP TEACHERS?
>> SURE.
I WOULD BE GLAD TO.
THAT'S A LENGTHY TITLE BUT
DESCRIPTIVE.
AN INTERACTIVE GUIDE TO
UNDERSTANDING AND APPLYING
STANDARDS TOWARD TEACHER
EFFECTIVENESS AND STUDENT
SUCCESS.
PEOPLE ASK WHERE DOES THE NAME
LOOMY BOOK COME FROM.
IT'S ONLINE AND COMES FROM
ILLUMINATE.
THE STANDARDS ARE THE NORTH
STARS, HOW WE NAVIGATE
IMPROVEMENT WITHIN THE
PROFESSION.
THERE WERE CHALLENGES WE HAD AS
WE FACED DEVELOPING THIS BOOK.
ONE WAS PEOPLE KEPT SAYING I
READ THE STANDARDS BUT I DON'T
UNDERSTAND WHAT IT LOOKS LIKE IN
A CLASSROOM.
WHAT WOULD THE STUDENTS AND
TEACHERS BE DOING.
THE STANDARDS ARE LARGER THAN
ANY ONE EXAMPLE.
YOU CAN NEVER UNDERSTAND WHAT A
STANDARD IS.
WE ALSO KNOW WHEN WE MAKE A
CHANGE TO THE PROFESSIONAL
PRACTICE WE NEED THE SUPPORT OF
OTHERS.
WITH BRAINSTORMING BETWEEN CCSFO
AND THE IMPROVEMENT NETWORK WHAT
IF YOU CAME UP WITH AN ONLINE
BOOK WITH VIDEOS, CLASSROOM RE
SOURCES THAT TEACHERS COULD
ACCESS AND YOU MARRIED THAT WITH
THE SOCIAL NETWORKING PLATFORM
THAT ALLOWED PEOPLE TO HOLD
DISCUSSIONS TO CREATE BOOKMARKS
AND SHARE LINKS.
THAT'S WHAT THE LOOMY BOOK IS.
SINCE WE DON'T HAVE INTERNET
ACCESS LET MANY TAKE YOU THROUGH
SCREEN SHOTS OF WHAT IT LOOKS
LIKE.
THE URL FOR THE FREE FWOOK IS
WWW.LOOMY-BOOK.COM/INTASK.
ONCE YOU ACCESS THE LINK YOU
COME TO A FREE REGISTRATION PAGE
WHERE THEY WANT INFORMATION ON
OH YOU SO PEOPLE AREN'T
ANONYMOUS.
WE KNOW WHO'S REGISTERED AND CAN
TRACK THAT LT ONCE YOU RENLSTER,
THE FEATURES OF THE BOOK ARE
FOUR DIFFERENT TYPES OF
FEATURES.
FIRST OF ALL, WHEN YOU FIRST
JOIN THE BOOK THERE IS A WALL.
WHAT'S AN INTERESTING FEATURE
ABOUT THE WALL IS IT WILL
PROVIDE YOU WITH AN UPDATE OF OH
ALL THE THINGS THAT HAPPENED
WITHIN THAT BOOK SINCE YOU HAVE
LAST LOGGED ON.
FOR EXAMPLE THERE IS A BOX YOU
CAN CHECK TO PROVIDE YOU WITH
UPDATES SO AS THEY OFFER
ADDITIONAL VIDEOS OR RESOURCES
THAT COME AVAILABLE THAT ARE OUT
TR AND WE PUT INTO THE BOOK YOU
WOULD BE NOTIFIED THAT THOSE ARE
ADDITIONAL RESOURCES YOU CAN
ACCESS OR PEOPLE MADE COMMENTS
OR SHARED THINGS.
THAT BECOMES PART OF THE WALL.
YOU ALSO HAVE THE ACTUAL READER,
THE BOOK ITSELF.
WHAT'S INTERESTING, PEOPLE SAID
HOW MANY PAGES IS THE BOOK AND
THE ANSWER IS, WELL, IT DEPENDS.
AS IT IS READ ON OH DIFFERENT
PLATFORMS AND DIFFERENT COMPUTER
SCREENS THE BOOK CHANGES SIDES.
THE READER OF THE TEXT, MUCH
LIKE YOU WOULD HAVE OTHER TEXTS,
WHERE YOU READ IT AND CREATE
BOOKMARKS, SHARE THE LINKS.
START DISCUSSION THIS REDS AND
THE INTERESTING FEATURE IS YOU
CAN ACTUALLY UPLOAD VIDEOS.
THERE ARE ALSO DISCUSSION
GROUPS.
WE KNOW IN DIFFERENT CONTEXTS
AND DIFFERENT SITUATIONS KNOWING
HOW TO APPLY THE STANDARDS AND
MAKE THEM WORK IN YOUR CLASSROOM
ISN'T EASY.
THERE IS A DISCUSSION SECTION
THAT YOU CAN USE TO ACTUALLY
DISCUSS WITH OTHER PEOPLE OF
SIMILAR OR DIFFERENT SITUATIONS
THAT WANT TO PROVIDE YOU WITH
INPUT BUT HOW YOU MIGHT SOLVE
THAT PARTICULAR CHALLENGE IN
YOUR CLASSROOM.
ALSO THERE ARE TEN STANDARDS AND
CONTEXT IS IMPORTANT.
THIS SILL ISN'T THE KIND OF BOOK
YOU WOULD START ON PAGE ONE AND
READ THROUGH TO THE LAST PAGE.
THERE IS A SEARCH FUNCTION THAT
WOULD ALLOW YOU TO.
>> I WAS AMAZED BY THE RICH
WORK, REALLY SOLID RESEARCH.
IT'S TREMENDOUS.
I'M ALSO WONDERING ABOUT
ENTERING THE DIGITAL AGE ABOUT
WHAT'S THE POTENTIAL FOR USING
THESE DIGITAL TOOLS TOIM PROVE
THE QUALITY AND CONSISTENCY OF
TEACHING PRACTICE.
>> I THINK YOUR WORD ENTERING IS
A GOOD USE OF THE WORD.
WE REALLY DON'T KNOW.
ONE OF THE THINGS IS PEOPLE
THINK YOU CAN SEE A VIDEO AND
TEACH LIKE THAT.
I CAN WATCH A BRAIN SURGERY
VIDEO BUT I'M NOT DOING BRAIN
SURGERY TOMORROW.
THERE ARE THINGS YOU WOULDN'T
SEE ON A RE SOURCE ABOUT WHO ARE
THE STUDENTS, WHY THE DECISION
WERE MADE ABOUT INSTRUCTION.
I THINK THE OPPORTUNITY TO
VIRTUALLY VISIT LOTS OF
CLASSROOMS AND THEN TALK WITH
PEOPLE ABOUT WHAT YOU SEE AND
TALK WITH COLLEAGUES.
ALSO UPLOADING YOUR OWN PRACTICE
TO PERHAPS SOMEONE WHO MAY NOT
FEEL COMFORTABLE SHARING A
PRACTICE OR QUESTION WITH
COLLEAGUES COULD SEND IT OUT TO
A LARGER COMMUNITY IT MIGHT BE
MORE HELPFUL THIS IN SOLVING THE
PRACTICE.
I THINK GETTING IN SERVICE IS
PROBABLY BACK FOR INFORMATION.
AS WE GO DOWN THERE WILL BE
OPPORTUNITIES WHERE SOMEONE WAS
LOOKING AT A CONSULTANT.
HOW DO I DIFFERENTIATE IN MY
CLASSROOM RATHER THAN BRING THE
CONSULTANT THEY GOT TOGETHER AND
SKYPED BACK AND FORTH AND SO HE
WAS ABLE TO VISIT HER CLASSROOM
AND PROVIDE FEEDBACK ABOUT THE
CLASSROOM OVER A GREAT DISTANCE.
>> WE LEARNED A LOT FROM
MEASURES OF EFFECTIVE TEACHING
STUDIES ABOUT THE POWER OF VIDEO
TECHNOLOGY AND GET SPECIFIC
FEEDBACK FOR VIDEO TECHNOLOGY.
THANK YOU.
MARIA, WOULD YOU DO US THE HONOR
OF INTRODUCING LAURA SULLIVAN?
SHE'S A TEACHER CANDIDATE FROM
THE UNIVERSITY OF DENVER WORKING
HERE ABOUT HER PERSPECTIVE ON
HOW THE INTEST STANDARDS OF THE
COURSEWORK AND CLINICAL
EXPERIENCE IN WHICH SHE'S
INVOLVED.
>> ABSOLUTELY.
I WOULD LIKE TO INTRODUCE LAURA
SULLIVAN.
SHE COMPLETED OUR TEACHER
EDUCATION PROGRAM AT THE
UNIVERSITY OF DENVER IN 2013 IN
MAY.
SHE'S ALSO TAKING MASTER'S LEVEL
COURSEWORK AT THE UNIVERSITY.
LAURA, TELL ME WHAT YOU THINK
HAS BEEN INSTRUMENTAL IN
DEVELOPING YOUR TEACHING
PERFORMANCE AND ABILITY TO
IMPROVE STUDENT LEARNING AND
ALSO WHAT YOU KNOW ABOUT HOW WE
USE THE STANDARDS TO DEVELOP THE
TOOL THAT WE USE TO SUPPORT
LEARN ING THROUGHOUT THE
PROGRAM.
>> WELL, AS WE WERE DISCUSSING
EARLIER A BIG PART OF WHAT
HELPED ME WAS THE EXTENDED TIME
IN THE YEAR.
WE HAD A YEAR LONG STUDENT
TEACHING EXPERIENCE.
IT WAS REALLY MORE LIKE A
RESIDENCY.
WE WERE ABLE TO STUDY THE
STANDARDS AND TALK ABOUT THEM
AND PUT THEM IN PRACTICE.
FOR ME THEY WERE A WAY TO HAVE
CONCRETE IDEAS TO BE A GOOD
TEACHER.
HELP GUIDE STUDENTS AND TEACHERS
TO SEE WHAT IT MEANS TO BE GOOD
OR PROFICIENT AT 5th GRADE MATH.
THEY BREAK IT DOWN SO YOU HAVE
SPECIFICS ABOUT WHAT IT MEANS TO
BE GOOD AT 5th GRADE MATH.
IT'S NOT JUST, OH, BE GOOD.
WE ALL WANT TO BE A GOOD
TEACHER.
THIS SHOWS YOU SPECIFICALLY WHAT
IT MEANS TO BE A GOOD TEACHER
AND HELPS FOCUS YOU.
I THOUGHT THE MOST HELPFUL PART
OF THE ENTIRE PROGRAM WAS WHEN
YOU WOULD OBSERVE AND WE COULD
DIAGNOSE AREAS FOR GROWTH AND
AREAS OF STRENGTH.
AND THE TOOL WAS INSTRUMENTAL IN
DOING THAT.
SO WE COULD LOOK AT CONCRETE
AREAS WHERE I NEEDED TO IMPROVE
AND THINK OF SPECIFIC WAYS TO
GET THERE.
SO, FOR EXAMPLE, ONE OF THE ONES
THAT WAS AN AREA OF GROWTH FOR
ME WAS CLASSROOM MANAGEMENT.
ALSO ENGAGEMENT.
THEY ARE SO CLOSELY TIED.
WE CAME UP WITH SPECIFIC WAYS TO
IMPROVE MANAGEMENT AN TALK ABOUT
THE RATIONALE AND ALSOER MORE
TOTAL PHYSICAL RESPONSE GETTING
KIDS KIN STETCALLY ENGAGED AND
INVOLVEDALSO PART OF THE LEARN
ING PROGRESSION.
>> LAURA, HELP US UNDERSTAND HOW
WE WOULD USE THOSE — WE USED
THE INDICATORS, VERY SPECIFIC
INDICATORS TO HELP YOU GROW AND
SET GOALS AND HELP YOU
UNDERSTAND HOW TO MOVE TO THE
NEXT LEVEL OF DEVELOPMENT.
WHAT WAS HELPFUL FOR YOU?
CAN YOU THINK OF A PARTICULAR
EXAMPLE THAT WAS HELPFUL FOR YOU
WHEN WE WERE ABLE TO FOCUS ON
ONE INDICATOR AND THEN YOU WERE
ABLE TO SET A GOAL AND IMPROVE
IN THAT AREA?
>> ONE IN PARTICULAR WE WERE
LOOKING AT ASSESSMENTS.
I DON'T KNOW.
I HAVE ALL THE THIS PAPER IN
FRONT OF ME.
I CAN'T FIGURE OUT WHICH
INDICATOR EXACTLY IT WAS.
BUT WE TALKED ABOUT COLLECTING
DATA AND USING THAT TO — MAYBE
IT WAS 3.2.
TO MONITOR HOW THEY ARE DOING
WITH THE CONTENT AND THEN USE
THAT TO INFORM MY TEACHING.
SO I WAS ABLE TO GET GOOD AT
CREATING CHECKS FOR
UNDERSTANDING THROUGHOUT MY
LESSON AND TO PLACE THOSE
STRATEGICALLY IN THE LESSON TO
INFORM ME OF HOW MY STUDENTS ARE
DOING AND ADJUST MY TEACHING AND
TO SEE PATTERNS IN MY STUDENTS
UNDERSTANDING AND BE ABLE TO
DIFFERENTIATE FROM THERE.
>> OKAY.
THAT WAS A GOOD EXAMPLE.
SO WE USED THE IN TEST STANDARDS
ON ASSESSMENT TO HELP US CLEAR
LY DELINEATE THE LEVELS OF
PERFORMANCE.
WE WANTED TO HELP H YOU GET
THROUGH.
WE SET GOALS AND I WAS ABLE TO
THEN GO IN AND OBSERVE AND GIVE
YOUER MORE SUPPORT IN THAT
SPECIFIC AREA.
PARTICULARLY IN ASSESSMENT AND
THE USE OF DATA.
THAT'S A GOOD EXAMPLE.
I WANT TO SHIFT YOU NOW TO THE
LOOMY BOOK WHICH IS A GREAT
RESOURCE YOU JUST HEARD DR.
RICHARDSON DESCRIBE.
I KNOW YOU HAVE ALSO
EXPERIMENTED WITH THE LOOMY
BOOK.
IT WAS RELEASED AT THE END OF
OUR PROGRAM.
SO WE WEREN'T ABLE TO IMPLEMENT
IT PROGRAM-WIDE.
WE DID DEMONSTRATE HOW THIS WAS
A RESOURCE FOR LEARNING.
I KNOW YOU HAVE BEEN ABLE TO
EXPERIMENT WITH IT SINCE YOU
COMPLETED THE PROGRAM AS YOU'RE
MOVING INTO YOUR FIRST YEAR OF
TEACHING.
TELL ME HOW YOU STARTED TO USE
THE BOOK AND HOW IT IS A RE
SOURCE FOR CONTINUED LEARNING
AND IT WOULD HAVE BEEN A GREAT
RESOURCE FOR TEACHER PREP AND
ALSO YOUR FIRST FEW YEARS OF
TEACHING.
>> IT'S UNFORTUNATE WE DIDN'T
HAVE IT FOR STUDENT TEACHING.
I'M T EXCITED BECAUSE IT HAS
LOTS OF RESOURCES AND THE
PLATFORM FOR CONNECTING PEOPLE.
IT'S NEAT HOW THERE ARE
DIFFERENT LINKS TA YOU CAN
CONTINUE LEARNING ABOUT WHATEVER
IT IS THAT INTERESTS YOU.
IT'S INTERACTIVE AND
PERSONALIZED THAT WAY.
YOU CAN CLICK ON LINKS.
LIKE I CLICKED ON A COUPLE ABOUT
MAKING THE WHOLE CHILD VISIBLE.
GETTING TO KNOW YOUR STUDENT.
SORT OF POCKETS WHERE THERE MAY
BE HOLES YOU'RE NOT ADDRESSING
THE WHOLE STUDENT AND HOW TO
IMPROVE THAT RELATIONSHIP WITH
THAT STUDENT AND BE ABLE TO
BETTER TEACH THAT STUDENT.
THE CLASSROOM MANAGEMENT WAS AND
B CONTINUES TO BE SOMETHING I
STRUGGLE WITH.
THERE ARE TOP CLASSROOM
MANAGEMENT STRATEGIES.
EVERY TEACHER CAN GO AND
EXPERIENCE IT DIFFERENTLY AND
THEY CAN PERUSE AND JUMP AROUND
TO WHAT THEY FIND INTERESTING OR
WHAT THEY NEED TO WORK ON IN
THEIR OWN TEACHING PRACTICE.
THEY CAN TALK ABOUT IT WITH
OTHER PEOPLE THAT ARE SIMILAR OR
DIFFERENT.
THERE IS VIDEO TO WATCH.
THEY CAN DOWN LIED THE LEARNING
PROGRESSIONS FOR EACH STANDARD
AND PRINT IT IN WHATEVER YOU
NEED TO DO WITH IT.
I THINK IT'S WONDERFUL HOW IT
TIES EVERYTHING TOGETHER.
IT POINTS YOU TO RE SOURS THAT
MAY HELP YOU.
>> TELL US HOW YOU MIGHT USE THE
INTERACTIVE PIECE.
>> WELL, YOU CAN READ COMMENTS
OTHER PEOPLE MADE.
YOU CAN — I DIDN'T REALIZE IT
BUT YOU CAN LOOK AT OTHER VIDEOS
OR LINKS OTHER PEOPLE UPLOADED
AND UPLOAD YOUR OWN.
YOU CAN SHARE COMMENTS FOR
SPECIFIC AUDIENCES OR HAVE IT SO
EVERYBODY SEES IT AND START
DISCUSSIONS.
SO IF THERE IS AN ISSUE OR AN
AREA OF GROWTH FOR YOU YOU CAN
GET INVOLVED AND GET RESOURCES
FROM PEOPLE ALL OVER THE COUNTRY
AND THE WORLD WHO ARE ALSO
LOOKING AT STANDARDS AND TRYING
TO BREAK THEM DOWN AND IMPROVE
PRACTICE WHICH IS TOTALLY
VALUABLE.
SOMETHING I REALLY ENJOYED ABOUT
OUR OH PROGRAM WAS WE HAD A
SENSE OF COMMUNITY TO DISCUSS
AND BREAK APART ISSUES WE WERE
HAVING IN THE CLASSROOM,
DIFFERENT STANDARDS, THEORIES.
AS I AM JOINING THE TEACHING
WORLD AND NO LONGER A STUDENT I
WON'T HAVE THE DIRECT PHYSICAL
COMMUNITY.
IT WILL BE HELPFUL FOR THAT.
>> THANKS FOR JOINING US.
I KNOW THIS IS A BUSY TIME FOR
YOU.
YOU'RE IN TRAINING, TRYING TO
SET IT UP.
THANKS FOR JOINING US.
>> OF COURSE.
THANK YOU.
>> GOOD LUCK.
>> THANK YOU SO MUCH.
WE WISH YOU GREAT SUCCESS WITH
YOUR 1st GRADERS.
>> THANK YOU.
>> THANK YOU, MARIA.
THERE WAS A QUESTION THAT CAME
IN ABOUT THE LOOMY BOOK AND
AVAILABILITY.
DO YOU WANT TO CLARIFY FOR HOW
LONG WILL THAT BE AVAILABLE FOR
FREE?
>> SURE.
I MAKE A DISTINCTION HERE.
WHEN YOU GO TO REGISTER, THE
LOOMY BOOK IS FREE AND ALWAYS
WILL BE FREE.
TD–360 AND THE SCHOOL
IMPROVEMENT NETWORK OFFERED
ANYONE WHO REGISTERS 30-DAY FREE
ACCESS TO THEIR MATERIALS THAT
ARE IN ADDITION TO THE BOOK.
THE LOOMY BOOK IS FREE AND
ALWAYS WILL BE FREE.
IF PEOPLE CHOOSE TO LOOK T AT
THE 360 RESOURCES, THOSE ARE
AVAILABLE TO THEM FOR THE NEXT
30 DAYS.
>> EP HE — THAT'S HELPFUL.
THANK YOU.
>> IMPORTANT QUESTION.
>> BECAUSE THERE IS A GREAT DEAL
OF FOCUS THROUGH THE MEASURES OF
EFFECTIVE TEACHING STUDY THAT
IDENTIFIED PRACTICES THAT ARE
TYPICALLY WEAK ACROSS THE BOARD
NATIONALLY.
THINGS LIKE TEACHERS' ABILITY TO
QUESTION AND USE IF HE CAN TIF
DISCUSSION TECHNIQUES TO ELICIT
AND BUILD ON STUDENTS USING
INTERPRETIVE SKILLS.
IT'S FOCUSED ON ASSESSMENT
LITERACY AND HAS BEEN A WEAK
AREA.
SO WHAT DO YOU HAVE TO DO IN
TERMS OF WORKING WITH FACULTY?
MAYBE THIS IS PART OF THE
ACCREDITATION STANDARDS.
WHAT HAS TO HAPPEN IN TERMS OF
CHANGE S WITHIN INSTITUTIONS TO
MAKE SURE THE FACULTY ARE READY
TO HELP THEIR TEACHER CANDIDATES
DEVELOP THE KINDS OF HIGH LEVEL
SKILLS THAT ARE NEEDED BY THOSE
THAT COMPLETE THE PROGRAMS.
>> I THINK IT'S PARTLY A
CHALLENGE OF CHANGE ING THE
CULTURE.
THERE IS MUCH MORE
COLLABORATION.
THERE WE TURN TO HIGH PERFORMING
ORGANIZATIONS, PARTICULARLY
ORGANIZATIONS WITH PROFESSIONALS
WITHIN THEM.
THESE ARE ORGANIZATIONS WHERE
THEY WORK AROUND THE USE OF DATA
TO ANALYZE THE EFFECTIVENESS OF
THEIR PRACTICES AND OF THE
PRODUCTS AND SERVICES THAT IN
THIS CASE THE GRADUATES THAT
THEY PRODUCE.
I THINK THAT THROUGH A RICHER
APPROACH TO THE GENERATION AND
USE OF DATA FOR CONTINUOUS
IMPROVEMENT, IT BECOMES CLEAR TO
FACULTY MEMBERS WHAT THEY NEED
TO DO NOT ONLY TO IMPROVE
PROGRAMS BUT IMPROVE THEIR OWN
SKILLS.
THIS AREA OF ASSESSMENT THAT YOU
MENTIONED IS ONE THAT FOR THE
CANDIDATES HAS BEEN TOO LITTLE
STRESSED.
IT'S GOT TO BE GREATLY
STRENGTHENED AS WE IMPLEMENT THE
COLLEGE AND CAREER READY
STANDARDS AND THE NEW
ASSESSMENTS.
SO OF COURSE IF WE ARE GOING TO
HELP THE CANDIDATES BE MORE
PROFICIENT IN ASSESSMENT THE
FACULTY MEMBERS HAVE TO HAVE
THAT REQUISITE SET OF SKILLS AS
WELL.
>> THE THEME OF THE
COLLABORATION COMES UP SO MUCH
NOW OVER THE LAST FEW YEARS IN
TERMS OF UNDERSTANDING TO BREAK
TEACHERS OUT OF ISOLATION AND
NOW MOVING INTO THE INSTITUTIONS
BREAKING THE FACULTY OUT OF
THEIR ISOLATION.
SO THERE IS A COMMON
UNDERSTANDING OF WHAT GOOD
PRACTICE LOOKS LIKE.
THAT'S WHERE SOME OF THE BEAUTY
OF THE LOOMY BOOK.
>> AND THE COLLABORATIVE WORD
DR. SALAZAR TALKED ABOUT.
>> I WOULD SAY WE HAVE
DEFINITELY MOVED IN THIS
DIRECTION AND WE HAVE A COMMON
TEACHING FRAMEWORK.
WE NOW HAVE A COMMON LANGUAGE TO
SHARE AND WE HAVE BEEN ABLE TO
ANCHOR THE CURRICULUM TO THIS
TOOL.
THE PROGRAM IS HIGHLY ALIGNED
AND CONNECTED IN TERMS OF THE
LANGUAGE THAT WE USE, THE FOCUS
WE HAVE, THE TARGETS AND I ALSO
APPRECIATE THE FACT ABOUT USING
DATA TO LOOK AT THE
EFFECTIVENESS B OF STUDENTS.
THAT'S SOMETHING IMPORTANT IN
COLORADO AS WELL.
IT'S BUILDING INTO THE PROGRAM
BUT DEFINITELY A SHIFT AROUND
HAVING A COMMON OVERVIEW.
SOMETIMES WITH FACULTY AROUND
FREEDOM.
THAT CAN BE A STRUGGLE.
WE HAVE FOUND IN OUR PROGRAM IF
THE YOU HAVE COMMON GOALS AND A
COMMON LANGUAGE THESE ISSUES
TEND TO DISSIPATE.
>> YOU KNOW, IF IT'S A STRONGER
CLINICAL MODEL WHERE THERE IS
COLLABORATION WITH SCHOOL
FACULTY IT REALLY CHANGES THE
ATMOSPHERE BECAUSE THERE ARE A
LOT OF SKILLS OUT THERE IN THE
FIELD THAT CAN CONTRIBUTE TO THE
KNOWLEDGE BASE OF FACULTY
MEMBERS.
IT'S NOT JUST THE FACULTY
WORKING TOGETHER OH
COLLABORATIVELY.
IT'S A DIFFERENT MODEL OF
CODELIVERY.
>> YOU NEED TO DEEPLY ENGAGE
PEOPLE AND HOW DO YOU DEEPLY
ENGAGE KIDS.
I WOULD ALSO —
>> COLLECTIVELY.
>> ALSO LOOK AT WHERE WE HAVE
THE DEEP ENGAGEMENT IN OUR
LARGER SOCIETY.
IT SHOULDN'T JUST BE IN SCHOOL
WE HAVE THOSE DISCUSSIONS AND
DEEP ENGAGEMENT.
THAT'S THE KIND OF OH THING WE
WANT AS A DEMOCRACY.
>> NOT JUST WITHIN SCHOOLS.
>> TALKING ABOUT THE COMMON CORE
OF DEEPLY ENGAGING WITH TEXT AND
INTERPRETING IT AND WORKING
TOWARD A DEEPER UNDERSTANDING.
WHERE IN OUR SOCIETY DO WE FIND
THAT CONVERSATION FOR STUDENTS.
ARE PARENTS HAVING THOSE
CONVERSATIONS WITH KIDS.
IS THAT THE KIND OF THING YOU
TURN ON WITH SOUND BITES BUT
DEEP DEBATE ABOUT ISSUES THAT
ARE DIFFICULT TO SOLVE.
IF THEY SEE IT, THAT IT'S A
PRODUCTIVE SKILL FOR ADULTS TO
HAVE AND USE I BELIEVE THEY ARE
MORE APT TO DEVELOP SKILLS
THROUGH SCHOOL.
>> THAT'S WHY IT'S IMPORTANT WE
MODEL IT IN THE HIGHER EDUCATION
CLASSROOM.
IF WE ARE NOT MODELING EFFECTIVE
TEACHING AND WE ARE JUST TALKING
ABOUT IT THAT DOESN'T SUPPORT
STUDENTS.
IT'S SOMETHING IMPORTANT IN OUR
PROGRAM.
WE ACTUALLY MODEL WHAT WE SEE IN
K-12 CLASSROOMS, THE BEST
PRACTICES.
THAT'S POWERFUL.
>> SO WE NEED TO MODEL THAT
DISCOURSE AND DEEP CONTENT.
>> EXACTLY.
>> WE HAVE A COUPLE OF OH
QUESTIONS.
MAYBE YOU CAN HELP H US, MARIA.
HOW ARE THE STANDARDS DIFFERENT
OR SIMILAR TO OTHER FRAMEWORKS
LIKE DANIELSON'S OR MORZANO.
ALSO HOW DOES IT COMPARE WITH
NATIONAL BOARD FOR PROFESSIONAL
TEACHING STANDARD CERTIFICATION.
ARE THERE COMMONALITIES?
>> I THINK DR. RICHARDSON CAN
ADD TO THIS.
IN THE 2011 DOCUMENT WE HAVE A
SECTION WHERE WE EXPLAIN
ALIGNMENT HOW WE DID LOOK AT THE
NATIONAL PROFESSIONAL TEACHING
STANDARDS AS WELL AS THE CAPE
STANDARDS AND LOOK AT ALIGNMENT
ACROSS THE STANDARDS AS WELL AS
THE COMMON CORE.
AND HOW IMPORTANT IT IS TO
REALLY HAVE A CO HE SIEVE
LANGUAGE WE ARE ALL FOCUSED ON.
THE DOCUMENT DOES A BETTER JOB
EXPLAINING THAT.
WHAT WOULD YOU ADD TO THAT, DR.
RICHARDSON?
>> THERE ARE DIFFERENT LENSES
THROUGH WHICH YOU CAN VIEW
TEACHING AND WHAT EXCELLENT
TEACHING IS.
I LIKE TO THINK OF IN TASK AS A
ROSETTA STONE TO TRANSLATE
DIFFERENT MODELS.
THERE HAVE BEEN CROSSWALKS DONE
TO SEVERAL MODELS OF EFFECTIVE
TEACHING THAT SAYS THIS IS WHAT
IN TASK WOULD CALL IT IN A
MORZANO MODEL OR KIM MARSHALL.
IT WOULD LOOK DIFFERENTLY AND
THOSE ARE AVAILABLE.
THEY CAN E-MAIL YOU OR —
>> ABSOLUTELY.
WE POST EVERYTHING ON THE
ARCHIVED VIDEO PAGE.
IT'S A LINK OR WE CAN POST THE
E-MAIL OR YOUR E-MAIL OR
WHATEVER IF YOU WANT TO HAVE
CONTENT TO FOLLOW UP.
>> IF PEOPLE ARE INTERESTED IN
SEEING HOW MODELS COMPARE, I
WOULD BE GLAD TO SHARE THOSE.
>> TERRIFIC.
>> THANK YOU SO MUCH.
I WANT TO ASK YOU A QUESTION
ABOUT THE ROLE OF CAPE MOVING
FORWARD.
ALL THE CHANGES HAVE CERTAIN
IMPLICATIONS FOR CAPE AS AN
ENTITY AND ORGANIZATIONALLY.
IT REQUIRES THAT PROGRAMS
DEVELOP SOUND EVIDENCE OF
PROGRAMS AND CANDIDATE QUALITY.
WHERE ARE WE AND WHERE DO WE
NEED TO GO AND WHAT ARE THE
OPPORTUNITIES FOR CAPE IN
EVIDENCE AND USING IT FOR
PROGRAM IMPROVEMENT.
>> THE TITLE WAS NOT ONLY OF
STANDARDS BUT ALSO ABOUT
PERFORMANCE REPORTING.
BECAUSE THE THE RIGOR IS OFTEN
IN THE EVIDENCE YOU BRING TO
BEAR TO DEMONSTRATE THAT YOU ARE
MEETING A PARTICULAR STANDARD.
IN THAT REGARD, WE HAVE REAL
CHALLENGES IN OUR PROFESSION.
THE NATIONAL RESEARCH COUNCIL
REALLY LAMENTED THIS FACT IN ITS
2010 OH REPORT THAT WE DON'T
HAVE A STRONG A DATABASE AS WE
SHOULD ABOUT HOW TO EFFECTIVELY
PREPARE TEACHERS.
BUT I THINK WE CAN BE OPTIMISTIC
BECAUSE WE ARE MOVING FROM A
DATA POOR ENVIRONMENT TO A DATA
RICH ENVIRONMENT IN THIS REGARD.
CAPE REALLY WANTS TO PLAY A
CENTRAL ROLE IN HP HEING US MAKE
THIS TRANSITION.
ONE OF THE T TRANSITIONS WE NEED
TO MAKE IS TO BUILD AN ARRAY OF
MEASURES THAT HAVE SOME COME
PRABLT FROM ONE CONTEXT TO
ANOTHER THAT ARE MORE
STANDARDIZED.
NOW THERE IS ALWAYS A ROLE FOR
CONTEXT SPECIFIC INFORMATION
THAT SHOWS QUALITY.
AND THAT WILL CERTAINLY BE PART
OF THE DATABASE.
BUT WE JUST DON'T HAVE ENOUGH
STANDARDIZED MEASURES TO
BENCHMARK PERFORMANCE FROM ONE
PROGRAM TO ANOTHER AGAINST PAST
PERFORMANCE.
THAT'S PART OF THE CHALLENGE.
I THINK WE ARE GETTING MORE PRE
MANY SURES SUCH AS THE
OBSERVATION PROTOCOLS.
WE'LL SEE NEW AND BETTER
ASSESSMENTS OF CANDIDATE
PERFORMANCE.
THE NTPA —
>> WHAT IS THAT?
>> A PERFORMANCE ASSESSMENT
THAT'S BEEN DEVELOPED BY A GROUP
AT STANFORD THE IN COLLABORATION
WITH AECTE —
>> AMERICAN ASSOCIATION OF
COLLEGES FOR TEACHER EDUCATION.
>> YES, RIGHT.
IT REALLY DOES PROVIDE IT'S AN
ASSESSMENT DELIVERED AT VARIOUS
POINTS IN THE PROGRAM.
QUITE A NUMBER OF STATES HAVE
SIGNED ON TO WORKING WITH NTBA.
WELL OVER 20, I BELIEVE.
>> YEAH.
>> THEY HAD AN EXERCISE AT
PALO ALTO WHERE THEY ARE LOOKING
TOWARD THE DEVELOPMENT OF A
COMMON PASSING SCORE THAT
HOPEFULLY WILL BE USED ACROSS
THE COUNTRY.
YOU CAN SEE HOW THIS IS ONE
EXAMPLE OF DATA THAT ARE
DIRECTLY RELEVANT TO WHAT WE
KNOW ABOUT EFFECTIVE TEACHING
AND WHICH HAVE COMPARABILITY
ACROSS DIFFERENT CONTEXTS.
ANOTHER CHALLENGE IS TO MAKE
SURE WE DON'T JUST COLLECT
INFORMATION ON OUTCOMES BUT WE
HAVE INFORMATION ON PROGRAM
CHARACTERISTICS AND ON THE
CHARACTERISTICS OF THE
CANDIDATES ENTERING.
WE NEED TO BE ABLE TO LINK THESE
INTO THE PROCESS.
>> DESIGNED WITH THE OUTCOME.
>> TO THE OUTCOMES.
>> YES.
>> THAT POINT IS OFTEN OVER
LOOKED.
>> YES.
>> SO REALLY I AM OPTIMISTIC.
CAPE REALLY WANTS TO WORK
CLOSELY WITH THE COUNCIL OF
SCHOOL OFFICERS.
THEIR RECENT REPORT EMPHASIZES
THE DEVELOPMENT OF OH DATA
SYSTEMS AS ONE OF THE THREE
IMPORTANT LEVERS THAT CAN MOVE
US FORWARD AND WE ARE GOING TO
BE WORKING WITH THEM AS WELL AS
WITH OTHER INDIVIDUAL STATES.
WE WANT TO OH BE A RESOURCE.
WE HAVE A DATA TASK FORCE THAT
WILL CONTINUE TO WORK WITH US ON
BUILDING UP THE STANDARDS AND
EVIDENCE AROUND THE STANDARDS
AND THE TASK FORCE HAS REALLY
SOME OF THE LEADING PEOPLE IN
THE COUNTRY ON IT.
WE CONTRIBUTED TO THE AMERICAN
PSYCHOLOGICAL ASSOCIATION
RECENTLY DEVELOPED TO PROVIDE
GUIDANCE TO THE FIELD ON STUDENT
GROWTH MEASURES.
ON SURVEYS.
ON OVATION PROTOCOLS AND HOW
THEY COULD BE USED FOR PROGRAM
IMPROVEMENT.
WE COMMISSIONED A PAPER THROUGH
THE UNIVERSITY OF WISCONSIN
VALUE ADDED RESEARCH ON STUDENT
GROWTH MEASURES.
WE'LL MAKE ALL OF THE OH RE
SOURCES AVAILABLE.
WE ARE TRYING TO BRING SOME OF
THE MOST QUALIFIED AND THE BEST
PEOPLE IN THE COUNTRY TO BEAR ON
THESE DATA QUESTIONS AND WE'VE
ALL GOT TO WORK TOGETHER ON THE
CHALLENGE.
CAPE CAN'T DO IT ALONE BUT IN
COLLABORATION WITH THE COUNCIL
OF OFFICERS WITH INDIVIDUAL
PROVIDERS AND WITH EXPERTS.
WE DEVELOPED PARTNERSHIPS WITH
STATES AND HAVE AGREEMENTS
AROUND THE DEVELOPMENT OF DATA
THAT CAN BE USED BOTH FOR
QUALITY ASSURANCE WHICH
ACCREDITATION IS PART OF,
PROGRAM APPROVAL IS PART OF, BUT
ALSO FOR CONTINUOUS IMPROVEMENT.
BECAUSE IT'S THAT CULTURAL SHIFT
TO CONTINUOUS IMPROVEMENT THAT
WILL HELP US USE THE BETTER DATA
TO PRODUCE MORE EFFECTIVE
TEACHERS TO MEET THE NATION'S
NEEDS.
>> MEETING THE CULTURE OF
EVIDENCE AT EVERY LEVEL IN TERMS
OF WHAT WITH KNOW ABOUT STUDENT
LEARNING.
>> ABSOLUTELY.
>> AND THE RICH RERESEARCH
THAT'S BEEN ACCUMULATED OVER
MULTIPLE DECADES.
WE CAN CONTINUE COLLECTING DATA
ON HOW TO DELIVER STRONG CONTENT
FOR TEACH OHHER CANDIDATES AND
ENSURE THEY ARE READY TO TEACH.
>> WELL SAID.
>> WE COMMEND CAPE FOR THE FINE
WORK.
ARE THERE ANY FINAL COMMENTS
ANYBODY WANTS TO MAKE?
ONE OF THE THINGS I WAS THINKING
WAS YOU TALKED ABOUT
INSTITUTIONAL COLLABORATION.
I WAS WONDERING THERE THERE WAS
INSTITUTION TO INSTITUTION WORK.
>> I WOULD SAY THE PREP PROGRAMS
HAVE AN ORGANIZATION THAT'S
STATEWIDE.
WE OFTEN COLLABORATE AROUND
ISSUES LIKE WORKING WITH ENGLISH
LANGUAGE LEARNERS AND TEACHER
PREPARATION.
UH I THINK THIS IS A GREAT STATE
IN TERMS OF COLLABORATION GOING
ON ACROSS THE PROGRAM BUT
COLLABORATION WITH STATE
AGENCIES AND THE DEPARTMENT OF
OH EDUCATION AS WELL AS POLICY
MAKERS.
>> THANK YOU SO MUCH.
THANK YOU TO ALL FOR JOINING US
TODAY.
THAT'S ABOUT ALL THE TIME WE
HAVE.
THANK YOU TO OUR VIEWERS FOR
JOINING US.
A FINAL NOTE.
THE PRESENTATION WILL BE IN THE
WEBINAR ARCHIVES.
YOU WILL FIND THE ARCHIVED VIDEO
IN A DAY OR TWO.
WE WILL MAKE THAT AVAILABLE AND
PROVIDE CONTENT INFORMATION SO
YOU CAN FOLLOW DR. RICHARDSON ON
THE LOOMY BOOK.
THANK YOU AND GOOD DAY.
Categories:
Uncategorized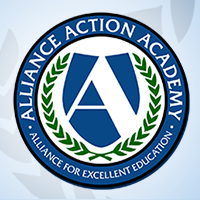 Welcome to the Alliance for Excellent Education's Action Academy, an online learning community of education advocates. We invite you to create an account, expand your knowledge on the most pressing issues in education, and communicate with others who share your interests in education reform.
Register Now
or register for Action Academy below: