New Model Core Teaching Standards: Released For Comment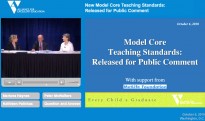 October 6, 2010
6:00 pm – 7:00 pm EDT
Washington, DC
Participants
Mariana Haynes, Senior Fellow, Alliance for Excellent Education
Peter McWalters, Interim Strategic Initiative Director, Education Workforce, CCSSO
Kathleen Paliokas, Program Director, Interstate New Teachers Assessment and Support Consortium (InTASC), CCSSO
New times require new approaches to education and greater attention to building the teaching profession. On July 17, 2010, the Council of Chief State School Officers (CCSSO) released new "model core teaching standards" for public comment. The model core teaching standards are an initial effort to articulate—through the lens of the teacher—what effective teaching and learning would look like to ensure all learners are college and career ready. Unlike the original teacher standards, which focus on the assessment and support of beginning teachers, the new core teaching standards are standards of professional practice for all teachers.
These model core teaching standards represent a new vision of teaching with increased focus on twenty-first-century knowledge and skills, personalized learning, a collaborative professional culture, improved assessment literacy, and new roles for teachers and administrators. In order to deliver a first-rate education to every child, policy leaders and educators must engage in the process of first defining effective teaching practice and then shaping policies based on a consistent vision of quality teaching.
On Wednesday, October 6 from 2:00 – 3:00 pm (EST), the Alliance and CCSSO hosted an interactive webinar to discuss the model core teaching standards and their potential for improving teacher effectiveness. The webinar also included a question and answer period to address questions submitted by viewers across the nation.
The draft core teaching standards are open for public comment until October 15, 2010. To download the new standards and submit comments, go to http://www.ccsso.org/intasc.
Agenda 
PDF

Speaker Biographies 
PDF

Webinar PowerPoint Presentation 
PDF
Categories:
Uncategorized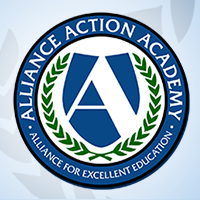 Welcome to the Alliance for Excellent Education's Action Academy, an online learning community of education advocates. We invite you to create an account, expand your knowledge on the most pressing issues in education, and communicate with others who share your interests in education reform.
Register Now
or register for Action Academy below: