Meeting the Moment: Accelerating Graduation Rates and Preparation for Postsecondary Education in the Midst of COVID-19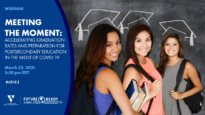 March 25, 2021
3:30 pm – 4:30 pm EDT
YouTube
Guests
Matin Abdel-Qawi, High School Network Superintendent, Oakland (CA) Unified School District
Dr. Robert Balfanz, Director, Everyone Graduates Center, Johns Hopkins University
Michael Davis, Strategic Projects & Partnerships, City Year
Bill DeBaun, Director of Data and Evaluation, National College Attainment Network
Roxanne Garza, Policy Advisor, UnidosUS
Dunia Saleh, Student, Oakland High School
Phillip Lovell, Vice President of Policy Development and Government Relations, Alliance for Excellent Education (moderator)
Prior to the COVID-19 pandemic, the nation saw fourteen consecutive years of increasing high school graduation rates driven by improvements among students who historically have been underserved. The very groups of students who have seen tremendous growth—including Black students, Latino students, and students from low-income families—are the students who have been hit hardest by the pandemic. Recent data shows that COVID-19 is having a dramatic impact on freshmen enrollment in postsecondary education for these students. How can we sustain gains in high school graduation and provide pathways to postsecondary education in the midst of COVID-19? Join experts from the across the country to hear the latest in data, policy, and practice.
---
Register for the webinar and submit questions for the panelists below.
---
Please direct questions concerning the webinar to Phillip Lovell. If you are unable to watch the webinar live, please register to receive the video archive directly in your inbox.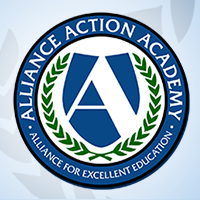 Welcome to the Alliance for Excellent Education's Action Academy, an online learning community of education advocates. We invite you to create an account, expand your knowledge on the most pressing issues in education, and communicate with others who share your interests in education reform.
Register Now
or register for Action Academy below: