March 25, 2008
8:30 am – 11:00 am EDT
Resources for the Future First Floor Conference Center, 1616 P Street, NW Washington, DC
Over one hundred educators, policymakers, and other key stakeholders gathered March 25 in Washington, DC to attend a forum addressing the challenges of measuring and improving the effectiveness of high school teachers. The event was convened to release the Alliance's most recent publication, "Measuring and Improving the Effectiveness of High School Teachers." The event also presented a panel of experts in the field who discussed the implications of research and practice on high school teacher effectiveness for federal policy.
Bethany Little, vice president for policy and federal advocacy at the Alliance for Excellent Education, opened the forum by emphasizing the importance of a teacher's impact on student achievement. She posed the questions of how to accurately measure teacher impact and how to use that information to improve the quality of teaching.
Jeremy Ayers, a policy and advocacy associate at the Alliance, presented highlights from the issue brief, providing a definition of teacher effectiveness as the teacher's ability to demonstrate growth in student learning. Although this is the primary definition, other designations can include the teacher's ability to motivate and engage her or his students, to acquire subject-specific knowledge and skills, to work well with colleagues in a professional learning community, and, in the case of high schools, a teacher's ability to prepare students for college and work.
Ayers also discussed methods of measuring the impact of teachers. Referencing the brief, the best way to measure teacher effectiveness is by looking at the amount of growth students make over time as demonstrated on several assessments, he said. This process, known as "value-added" analysis, estimates the academic growth a student is expected to make for the year and compares it to the student's actual performance. Teachers whose students perform above the expected range are said to have "added value" to the students' academic growth. Implementing value-added analysis at the high school level would require a variety of activities, all of which are described in the brief.
Emphasizing that value-added analysis can provide objective and comparable measures of teacher impact, Ayers also noted that though it is improving over time, the method currently has limits. "Value-added analysis can be used as an accountability tool," Ayers said, "only after we ground teachers in the support they need."
Ayers concluded with four recommendations for educators and policymakers:
Improve measures of student learning;
Develop other measures of teacher effectiveness;
Build and strengthen data systems; and
Foster school structures that promote effectiveness.
Elena Silva, senior policy analyst at Education Sector, moderated the subsequent discussion panel which included Brad Jupp, senior academic policy advisor of Denver Public Schools, Tommy Smigiel, lead teacher at Norview High School in Norfolk, Virginia, and Dr. Mary Peters, director of value-added services at Battelle for Kids. The panel discussion focused on the need to refine current "imperfect" value-added systems.
"We should not delay the quest to identify teacher effectiveness while we perfect value-added," said Jupp, adding that there is a need to move past an "either/or" approach and use several methods to evaluate teacher effectiveness.  "The teacher workforce is diverse," he explained, "They all use different knowledge and skills, so we cannot have one formula for all."
Panelist Smigiel agreed on the need to evaluate teachers differently. At Norview High School, for example, differentiations between new and experienced teachers are recognized, and new teachers are not penalized for showing less growth than a veteran teacher. Instead, Norview compares current new teacher performance to that of historical new teacher performance levels. Smigiel also highlighted the importance of good leadership, teamwork towards a common goal, and high expectations for teachers.
"Leaders must trust teacher staff and treat them like professionals," he stressed, explaining that at Norview, teachers are grouped into content teams in order to map out a common curriculum, develop common assessments, and then regularly review student achievement data to improve their practices. Teachers even compare their respective performances to those of other teachers in order to gain insight on the sources of successful performance. Smigiel asserted that such comparisons are legitimate as teachers teach the same curriculum using common assessments.
Panelist Peters stated that Battelle for Kids has collaborated with school districts in the use of value-added systems as professional development and diagnostic tools, held conversations with highly effective teachers reviewing the factors that have aided them in their efforts to become effective, and discussed how that expertise can be spread to other teachers and schools.
Battelle is also working in collaboration with the Gates Foundation in assessing how end-of-course exams impact value-added systems.
When asked about the distrust and skepticism voiced by teachers in regard to the value-added system, Peters said, "I don't understand how my PDA or refrigerator works, but it doesn't mean it doesn't work," but acknowledged that too much time was spent explaining the program. She noted that Battelle has refocused its efforts on explaining how the system can be useful, rather than dwelling on discussions addressing technical statistical methods.
In Peters's final analysis, the value-added tool implemented must be accurate, trusted, and seen, first and foremost, as a vehicle for professional development.
Audio* and 
Video (Windows Media) of Entire Event
I. Welcome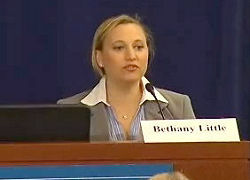 Bethany Little, Vice President for Federal Policy and Advocacy, Alliance for Excellent Education 
Video (Windows Media)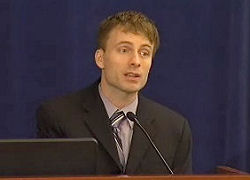 II. Remarks on the Brief: "Measuring and Improving the Effectiveness of High School Teachers" 
PDF
Jeremy Ayers, Policy and Advocacy Associate, Alliance for Excellent Education 
Video (Windows Media)
Measuring and Improving the Effectiveness of High School Teachers presentation – 
 PDF
III. Panel Discussion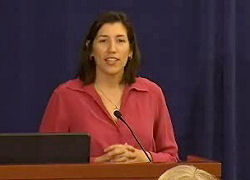 Dr. Elena Silva (moderator), Senior Policy Analyst, Education Sector 
Video (Windows Media)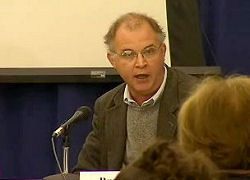 Brad Jupp, Senior Academic Policy Advisor, Denver Public Schools 
Video (Windows Media)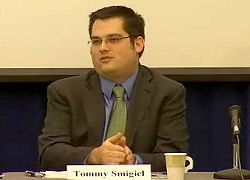 Tommy Smigiel, Lead Teacher, Norview High School, Norfolk, VA 
Video (Windows Media)
Dr. Mary Peters, Director of Value-Added Services, Battelle for Kids 
Video (Windows Media)
IV. Discussion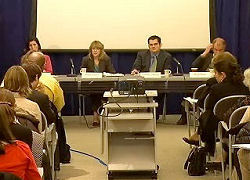 Video (Windows Media)
V. Audience Question & Answer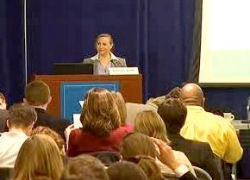 Video (Windows Media)
Categories:
Uncategorized