April 14, 2009
8:30 am – 4:00 pm EDT
Washington Court Hotel 525 New Jersey Avenue, NW Washington, DC
SPEAKERS
Catherine Brown, House Committee on Education and Labor
Stephen Chappuis, ETS Assessment Training Institute
David Coleman, Student Achievement Partners, LLC
Jeff Gilbert, Hillside High School, CA
Sara Hall, State Educational Technology Directors Association
Alex Harris, DC Office of the State Superintendent of Education
Bethany Little, Senate Committee on Health, Education, Labor, and Pensions
Scott Palmer, EducationCounsel, LLC
Raymond Pecheone, School Redesign Network LEADS, Stanford University
Rachel Quenemoen, National Center on Educational Outcomes
Celia Sims, Office of U.S. Senator Richard Burr (NC)
Arthur VanderVeen, New York City Department of Education
There is increasing attention being paid to the "next generation" of assessments and what that might mean for federal policy and the reauthorization of the No Child Left Behind Act (NCLB). This all-day conference explored key issues related to both the development and use of assessments, as well as federal policy implications. This included the development of college- and work-ready assessments, the use of formative assessments, the assessment of English language learners and students with disabilities, the use of assessments for growth models at the high school level, U.S. participation in and use of international assessments, and the role of technology in improving assessments.
In June 2009, the Alliance for Excellent Education released the report Meaningful Measurement: The Role of Assessments in Improving High School Education in the Twenty-First Century, a compilation of short essays—written by experts in the field—on key assessment topics that have relevance for NCLB reauthorization and secondary school improvement. Click here for links to the full report as well as the individual essays. To request print copies of the full report (available mid-July 2009), please visit here.
---
MATERIALS from the event:
Key Pieces of High School Legislation

Master PowerPoint Presentation (please be patient, large file downloading)
AUDIO and VIDEO from the event: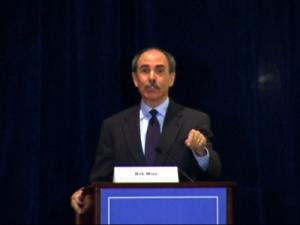 Opening Remarks and Panel 1 
Audio* and 
Video (Flash popup)
High School Assessments for the Twenty-First Century
Bob Wise, Alliance for Excellent Education (Welcome)
David Coleman, Student Achievement Partners, LLC
Scott Palmer, EducationCounsel, LLC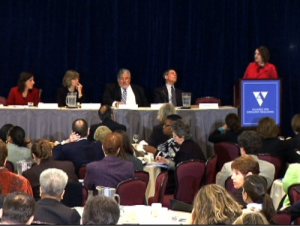 Panel 2 
Audio* and 
Video (Flash popup)
The High School Assessment Landscape: Challenges and Opportunities
Moderator: Lyndsay Pinkus, Alliance for Excellent Education
Stephen Chappuis, ETS Assessment Training Institute
Raymond Pecheone, School Redesign Network LEADS, Stanford University
Rachel Quenemoen, National Center on Educational Outcomes
Sara Hall, State Educational Technology Directors Association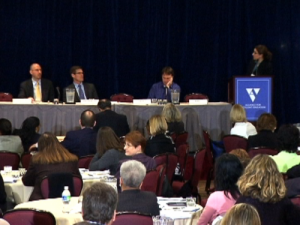 Panel 3 
Audio* and 
Video (Flash popup)
The View from the Ground: Using Assessments to Improve Teaching and Learning
Moderator: M. Miller, Alliance for Excellent Education
Jeff Gilbert, Hillside High School, CA
Arthur VanderVeen, New York City Department of Education
Alex Harris, DC Office of the State Superintendent of Education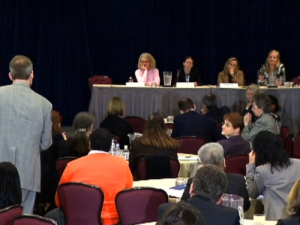 Panel 4 and Closing Remarks 
Audio* and 
Video (Flash popup)
The Role of Federal Policy in Improving (and Using) Assessments
Moderator: Jamie Fasteau, Alliance for Excellent Education
Bethany Little, Senate Committee on Health, Education, Labor, and Pensions
Celia Sims, Office of U.S. Senator Richard Burr (NC)
Catherine Brown, House Committee on Education and Labor
* To download audio MP3 files, right-click over "Audio" link in Internet Explorer and select "Save Target As…". Other browsers (Firefox, Safari, etc…) have similar functionality. To listen only, simply left-click on "Audio" link.
Supplemental Materials:
"Every Student Counts: The Role of Federal Policy in Improving High School Graduation Rates" 
Categories:
Uncategorized