District Strategies for Achieving Digital Equity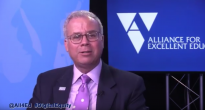 May 6, 2016
3:00 pm – 3:30 pm EDT
District Strategies for Achieving Digital Equity
Panelists
Keith Krueger, Chief Executive Officer, Consortium for School Networking
Vincent Scheivert, Chief Information Officer, Albemarle County Public Schools (VA)
Kamila Thigpen, Manager of Digital Learning Policy and Advocacy, Alliance for Excellent Education
On May 6, 2016 the Alliance for Excellent education and the Consortium for School Networking (CoSN) held a webinar on District Strategies for Achieving Digital Equity.  With the recent announcement by the Federal Communications Commission (FCC) that it will modernize its Lifeline Program to make high-speed broadband service more affordable for low-income families, digital equity has moved to the forefront of the federal policy agenda. Although changes to the program represent a significant step toward achieving digital equity, much more work remains to be done at a local level to ensure that all students have equitable opportunities to benefit from the promise of technology and digital access. For more information about how Albemarle County Public Schools and the Consortium for School Networking (CoSN) are working to increase digital equity at a district and national level, a list of resources can be found below:
Albemarle County Public Schools (ACPS)
Twitter: @k12albemarle
ACPS is leading the way in advancing digital equity through addressing out-of-school broadband access. In one of the first programs of its kind in the country, ACPS is installing fiber optic cable connecting schools, local government facilities, and eventually families to high speed Internet service in historically underserved geographic areas of the county. The district also uses its Educational Broadband Service (EBS) spectrum license to provide students with high-speed wireless Internet access.
District Profile (Digital Promise)
Albemarle Public Schools Bridge the Digital Divide with Free Broadband (CBS 19)
Albemarle County Broadband Task Force
Use It or Lose It: What To Do with Your Wireless Spectrum (T.H.E. Journal)
Consortium for School Networking (CoSN)
Twitter: @CoSN
CoSN is a nonprofit organization that serves as the voice of K-12 school system technology leaders, representing over 10 million students in school districts nationwide. It provides district technology leaders with the management, community building, and advocacy tools they need to succeed.
Digital Equity Action Agenda (CoSN)
Digital Equity Action Toolkit – Executive Summary (CoSN)
Digital Equity Infographic (CoSN)
2016 IT Leadership Survey Results (CoSN)
Please direct questions concerning the webinar to alliance@all4ed.org. If you are unable to watch the webinar live, an archived version will be available at https://all4ed.org/webinars approximately 1–2 business days after the event airs
---
If you are interested in renting the Alliance's facilities for your next meeting or webinar, please visit our facilities page to learn more.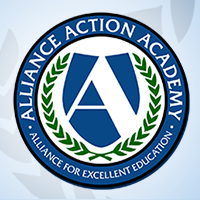 Welcome to the Alliance for Excellent Education's Action Academy, an online learning community of education advocates. We invite you to create an account, expand your knowledge on the most pressing issues in education, and communicate with others who share your interests in education reform.
Register Now
or register for Action Academy below: