#GoOpen: Using Open Educational Resources to Develop Dynamic Digital Content for Classrooms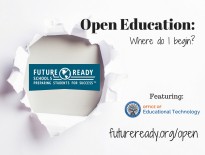 May 31, 2016
6:00 pm – 6:30 pm EDT
Google Hangout On Air
#GoOpen: Using Open Educational Resources to Develop Dynamic Digital Content for Classrooms
Panelists
Andrew Marcinek, Senior Advisor, U.S. Department of Education
Tom Murray, Director of Innovation, Future Ready Schools, Alliance for Excellent Education
On May 31, 2016 Future Ready Schools (FRS) held a webinar as part of the FRS Leadership Hub, a one-stop-shop of professional learning opportunities for school leaders. This Google Hangout explored how schools benefit from open educational resources (OERs) and what is being done in this area nationwide.
As a senior advisor at the U.S. Department of Education (ED), Andrew Marcinek shared how openly licensed educational resources have become more prevalent in school districts within the past year. With support from ED, state leaders, and new platforms for curation and discovery, there has never been a more exciting time to rethink traditional, static instructional materials. This webinar focused on why district leaders should consider making this transition, how it supports teachers as creative content professionals, and steps in the process of this transition.
This webinar explored
an understanding of OERs;
examples of schools and districts that are leveraging open resources;
practical ways to leverage high-quality, free digital content; and
tips and resources on where to begin.
Participants will leave energized and excited to begin strategizing how they can make the shift to openly licensed educational resources in their respective school district. Panelists also addressed questions submitted by viewers from across the country.
Please direct questions concerning the webinar to alliance@all4ed.org. If you are unable to watch the webinar live, an archived version will be available at in the Resources section of the FRS Dashboard after the event airs.
---
Future Ready Schools (FRS) is a collaboration between the U.S. Department of Education and the Alliance for Excellent Education, a Washington, DC–based national policy and advocacy organization dedicated to ensuring that all students, particularly those traditionally underserved, graduate from high school ready for success in college, work, and citizenship.
www.futureready.org
Follow FRS on Twitter (twitter.com/FutureReady); Facebook (facebook.com/futurereadyschools); and the Future Ready Schools' Leadership Hub (futureready.org/hub).
---
If you are interested in renting the Alliance's facilities for your next meeting or webinar, please visit our facilities page to learn more.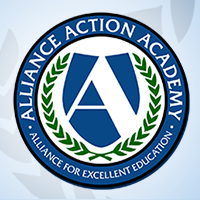 Welcome to the Alliance for Excellent Education's Action Academy, an online learning community of education advocates. We invite you to create an account, expand your knowledge on the most pressing issues in education, and communicate with others who share your interests in education reform.
Register Now
or register for Action Academy below: