Creating Aligned and Rigorous College and Career Pathways Between K–12 and Community College Partners

Registration Required
May 10, 2016
5:00 pm – 5:30 pm EDT
The Mike Sussman Studio
The Alliance for Excellent Education Invites You to Attend a Webinar
Creating Aligned and Rigorous College and Career Pathways Between K–12 and Community College Partners
Panelists
Salomon Davila, Dean, Economic and Workforce Development, Pasadena City College (CA)
Phillip Lovell, Vice President of Policy and Advocacy for Comprehensive High School Reform, Alliance for Excellent Education
Marisa Sarian, PhD, Assistant Superintendent of Secondary Education, Pasadena Unified School District (CA)
Alexandra Williamson, Student, Pasadena City College (CA)
Community colleges play an important role in educating students from low-income families as 44 percent of these students attend community college after high school. Creating aligned and rigorous career pathways between K–12 schools and community colleges is essential to ensure that more students graduate with some form of postsecondary credential or degree that positions them to earn a sustainable wage.
Nationally, one out of every five students from low-income families lives in California. Using the Linked Learning approach as a framework, this webinar will explore the partnership between Pasadena Unified School District (PUSD) and Pasadena City College (PCC) in California, which prepares more students for an equitable college transition by facilitating dual enrollment, articulated pathways/course work, and alternative assessment strategies.
Research indicates that students who successfully earn a degree or certificate from one of California's 113 community colleges nearly double their earnings within three years, as compared with students who do not complete a degree or certificate program. Partnerships between K–12 schools and community colleges are essential to driving these results by aligning rigorous career pathways that reduce the need for remediation and increase the likelihood of students graduating from college.
During this webinar, Salomon Davila of PCC and Marisa Sarian of PUSD will discuss their integrated approach to preparing students to successfully transition into college and the workforce. Alexandra Williamson, a student at PCC, will talk about her experience at Pasadena High School participating in a career pathway, and her transition to an aligned career pathway at PCC. Phillip Lovell of the Alliance will moderate the discussion and panelists will address questions submitted by viewers from across the nation.
Register and submit questions for the webinar below.
Support for this webinar is provided by the James Irvine Foundation.
Please direct questions concerning the webinar to alliance@all4ed.org. If you are unable to watch the webinar live, an archived version will be available at https://all4ed.org/webinars 1–2 business days after the event airs.
---
If you are interested in renting the Alliance's facilities for your next meeting or webinar, please visit our facilities page to learn more.
Categories:
Uncategorized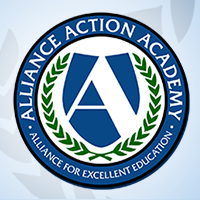 Welcome to the Alliance for Excellent Education's Action Academy, an online learning community of education advocates. We invite you to create an account, expand your knowledge on the most pressing issues in education, and communicate with others who share your interests in education reform.
Register Now
or register for Action Academy below: