Career Pathways: Exploring the Partnership Pipeline

May 10, 2016
7:00 pm – 8:00 pm EDT
Dirksen Senate Office Building Room 430
Senate Career and Technical Education Caucus,
in Conjunction with
the Alliance for Excellent Education,
Invite You to Attend an Event
Career Pathways: Exploring the Partnership Pipeline
Moderator
Monica Almond, Ph.D., Senior Policy and Advocacy Associate, Alliance for Excellent Education
Panelists

Scott Ralls, Ph.D., President, Northern Virginia Community College (VA)
John Snavely, Ed.D., Superintendent, Porterville Unified School District (CA)
Randy Wallace, Executive Director, INNOVATE Tulare-Kings (CA)
Alexandra Williamson, Student, Pasadena City College (CA)
On May 10, 2016, the Senate Career and Technical Education (CTE) Caucus, in conjunction with the Alliance for Excellent Education will hold a briefing on the partnerships that are essential to transform the high school experience to ensure that all students are thoroughly prepared for both college and career upon graduation. Although the nation currently graduates 82 percent of all high school students, far too many students remain unprepared for postsecondary education and the workforce. Therefore, discussions about increasing relevancy and rigor in the nation's schools can no longer forsake the role of career and technical education (CTE) and the necessity of the partners that guide that work.
During the briefing, panelists will discuss
the latest findings on the postsecondary and economic outcomes of students who participate in career pathways;
the role of the K-12/community college partnership that provides for dual enrollment and articulated pathways;
the role of business and industry in supporting career pathways;
the role of the intermediary in driving and sustaining local and regional implementation; and
how current federal investments in career and technical education are being used to support this work.
Panelists will also address questions from the audience.
 Support for this event is provided in part by the James Irvine Foundation.
Please direct questions concerning this event to all4ed@all4ed.org.
---
If you are interested in renting the Alliance's facilities for your next meeting or webinar, please visit our facilities page to learn more.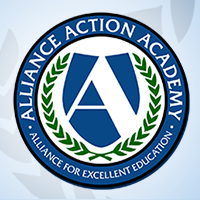 Welcome to the Alliance for Excellent Education's Action Academy, an online learning community of education advocates. We invite you to create an account, expand your knowledge on the most pressing issues in education, and communicate with others who share your interests in education reform.
Register Now
or register for Action Academy below: