The National Broadband Plan After Five Years: An Anchor Institution Progress Report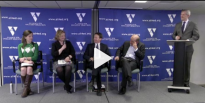 March 17, 2015
5:00 pm – 6:30 pm EDT
Online and in-person at 1201 Connecticut Avenue, NW, 9th Floor, Washington, DC
The National Broadband Plan After Five Years:An Anchor Institution Progress Report
On March 17, 2015, the Alliance for Excellent Education, SHLB Coalition, New America, and Benton Foundation celebrated the five-year anniversary of the Federal Communications Commission's National Broadband Plan—and reviewed the community anchor institution broadband goals, accomplishments, and unfinished work.
At the mid-point of the timeline for achieving the National Broadband Plan's Goal #4 (calling for anchor institutions to have 1 Gigabit per second broadband by the year 2020), the United States has made great strides but there is much more to do. The federal government and many state governments have taken significant steps to improve the broadband capabilities of the nation's schools, libraries, and health-care providers, but efforts will need to be re-doubled to reach this goal by the year 2020, particularly in rural areas.
During the briefing, Blair Levin, leading author of the National Broadband Plan, headlined this important event. The SHLB Coalition launched its Anchor Institution Action Plan Initiative, and the Benton Foundation reviewed progress made on the National Broadband Plan recommendations regarding community anchor institutions. The agenda also included representatives of the Chief Officers of State Library Agencies, AASA–the School Superintendents Association, and the Institute for e-Health Policy.
Rachel B. Niebling:    All right welcome everyone.  Welcome to the Alliance for Excellent Education.  I am Rachel Bird Niebling, a senior policy and advocacy associate here at the Alliance.  We are so pleased to join the Shelby Coalition, New America, and Benton Foundation in celebrating the fifth anniversary of the National Broadband Plan.  Issued in 2010 by the Federal Communications Commission, the National Broadband Plan outlines a strategy and issues recommendations to insure that every American has access to broadband capability.
As an organization focused on educational equity for all, we are pleased to be a part of today's event where we will discuss the progress we have made in making high speed broadband available to all students.  And discuss opportunities that lie ahead for anchor institutions.  Founded in 1999 the Alliance is a Washington, D.C. based national policy and advocacy organization dedicated to insuring that all students graduate from high school ready for success and college, career, and life.  The Alliance focuses on America's six million most at risk secondary students.  Those in the lowest ______ of achievement who are most likely to leave high school without a diploma.
In 2011 the Alliance created the Center for Digital Learning and Policy to focus specifically on how technology and digital learning can offer innovative ways to insure that all students graduate from high school prepared for success.  As a division of the Alliance, the Center advances an ambitious agenda for national, federal, state, and district policy reform efforts relating to the effective use of technology in K-12 public schools.  The ____________ largest initiatives, Digital Learning Day and Future Ready, the Center supports teachers, school leaders, districts, and states as they navigate the shift to more robust digital learning environments.  Digital Learning Day provides a powerful venue for education leaders to highlight great teaching practice and showcase innovative teachers, leaders, and instructional technology programs that are improving student outcomes in both urban and rural areas.  We actually just celebrated Digital Learning Day this past Friday and it was a great event.
Future Ready is a free bold new effort to maximize digital learning opportunities and help school districts move quickly towards preparing students for success in college career and citizenship.  That effort provides districts with regional summits, resources, and support to ensure that local technology and digital learning plans align with instructional best practices, are implemented by highly trained teachers, and lead to personalized learning experiences for all students.  The Alliance and the U.S. Department of Education are leading this initiative with the support of the Leading Education by Advancing Digital, or LEAD Commission, and a vast coalition of other organizations.  For more information visit:  Digitallearningday.org and Futurereadyschools.org.  A key factor, as you all know, in the delivery of effective digital learning is the need for all schools to have access to high speed broadband.
That is why the Alliance was, and continues to be, a champion for the expansion and modernization of the E-Rate program, so that all students can have access to high speed internet in schools and libraries.  Created by the Telecommunications Act of 1996, the E-Rate program provides discounts to schools and libraries to help them obtain affordable telecommunications and internet access.  Unfortunately though, there continues to be a growing digital divide in the classroom.  This fall the Alliance Commission did a study titled "Schools and Broadband Speeds" to analyze students and their schools' access to advertised internet speeds.  The report found that only 34 percent of students across the country have access to high speed internet, defined as 100 megabits per second or more.
Moreover, there are significant gaps in access for African American, Latino, low income, and rural students.  Students in these categories are more likely to be in schools with slow internet access, defined as ten megabits per second or less, than their peers and less likely to be in schools with high speed internet access than their peers.  Technology has revolutionized many facets of modern life.  But the promise of digital learning is only beginning to be implemented at scale in today's classrooms.  That is why we worked very closely with the Shelby Coalition and others to support FCC Chairman Tom Wheeler's proposal to modernize and increase funding for the E-Rate program.
And it is why we were so pleased when the Federal Communications Commission adopted his order.  We know, however, this is just one of many steps needs to realize the goals outlined in the National Broadband Plan.  Particularly goal number four:  To ensure affordable access to at least one gigabyte per second broadband service to anchor institutions like schools.  Again, we are so pleased to join the Shelby Coalition, New America, and Benton Foundation today to review the Community Anchor Institution Broadband Goals, the work that has been accomplished thus far, and what we have left to do.  We look forward to today's discussion and to continuing to work together to insure that access to high speed broadband services no longer an educational tool for some, but an educational tool for all.
Now I would like to welcome Sarah Morris, senior policy council of the Open Technology Institute at New America to the stage for her remarks.
[Applause]
Sarah Morris:    Thank you Rachel.  Hello everyone, and thank you also to Shelby, the Alliance for Excellent Education, and Benton for including New America's Open Technology Institute in today's events.  I'm Sarah Morris, and I'm a senior policy council with the Open Technology Institute.  New America is a non-partisan think tank and civic enterprise dedicated to the renewal of American politics, prosperity, and purpose in the digital age.  Our experts work on a wide range of issues from national security to work/family balance, and of course technology and telecom policy.
At the Open Technology Institute we bring together policy experts, technologists, and practitioners to tackle the challenges of promoting ubiquitous, safe, and affordable access to communications technologies in communities in the United States and around the world.  Insuring that community anchor institutions have access to robust, scalable internet is central to our mission at OTI.  While we are long time advocates of broadband affordability at home, our experience in the technology policy and development space tells us that community anchors have a unique role in providing communities with spaces for connectivity.  As well as the social infrastructure and support to insure that people, young and old, savvy internet users to first time users, all have the opportunity to access the internet safely.  Indeed we often focus solely on the role that anchors can play in providing access to physical broadband connections.
While robust broadband access is a prerequisite, these community hubs serve their communities in many ways, and they take many forms.  Whether it's stand-alone computer centers, community center serving various functions, in addition to schools and libraries.  One example of the ways that they are empowering community members as users, teachers, and builders can be seen in some of the work that we've done as sub-grantees for several broadband technology opportunities, or BTOP projects in communities across the country.  My colleagues worked hand in hand with community members on projects to increase broadband access and adoption.  Central to each of those projects were community anchor institutions in a variety of forms.
In our Digital Stewards program, OTI has partnered with groups around the world to develop this concept of digital stewardship.  Where users become teachers and stewards of connectivity in their communities, and programs are tailored to meet community needs.  The Key Spot program is another example.  It's a consortium of 76 public computing centers in Philadelphia that implemented dozens of digital literacy trainings designed to provide area residents with the tools they need to achieve their educational and professional goals.  Libraries and schools are particularly important in achieving these objectives.
Libraries provide social support from trusted community members, and they are viewed as trusted spaces, serving a long-time presence in their communities.  These trusted spaces help people who are nervous or new to the digital world overcome their fear and learn to get online.  In Key Spots, for example, some users described "shaking with fear" or "being afraid to even turn on the computer."  The trainings and support offered at Key Spot locations help users move beyond this.  As one participant noted, "Now I know the computer.  You can't break it; it won't hurt you.  Now I know I won't have that fear."
Schools and libraries also serve to provide access to cutting edge technologies and serving as spaces for making, building, and creating.  These are trusted long-time spaces, but they also are looking ahead, serving as maker spaces, technology hubs, venues for collaboration and experimentation in addition to broadband access.  According to Pew, 77 percent of Americans who use the internet but lack home access say computer and internet access at their public library is important to them and their family.  In general, Americans living in lower income households, and from minority communities, are far more likely to rely on the library for internet access.
Indeed, libraries and schools are transforming from houses of knowledge to true houses of access.  Schools also have a role in instilling not just digital competency but digital excellence for our nation's youth.  Although children today are digital natives in many respects, schools provide some of the first formal introduction to technology for many of them, and they are providing access to broadband internet as well.  Often in partnership with the community, using self-provisioning, or a variety of public/private partnerships.  For example, at an event we hosted last year on connected communities in a digital age, Pam Moran, school superintendent of Albemarle County, Virginia explained how her district and the surrounding community have worked together to meet connectivity needs.
The Albemarle School District is a partner in the construction of over 100 miles of fiber optic cable to build a local network that connects schools and other county government sites.  In addition, county schools have Wi-Fi hot spots which are not only used by students and their parents, but are also coordinated with the local police force to help facilitate their communications.  These benefits can even extend beyond institutional walls to help connect students at home, particularly in remote parts of the county.  So we've come a long way, particularly in the past year, and while I know we're gonna talk about the policy the rest of today, I wanted to highlight a few things.  Rachel noted the E-Rate overhaul that was completed in December.
The Commission also in their broadband progress report earlier this year redefined the definition of broadband for home access to 25 megabits per second.  This is an important step.  At the end of February we had the historic Net Neutrality decision that paved the way for an open internet for all communities and all users, and the Commission also in that meeting paved the way for more community networks.  To allow communities to serve their schools, libraries, and community members in a way that best meets their needs.  But there is still a long way to go, which is why we're here today, and why I'm looking forward to hearing from my esteemed colleagues in this space on how we will achieve robust connectivity in schools.
As well as the ability to leverage that connectivity at the community level.  So I thank you all for listening to my remarks today, and now I'd like to introduce John Wynhausen, the executive director of the Shelby Coalition.  Welcome John.
[Applause]
John Wynhausen:    Thank you very much Sarah.  So I am John Wynhausen, executive director of the Shelby Coalition.  It's a great pleasure to be with all of you today.  This is a nice day, right?  This is not just St. Patrick's Day, but it's the five year anniversary of the release of the National Broadband Plan, and Blair one of the things that I never got to ask you before is why the heck did you choose to release the Broadband Plan on St. Patrick's Day?  Is it because of the significance of the Irish?
Blair Levin:    ______________________ we wanted to make sure the bars were full.
John Wynhausen:    The bars were full to celebrate.  So I invite everybody, including the webcast people, to join us at the bar right after this event.  But this is a great day because the United States really has made a nice amount of progress in implementing goal number four of the National Broadband Plan.  Which specifically calls out for one gigabyte per second speeds for anchor institutions.  Really it put us on the map.
It gave us something to strive towards.  But of course we have a lot more work to do, and that's why we wanted to gather this event in partnership with the Alliance, with the Benton Foundation, New America, also AESA is here, and participating __________, and the American Library Association, e-Health Policy Institute, all of which we'll hear from.  But this was a really group effort, and the fact that we were able to work together on these E-Rate reforms which we accomplished last year was a tremendous accomplishment for all of us for our sector, and we wanna continue these partnerships going forward.  So we're very pleased to be part of this event today.  I have a couple of slides which I don't have time to go through.
I'm going to zip through very quickly.  Just to – for those of you who don't know that much about the Shelby Coalition, our mission is to support anchor institutions and their communities, and our goal is to support open, affordable high capacity broadband for anchor institutions around the country.  Especially in rural areas that really need the help the most.  This gives you a little of an example of some of the proceedings that we've been engaged in.  I'm not gonna talk about all of these now.
Obviously E-Rate was the biggest success last year, but there are an awful lot of other proceedings going on in the federal government.  The BTOP program at NTIA, the Connect America Fund, a lot of state and local proceedings as well.  So the purpose of the Shelby Coalition is to try to engage policy makers at all levels of government to try to advance the interests of broadband for community anchor institutions.  As I mentioned, the National Broadband Plan did set out this goal of one gigabyte for all anchor institutions by the year 2020.  So it gave us ten years to meet that goal; we're five years in to it, how far along are we?
That's why we're gathered here today, to talk about that.  We have made some significant accomplishments over the last five years.  The BTOP program alone connected around 23,500 anchor institutions with high capacity broadband.  That's fabulous.  Having said that, that's probably in the range of 10 to 15 percent of all the anchor institutions that need to have these connections.
So we have more work to do.  The E-Rate program is also tremendously successful effort at the FCC and the two orders adopted last year.  But now we're in the implementation phase, and it's not enough just to set the rules.  Now we need to follow through on those rules to make sure that they do in fact lead to the kind of broadband investment that we need to see going forward.  The Connect America Fund is also a work in progress at the FCC.  The Health Care Connect Fund at the FCC, same, good rules adopted in 2012.
But the follow through is still yet to come to really make that program successful.  So that's what we're looking at today.  There's still a significant rural fiber gap, as Chairman Wheeler articulated a few months ago, and we see that from our vantage point as well.  That we need to find a way to drive greater broadband investment out to these rural anchor institutions that need it the most.  Because otherwise we're at risk if we were to stop halfway where we are today, the risk that the rural gap would become even wider compared to the urban areas that may be benefitting from some of these programs.
So we really need to keep the focus on the future going forward to make sure that we answer the needs.  So the real – my real point for this is all leading up to the Shelby Coalition has put together this little document.  Which if you haven't seen it, it's on the table outside the room today.  It's a fact sheet that Angela Seefer worked on for the Shelby Coalition; we're releasing it today.  This is a compendium of the progress that has been made so far, but still the work that still needs to be done and I urge you to look at this document.
Because the challenges are still great; still only ten percent of the schools around the country have the kind of broadband access that's called for in the National Broadband Plan.  Less than half of libraries still have below ten megabits per second service.  Far below the 100 megabits or one gigabyte service that libraries need, and for healthcare institutions we don't even know the level of broadband quality.  We suspect it's very low for those rural health clinics that really need it.
So this is a bit of a call to action.  If you take a look at this document this has the information that we all should take with us back to our policymakers, and invite you to work with them in order to try to improve the state of broadband for anchor institutions around the country.  We will be holding our Shelby Annual Conference in a couple of months by the way, and we're going to be using the conference to crowd source ideas for how we can move the ball forward.  What are the next steps that we need to take in order to make sure that anchor institution broadband becomes a reality, not just a talking point in a broadband plan.  But actually gets in to the marketplace.
So please join us at the annual conference that is coming up in May 20th to the 22nd right here in the Washington, D.C. area, and we look forward to your participation in that event.  Now having said all that, now it's time to turn this over to our star presenter here today.  So I have to say, Blair Levin and I have been friends for a long time.  But what I think really makes Blair special is that not only did he lead the team at the FCC that authored the Broadband Plan, but then he's gone out and actually himself been working and trying to implement that.  He created and fostered the Gig.U which is building high capacity broadband for higher education and the communities around them.
He was an instrumental component of our E-Rate team in getting the E-Rate accomplished.  Now he's turning his attention to Life Line.  So Blair, you're not just an egghead; you're actually a doer and achiever.  So thank you for joining us.  Come on up.
Blair Levin:    Thank you very much.
[Applause]
Blair Levin:    Thank you very much John.  I'm Blair Levin.  I'm a senior non-resident Fellow at the Brookings Institute Metropolitan Policy Project, and I very much appreciate that kind introduction.  And I wanna thank all the organizations that helped put this event together.  In the five years since we delivered the plan a lot has been accomplished; a lot remains to be done.
I have some views on the subject that I very much look forward to from the speakers here today.  I'm also looking forward; by the way, there are some other events tomorrow.  Georgetown is sponsoring one that's kind of covering a wide range of issues that the Plan covered.  I think the FCBA later this spring will be doing an event on the Universal Service subject.  Another think tank will be doing another one the whole plan later on in the spring, and I think it's important that we do this and not necessarily look back.
But because there's a certain kind of agenda setting, the Plan did not suddenly appear, as some people thought, in 2009 in the Recovery Act.  Rather, people had talked about it for several years.  So what we're talking about today gets in to the bloodstream of ideas.  There'll be an election; there'll be a new president.  If we want ideas to be on the top of the agenda we have to start talking about them now.
So these events, I think, are really important about that.  But today's topic is anchor institutions.  It is both first in time in terms of these events, but also first in my heart.  But I have to say first a confession; I'm often identified as the architect or writer of the Plan.  Neither of those is true.
I didn't do either one, but I had some involvement.  But it was really a uniquely collaborative effort and it involved about 70 new recruits, about 200 traditional FCC staff.  But also literally hundreds of people outside the government who gave us a lot of data, and ideas, and analysis, and some of them are in the room, and I particularly wanna call out John Wynhausen.  Who for many decades has been not just a friend but an unfailingly gracious, thoughtful, and dedicated public servant no matter what his official title is at any particular moment in time.
Now I'm not saying that I take dictation well from anyone, in fact there's some lobbyists in town who regard my inability to take dictation as one of my greatest character flaws.  But there are several parts of the Plan that resemble the precise ideas and language that John gave me, almost to the letter, and that those are some of the best parts, and I think the whole country should be grateful for that.  But more important, a lot of you in this room have been involved in the implementation.  Now I've been invited to speak in a number of different countries about national broadband plans, and my message is always aspiration is easy; implementation is hard, and implementation is the most important predictor of success.  Your efforts to push for implementation _______ number of proposals are the difference between real world success and mere words.
But all rules have exceptions, and in this case I would say that while I care more about implementation than aspiration, there was one aspiration particularly important, and that's the goal number four that was talked about before.  Because it specifically recognized the needs of anchor institutions, and we thought important that we put a spotlight on the vital role that anchor institutions play in the broadband eco system.  Because for the first 60 years the FCC kind of simplistically divided the world between business and residential, and left out anchor institutions.  That changed in the '96 Act, which John had a major part in crafting, and I'm proud of many things that came out of that Act, and the implementation that we were able to accomplish during the ______ FCC.  But none more so than the E-Rate which was really the first time the FCC recognized the importance of anchor institutions.
But we knew in 2009 as we began crafting the Plan that the work was not done with either E-Rate, designed in a dial-up era, or with anchor institutions.  We wanted to expand the lesson about the importance of such institutions, and I hope we succeeded in putting anchors permanently in highlighted colors on the information economy communications infrastructure map.  Anchors teach us about network aggregation, a lesson still vitally important, and not widely understood.  The Plan recognized the virtue of network sharing and collaboration, and the cost efficiencies that results.
The virtues are so important that if, for example, we didn't have the R & E networks that we have, I think the single most important recommendation of the Plan would have been to create them.  But fortunately we had them, so we didn't have to reinvent that wheel.  I am glad they played such a critical role in the BTOP projects.  I also personally carried that lesson about network sharing with me as we created Gig.U.  The same principles apply at the local level, and I'm greatly encouraged by the dozens and dozens of communities that are taking their broadband destiny in to their own hands by understanding these principles and developing a number of different models for how to do that.
I'm also encouraged by the E-Rate reforms, the June and December orders that others have mentioned represent a tremendous victory that only happened because you all organized for it.  More needs to be done, as John has suggested, with universal service.  The Connect America Fund is still a work in progress, as is the Mobility Fund.  The next big item up of course is Life Line.  For a long time anchor institutions, particularly schools and libraries have been the principal institutions in society, making sure the digital divide did not grow.
They've done a great job, and with the upgrade the FCC did last year, they'll be in a position to do more.  But Life Line itself must be brought up to date.  If it's not done, its significant vulnerabilities may put this critical program in the policy version of the critical care unit.  Now Commissioner Clyburn's laid out a great framework in her speech last November and there are many questions answered.  But the big point to remember is this:  every enterprise is trying to get all of their customers on a digital platform.
They do so because it is both cheaper and, more importantly, it leads to improved performance for that enterprise.  Government should also want to operate on a cheaper and better platform.  But it is the one enterprise that has to serve everyone.  It has to serve everyone, and therefore for both moral and operational reasons, government must make sure we all get on.  Now Chairman Wheeler's predecessor, if you look at the action scene to believe that the government's only job was to avoid waste in the program, and that the rest of the job could be outsourced to acts of charity.
I think we should avoid waste, and I deeply admire private sector efforts; we need them.  But at the end of the day that is not enough.  This is a government imperative, it cannot be outsourced.  It is not a nice to have; it is a must do.  Another area that needs help is the Health Care Connect Fund.
It has not worked as hoped.  It's under subscribed; only about 170 million of the 400 million committed funds have been used.  This isn't really for lack of demand; it's just been difficult to get the money out the door, and I look forward to hearing others offer thoughts far better than what I can offer on that program.  Now let me just close by noting that the news coverage this week will not be about the Plan.  It of course will be about net neutrality.
This is not to suggest that they are intentioned, far from it.  Both reflect the importance of broadband to our economy and our society's future as we grappled with how to protect long standing principles of equity, diversity, innovation among others when the economic and technological substructure shifts.  While the two efforts are trying to address different questions and use different processes, let's understand that we need government to be able to work on both.  We need an open internet, and that requires the government entity with jurisdiction to make sure we have, and keep, an open internet.  But we also need affordable abundant bandwidth with everyone on, and to use that bandwidth to improve how we deliver public goods and services.
Now we wrote the Plan while the rest of the Commission was focused on the open internet proceeding, and that actually worked out okay.  But when it came to the implementation immediately after the Comcast case came down, the Commission frankly single tracked to develop the policy and legal case that the court threw out last year.  And as a result, many needed reforms, like E-Rate, Life Line, and the IP transition, will occur several years later than they should have.  We're on a better track now.  To get back on that better track, we needed many of you in this room, and also I might mention Phillip of the Alliance.
Who I had the great pleasure of working with on the E-Rate, did a terrific job putting pressure on the Commission to get back on track to do the E-Rate reform.  To stay on that track we need to keep people committed.  In the great _______ wisdom none of us are obligated to complete the job, but neither are any of us free to evade it, and with that let me bring up to the stage someone else who's been working really hard at making sure we do the right thing.  From the Benton Foundation, Amina why don't you come on up.
[Applause]
Amina Fisloula:    Hi my name's Amina Fisloula, and I'm director of policy with the Benton Foundation.  I just wanna thank all the groups here for putting such a great event together, and inviting us to speak today.  Over the last five years the Benton Foundation has been tracking the progress made on implementing six core goals and over 200 recommendations in the National Broadband Plan.  Our tracking is fueled by our daily headline service, which is the most comprehensive and free chronicle of developments in telecommunications policy.  And I'll take this one short second to say if you haven't already signed up for Headlines, you should do so, and you can always ask me how to do so.
Overall about 20 percent of the National Broadband Plan has been completed over the last five years, while action has begun on another 55 percent of the recommendations.  Fifty-five of the recommendations, about one quarter, have not seen any work as of yet.  By the way, 40 percent of the recommendations that haven't been acted upon were recommendations made to Congress.  So Congress, you're next.  At Benton our focus has always been on what we believe to be the heart of the National Broadband Plan.
The recommendations targeted that streamlining and modernizing the Federal Universal Service Fund.  For the Federal Communications Commission, there's no bigger, and no better tool than the USF.  When the National Broadband Plan was released, there was no task bigger before the FCC than taking programs that were traditionally focused on telephone service or narrow band internet service and refocusing them on deploying affordable broadband throughout communities, including anchor institutions.  Thirty-five recommendations, approximately 16 percent of the Plan's suggestions, address USF reform.  Twelve of these recommendations, about 34 percent, have been completed.
For anchor institutions, as others have mentioned today, the key reforms include:  setting broadband connectivity goals for schools and libraries; streamlining the E-Rate application process; increasing E-Rate funding; supporting internal broadband connections; and looking at removing barriers to off hours community use at E-Rate funded resources.  Twenty recommendations, 57 percent, are works in progress for anchor institutions.  Key recommendations are:  to create a healthcare broadband access fund; healthcare broadband infrastructure fund; and broadening eligibility for healthcare support.  There's two recommendations that have seen no work at all that, if addressed, could greatly aid anchor institutions in community broadband needs.  The first recommendation that Congress should provide is that Congress should provide funding to connect all public community colleges with high speed broadband and maintain that connectivity.
Community colleges are anchor institutions for training a highly skilled 21st century work force.  Providing broadband connectivity to these institutions would help provide better services to students, allow community colleges to extend their reach even further, and offer a powerful learning opportunity to even broader audiences.  The second recommendation is another recommendation to Congress:  to amend the Communications Act to help tribal libraries overcome barriers to E-Rate eligibility arising from state laws.  Finally I'd like to highlight the last two recommendations as big policy debates that we see will be on the horizon for 2015.  Recommendations that will impact anchor institutions and the communities that they serve.
First, by April 7th, the FCC will receive a recommendation from the Federal State Joint Board on universal service on how to modify universal service methodology.  That's a mouthful, but translated it's talking about money for USF, contribution reform.  It's trying to decide how contributions should be assessed, who should contribute, and how to make the system more transparent and fair.  So these recommendations are likely to kick off further FCC proceedings on how to make USF sustainable and fair in to the future.  The second issue is about making broadband affordable to low income households through the FCC's Life Line program as Blair has just discussed.
A majority of the FCC commissioners have publicly stated that they'd like to examine the program and would like to make broadband a piece of it and affordable too.  That debate could heat up before the summer starts, and will help decide if all students can have access to broadband enabled education resources when they go home after school.  And if low income residents can have internet access after they leave their community library.  A modernized Life Line program could extend the reach of schools and libraries by bringing broadband in to the home.  The coming debate over Life Line could have a huge impact on the mission of schools and libraries, and so I hope these institutions here today will join the Benton Foundation and our non-profit allies who represent vulnerable populations to inform this upcoming discussion.  Thanks, now I'd like to introduce Adele Casperalta from Public Knowledge.
[Applause]
Adele Casperalta:    Good afternoon everyone.  Thank you for inviting me to talk a little about how the National Broadband Plan is faring out in rural community and for your rural youth.  So I am an internet rights Fellow at Public Knowledge, and for the past seven years I've worked with rural communities in helping increase internet access in rural areas.  And this last weekend – I wanna tell you a couple of stories to switch it up a little bit.  This past weekend I spent the weekend with 21 young people from YouthBuild, USA which is a non-profit organization that's federally funded that helps rural youth, or actually youth that are at risk.
That have either dropped out of school or have had difficulty in completing their education, to get back on track to get their plans going, and to – and it trains them in construction skills.  So it helps them also find job opportunities.  Every year YouthBuild comes to town to talk to representatives about the work that they do, and so over 150 students come.  Out of those 150 students, the programs that are in rural communities and rural and native areas also bring about 21 youth every year, 22 youth every year.  And so I got to meet with them this past weekend to talk about how the internet impacts them, their daily lives, their educational goals, and their communities.
And I wanna share with you a few stories by Cory and Tory who are both from rural Ohio, and from Tyler who's from rural Oregon.  And Cory and Tory both talked about how they either had to go to an aunt's house or a friend's house to be able to access the internet because they didn't have internet access at home.  So whenever they had any assignment, they had to find a way to accommodate that in their schedule.  Or maybe they had to do other projects that they would be doing at school, they had to devote it to being in the library so that they could have sufficient time to complete their work, or look for a job, and other endeavors that they needed to do online.  And also Tyler, as we were discussing the Life Line program in particular about how Life Line could help increase access in rural homes.
Tyler kept looking at his phone, and he was saying "You know, I don't even use the internet."  And I was really surprised 'cause he's probably an 18 year old kid, and I thought "Oh really, well why don't you use the internet?"  'Cause I thought he was looking at Facebook on his phone.  And he said "Well I just don't know how.  I don't have it on my phone."  So there's another – I think Tyler's story highlights the fact that there's still a large population in rural communities that don't have access to the internet.
That even if there was available they couldn't afford it, and even if they could afford it, maybe they couldn't afford the hardware that allows them to use the internet meaningfully like laptops or computers.  They're still a pretty substantial part of a check that could go to a family's rent.  And even if they did, they also need digital literacy skills to be available in their community so that they can use the internet meaningfully.  So these stories are pretty typical in rural communities.  The FCC reported that 22 million rural Americans don't have access to high speed internet; 63 percent of Americans living in tribal lands don't have access to high speed internet.
Scarily 73 percent of rural school districts reported that not a single school, not a single school in their district have the connectivity that requires digital learning.  Not a single school in 73 percent of rural school districts can connect meaningfully and use the digital tools of the 21st century.  So these are alarming rates that, even after five years of our National Broadband Plan, we're still facing these barriers, right?  As was mentioned by Amina, Native schools and libraries have barriers to be able to apply to E-Rate because the state has to determine if they are in fact a school or a library.  So there's an eligibility barrier there as well.
So that also impedes the ability of Native kids, or youth living in Native and rural areas to be able to use the technology of the future, of the present.  So I just wanted to point out that this doesn't stop at E-Rate, although this is a great win, and it's a great step forward for education and for youth in our country.  There's still a big gap of what happens when that kid, when that student leaves the school, leaves the library, especially if there's a library in your rural town, if it only has three hours of operation for you to be able to use the computer.  So there's still a gap that remains at home and beyond anchor institutions.  So that's something that we wanted to bring up, and I think that will take us into our next panel conversation.  Thank you.
[Applause]
John Wynhausen:    Great job.
Adele Casperalta:    Thank you.
John Wynhausen:    Well great, I'm John Wynhausen again.  I invite our panelists to come up on stage with me.   So great, thank you all.  It's a great pleasure to have such a great diversity of really highly respected people on this panel to provide their comments and perspective on what we've heard so far today, and also elaborate on their particular point of view.  I think – do each of you have a microphone available?
Yes, okay good so I'd like to start with Noel Ellerson.  Noel is the associate executive director of AASA, the School's Superintendent's Association.  Was a critical partner in accomplishing a lot of these E-Rate successes, and has been really at the forefront of advocacy around broadband for schools.  So Noel would you like to start it off with a few opening comments?
Noel Ellerson:    I absolutely would.  I would start with a very generous thank you for the opportunity to be here to showcase, or talk about what the superintendents have done.  I think it's rather obvious that superintendents, as the people at the helm of the nation's public school districts have an obvious interest _________ priority for continued sustainable investment in connectivity.  Connectivity is not something that's going to go away, and the opportunity to modernize the E-Rate program so that it can continue to be the success that it has been was something that was a big, big priority.  And AASA's been engaged in the E-Rate conversation since E-Rate was created in 1996.
It was just an opportunity to finally see something at the FCC all the way through to completion, and through my work at AASA we actually do the advocacy for the nation's educational service agencies.  As well as the National Rural Ed Association, so we represent national rural educators, ed service agencies, and superintendents, and those three entities collectively did a lot of work, a lot of outreach both to Congress and the FCC.  Turning in hundreds of individual comments in reply to the Notice of Proposed Rule Making to highlight not only what E-Rate is but what it means to their systems, and more importantly, to the students that they hope to instruct and teach every day.  I really grabbed on to something that Blair said in his comment.  He was talking about how all enterprises are moving to a digital platform, and it's because it's in part cheaper.
Because it's more effective, and because it leads to increased improvement, and I think that has a direct correlation to why educators support E-Rate.  E-Rate and expanded connectivity is a digital platform for education.  It's increasingly more cost effective, the type of internet we are able to afford today in large part because of the E-Rate discount is yards beyond – eons, whatever long metric you wanna use, beyond where we were in 1996.  It has become more effective, and you cannot argue that it is not critical to increasing student improvement and achievement.  And so I thought it was a really nice parallel going down from the broader conversation about the Broadband Plan to the direct implementation and impact on our nation's students.
And I wanted to pick off of the comments of the last speaker, talking about digital literacy, and I know my colleagues in the room know that we've long talked about digital literacy and the need to ensure that the connectivity that we leverage through E-Rate doesn't just land with a resounding thud in the classroom.  It's really important that our consumers, the people who receive the benefit of E-Rate, the students and the teachers, are supported in their ability to best leverage the power that comes with E-Rate connectivity.  Are the students responsible?  Do they ______________?  There we go.
Are the students aware and understanding of what the power of the internet is, both to shape and mold their own learning and opportunities?  As well as their own responsibility to be responsible over their education data portfolios, how much information they're making available, the spread, the reach, the breadth of the internet, and how they might unintentionally be making more information available.  That's all part of digital literacy.  But that's the conversation we have outside of E-Rate and another compliment for the teachers is the professional development, and that's a different conversation.  But it's really important to have those side conversations because absent those supports, you undermine the potential of the E-Rate dollars to be fully maximized, and to get the best return on investment.
And I don't know how many people here are going, but I know that the Senate Commerce Committee's having a hearing on the CC oversight and E-Rate tomorrow.  So we'll be looking at a lot of those issues.  It's really the Committee's first time to raise some questions about E-Rate, and it's just one rather large aspect of the very broad reach of the Broadband Plan.  But it's definitely something that's critical to our members.
John Wynhausen:    Great Noel, thank you very much.  So next we'll turn to Stacy Aldridge.  Stacy had perhaps the most varied experience of any state librarian in the country, having worked in the state librarian of California.  Then the state librarian of Pennsylvania and now is on her way to be the state librarian of Hawaii.  So you have an incredibly diverse set of states that you have worked with, are going to work with.  Maybe you can provide us your perspective on the effect of the National Broadband Plan on libraries and their broadband connectivity.
Stacy Aldridge:    Okay thank you very much.  I'm going for all 50 states, collect them all I guess is the –
[Laughter]
Stacy Aldridge:    Thank you so much for having me.  I'm so honored to having us here.  I'm so honored to represent COSLA, which are the Chief Officers of State Library Agencies.  So there are 50 state librarians who are working with all of the partners, including Michelle V. and ______ to ensure that we have connectivity in our libraries across this country.  I think our past president; Ann Jocelyn from Idaho said it best when she said "Our libraries are at the heart of building digital inclusive communities."
And I think that's very true.  When we look at the statistics, there's 17,000 library buildings and book mobiles across this country that are providing access to resources.  And in a recent study, the Public Digital Inclusion Survey that was recently done, headed by John Bartow, and supported by the Institute for Museum and Library Services.  We see that 97 percent of our libraries are providing Wi-Fi access.  So many people have devices but they don't have connectivity.
So they're relying on our public libraries for access.  Ninety-eight percent are providing some sort of technical training.  So building off of all the comments that have been made, libraries are helping people get the skills they need to be successful in navigating this digital age.  Ninety-six percent are doing online homework help.  So making sure kids have support after school, and sometimes during school hours.
And 95 percent have online job opportunities for people.  So libraries are providing not only the resources but they're also providing the personal touch, and I also think about E-government as well.  E-government is everything you do now is based online, and there are so many people who don't have access or don't have the skills, and they're coming in to our libraries to make sure that they have that connectivity.  So all of the work that has been done, the E-Rate improving the funding that is available will definitely impact our libraries and provide more support for more connectivity which is vital.  And our state librarians across this country are working with partners in every state to create more capacity.
So we look at E-Rate but we're also looking at how can we benefit from leveraging resources that are in our states?  So in particular in Pennsylvania, we were working with the Office of Information Technology.  They had additional ______ funding that we used to support improved capacity in over 100 library buildings in our state.  In California they've been working with Scenic, which is the education network, to build off of an existing network structure to increase capacity to the communities.  So we're starting to create these networks of anchor institutions that are creating a net for everybody so that it makes it easy to move from one organization to another in our support structures.
And in my new state of Hawaii, they've partnered with the University of Hawaii; they received a BTOP grant to improve connectivity to all of their 50 branches.  And they've also been partnering with the Department of Commerce and Consumer Affairs Broadband Assistance Advisory Council to build the best connectivity for all the residents on the islands of Hawaii.  So looking at how do we best leverage?  How do we best connect?  And how do we best ensure that in this digital age everybody has access?
Because if we all don't have access then we're all not going to be successful, and not being successful means that our communities are not as strong as they need to be.  So all the work I have to thank John, and Blair, and all the people who've done so much work.  Including Linda Lord, who is retired from Vermont, she was the state librarian.  She testified and worked with ALA around E-Rate and improving E-Rate.  So a lot of people have worked at it, and our libraries and our communities are going to benefit from all that work.
And there's still work to be done, and I know COSLA, all of the state librarians are here and ready to work with you all to continue to improve capacity.  So thank you very much.
John Wynhausen:    Great Stacy, thank you very much.  And next we'll turn to our – so we've heard from our S from our schools, and our L from libraries, and now we'll hear from another expert from the health side.  Neil Newburger's an executive director of the Institute for e-Health Policy at HIMS, correct Neil?
Neil Newburger:    Yes.
John Wynhausen:    Right, and so you've worked with HIMS.  You've also been an advisor and on the Board of the American Telemedicine Association, and you've been – and actually something you told me over lunch I think deserves to be restated here.  That you were actually involved in the drafting of the legislative language that became part of the Telecom Act that authorized the Rural Health Broadband Program, and that's now been turned by the FCC to the Health Care Connect Fund.  So you've been at this health broadband advocacy for over 20 years.  We'd love to get your perspective on how you think things are going from the health broadband perspective.
Neil Newburger:    Oh sure, thanks, and for inviting me.  As the only healthcare type obliged to ask you how you're all feeling today, and if you'll be feeling a lot better once you get to the Dublin or the Irish times later tonight.  I feel a little bit like, you know how you know that you're a bore at a cocktail party?  If everyone breaks up in to little groups and you're the only one in yours.  That's how the healthcare types have felt, and it goes right to an issue that many of us have been talking about for a long time, which are better connects to the rest of the field.
Just as we're struggling to e-enable the largest industry in the United States that is far bigger than many governments in the world.  It is a couple trillion dollar industry, and at a time when healthcare is in such upheaval, both from the public and the private sector side.  Where at least some, if not many, of the answers are gonna come from the technology and the IT side of things we hope.  That said, it has gone in fits and starts, and so now any more it's thousands of applications in content areas, and technology capabilities and things.  Our conference at HIMS next month in Chicago is 35,000 of your closest healthcare friends, all of them focused on e-health like activities.
Including telehealth, remote patient monitoring, personal health records, electronic medical records, the interoperability of all of those records.  All sorts of things having to do with biomedical support, and clinical decision support at the patients' bedside, and so these are fast moving targets if you consider the upheaval within healthcare broadly, and on the telecom or on the IT side at the same time.  My conclusion to all of that, having been a fly on the wall for 20 years as John said, is that as fast as we can enact laws, rules, and regulations under four or five sets of laws, they're immediately out of date.  The technological advances have far, at least in healthcare, outpaced our ability to keep up with the policies.  The Telecom Act of '96 being one of them.
It was outdated when we helped draft that provision, just given that it was sort of an afterthought for Snow and Rockefeller to the schools and libraries provisions if you think about it.  We could have done a better job even at that time, and the FCC's been fighting a rear guard action, and USAC has for two decades to catch up to that now through the Healthcare Infrastructure Fund and the Healthcare Access Broadband Fund.  HIPPA, which guides administrative simplification in healthcare, ten sets of regulations, privacy and security the most prominent among them is out of date from the perspective of IT in healthcare.  We've had 25 years of grants through the ________ service, Department of Commerce BTOP program, HERSA, National Library of Medicine.  You name it, and we still don't know, despite hundreds of grants and hundreds of networks in health IT and in telehealth what the evidence shows us in terms of impact on the delivery of services.
The ______ High Tech Act has glaring omissions in it in terms of the thing that I wanna conclude with here in a minute.  Which is the issue of transitions of care and care continuity.  It is no longer just about hospitals, acute care facilities, even long term care or nursing facilities.  It's about an environment that encourages free flow of patient care information between and among institutions to consumers, or as we call them, patients as in a highly mobile situation in a pluralistic health system.  Meaning its public and private sector funding and will continue to be so forever and a day, and that means that there are a lot of pressures on that system.
In terms of how we end up using big data, how it's gonna flow through those various healthcare systems, what are the financial pressures for organizations to share information, and that kind of thing.  Whole series of standards issues on the clinical and on the technology side.  Even bigger reimbursement issues as we switch over from what's called volume like services to value like services.  Which is what's called for in the Affordable Care Act, otherwise known as Obama Care.  Whole series of human dimension issues having to do with licensure, accreditation, certification of healthcare types.
The business practices and processes as I've already mentioned.  Training an HIT work force in say rural, underserved, and desperate healthcare communities that are struggling to survive and have negative operating margins in some cases.  So unless they're told to do so, or are given the resources, they have very little incentive to play the kind of catch up that we know is needed to bring them up to where tertiary care medical centers are, and highly funded clinicians offices, and that sort of thing.  So the issue at the end of the day is access, quality, and cost, and how we're gonna transition care in this not only complex IT environment, but an even more complex healthcare delivery environment.  And make it available routinely, ubiquitously, seamlessly for clinicians and the patients that they serve.
And the challenges, as I said, are even more daunting.  The good news is that the technologies are forcing some of those changes, and we can talk about that a little bit more when we get in to some of the discussion.  The bad news is it's sorta like three steps forward and four steps back in some regards.  So I'll stop there.
John Wynhausen:    But that's a perfect segue to the question I wanna ask Blair next about this.  But before I do, I do wanna remind everybody, especially in the webcast world, that we do have a Twitter hashtag available for those who want to send messages about what they're hearing today.  It's #gig4anchors you can use for your Twitter messages.  Blair it occurred to me as we were hearing the other panelists that you and I are in somewhat similar positions in that there was so much in the Broadband Plan that talked about education, and health, and access to information.  And yet too often the National Broadband Plan priorities, the focus tends to be on spectrum auctions or auctions for Connect America Fund, or net neutrality.
But ultimately the real goal of the National Broadband Plan is to improve our quality of life, right?  To improve the services that the people on your panel are talking about now, and how we can make America a stronger, better place.  It's not about broadband itself, it's about improving, and so how can we focus renewed attention on these three sectors of the American economy, and value to the country to make us stronger?  That's an overarching question, but I'll also invite you to share any reactions you have to what's been said so far.
Blair Levin:    Well first of all I think what you've heard reinforces the wisdom of having a goal for anchor institutions, and again, putting anchor institutions at the center.  Because as several different folks have said, it's one thing to have a device, it's one thing to have access to a network.  But there's so much that needs to be taught and learned that can only be done in a community setting.  How do you use the internet to apply for a job?  How do you use it to do your homework?
And I think anyone who's kinda been reading, whether it's Robert Putnam's most recent book or other things, recognizes that the obligation – if we want to improve as a society, we have to take seriously bringing a lot of folks on who aren't going to have those resources in the home.  Anchor institutions do that in a lot of ways so that's really important.  The second thing I would note is one of the curiosities, if you think about it from this perspective, everything we buy has a component – not everything, has some component or combination of information and material.  When you buy clothes it's mostly material.  But increasingly as clothes get – you know, have information components to them, these so-called wearable tech or whatever, right?
Cars used to be mostly material; we're not gonna go to connected cars.  There's a lot of information in the cars.  Certain sectors of the economy are almost all information.  The two ones that are the most information are healthcare and education.  Education I would argue is about 98 percent information, two percent physical.
Healthcare maybe 90 percent, something like that.  But those are the two sectors who are the farthest behind in terms of the utilization of the information platform.  Now why is that?  There's a bazillion reasons; I won't go in to them here.  But that just shows that that really needs to be put front and center on the agenda, and this goes to your question John.
I might note as a little historical footnote, I haven't talked to this publicly, I wanted – the title of the Broadband Plan is Connected America.  I thought that was a bad title.  I wanted the title to be High Performance Knowledge Exchange, not Broadband in America.  Now the reason I did was I wanted it to focus not on the networks, but rather on how we use the networks to improve education, healthcare, etc.  I was overruled by the Chairman's office who felt that Connected America was a simpler, better message.
I profoundly disagreed with it, but that was not what I was in control of.  I was just in control of the 400 pages in the document, not the title of the document.  That's a whole other story.  But my point is let's get beyond that and let's focus – part of the reason I'm real excited about this event, the event tomorrow, the events in the future are not to look backwards but to say "Okay for whoever is next, what's the agenda moving forward?"  And I would argue you've all laid it out.
It really is high performance knowledge exchange.  It really is how do we use this platform, not to drive investment, though that's good too.  Not to create jobs, though that's good too.  'Cause it does those things.  But rather how do we use it to improve lives?
We do that in schools, we do that in healthcare, we do that in job training, we do that by improving 911, we do that in all kinds of all of other public safety ways.  Those are the things that really are for the next – I think we made a lot of progress.  But that's what the next plan has to really do.
Neil Newburger:    Yeah to that point – Dr. Don Lindbergh, who's the longest serving NIH Director.  I've known him since '93, National Library of Medicine, and Dr. Michael Ackerman, the Deputy Director, have said for as long as I've known them that "Healing is information."  And so through, say the National Center for _______ Information Technology at the National Library of Medicine.  A terabyte or something of information gets uploaded every day by biomedical researchers worldwide on the research side of things.  And by big pharma, and for drug development, and clinical trials, and that kind of thing.
That information has to be made available, not only to the providers, but directly to consumers in time.  Because clinical decision support is the most important thing that distinguishes, I think, between quality care and say a large tertiary care hospital or healthcare institution versus say a rural area, a critical access hospital, an inner city urban hospital facing shortcuts and things.  That information is healing, and so it is more than 90 percent; it is the whole thing.  And doctors today can't even keep up.  There's some statistic that's like they could spend every day for a year just trying to keep up in their Board certified specialties by reading medical journals.
They don't have time, they can't do it.  Their average time with patients is something like two minutes in any case.  So there you go, it's all about the data.  It's all about the information for our field.
John Wynhausen:    Very interesting, very good comments.  I wanna dig down a little bit on the implementation of some of these proceedings to carry out the National Broadband Plan.  And I wanna go back to E-Rate because that was really a momentous set of decisions that the FCC adopted last year.  And I wanna turn to Noel and then to Stacy.  Basically the question is how are things going so far?
Are we on the road?  The FCC made a lot of effort to promote investment in fiber and wireless networks to give schools and libraries more options so they'd be able to have a variety of different providers to choose from, technologies to choose from.  But I also sense there's a lot of confusion yet out in the field as people are trying to submit their applications for E-Rate.  So give us a sense, first Noel and then Stacy, how you think things are going after the FCC's E-Rate Orders last year.
Noel Ellerson:    Things are going, and they're going more well than not.  But I think the most important distinction to talk about when you look at what the schools are working in their communities to implement.  And when I say schools for E-Rate, we mean public and private, 'cause E-Rate is something that serves all K-12 institutions.  So independent schools, Catholic schools, the program serves the entirety.  It has the potential to serve the entirety of the K-12 population because all K-12 education centers are eligible, or schools are eligible.
The strongest thing that happened at the end of 2014 was not only were there programmatic changes that happened in July, but there was funding to support the changes in December.  And that's an important backbone principal when it comes to E-Rate modernization.  We've all heard how schools are consistently doing more with less, and there's an element of that's good, there's the efficiencies that we talked about.  Whether it's in the context of the Broadband Plan, or just "Hey let's cut some waste __________.  Let's trim some low hanging fruit."  But when it comes to connectivity, the idea that the E-Rate program was going to be overhauled had a significant shift towards a focus on broadband, rightfully so.
But that's a significant shift, and it also changed the focus of E-Rate from are you connected.  In 1996 when the program was created it was just looking at are you connected, yes or no?  And the changes that came last July were not only are you connected but how are you connected?  And that's an important shift because rather than a single linear determination, it had the potential to be exponentially increasing the demand on the E-Rate program.  'Cause you had schools that were connected but not necessarily to broadband, and now that that was the goal that has huge cost increases.
And when you look at what was gonna be required for the broadband build out, the Wi-Fi, which was the focus of President Obama's Connect Ed.  Which was a complimentary momentum for the E-Rate modernization.  It was the funding component in December that is a strong complement to the programmatic changes in July that really helped _____ stir the opportunity for E-Rate to continue its strong track record of success in a sustainable manner going forward.  That said, last week my boss, Stan Dominich, former superintendent of Fairfax County sits on the Board of USAC.  He is the representative voice of schools and libraries to the Board that oversees the E-Rate program, and USAC and the FCC work to extend the application deadline for Form 471 of E-Rate.
And it's interesting to hear something like that because we had heard from the superintendents that "We need more funding for E-Rate.  Our demand is so far beyond what we have access to."  So it's really interesting for us to start hearing – us at AASA to start hearing from the USAC that the submission rate for the applications was low, far lower than they expected it to be.  Possibly even lower than what it had been in the previous year.  So if we have this influx of not only the cap increase, but also the one time infusion of funds made available under President Obama's Connect Ed proposal, where were all the applications to represent this pent up demand?  And what we found was that because of the changes in the system, so anytime you change a system there's a little bit of a sticker shock.
It's new; we need to figure out what it is.  We need to figure out how to get through the new application.  How to work with our vendors, run our different proposals.  See which one is the best deal.  That newness, but also just how do we go about actually submitting something that we've been waiting on for so long?
So last week we got the three week extension until April 16th to turn in Form 471, and I had a huge deluge of e-mail from the members saying "Thank you; we needed that.  Thank you; that's huge."  And we were hearing from E-Rate support companies, the people who help process the applications as well.  But the demand is there, and our rurals are perhaps the most excited because the E-Rate changes in July really helped close the connectivity gap.  And it's not just about having access, it needs to be affordable, and I think that goes towards something that when you talk about the Broadband Plan.  It's not just being connected in school; it's ensuring that you have the same type of connectivity.
Or same access to an affordable option that's comparable, and that's something that E-Rate helps do under the broader auspices of Broadband Plan.  But also speaks to the geographic and unique characteristics and obstacles that are innate in rural communities.  Whether it's just the absence of a provider because the profit margins are smaller or the actual obstacle of just not being able to lay the fiber, or lay the cable, or get what we need there.  And this will be a really good catalyst for helping that.  I'll stop there.
John Wynhausen:    Stacy.
Stacy Aldridge:    I think definitely the libraries are excited about the new opportunities, but I think there is confusion, and I can only speak to Pennsylvania right now.  We've had a lot of confusion about some of the changes and definitions.  We had issues around what we call library systems versus what the FCC calls a library system or USAC rules defined.  So there are some fine tuning things that have created some confusion.  But the libraries are moving forward.
I think our challenge is the smallest of libraries in the ruralest of areas are the ones who tend not to apply, and so in every state we've been looking at how do we identify those libraries, and how do we give them direct support.  In order to help them get through the first round of applications?  Because the applications still are a little bit difficult for the smallest of our libraries.
John Wynhausen:    Sorry I wanna come back to Noel for a second.  You and I were on a panel I think it was last October, the NTCA Conference, and we talked about how perhaps the June FCC E-Rate Order had reduced the amount of money available for rural areas.  Because of some of the changes and withdrawal of telephony support, and we were told "Don't worry" by the FCC, "We're gonna fix that in the December Order.  We're gonna make sure that we get that money fixed to flow to those rural areas" that Stacy just talked about.  So the question may be, for both of you, is do you think that December FCC Order did address that balance and ultimately going to help those rural areas?  Or is there more that needs to be done?
Noel Ellerson:    So I will parse that out in a little bit more of a nuanced manner.  'Cause what we had happen in the June Order that was very concerning was a significant shift in the way rural was defined in the FCC construct of E-Rate.  And for the purposes of just being an __________ it used to be a census indicator with a goldsmith modifier.  You can completely forget that because it's irrelevant.  But that's what used to be used to determine how rural you were, and looking to modernize the rural definition they went with a different census centric term.
And they wanted to use urban center and urban cluster, but by using those two terms, anything with a population over 2,500 would have been defined as urban.  Which meant that a lot of our rural schools would no longer be rural merely because of a bureaucratic definition realignment.  To put that in context, when we talk rural, two thirds of the nation's schools enroll less than 2,500 students.  So this is just a community wide population.  So your community was 2,500.
So we were capturing a lot of rural communities under the urban umbrella.  So actually AASA led a coalition of 22 national organizations making the case to the FCC that 2,500 was just abysmally low and completely draconian in terms of how it was attempting to define rural.  And what we were able to submit, in coordination with our friends at ALA, and the National Rural Telecom's, we had the unions, we just had a broad coalition of stakeholders, that threshold is now 25,000.  So 25,000 and above is urban and we're able to restore to almost all recipients who were rural their rural discount.  So that does help make more funds available to rural.
There were some issues in the June Order, particularly as it relates to how discounts are calculated, that could still be an issue for rural.  They changed the poverty indicator from the school level to the district level, and I represent district people, and we are still opposed to that change.  Because when you look at one of the core tenets of the E-Rate program, it is targeting resources towards the area of concentrated need, where poverty is greater.  So you get a deeper discount where your community has a larger concentration of poverty.  And when you go from a school level poverty rate up to a district level, especially around here where you have county-wide districts but they could have 50 or 60 schools in them.
You have one poverty rate for all 50 or 60, even though one specific neighborhood school could have a 20 percent poverty rate, and one could have 60.  So you create a potential windfall for less poor schools at the direct expense of our needier schools, and that correlates to rural.  So we keep a little bit of an eye on that.  But the big fix between June and December in terms of ensuring that resources are available for rural was the correction of the definition of rural versus urban.
John Wynhausen:    Good.
Stacy Aldridge:    Well said.  I think she described it very well.
John Wynhausen:    Stacy __________ okay good.  So Neil then to you.  Then the rural health side, there was a lot of focus on the statutory language in the 1996 on rural health clinics.  But that still seems to be a big challenge to get – I mean, the access to information just as you and Blair were talking about.  That's where you need to get that information out to those rural health clinics, right?
In particular they're the ones that may not have the big urban hospital doctor available there.  So how can you tap in to that?  And we were talking about telemedicine, and how that works.  So maybe you can address the –
Neil Newburger:    So it comes to the issue of connectivity between sometimes our nearest urban counterpart, which was in part one of the ways in which the Healthcare Fund was originally established.  Key one and above services more than 50 miles from their nearest urban counterpart would get discounted rates under the services through this complication and forms process that went on and on and on for years.  The uptake was slow.  Long story short and fast forward, rural clinics, critical access hospitals are still attempting to play catch up using various federal and state level programs like the Connect Funds say, or incentives under the High Tech Act under meaningful use.  To get some additional funding, depending on their status, like some of the grants through the ______ utility service, or the _______ Office for the Advancement of Telehealth over the years.
So there's 300 plus telehealth networks in the country.  One of the issues is integration of and interoperability of all of those various networks.  What they do on the, say, telehealth side, which traditionally had been thought of as two-way interactive remote video telepresence.  Or store and forward technologies for radiology, pathology, anesthesiology, that sort of thing.  But the views and the images, and getting that in to the whole emerging field of electronic medical records and personal health records as defined under _______ in the High Tech Act.
But there are all these disconnects.  I'm sitting here thinking during this, and the initial presenters an hour ago, about the silos that exist at almost every level.  You could start out with the Congressional Committees, not that that's ever gonna change, and I worked on the Hill in Appropriations.  I totally get it, and fully understand it.  But the telecom kinds of things are in the Commerce Committees, right?
All of the healthcare provisions are in the Health Committee and the ________ Finance Health Sub-Committees, and the various 13 Sub-Committees of Appropriations, that sort of thing.  Come down a level to the trade associations and the organizations, and we've all been talking for a long time about doing what you've put together here today.  And talking more between and among the application users, the content areas to see how we can leverage some of the same sorts of not only programs, but the way in which they're being implemented.  When you were talking about bringing education in to the home earlier, that's home health to me.  And some of the same platforms.
There are hundreds of companies working on telehome health remote patient monitoring, status monitoring in to the home for patients.  That should be talking to education communities and others about co-leveraging some of the bandwidth and the infrastructure that exists sparingly in rural areas.
John Wynhausen:    So if I could pick up on that, so if you had another chance to write those statutory provisions that made it in to the '96 Telecom Act, what would you fix?
Neil Newburger:    Well I might include capitalization of equipment which was never included as it was for the schools, and which got them – and my kids were little kids at the time, and we all went and wired our schools with money from the E-Rate program.  There were all sorts of – it would have been more forward looking in terms of not being restricted as to bandwidth, you know?  Not the T1 kinds of connectivity.  It would have included internet connectivity, which has been talked about obviously since then, and some other infrastructure like issues.  But it would also have done what Chapter ten of the Broadband Plan began to do when Carrie McDermott and Dr. ________ put it together under Blair four or five years ago.
Which is to look forward to what other agencies, what other organizations are doing what in our space, and talk about coordination, and getting rid of some of those silos or disconnects to use the parlance of telecommunications and health.  Regulatory reforms, what to do about big data.  Consumer access and engagement, all of that's in Chapter ten of the Broadband Plan.  It went very much beyond those hard broadband infrastructure issues, and I think Carrie and _______ did a really good job laying those out.  Now the extent to which the agencies still talk amongst themselves.
There is a rural White House Council that groups have been able to latch on to.  The Veterans Health Administration, HERSA, and some others have used that as a vehicle under the Obama administration to talk about rural healthcare provisions, and get some additional pilots going through some of those agencies like the VA.  But much more of that cross agency collaboration needs to happen.
John Wynhausen:    So let me bring Blair back in on this conversation.  You know Amina talked about all of the proceedings recommended in the National Broadband Plan for which there's no action yet, and it seems like a lot of those actions involved other government agencies or Congress.  So are you disappointed?
Blair Levin:    Well let me answer the question "What would I have done differently?"  So my favorite line in the Plan is the first sentence of Chapter 17 on implementation.  It says "This Plan is in beta and always will be."  And I quote that a lot; I think it's the most important thing, and I just think it's the spirit of the Plan.  Which is we did the best we could.
You move in a certain direction, if it doesn't work you then move in another direction.  I wish that instead, even though I thought it was a wonderful sentence.  Which by the way, I didn't write.  It was actually written by the youngest person on the team.  But I wish just for the sake of drama we had quoted Mike Tyson's wonderful line, "Everybody has a plan until they're punched in the face."
[Laughter]
Blair Levin:    'Cause I think that might have gotten more attention about what we were trying to say here.  And I think what you see is – and by the way, the more ________ point is, and we did talk about this but we erred I think.  In terms of the implementation the most successful country is South Korea, and the reason is they have a group, and they are aligned to make sure these things happen, right?  There is somebody who is held accountable and responsible.  There are a number of different things.
If I had to do it over again, we would not have done it at the FCC, we would have done it at NTIA.  Or we would have done it at OMB, or we would have done it in the Domestic Policy Council.  And the reason is is because it turns out while some of the most important things, and you were talking about this earlier, spectrum and universal service lay at the FCC.  For a variety of reasons it would have been much better if we had done it so that it was clear coming out that this was what the President wanted, not what the FCC Chair wanted.  One could argue that actually neither of them understood it, but that's okay.
The more important point is that you have a certain kind of authority working out of the White House that I think would have led to greater progress.  But that's a lesson learned.  I hope the next whatever, when people do things like that again, overall it's, I think, been fairly successful.  I also think there's a big difference between Jenna Kowski and Wheeler in terms of "Let's get these things done."  I think that in the White House there's a certain organization.
It's interesting; the President really didn't get engaged in this.  He got engaged in Connect Ed.  He got engaged in net neutrality.  He got engaged – he's going to announce soon something which if actually – you know, the muni broadband thing which he kind of endorsed in January, well that's Section 8.19 of the Plan.  But we couldn't get the White House engaged on that issue before.
They're going to announce a Broadband Council of the different agencies looking at how Department of Transportation, and Veterans Affairs, etc. affects broadband deployment.  Well that's Section 6.2 of the Plan.  But my point is that was our error in not making sure that there was someone standing behind who woke up in the morning thinking about it, went to bed at night thinking about it.  I'll just close by saying probably the most successful in terms of implementation of the Plan was the spectrum chapter which was written by John Leibovitz, and both of whom are still at the Commission.  And that's one very important reason why it was the most successful in terms of implementation; they stuck around to implement it.
John Wynhausen:    Good.
Neil Newburger:    You know, in the '90s, and I'm showing my age, there was a White House Council on Information Technology under whatever President that was at the time, and a Health Information Applications Working Group or HIAWG under a guy named Tom ________.  And there were a whole series of recommendations put out and interagency groups, including DARPA, and the rest of DOD, and VA, and Indian Health Service.  In our case HERSA, and all the health agencies, and things.  And it was a grand national challenge.  The sectors were a grand national challenge, and that has sort of gone lost until you get big bumps under like _______ and the stimulus funds or something like that.  But sorta the big focus is sorta been lost on where we're headed as a nation around some of these areas.
John Wynhausen:    Mm-hmm so I think that leads – I've got one last question.  But let me open it in case anyone else from the audience – yes, Angela?
Angela:    A Twitter question.
John Wynhausen:    A Twitter question, yes.
Angela:    Real quick.  The question from Twitter is from Belinda –
John Wynhausen:    Hold on just a second.
Angela:    We're getting a new mic.
John Wynhausen:    Here.
Angela:    Thank you.  The question is from Belinda Rollins in Boston who's asking if there's been any progress on a National Digital Literacy Corps which was suggested by the National Broadband Plan?
Blair Levin:    No.
[Laughter]
Blair Levin:    No look I –
John Wynhausen:    Why not?
Blair Levin:    Yeah that's a great question.  I think, as I said, I was disappointed that – well part of the problem is there is no entity, and this goes back to the ____________.  There is no entity who's core mission is getting everybody on.  So that's part of the problem.  The second thing is that I think that Chairman Jenna Kowski took a view about getting everyone on that this was fundamentally – his big idea was to create a new non-profit that would do that.
I admire the non-profit.  The Chairman is a friend of mine; he's a great guy.  I'm all for that.  The lack of non-profits was not the problem, and so I think analytically that was taken in the wrong direction.  It also sent, I think, a very problematic message that like "Hey we got this because the non-profits _______ will cover it."
I think there were some ideas, but at the end of the day, like I said, government has to understand going from wherever we are today another ten percent probably the non-profit sector can do that.  And I admire a number of different experiments doing that.  But this is a challenge where we've gotta get up in to the 97, 98, 99, and only government with its resources, and with its coordination can really do that.
John Wynhausen:    Great, great question.  Thank you Brenda and I wanna follow up on that because we're going to be having – we'll have a new President in a couple of years with a new administration.  We don't know what it's going to be yet.  But there are some things left undone from the National Broadband Plan, and should we be thinking about how can we package together the unfinished business for anchor institutions in to a policy proposal for the next administration?  And what would that look like?
I'm taking from this exchange that perhaps getting that National Digital Literacy Corps going would be a really good step in the right direction.  What else should we be looking at for making sure that we follow through on this goal number four, get the one gigabyte to all the anchor institutions by the year 2020?
Blair Levin:    Well if I could just follow up on that.  I'm a big believer in kinda grand compromises that understand both the politics and policy, and I think to me the big thing here is we wanna get everyone on.  That sounds like a "left" agenda.  We also wanna improve government performance by utilizing IT, making it work like the private sector, or not like the private sector but more efficiently like the private sector.  That sounds like a "conservative" idea.
The truth is the two should be combined.  There ought to be – we oughta have a – maybe it's a five year, or a ten year goal, we'll actually be talking about this tomorrow I think, agenda to have not the telecom IP transition.  But the government as enterprise IP transition, federal, state, and local in which all government operations move to the digital platform.  That will save government – well there was one estimate, a trillion dollars over a ten year period.  We should take some portion of that money and front load it to have a surge, whether it be with the Digital Literacy Corps.
And we've learned certain things from Comcast, and ____________ from CFY, from a number of other organizations doing this.  We need to have a surge to get everybody on because once we get everybody on we can accelerate that moment where government doesn't have to operate on two platforms.  And so I think both conservative impulses and liberal impulses can be accommodated.
Neil Newburger:    Yep so John I think – and I think you've been on our program.  So I coordinate a now 22-year long Capitol Hill briefing series on telehealth and health infomatics that I began in 1993 with Senators Kent Conrad, Ted Stevens, Al Simpson, Larry Larocco, a whole bunch of members both sides of the aisle.  Two hundred plus lunch briefings and technology demonstrations on the Hill around HIT and telehealth since that time, right?  And I say this all the time, never met a member of Congress on either side of the aisle that didn't think it was a good idea to e-enable the healthcare environment and do it yesterday, not tomorrow.  In fact that's the issue right now, is how fast can they complete, say the task of high tech and the stages of meaningful use to get to full adoption in rural and underserved areas?  And if anything, say, the House Republican doctor's caucus, Congressman Gingrey and Price who are sponsors of my series, and formerly Burgess and folks like – Gingrey's gone now.
But have been pushing and pushing on this, what's called a reboot thing, as have a number of Senators.  Senators Thune and others, to see kinda what went – all in a good way.  "Why isn't it happening faster?  What happened to the $50 billion in authorized funds over ten years that was gonna be made available under Medicare and Medicaid for EMRs and PHRs?  And how quickly is that getting out the door in to rural areas, in to private practices of physicians and that sort of thing?"
So if we went to let's just say Florida, Texas, Wisconsin interests, there are all sorts of examples where those governors who may be in a race in a year have been promoting telestroke, all sorts of things in networks.  Hillary Clinton was one of the original architects of those high tech provisions when she was Senator from New York.  So I don't see the politics of it, and John your idea is tremendous.  But you've gotta get to them now.  You've gotta get to both platform committees as they emerge for the conventions.
You've gotta get to the campaigns, and get this stuff on the agendas.  And I imagine HIMS and at least our groups will be doing that from sort of the health IT side.  It'd be nice to go at it collaboratively.
John Wynhausen:    Great, Stacy?
Stacy Aldridge:    I think one of the things that we've been thinking a lot about in libraries is – and connectivity, and thinking about connectivity as a whole as a nation.  Is it feels like we keep building two lane highways when we know that we're gonna need five lane highways.  But we're not willing to make that investment 'cause we don't know where that's going to be.  And it's not about building sustainable connectivity, it's about capacity building.  So what can we build that we'll be able to grow and make it affordable for all institutions to have access, and provide that in their communities?
I think the other thing I keep thinking about is how do we create – just for people.  I'm a person who lives in a community.  How do I figure out what I need to know?  Digital literacy – I think part of our problem with having a definition of digital literacy is we don't have one.  Everybody argues over – having worked on digital literacy initiatives in California, not everybody agrees what digital literacy is.
And so how do we think about 1) teaching kids the skills they need so as they're coming through school they're able to find information, use information, evaluate information?  How do we help our communities do that?  And we don't have to create new stuff.  I guess that's the other thing is thinking about all the anchor institutions that currently exist, infrastructure, 17,000 library buildings and book mobiles across this country.  We don't need to create new infrastructure but we might need some support in creating programs that continue to support communities.
So really thinking about what do we have and how do we leverage it better, both in schools, health institutions, and in public libraries?
John Wynhausen:    Noel?
Noel Ellerson:    And the only thing I would add, they answered the question as it was framed.  But could we look at what we should look at for a new administration?  But taking a little bit more immediate, I know there is just a backlog of filings that haven't been ruled, that have solicited and received a ton of very informed feedback.  And I know one in particular that John and I have talked about is educational broadband services, the instructionally televised ______ services.  This is lower frequency spectrum that's available to the community, but that includes education entities, and it has evolved over time from something that was used to do television delivered professional development to teachers.
To now something that is a type of broadband, but not high enough to meet the E-Rate definition.  But by having schools hold those licenses there's white space available, and a lot of schools who hold those licenses turn around and lease those licenses to providers who then do community build out.  And when you're talking about a national broadband plan that's looking at expanding connectivity that is something that's a fiscal revenue to school districts that they can then reinvest and put back towards their contribution to their E-Rate applications.  And you're providing broadband in urban areas and rural areas where it might be hard to lay the fiber.  So I would also urge the FCC to look at, and dust off, and review, and revisit the very informed feedback from what I'm sure is a litany of Notice of Inquiry, and PRMS.  There's just a lot of them backlogged there.
John Wynhausen:    Very interesting.  I think we had a question, Laura?
Laura:    I just wanna make one comment, and do I need to have a microphone?  So I'm Laura Breeden, I'm at the NTIA.  I was at the NTIA in the '90s when they did an early round of internet grants.  I was building regional networks in the '80s.  I'm even older than Neil, and I'm sitting here – I'm not sure that this is a good idea.
But one observation that I have after five years of working on BTOP, almost six is the pain of not having everybody online is really felt at the local level.  It's not felt in Washington.  I mean, we are way too far from the reality of delivering service, and dealing with patients, and dealing with students.  I think that the more – and you can see this in effect that cities are now committing to get everyone on kinds of programs, and they're putting money in to the BTOP programs for adoption that were funded initially mostly with federal dollars.  So what could we do in D.C. to help empower the people at the local level and the state –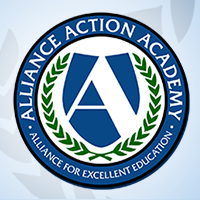 Welcome to the Alliance for Excellent Education's Action Academy, an online learning community of education advocates. We invite you to create an account, expand your knowledge on the most pressing issues in education, and communicate with others who share your interests in education reform.
Register Now
or register for Action Academy below: